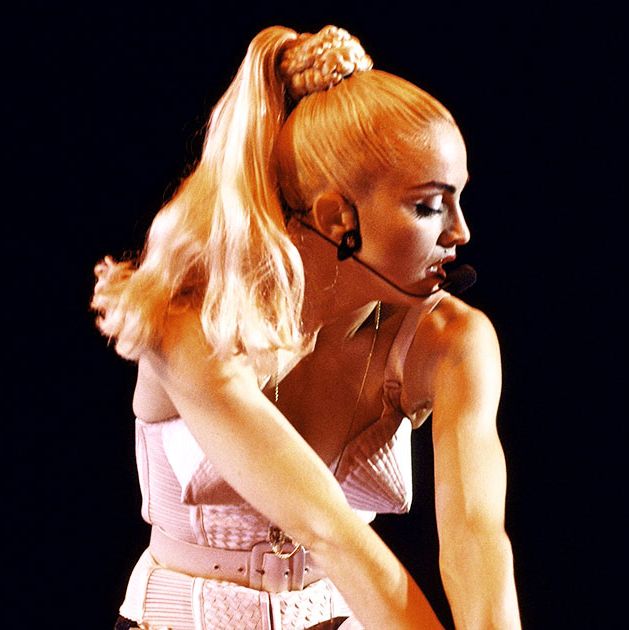 Photo: Time Life Pictures/The LIFE Picture Collection/Gett
I had only ever used one of those Clairol at-home box dyes once before I took the plunge on my first double-process early last year, thinking, It's fine, it'll just be this one time. Nearly seven hours later, my fine, black hair was the pale color of pink I wanted — a beautiful satiny shade that I knew would only last a few more washes. I loved it and felt fully transformed by it. And then I just couldn't stop.
I bleached my hair a few more times after that, running the spectrum of girly colors from peach to a unicorn blend (trendy!) to a Gwen Stefani punk-rock pink — even a premature mousy gray color, with one constant being that my soft, straight hair had become the consistency of a pile of straw. It's not exactly a secret that repeated treatments with peroxide and chemicals are not kind to your hair: There will be breakage and damage and horrible split ends and vigorous upkeep involved. Especially as a first-time bleacher, I really had to blindly figure out what my hair-care routine should be (for me, it's never skipping a hair mask or shampoo — if I do, my hair vacillates between being ultradry and ultrawaxy) and try as many different products as I could get my hands on.
But because the hydration issue is the one that's the most baffling (how do you keep your ends from looking so crispy?), I'm passing on my favorite conditioning masks and oils and creams. Here, the products that helped me maintain my sanity and preserve some semblance of my natural hair texture during my yearlong peroxide journey.
As any colorist will tell you, a heat protectant is key for preventing split ends and damage on bleached hair if you're using hot tools or a hair dryer regularly. This one helps to fortify colored hair (with ingredients like caviar extract and vitamin C) and doesn't smell as overwhelmingly pungent as others I've tried — with the added bonus that your hair feels smoother and softer after it's blown out.
When my hair is feeling extra fried, my immediate impulse is to grab any nearby hair oil or conditioning spray, except, through trial and error, I've found that most of them leave my hair so greasy and sticky that I end up having to rewash it (which I was trying to avoid in the first place). My beauty friends rave about David Mallett, so I tried out his hair serum, which is very lightweight and nongreasy. Its main ingredient is macadamia-nut oil, though it also has a cuticle-sealing omega-7 fatty acid in there to combat frizz. It is painfully expensive, so if it feels too splurgy on top of your $300-something dye job, I wouldn't blame you — though a little bit goes a long, long way. You really only need a drop or two to massage into your hair.
For a less pricey option, I love this Japanese hair oil that my hairdresser runs through my hair after a blowout (with the Deesse's hair cream below). It's very reasonable if you don't want to spend a fortune on hair oil, and it's great for smoothing down flyaways and hydrating coarse hair: All you need to do is glide a pea-size amount through the tips of your hair.
Ever since I started using Briogeo's products, I've been hooked. I love that they're primarily a mixture of natural ingredients (this one's a blend of rose hip, argan, and coconut oils) and that they smell so fresh and fragrant. I like to spritz this one between washes when my hair feels on the dryer end. It doesn't work like a moisturizing hair cream or oil on bleached hair, but it does give it a little hydrating pick-me-up, making it feel softer without any added grit or stickiness.