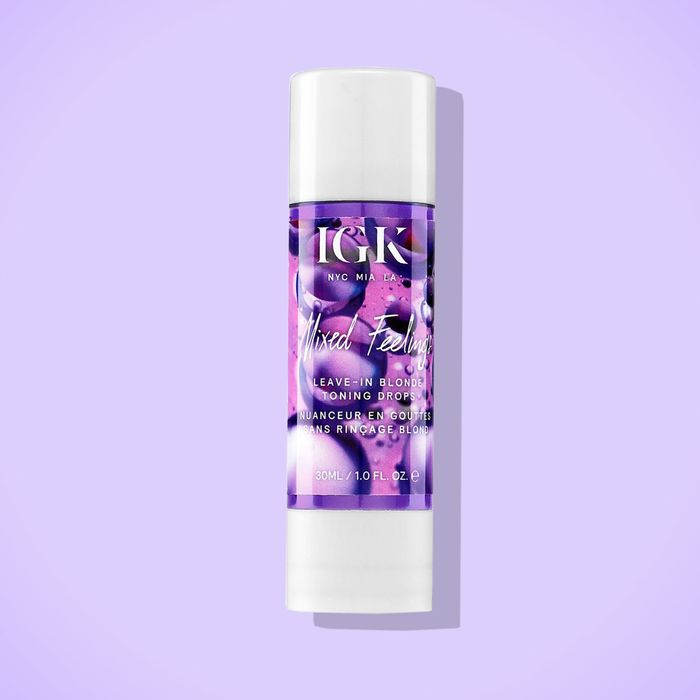 Photo: Courtesy the retailer
I've been dyeing my hair blonde for nearly half my life, but it wasn't until 2016 that I started dyeing my eyebrows to match, too. My colorist made the suggestion: I have very thick, dark eyebrows, and by taking them lighter, to match my hair, the whole look came together a bit better.
But like a lot of people who get blonde color, mine regularly turns a bit brassy — far more egg yolk than white frost. The popular remedy for this are violet-hued products like shampoos, conditioners, and masks, but the good ones are typically insanely expensive (like $50 a bottle), far more than my freelance-writer salary can regularly cover. Plus: That pricey shampoo wasn't exactly great for handling my also-dyed eyebrows.
What my job as a beauty writer does afford is the opportunity to test new products. So when I was sent some IGK Mixed Feelings Leave-In Blonde Drops, I was already stoked to try a far more affordable violet option. The ultrapurple pigment counters any yellowness — the two hues oppose each other on the color wheel, helping to negate brassy tones — and these drops also have prickly-pear-extract oil, which I think helps to boost shine and avoid straw-like hair. But unlike traditional products for blonde hair, these drops are designed to be mixed with whatever leave-in conditioner or styling product you already use.
What I've also started doing is squeezing out a few extra purple drops — for my naturally dark eyebrows. I use about two or three drops at a time, twice a week. (If I've been swimming in a pool with chlorine, I add a couple more drops.) I could get all fancy and bust out little bowls and brushes in order to create my custom formula, but I've found that a finger works just fine. Specifically, my ring finger. I rub the drops together, swipe them on, and immediately my features appeared far softer. Thus far, I haven't made too big a dent in the bottle that I've already been using for three months — the same amount of time I imagine I would have blown through the $50 bottles of shampoo and conditioner I had my eyes on.
Since I started using the drops, I've gotten compliments on my buttery-but-not-yellow-blonde hue, but perhaps best of all was when my then-boss told me I looked "less angry." That was enough to get me to stash another Mixed Feelings bottle under my sink, and to tell every single blonde I know to buy their own.
Strat writer Rio Viera-Newton bit the bullet and went full platinum with the help of Emaly Baum, "the queen of taking brunettes blonde," at Suite Caroline. Baum tipped Rio off to Rahua's shampoo and conditioner, an everyday kit that works wonders for double-processed locks. "It's not super moisturizing, but it's nourishing and it won't strip your color," says Baum.
Purpling products are key for maintaining perfectly golden tresses. Rio picked up this well-reviewed and not-too-spendy Sachajuan set before her blonde-ing treatment. But be careful. "If you use it too much," Baum notes, "it can really dull the color and make it look darker and less shiny."
Writer Hesper Desloovere Dixon once shared her routine for keeping her pale blonde hair, well, pale, and not yellow. This cheap shampoo is high on her list: "You can spend a lot of money on a purple shampoo that smells nice, or not a lot of money on one that smells like an old lady. Clairol Shimmer Lights may stink, but it knocks the yellow right out of your blonde. The no-nonsense salon shampoo is so high-octane, your platinum will veer into purple if you overdo it — a once-a-week routine is enough to keep cooler blonde tones fresh and bright."