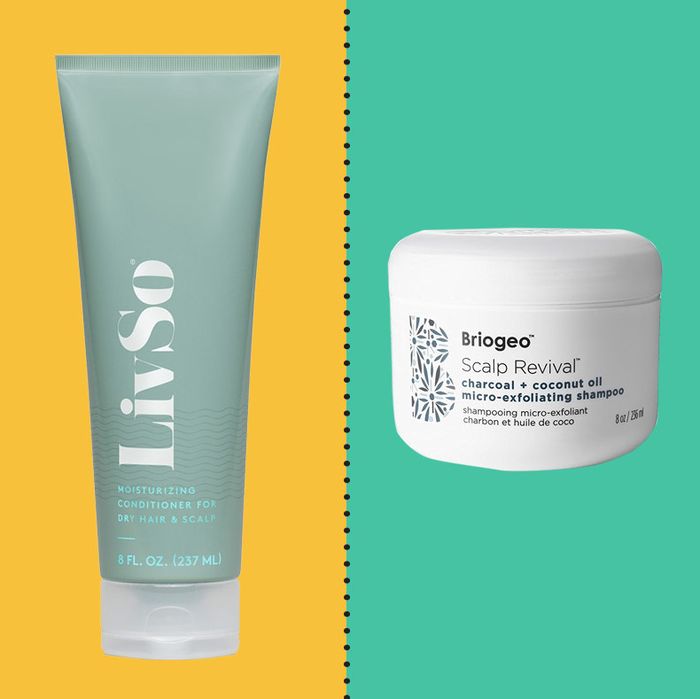 Three steps to a better scalp.
I'd given up on fixing my dry scalp. The harsh soaps in dandruff-treatment shampoos turn hair like mine — fine, curly, bleached— into the tactile equivalent of cotton candy. Plus, I already begrudgingly keep a regimen of moisturizing treatments with an occasional protein mask to keep my curls springy. The idea of adding a whole scalp routine would turn me off of hair washing altogether. But this year, several hair-care companies introduced curl-friendly scalp-care collections — shampoos, conditioners, and treatments that are gentle enough for delicate strands, but contain active ingredients that reduce flakes. After trying several, I've stuck with these three standouts.
Depending on the cause of dandruff, flakes will stick to the scalp and leave buildup, exacerbating an already annoying skin situation. This shampoo tackles that problem with tiny granules that physically exfoliate the scalp. With other shampoos, I'd need to wash at least twice to remove buildup. I only lather up once with Briogeo Revival. The formula has a relatively gentle, sulfate-free soap, so I haven't noticed any added dryness after using it for months. Still, on the recommendation of every dermatologist I've ever interviewed, I focus my shampooing on the scalp (not the hair), which also prevents curl dehydration. A boon or misfire, depending on your taste: Revival Shampoo definitely smells like Thin Mints.
Typically, I don't apply conditioners to my scalp, but this one is designed to be applied to both hair and scalp then rinsed off. The lightweight formula contains glycolic acid, a gentle cell-turnover booster, which helps skin exfoliate. After a month or so of weekly use, I truly noticed fewer dry patches on my scalp. The conditioner is lightweight, so if I want extra moisture, I will layer on a thicker mask (but not on my scalp).
Ideally, you'd apply this lotion all over the scalp right after conditioning. I should try that sometime. Instead, I use this solely as a spot treatment around day four post-wash, if dry patches pop up. A little of this lotion moisturizes, calms itchiness, and gets me through to the next wash day.
This little rubber brush was a godsend to writer Alison Freer, who suffered from seborrheic dermatitis: "I don't think I can properly explain via the written word how blissful the experience is. The effect is much like getting a scalp massage at the hair salon (with extremely firm fingers). I even use it while rinsing my hair, to ensure I've gotten all the shampoo and conditioner off my scalp. As a result, my dry, patchy flakes are now totally gone — and my scalp, a notorious grease pit, feels cleaner and squeakier than it has in years."