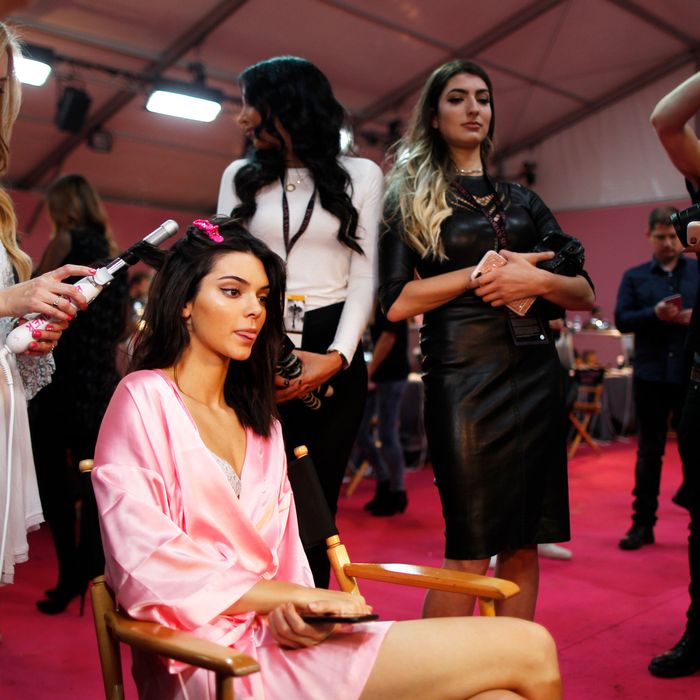 It's the secret to Angel hair.
Photo: Mehdi Taamallah/NurPhoto via Getty Images
I've spent my entire life wishing I had anything but stick-straight, Barbie-doll hair that would never hold a curl longer than an hour. I've bought and discarded dozens of curling irons since I was a teen — and even got a perm that fell out within a week. The internet tells me it's because my hair has no "inner protein," whatever that means, so I've long ago given up my quest for "TV hair" — those loose, beachy waves that absolutely every woman on television has.
Then the hairstylist I was working with on my last job — I'm a costume designer in Hollywood — got sick of my whining and gifted me the Beachwaver: a weird curling iron with a rotating barrel and a short, stubby clamp, which is apparently used backstage at the Victoria's Secret show to give the Angels those perfectly tousled beach waves. I was dubious that I could re-create anything close to the look at home, but the Beachwaver is a miracle gadget.
The secret is in its rotating barrel, which does most of the work — all you have to do is sandwich the ends of a smallish section of hair into the short clamp, hit 'L' if you're curling the left side of your hair or 'R' if you're curling the right, hold it for three to four seconds, then open up the clamp and slide the iron straight down — not sideways. (I'm pretty convinced that improper curling-iron removal was what caused my curls to fall flat for the past 20-plus years of my life.) The Beachwaver automatically spins to curl your hair with almost zero effort. That's not an exaggeration — I often curl my whole head with the Beachwaver while watching TV, never once looking in the mirror.
Let your curls cool for a good five minutes to really set them, then run your fingers through your hair to separate the curls a bit. And here's a hairstylist's tip: Finish things off by spraying your hairbrush with a bit of hairspray and lightly raking it through your curls. While the Beachwaver comes in three barrel sizes, I like the middle option — the one-inch model. It helps me start my day with a slightly tighter curl that falls nicely throughout the day, just like the women on TV.
The 0.75-inch version creates smaller, tightly defined waves.
The 1.25-inch iron gives the loosest, beachiest waves of all
If you're looking for something a little different — or at a different price range — take a look at some of these highly rated curling irons that we dug up on Amazon, too.
Says one hyperenthusiastic Amazon reviewer: "Love, love, love this wand!!! Curls very beautifully and gives this nice big-to-small curl at the end, kinda like an ombre. The only con is that it's very, VERY hot, so please be careful when you curl your hair because you will burn yourself and it will hurt. I learned that the hard way. Once plugged in, turn it on and it gets hot in less than 30 seconds. I'd say it goes up to 450 degrees, and no less, or higher. I recommend this to anyone who's interested in buying it."
Another Amazon favorite: "So easy to use, with incredible results. Make sure you let the wand heat up completely before you use it. Also make sure to hold your hair in place long enough; I pulled it off of the wand too quickly a couple of times and the curl wasn't as nice. When done properly, the curl is beautiful and wavy. So natural. And again — SO EASY! I am not a 'hair person,' so I was thrilled to find a tool that I could actually use. Excellent quality for the price."