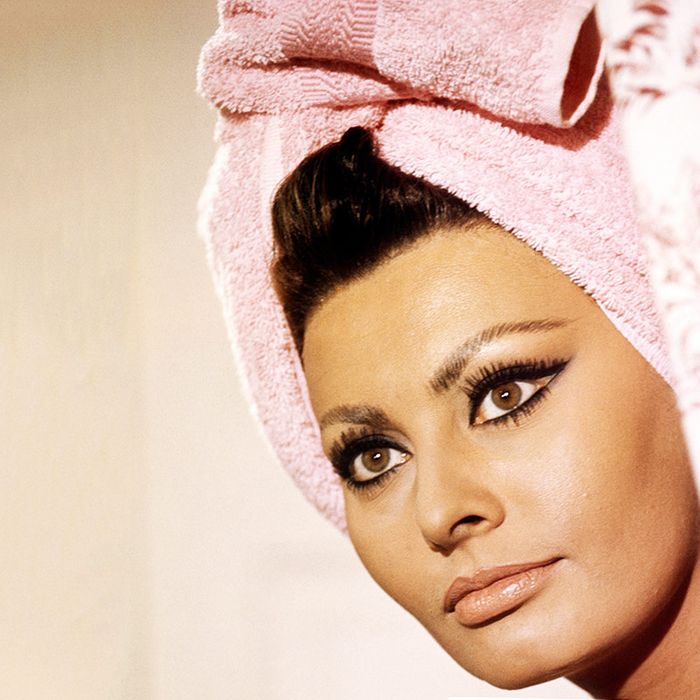 Sophia Loren, hair-towel pioneer.
Photo: Silver Screen Collection/Getty Images
Here at the Strategist, we like to think of ourselves as crazy (in the good way) about the stuff we buy, but as much as we'd like to, we can't try everything. Which is why we have People's Choice in which we find the best-reviewed products and single out the most convincing ones. (You can learn more about our rating system and how we pick each item here.)
And while we've written about lots of towels before  — including the best bath towels, towel warmers, and the best towels on Amazon — here we've rounded up the best hair towels, as praised by the most enthusiastic reviewers on Amazon.
Best-rated (and less expensive) hair towel
With over 2,600 5-star reviews, this hair towel is often described as absorbent, and hundreds of happy reviewers say it's helped cut drying time without adding frizz. "I used to use a t-shirt to wrap my hair in for the longest time because towels are bulky, not very absorbent, and tend to add frizz," says one reviwer, noting, This "DuraComfort towel has been such a great solution. It hasn't added frizz and pulls moisture out of my hair in record time." Another also tried wrapping her thick, wavy hair in t-shirts before switching to this quick-drying towel, writing, "I've been using this towel for about 3 weeks and I'm very pleasantly surprised with the results I've been getting. My hair is blowing out much smoother and I've cut down immensely on my straight ironing. I recommend this towel to anyone who is trying to reduce heat and products to achieve smoother, softer hair." Even reviewers who prefer not to use heat in their hair feel this helps bring out their natural texture. One writes, "I have shoulder length hair and I want to enhance my curls. This towel is perfect for this. I put it on upon getting out of the shower and leave it on while getting dressed. When I take the towel off, my hair is almost dry. This leaves my curls softer and more natural looking."
And now for some micro-picks for every type of hair towel you might be looking for.
Best turban hair towel
"Quality" is a word used by many reviewers to describe the material and efficiency of this hair towel-slash-turban, especially among those who have tried similar styles before. "I've tried many cheaper versions of these drying turbans, and this is certainly a case of 'you get what you pay for." As soon as I felt it, I knew it was better quality. I have wavy hair that needs product or it gets frizzy," writes one reviewer. "When I took this off my head after my shower, my hair was almost dry and I had all these well defined curls. I couldn't believe it." Another reviewer who penned almost 500 words on this towel loves how lightweight it is, writing, "I have often wondered why I should have to balance a heavy towel on my head — that hurts my arthritic neck and falls off whenever I lean over. It is an annoying, achy, balancing act. The turban is lightweight and securely fixed to my head. It won't come off if I do jumping jacks." Dozens even comment that despite how easy and lightweight it is, it actually works, like one who writes, "I always air dry my hair. I don't like damaging it with heat. But my hair takes hours to dry. This turban can do in 15 minutes. I never used hair turbans before because they wouldn't stay in my hair, but this one fits as snugly as you want it to and buttons in the back, so it takes the sloppy mess out of using a hair turban."
Best hair towel for fine hair
Shoppers with fine and delicate flocked to this towel, describing it as gentle on fragile hair. One claims, "This towel has saved my hair. I have super fine hair prone to breakage. When I wrap this around my head, I just leave it for a few minutes then take it down. No rubbing, no squeezing, no dripping. The towel absorbs all the extra moisture and leaves your hair just damp. I took one with me on a four-month trip around the world and it was the most useful thing I brought." Curly-haired reviewers even hopped on board with this towel, with one writing, "I have fine 2b wavy hair and wanted something to dry it quickly without making it frizzy. This did the job. I was hesitant about the size at first, but it works great. It dries fast and I even take it with me when I travel." Another long time user writes, "I received my first Aquis towel from my mom about 30 years ago, and I am now on my third one. That tells me that each of them last about 10 years which is pretty impressive, and I use it every single day. It is very lightweight and never falls off while I'm getting ready or making breakfast or whatever."
Best hair towel for kids
"I wanted to get a towel for my daughter's hair that she would keep on and wouldn't be heavy for her little head," writes one reviwer, about her 3-year-old with long, thick hair. She says this microfiber hair towel is, "So easy to put on. I can wrap it front or back. Her hair dries quicker and it doesn't pull like I was afraid it was going to. Best of all, she loves it. She plays in it like it's not even there." Another mom who bought this for her daughter notes that for younger kids, it may be large: "I bought these for my 5-year-old because she hates having wet hair on her back (I do too, actually). The first night she used it, she fell asleep with it on, so it must be comfortable. It's a tad big on her head, but I just give it a few extra twists to make sure it's secure before hooking the loop over the button in the back."
Best hair towel for long hair
"Wow is all I have to say about this hair towel," writes one reviwer who describes themselves as having head of long and thick hair. "No hair towels have ever been able to hold/dry all of my hair until this one. It's the biggest hair towel I've been able to find and I'm able to wrap all of my hair into a 'turban,' saving my bath towels from the wrath of my hair. Its awesome." Others who also have extremely long hair say using this cuts down on their dry time, like one who calls this a, "Staple hair care item for anyone with long hair trying to cut drying time. Absorbs more water than a cotton towel. My hair is smoother since I switched to microfiber." Another who loves to sleep with wet hair added this towel to her routine, commenting, "This hair towel did an excellent job of leaving my hair much more dry by morning, and even less unruly. It felt more like a spa treatment than anything; I would envision myself using a towel this plush at a salon or any sort of spa. It is so comfortable and easy to use, and kept my hair piled on top of my head all throughout the night."