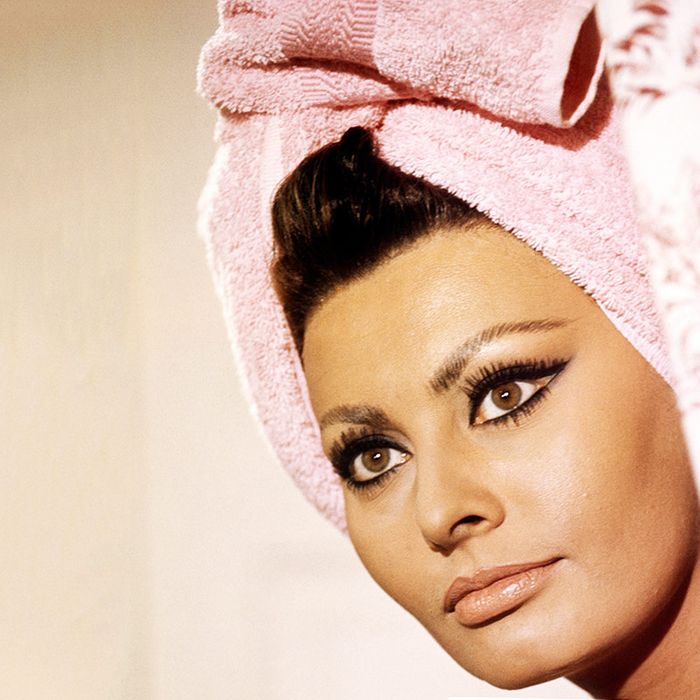 Sophia Loren, hair-towel pioneer.
Photo: Silver Screen Collection/Getty Images
For anyone who hates waiting for their hair to dry, or dealing with frizz, a good hair towel can be life changing. And while we've written about lots of towels before — including the best bath towels, towel-warmers, and the best towels on Amazon — here, we've rounded up the best hair towels, as praised by the most enthusiastic reviewers on Amazon.
Related Article: Best Products for Natural Hair
Best-rated (and least expensive) hair towel
With over 2,600 5-star reviews, this hair towel is often described as absorbent, and hundreds of happy reviewers say it's helped cut drying time without adding frizz. "I used to use a t-shirt to wrap my hair in for the longest time because towels are bulky, not very absorbent, and tend to add frizz," says one reviwer, noting, This "DuraComfort towel has been such a great solution. It hasn't added frizz and pulls moisture out of my hair in record time." Another also tried wrapping her thick, wavy hair in t-shirts before switching to this quick-drying towel, writing, "I've been using this towel for about 3 weeks and I'm very pleasantly surprised with the results I've been getting. My hair is blowing out much smoother and I've cut down immensely on my straight ironing. I recommend this towel to anyone who is trying to reduce heat and products to achieve smoother, softer hair." Even reviewers who prefer not to use heat in their hair feel this helps bring out their natural texture. One writes, "I have shoulder length hair and I want to enhance my curls. This towel is perfect for this. I put it on upon getting out of the shower and leave it on while getting dressed. When I take the towel off, my hair is almost dry. This leaves my curls softer and more natural looking."
Best hair towel for fine hair
Shoppers with fine and delicate hair flocked to this towel, describing it as gentle on fragile hair. One reviewer, whose lifelong thin hair has worsened in recent years, claims, "Since I started using the Aquis towel, my hair falls out less as I dry it, my hair has fewer split ends, and it dries very quickly and holds the curl better when dry." Another describes it as "really gentle" and agrees that her "curls have more definition after drying with it" because "it absorbs moisture really well!" Many reviewers — even those with thick hair — agree that, despite being thin, this towel doesn't lack absorbency. One customer who has "long, thick hair" says that after several decades of using a plain towel and hair dryer, this "has literally made my hair shinier, less frizzy, and dry faster." Even one initially skeptical user agrees that this towel cuts down her dryer time "to about half," adding that having drier hair means "less frizz and less time to [get] ready."
Best hair towel for long hair
"Wow is all I have to say about this hair towel," writes one reviwer who describes themselves as having head of long and thick hair. "No hair towels have ever been able to hold/dry all of my hair until this one. It's the biggest hair towel I've been able to find and I'm able to wrap all of my hair into a 'turban,' saving my bath towels from the wrath of my hair. Its awesome." Others who also have extremely long hair say using this cuts down on their dry time, like one who calls this a, "Staple hair care item for anyone with long hair trying to cut drying time. Absorbs more water than a cotton towel. My hair is smoother since I switched to microfiber." Another who loves to sleep with wet hair added this towel to her routine, commenting, "This hair towel did an excellent job of leaving my hair much more dry by morning, and even less unruly. It felt more like a spa treatment than anything; I would envision myself using a towel this plush at a salon or any sort of spa. It is so comfortable and easy to use, and kept my hair piled on top of my head all throughout the night."
Best hair towel for curly hair
One reviewer recently started embracing her natural curls, but "after years of harsh chemicals," she noticed intense breakage until she used this towel. She writes, "I find that my ends are always heinous and my fly-aways are from obvious breakage. A few months ago, I heard a tip about how normal towels actually damage the hair. My curls look almost as gorgeous as if I took the time to twist and wrap my hair. The ends aren't frizzy and coarse and I didn't feel any strands pull and break. Such a simple solution." Another reviewer felt this towel was the only solution to enhancing her natural loose waves, "My curly hair shampoo ran out and I just used my old non-curly hair shampoo that did nothing for my waves. But it wasn't the curly shampoo that made my waves nice, it was this towel. Curls, no frizz and shine? I feel like I hit the lottery." A few mention that even with the thickest of hair, they had to size down because the large size is truly very large, one says, "Wow, best hair towel ever. I can't say enough about this towel. I have naturally curly hair and this step in my hair routine is crucial for my hair to turn out right. I will be buying another one. I bought the large but really only needed the smaller size. I have thick shoulder length hair and the large is still really big."
Best turban hair towel
In addition to nearly 300 five-star reviews, this towel-slash-turban is a Strategist best seller, and Rio Viera-Newton herself says it "changed my life." Plus, since it connects in the back with a button, many reviewers describe it as both effective and easy to use. "After using this, putting a towel on your head is not the same. It's so lightweight, easy to move around and get things done, put clothes on, makeup, anything, you almost forget it's on," says one reviewer. Another, who also appreciates that she's able to multitask while using this hair towel, says that it cuts her drying time in half since it absorbs "enough water out of my hair that diffusing my hair dry doesn't take very much time. The microfiber cloth is easy on my curls," she adds. Dozens of other customers, including many with curly hair, say that this turban has improved their hair quality and cut down on styling time. One such reviewer wears this while she goes about her morning routine and says it has even "helped with hair loss, and my hair is stronger because of it," since she no longer uses a dryer as frequently.