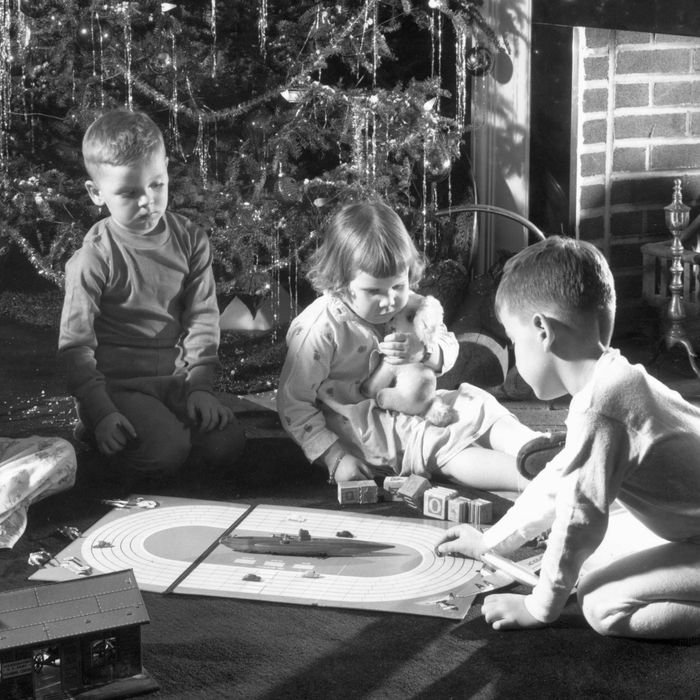 Photo: Lambert/Archive Photos/Getty Images
Here at the Strategist, we like to think of ourselves as crazy (in the good way) about the stuff we buy, but as much as we'd like to, we can't try everything. Which is why we have ​People's Choice​, in which we find the best-reviewed products and single out the most convincing ones. (You can learn more about our rating system and how we pick each item ​here​.)
And while we've written about board games — including the best board games for adults, the best board games for parties, and the best board games for two players — here we've rounded up the best holiday-party games, as praised by the most enthusiastic reviewers on Amazon.
Best-rated holiday-party game
"We purchased Exploding Kittens for our nephew and our godson for Christmas and the kids howled with laughter playing this game. They literally played until it was time for everyone to leave," writes one reviewer. And more than 5,000 others agree, calling this expert-recommended card game for parties "fun," with one noting, "It was a huge hit, especially with the kids. It took a little bit of explaining and coaching to get the kids up to speed, but after that, they ruled the table like the merciless sociopaths kids are." Another notes that the fun comes from how inappropriate the cards are: "The game requires you to make temporary alliances, screw everyone, be sneaky, or a little of the above. The cards are hilarious. The pictures are completely inappropriately awesome." A third agrees, writing, "This is a quirky, funny, and flexible game that provides actual interaction in a light and funny way." But many reviewers did note that the humor can be offensive to some. "If you're highly offended and don't find offensive/gross things funny, it's probably not for you," one reviewer writes, adding that the game still "really makes me laugh."
Best-rated less-expensive holiday-party game
This affordable party game is fun for all ages during the holidays, with one reviewer calling it "a hoot. We played it at Christmas for hours. Everyone loved it." Another adds, "This game is so much fun. My entire family loves playing." And a third says, "This game was perfect; even my 7-year-old was able to play along and guess correctly. I recommend this game for anyone with young children and us old adults." While a few reviewers note that you can just download the app to play, one says springing for the game is worth it: "We have played this game on our phones, but I found the game to be a lot more fun [with the cards]."
And now for some micro-picks for every type of party game you might be looking for.
Best holiday-party game for adults
"I was browsing the internet for a fun group card game that wasn't Cards Against Humanity when I came across this gem," one reviewer says about this meme-based card game that more than 200 reviewers called "lots of laughs." Another reviewer writes, "The game went over so well at our recent holiday party. I would blame the alcohol, but truly the game was hilarious, and we had a great time playing it." That reviewer goes on to explain that "essentially, the game provides an easel, and you put up a meme, and people caption the meme with the cards they have in their hand. I had more than a few friends say that they loved the spin of captioning a photo instead of the typical Cards Against Humanity format." Another reviewer notes that "this game is really great, and I would recommend it for all meme lovers! There are expansions, and I've bought a few, but it is also fun to make up your own variations and add your own memes. The cards are clever and there are a variety of memes from the dawn of the internet to now." But reviewers agree that the subject matter, while hilarious, is best for adults. "I got this for my family to play on Christmas. Everyone in our group, from ages 18–65, from meme experts to meme noobs, was laughing and having a great time," writes one. Another concludes it is "similar to Cards Against Humanity, but some of the answer cards are even more messed up and hilarious. Definitely not for kids but perfect for a game night with adults."
Best easy-to-learn holiday-party game
Reviewers agree that this game is super-easy, with one writing, "We love this game. It is easy to learn and is a riot to play. (This is speaking from a family who loves games and plays often.) We took it over to play with friends for New Year's Eve and can't remember laughing so hard or enjoying a game so much." A second satisfied customer adds, "It is so simple to learn, easy to play, and adjusts well to all group sizes. There are a ton of cards, so we haven't had to repeat clues. There are different levels of difficulty, so everyone can play and have fun." A third says, "I have played Rollick a couple of times with a group of friends and it has been a hit each time! Rollick is great for parties and get-togethers because it is easy to learn, involves the whole group, and provides laugh out loud moments."
Best family-friendly holiday-party game
"We love this game. I like that it's so simple to play yet provides a ton of fun for all ages. Right out of the box, you're ready to play in three minutes or less," writes one happy customer, who adds that "another great feature is that you can play for as long or as short as you'd like. Nothing kills a game night quicker than a game that goes on forever. Our 4-year-old plays up to adults, and it's a riot for everyone." Another reviewer calls it "one of the best games I have purchased in a while," explaining, "we played with friends and they loved it so much we bought them one too." This reviewer goes on to say that "this was a Christmas gift from one of my siblings. They figured I needed a game that was kid-friendly but fun enough for adults as well. We played it on Christmas Eve with just a few adults and then the next day with a whole bunch of people they'd invited over. Adults, teens, and a little younger. Lots of laughter at the answers people came up with. I was looking for a 'clean' game that wouldn't be too boring for adults. This was perfect!"
Best holiday-party dice game
"Such a fun game. And what a wonderful, colorful set. We enjoyed Farkel at our family reunion — with ages 5 to 85 in attendance," explains one reviewer, who adds that "it's so nice for each player to have their own set of dice and their own shaker. Farkel is an easy-to-play game of chance with just a tad bit of strategy. It's a good game for all ages." Many reviewers also argue that this is more fun than Yahtzee, like one who says, "Played it with family and friends in Seattle and got rave reviews from them. Better than Yahtzee." Another sums up the game's appeal simply: "It's compact. Easy to use. Fast paced. All that is required is looking at the dice for pairs, triples, 4 of kind, etc. Great party game that doesn't require a lot of space."
Best classic holiday-party game
This giant version of the classic game Jenga has racked up more than 3,600 five-star reviews. "This one is the real thing — Jenga as I remember playing it as a kid," writes one reviewer, who adds, "More than many games and toys of my childhood, I believe this one is still worth playing (which is why I now have my own set)." Another customer who bought it for her 6-year-old grandson writes, "This classic game never gets old." A third reviewer notes, "This game is a classic and great for kids and adults alike. Great for large groups."
Best holiday-party drinking game