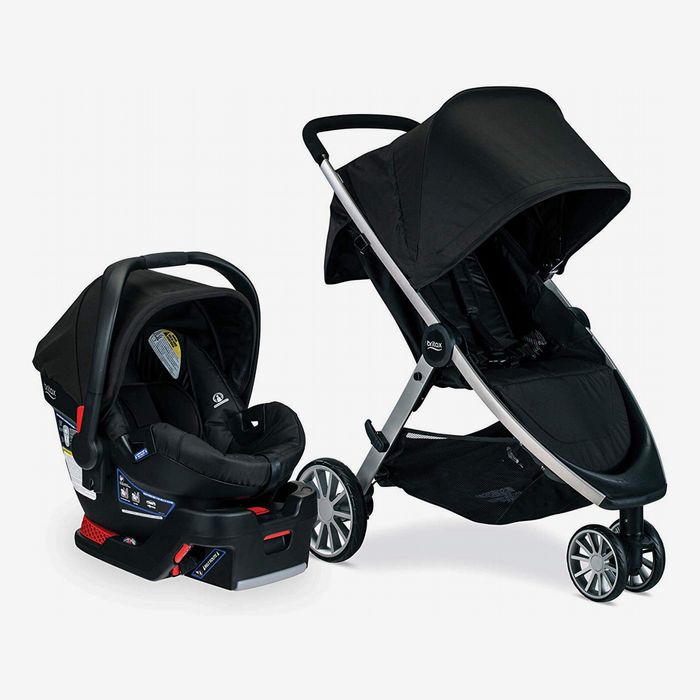 Here at the Strategist, we like to think of ourselves as crazy (in the good way) about the stuff we buy, but as much as we'd like to, we can't try everything. Which is why we have People's Choice, in which we find the best-reviewed products and single out the most convincing ones. (You can learn more about our rating system and how we pick each item here.)
And while we've written about lots of strollers — including the best strollers, expert-recommended umbrella strollers, and the best double strollers — here, we've rounded up the best car seat strollers, as praised by the most enthusiastic reviewers on Amazon. 
Best-rated car-seat stroller
"Love this car seat and stroller combo," one enthusiastic reviewer writes, explaining that it's "super easy to fold up and unfold, and car seat clips in great to it." Another customer, who researched for months before making a purchase, says this car seat is "comfy for my little and he doesn't get too hot in it." They add, "The straps are mostly easy to move up as my little is a really long guy. The seat is really highly rated for accidents and still happens to be very lightweight, even when he is in it." The jogger stroller itself is highly praised, as well, even by one user who admittedly isn't very active. "I don't do a lot of jogging (okay, like any) so I was conflicted on if I wanted to pay extra for a jogging stroller and car seat set as opposed to a regular set," but now says, "I am so glad that I decided to get this. I've had it for almost a month now and it has really proven it's worth. The tires are all-terrain, so I can drive it on grass, gravel, pavement, dirt. It's very versatile!"
Best-rated (less expensive) car-seat stroller
"Big fan [of] this combo, it does everything I need it to," one reviewer writes. "The stroller is fairly light so I, being a smaller female, can move it easily." More than 60 percent of reviewers give this travel system five stars, and it gets a lot of praise for being lightweight and easy to open up. "Both the car seat and stroller are very lightweight," one writes, adding, "The stroller is so simple to open and the car seat clicks right on." Another says, "My favorite feature is how easy it is to fold back up," while another even calls it a "true one-handed fold up/fold out." Dozens also note how good the combo looks, but according to one reviewer, "This car seat is not only beautiful but very safe." They explain, "My son was involved in a serious car accident totaling his Mustang and my granddaughter came out unharmed at only 1-month old."
And now for some micro-picks for every car seat stroller you might be looking for.
Best easy-to-maneuver car-seat stroller
The consensus among reviewers is this car-seat stroller is easy to maneuver. "The wheels don't stick and it is very easy to maneuver in tight elevators and corners," one writes. Another says, "I love how it easily maneuvers without any issues," and another mentions, "We went out for a stroll and it rolls pretty smooth over a couple different terrains." Another reviewer does say, "The car seat is on the heavy side but I would rather something well [built] with sturdy materials then a lightweight one that is flimsy." Lots of reviewers also mention how beautiful this stroller combo is, as well as how easy it is to use, like one who says, "This has by far met and exceeded my expectations," and also notes it has "extremely easy assembly. Mobility is fantastic. And it's very pretty."
Best easy-to-fold car-seat stroller
"If you are a mom who needs something that isn't complicated to fold or move, this is what you need," one reviewer writes of this Chicco travel system, echoing hundreds of reviews that describe this car-seat stroller system as "easy." A mom of five who says this is "by far" her favorite travel system writes, "the car seat is easy to carry and not bulky like some others, the base and seat work well together to maximize safety and the stroller moves so easily." Another describes this system as, "Easy to open and store the stroller. Easy to get the baby in and out of the car seat. Easy to get the car seat in and out of the car." In addition to being easy to operate many note that it is easy to clean. "The color and fabrication is washable, and durable," one writes, while another says, "I loved I am able to remove the stroller portion/ seat and wash with no issues same with the car seat!"
Best jogging car-seat stroller
One mom who has made it to the five-month mark says this stroller works great. "I find that the maneuverability is easy and smooth," she writes, adding "The fact that it has thicker jogging-style tires makes it less bumpy and more stable for the baby. I love that I can easily take this stroller wherever we go." Others rave about how easily this car seat clicks into the stroller and the car. "The 'click-connect' system couldn't be easier," one writes, adding, "It's so nice to be able to easily transfer the baby from the car to the stroller back to the car." Once in the car, parents can feel like their child is safe, according to one reviewer who says "my daughter was 6 weeks old when we were in a car accident." They explain, "My daughter's side door took the direct impact, and she was left completely unharmed." Not only is the seat safe — it's comfortable. Another parent who says "my daughter SCREAMED in the car from 0-3 months" notes, "She stopped crying with this car seat." They also add that the jogging stroller is "amazing." "I can't feel any of the bumps I used to with the safety first stroller."
Best car-seat stroller with bassinet
A main selling feature for reviewers is the bassinet option this car-seat stroller comes with. "One of the main reasons I wanted this combo was not only the comfort, safety, rear and forward facing options but was for the carriage bassinet option," one user writes. Another says, "Love how it comes with a bassinet so our baby could sleep when we're out for extended periods," adding, "The ability to configure it in different ways so that baby's head is either facing towards or away from you is a nice touch too." But this travel system is also a favorite among experienced parents. One with seven children says, "The car seat is light and less bulky than any other one I've owned," while another notes, "This is my fourth go-round, and it is my favorite by far."
Best car-seat stroller with plush padding