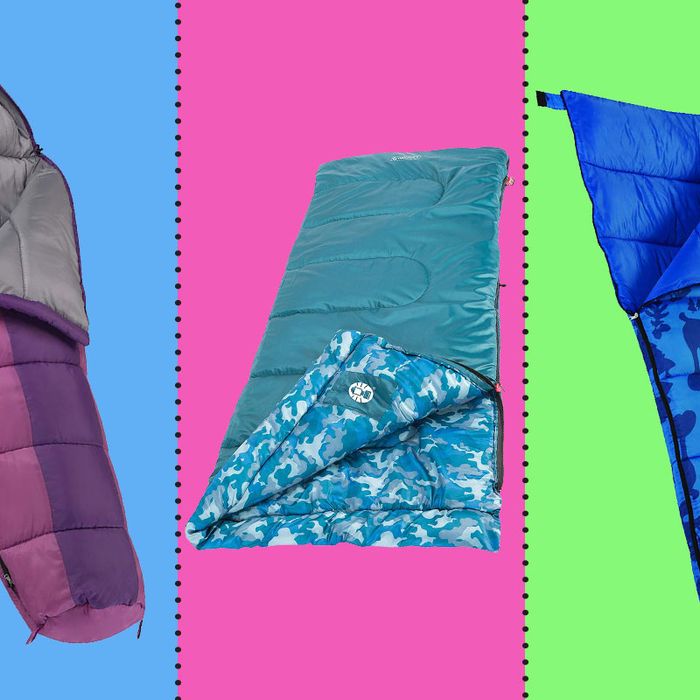 Photo: Courtesy of the vendor
Here at the Strategist, we like to think of ourselves as crazy (in the good way) about the stuff we buy, but as much as we'd like to, we can't try everything. Which is why we have People's Choice, in which we find the best-reviewed products and single out the most convincing ones. (You can learn more about our rating system and how we pick each item here.)
And while we've written before about outdoors gear for kids — including the best rain boots, bicycles, and sneakers — here we've rounded up the best kids' sleeping bags as praised by the most enthusiastic reviewers on Amazon.
Best-rated kids' sleeping bag
Over 70 percent of reviewers give this Coleman model a five-star rating. "This sleeping bag is wonderful for my 8-year-old daughter," writes one parent. "It's long enough for her — she's taller than the average 8-year-old — so she can fit her whole body in up to her shoulders and still has room left at her feet." Another parent writes, "I bought this sleeping bag for my son's first summer at overnight camp in Prescott, AZ. He said it was very comfortable. It's not flimsy material, so it would be good even in colder weather … I also like the fact that it can be washed in cold water and gentle detergent if needed. But after a week of camp, it was in great condition, and I didn't have a reason to wash it. He can't wait to use it again!"
Many reviewers specifically praise the plow-style zipper, which, as one describes it, "has completely eliminated the common problem of zippers getting stuck on the fabric. Love it!" Another parent notes the "nice big zipper handle" that's easy for kids to operate. Overall, this one is popular with kids and parents alike: "My son love, love, loves this sleeping bag. It's a great item for a boy that is transitioning into a bigger boy and doesn't want all the fluffy characters or superheroes anymore. It's great quality, one of the best things I ever bought on Amazon."
Best-rated (less expensive) kids' sleeping bag
"My son and daughter — ages 7 and 3 — both asked for sleeping bags for Christmas," writes one parent. "After lots and lots of searching, I found that these ones were by far the best for my money. You don't need to spend $40 on a child's sleeping bag. This one right here is everything you could ask for and more." Other purchasers agree that this Wenzel sleeping bag is high quality and a great value. They also say not to let the "boys" categorization in the product name throw you off: "The cute design is perfect for young boys or moose-loving girls!" One parent bought these sleeping bags for girls and says the bags have "exceeded expectations. They've been used for overnight camping and for sleepovers. They've been through quite a lot and still look as good as they did when they were purchased."
And now, some micro-picks for every type of kids' sleeping bag you might be looking for.
Best kids' sleeping bag for camping
"We have one Teton junior sleeping bag of each color for our kids," writes one parent, who says their family "camps a lot." "These have been great for our kids, all of whom are between toddler and adult sizes. They pack easily, aren't too bulky, and keep the kids warm. They're the perfect size for young kids!" Another parent purchased this for a 6-year-old: "We took it on his first camping trip recently, and it was perfect. We had a little of everything: some warm nights, cold rainy nights. This bag was very comfortable for him in all conditions. He loved it. The quality also seems excellent, and I anticipate having this for many more trips to come. Hopefully, we'll be able to hand it down to his little brother when he outgrows it." Many reviewers also mention choosing this for their children to use on Boy Scout and Girl Scout camping trips. As one writes, "I bought my daughter her first 'big girl' sleeping bag for her Girl Scouts camping trip. She loved it and said it kept her warm all night."
Best kids' sleeping bag for summer camp
One parent bought this for a 7-year-old to take to summer camp: "I wanted something that would be cool enough for summer heat but warm enough for early fall and last until she was ready for a larger bag. I also didn't want to buy a 'character' sleeping bag that she'd dislike in three months!" This Wenzel was a success. "So far, this bag has camped out in the backyard and been to one week of summer camp and four Girl Scout campouts in various seasons. One of the campouts was in cabins with no heat and temps down to the low 40s — no complaints at all!" Reviewers note that "the zipper allows you to open up the bag" and use it as "one large blanket" if you want. One (adult) camp counselor did just that: "I used it as a comforter in the cabins, and I also took it on several outdoor camping trips sans tents; it kept me warm all night long. The fabric is smooth and cool and felt great against my skin." She notes that this product is technically listed as a "child's sleeping bag" but explains, "For reference, I am a five-foot-three female and had legroom to spare. Such good quality and value."
Best kids' sleeping bag with stuff sack
"This sleeping bag is very comfortable and keeps my daughter toasty and warm," writes one reviewer of this Wenzel sleeper. And though it's called a "girls'" sleeping bag, this parent describes it as "very gender neutral, so she can pass it down to her little brother when she outgrows it … My daughter is 6, and there is still plenty of room for when she grows taller." Plus, the reviewer adds, "it rolls up very small and has a nice little bag to carry it in. It's super-easy to store." That stuff sack is another popular feature of this sleeping bag. One dad explains, "Got these for the kids to use in our 77-foot Westy. We've camped in 30-degree nighttime temps, and they've stayed warm in these bags. They pack in their stuff sacks easily, and my 5-year-old was excited to get a 'real' sleeping bag. Seems like they'll hold up for a long time."
Best kids' sleeping bag for warm weather
"Exactly what I was expecting from a 50-degree bag. Good quality. Kept warm in the upper 40s. Light enough to use during summer," writes one reviewer who sums up the appeal of this Coleman sleeping bag. "It's thick enough to keep them warm on a crisp fall evening but not so thick they can't use it in mid-August," says another. Purchasers also like the simple colors and designs, which aren't "too kiddish," and one adds that they trust the brand: "Can't go wrong with a Coleman product."
Best kids' sleeping bag for toddlers
Reviewers say this sleeping bag is great for younger kids, and they note the wide variety of patterns and designs. "My 4-year-old grandson absolutely adores this sleeping bag and insisted on taking it to school for the afternoon nap," says one reviewer. "The quality and construction are good. Lovely gift item for a Batman fan." Another purchaser calls out the dinosaur pattern: "Perfect sleeping bag for a dino-loving 5-year-old!" This bag's fabric also received a lot of praise from reviewers, who say it feels much "sturdier" and "softer" than "traditional kids' sleeping bags that feel satiny and cheap. This feels like it will only improve with washing over time. A great buy. Worth a couple extra dollars." Along those same lines, one reviewer says it's "well-made, thick, warm, and adorable. Love that there is nothing slick — all fabric. Love it!" And many mention the included pillow as a nice touch: "The little pillow is a great addition, and my son would rather use that than his full-size pillow."