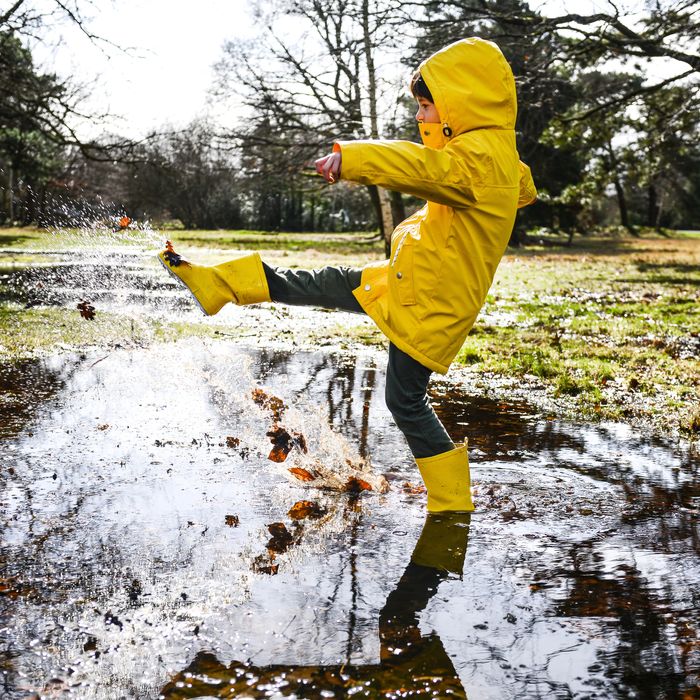 Photo: Bonfanti Diego/Getty Images/Cultura RF
For kids, rainy days mean stomping in puddles while wearing their favorite stripy, outer space-themed, or glittery rain boots. But not all rubber boots are created equal. The absolute best rain boots for kids keep tiny feet dry, cozy, and slip-free no matter how hard they stomp. We talked to mom-fluencers, stylish parents, a stylist for kids, and a children's clothing designer to find out which boots look the best, last the longest, and perhaps most importantly, which are the easiest to get on in a hurry.
The overwhelming majority of our experts recommended Bogs rain boots for their convenient side handles and their efficacy at keeping little feet dry in extreme conditions. "I love them for the pull-on handles that make them easy to get on," says Laura Fenton, lifestyle director at Parents magazine, who has bought them for her son repeatedly.
"As the name suggests, your kids' legs could live in a swamp for days on end [in these], which is something they'd probably consider." says Marcos Espinoza, dad and owner of Side Project Jerky. A father of three, Espinoza also noted that Bogs are warm enough to wear year-round (even in the snow), saving closet space and boot budget.
Steffy Degreff of Steffy's Pros & Cons, a lifestyle blog with tips for moms, prefers Hunter's bright yellow original kids boots over every other pair. "They have SO many color options, and the boots are of such good quality, they're practically indestructible." Espinoza is also a fan of Hunter boots for his kids, and not just for style reasons: "They're a bit less robust than the Bogs, but they definitely keep the water out when your kid inevitably stomps their feet into the filthiest puddle they see." Parents who have trouble getting their kids to wear socks should note that these are not as warm as Bogs.
Melissa Buck, who works as a children's stylist and is also a mom, had a lot of recommendations for boots from the brand Western Chief. "They actually have a boot inspired by Wonder Woman that has a small red cape off of the back of each shoe, but there are of course more stylish and modern pairs."