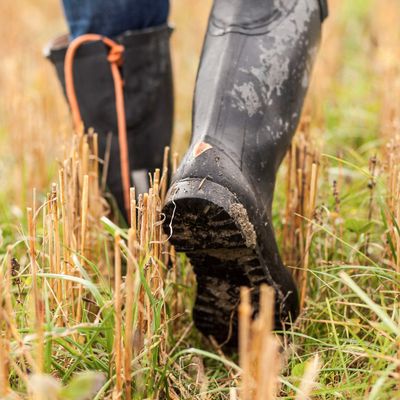 Photo: Maskot/Getty Images/Maskot
Here at the Strategist, we like to think of ourselves as crazy (in the good way) about the stuff we buy, but as much as we'd like to, we can't try everything. Which is why we have People's Choice, in which we find the best-reviewed products and single out the most convincing ones. (You can learn more about our rating system and how we pick each item here.)
And while we've written about lots of rain gear — including the best umbrellas, the best women's raincoats, and the best stylish rain boots — here, we've rounded up the best men's rain boots, as praised by the most enthusiastic reviewers on Amazon. 
Best-rated men's rain boot
"These boots excel in all the areas were it counts," writes one happy customer, especially when it comes to waterproofing. "Timberland hikers in black and 'definitely' waterproof as these have always been my husband's favorites," another reviewer writes, adding, "He wore them the entire snowy winter through ice, sleet, rain and everything without any leaks." Another says, "The first day I wore them, it had rained somewhat recently and there was mud everywhere." They continue, "We reached a sort-of washed out part of a trail and had to hike through a marshy creek bed, and at one point my foot sunk into mud up to my ankle. When I got home and took these off, there was absolutely no sign of mud or creek water in them." One even attests that they, "Walked well over 30 miles in cities, through fields and on beaches, all while it was raining…Never got a blister, had sore feet, or had damp socks once." In addition to being waterproof, users praise these boots for being comfortable from first wear with one saying, "These boots fit perfectly, were true to size, and required absolutely no break-in time."
Best-rated (less expensive) men's rain boot
"Why pay more?" one reviewer asks, explaining, "If you don't need safety toe, and you just want to keep your feet dry, these are great." Dozens of reviewers agree that for simple tasks, these rain boots get the job done. "I worked for two hours cleaning pavers with a high pressure machine and my feet stayed dry," one writes, adding, "The lug sole makes for a secure, stable platform to work from." Another says, "I bought these boots for walking around in ankle deep water for work, and for the most part they are great," adding, "They fit my feet very well, and are great at keeping me dry." One reviewer likes these so much they can't wait for the weather to get bad. "I like it when it rains," they explain. "I get to wear these boots."
Best men's rain boot for everyday wear
"These shoes will put your podiatrist out of work," according to one reviewer, who echoes many reviewers' pleasure with the comfort of these boots. "I wear these for 10-12 hours a day on concrete floors, 6 days a week, and do not hurt at the end of the day," one writes. Another says, "These fit just like I expected: very comfortable, warm, and waterproof which is essential for me." One reviewer says, "I bought this boot to walk a pitbull who walks 5-7 miles almost every day." And they add, "Nothing but the most extreme weather stops her 2 to 3 walks every day. That is why I need a waterproof boot. The boot is comfortable especially for a leather boot which has not been broken in." Not only do reviewers believe these boots do a good job of keeping water out, but at least one calls out the wicking feature from the inside: "First heavy snow since purchasing them and trudging through drifts some snow went down inside, but interestingly, the interior seems to wick the moisture away from my feet which is fantastic."
Best insulated men's rain boots
Reviewers attest that these boots are both warm and waterproof. "I was standing in a very cold creek for over an hour and a half in these today spending time with my beavers and my feet were warm the entire time with only a cotton pair of socks on under them," one user writes, adding, " Not a gosh dang leak either. Twenty-five degrees out snowing like a son of a and my feet were good." Another reviewer who says they bought them for their husband, who wanted "a pull on, waterproof, insulated boot to get on quickly for outdoor winter chores," says "He's been able to wear them numerous times in the snow, snowblowing, shoveling, and other winter chores and he is extremely happy with them." Many chalk the warmth and waterproofness up to the liner, like one who says, "I really do like that the liner is thick and is removable, over the calf, and for a rubber boot has a medium aggressive tread." Another concludes, "If you're walking or stalk hunting, these boots will keep your feet warm."
Best thin-lined men's rain boot
As one user concisely puts it, "The boots are comfortable and easy to get on and off." Hundreds of users agree, and at least one gives credit to the liner for the ease of wear. "Servus boots have a thin liner that appears to be almost like cotton to make it much easier to put the boot on and take it off… it keeps the rubber from sticking to you," they explain. According to another customer, these boots are great for "anyone looking for a waterproof boot for light outdoor chores," but dozens of others also say they can weather a storm. One writes, "I have stepped into puddles half way up my shin and my feet don't so much as dampen," while another says, "For outdoor activities or on rainy days at the office these boots can keep those tootsies nice and warm and dry." But as one customer warns, "Runs a bit big, but can easily add a liner or layers of socks."
Best men's muck boot
"If you have a 'Mud Season' like we do these will be your best friends," one reviewer writes of these muck boots, and reviewers dealing with any kind of mud seem to love these boots. One customer, who had a pair for 15 years before they fell apart, says, "I used them for barn chores, cutting up dead trees, and our land is quite mucking." Another writes, "I would recommend these highly to anyone who works around any kind of muck: gardening, farming, caring for horses, chickens, etc." Reviewers say these hold up in rain as well. One writes, "I am quite confident this will keep my feet warm and dry in the snow and have used it in the rainy weather we have had in the mid Atlantic and it kept me dry and feet warm." Another says, "I couldn't ask for a more comfortable for a better performing waterproof boot," and after doing "some weed eating in my ditch where grass was about 18 inches high and ground was real muddy because of rain… the boots performed awesomely and they were super comfortable."
Best men's rain boots for fishing
Reviewers swear by these boats for a dry fishing trip. "I used these for the first time panga fishing at Cedros island," one user explains. "My feet have never been happier after fishing. Normally I wear flip flops when fishing on my friends boat or panga fishing and after a full day on the water my feet hurt, not with these! I didn't wear socks and my feet stayed dry and warm ALL day long." Another fisherman attests that wearing these meant it was their "First fishing trip that my feet were comfortable, and DRY." In addition to keeping everything dry many say these boots are easy to get on and off, and at least one compares the comfort level to that of a sneaker: "Light like a tennis shoe, fits like a sock on the foot and are easy on and off with the ankle opening." Beyond fishing though, customers have found these useful for plenty of other rainy day tasks. "I bought them for my fiancé who works for Amazon and delivers all day - GREAT FOR THE RAIN," one customer writes, while another calls them "Solid boots that we use for walks through park during the rainy season."
Best knee-high insulated rain boots
"Comfortable" is used by hundreds of reviewers to describe these boots. "Muck boots are waterproof, comfortable and have good traction and support whether carrying packs and canoes over rocky/muddy portages, standing in water, or working burying utilities in muddy trenches, or spring ice fishing — I've used the same pair for 9 years — no complaints," one reviewer writes. Another compares these to other rubber rain boots concluding, "These are much sturdier and have a sort of gel like feel that is comfortable on your feet." One goes as far to say, "These boots are the most comfortable boots I have ever used."
Users specifically call out the calf potion of this tall boot. "This particular 'model' of Muck's also incorporates a hugging design around the calf that keep the pant leg tucked in nicely, eliminates most of the problems with debris falling into the boot and keeps the feet warmer," one reviewer writes, while another says, "They fit just snug enough around your calf that no moisture gets in and they are so well insulated." One reviewer who penned a love letter to these boots even included a line about the fold-over calfs: "I love thee from the edges of my fickle calves, which some days desire warmth and boot-ishness all the way up to mine knees, whilst other days, they prefer the freedom to roll down thy good boot sides and expose themselves to the warm air."
Best men's rain boots for hunting
Dozens of reviewers say these camouflage rain boots are ideal to wear while hunting. "I bought them in October for hunting and have drug several deer out with them," one reviewer says adding,"I have sat in 20° weather for at least four hours and my feet did not get cold." Another customer, who calls them "typical bogs with a camo design," adds, "They are warm and the tread has done well so far in terms of traction in the slippery snow. The bottoms are completely rubber, which is excellent for hunting." Reviewers also give these boots top marks for holding up in extreme weather. "It's no joke I have spent hours out in the snow and never had feet problems no leaks and with a liner and a good pair of wool sock feet nice and stay warm." Another says, " I wore these while hunting in the snow with temperatures of -4 with the wind chill. They continue, "My feet felt a little chill, but for it being -4 outside I was very impressed with how well my feet felt. I also did a lot of walking in the snow and never had an issue with my feet getting wet."
In rainy conditions, these boots also earn their stripes. "Wore on a cold rainy camping trip,' one writes, adding "Feet stayed warm and dry." Another who says "we travel a lot to the Amazon [jungle] in Peru" adds, "these boots are amazing, no water [gets] in very easy to clean from [mud] that we have a lot in the rainforest."
Best men's rain boots for winter
More than 70 percent of reviewers give these boots five-stars and many praise them for being ideal winter boots. "I bought these for canoeing in cold weather (40-28F), but they have become my go-to winter boot with temps as low as 10 degrees," one writes. Another says, "I love these boots, they are comfortable, warm enough for our -10°F weather as long as one is doing chores outside, easy to get in and out, and usually hold up two seasons, wearing them for 5 months, 3 to 5 hours every day." Others particularly like how tall these are, helping them walk through whatever nature might throw at them. "The fit was comfortable and luckily these were 18" in height because wanking around in the swampy ground I stepped into an area that anything less would have filled the boot up with water," one writes, while another says, "They are great wear for deep snow snowshoeing, and you don't need to wear gators."
The Strategist is designed to surface the most useful, expert recommendations for things to buy across the vast e-commerce landscape. Some of our latest conquests include the best acne treatments, rolling luggage, pillows for side sleepers, natural anxiety remedies, and bath towels. We update links when possible, but note that deals can expire and all prices are subject to change.
Every editorial product is independently selected. If you buy something through our links, New York may earn an affiliate commission.