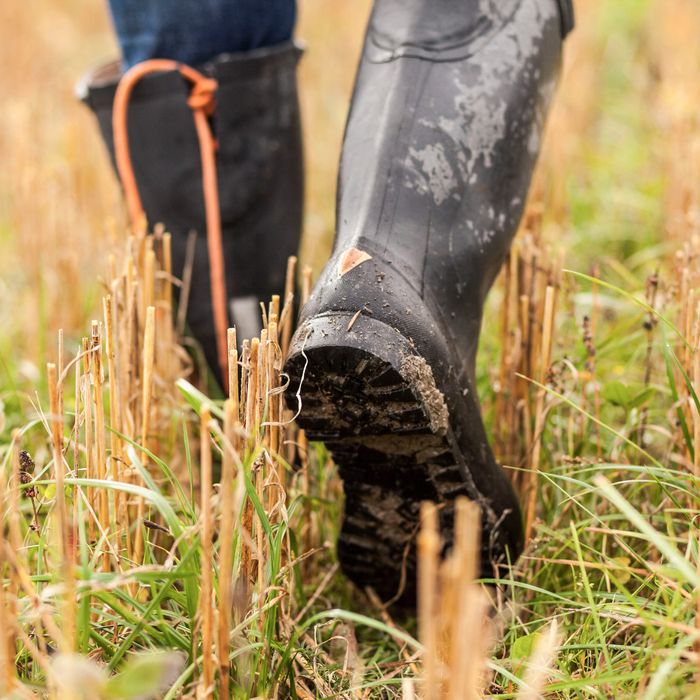 Photo: Maskot/Getty Images/Maskot
Here at the Strategist, we like to think of ourselves as crazy (in the good way) about the stuff we buy, but as much as we'd like to, we can't try everything. Which is why we have People's Choice, in which we find the best-reviewed products and single out the most convincing ones. (You can learn more about our rating system and how we pick each item here.)
And while we've written about lots of rain gear — including the best umbrellas, the best women's raincoats, and the best stylish rain boots — here, we've rounded up the best men's rain boots, as praised by the most enthusiastic reviewers on Amazon. 
Best-rated men's rain boot
"These boots excel in all the areas were it counts," writes one happy customer, especially when it comes to waterproofing. "Timberland hikers in black and 'definitely' waterproof as these have always been my husband's favorites," another reviewer writes, adding, "He wore them the entire snowy winter through ice, sleet, rain and everything without any leaks." Another says, "The first day I wore them, it had rained somewhat recently and there was mud everywhere." They continue, "We reached a sort-of washed out part of a trail and had to hike through a marshy creek bed, and at one point my foot sunk into mud up to my ankle. When I got home and took these off, there was absolutely no sign of mud or creek water in them." One even attests that they, "Walked well over 30 miles in cities, through fields and on beaches, all while it was raining…Never got a blister, had sore feet, or had damp socks once." In addition to being waterproof, users praise these boots for being comfortable from first wear with one saying, "These boots fit perfectly, were true to size, and required absolutely no break-in time."
Best-rated (less expensive) men's rain boot
"Why pay more?" one reviewer asks, explaining, "If you don't need safety toe, and you just want to keep your feet dry, these are great." Dozens of reviewers agree that for simple tasks, these rain boots get the job done. "I worked for two hours cleaning pavers with a high pressure machine and my feet stayed dry," one writes, adding, "The lug sole makes for a secure, stable platform to work from." Another says, "I bought these boots for walking around in ankle deep water for work, and for the most part they are great," adding, "They fit my feet very well, and are great at keeping me dry." One reviewer likes these so much they can't wait for the weather to get bad. "I like it when it rains," they explain. "I get to wear these boots."
And now for some micro-picks for every men's rain boot you might be looking for.
Best men's rain boot for everyday wear
"These shoes will put your podiatrist out of work," according to one reviewer, who echoes many reviewers' pleasure with the comfort of these boots. "I wear these for 10-12 hours a day on concrete floors, 6 days a week, and do not hurt at the end of the day," one writes. Another says, "These fit just like I expected: very comfortable, warm, and waterproof which is essential for me." One reviewer says, "I bought this boot to walk a pitbull who walks 5-7 miles almost every day." And they add, "Nothing but the most extreme weather stops her 2 to 3 walks every day. That is why I need a waterproof boot. The boot is comfortable especially for a leather boot which has not been broken in." Not only do reviewers believe these boots do a good job of keeping water out, but at least one calls out the wicking feature from the inside: "First heavy snow since purchasing them and trudging through drifts some snow went down inside, but interestingly, the interior seems to wick the moisture away from my feet which is fantastic."
Best insulated men's rain boots
Reviewers attest that these boots are both warm and waterproof. "I was standing in a very cold creek for over an hour and a half in these today spending time with my beavers and my feet were warm the entire time with only a cotton pair of socks on under them," one user writes, adding, " Not a gosh dang leak either. Twenty-five degrees out snowing like a son of a and my feet were good." Another reviewer who says they bought them for their husband, who wanted "a pull on, waterproof, insulated boot to get on quickly for outdoor winter chores," says "He's been able to wear them numerous times in the snow, snowblowing, shoveling, and other winter chores and he is extremely happy with them." Many chalk the warmth and waterproofness up to the liner, like one who says, "I really do like that the liner is thick and is removable, over the calf, and for a rubber boot has a medium aggressive tread." Another concludes, "If you're walking or stalk hunting, these boots will keep your feet warm."
Best thin-lined men's rain boot