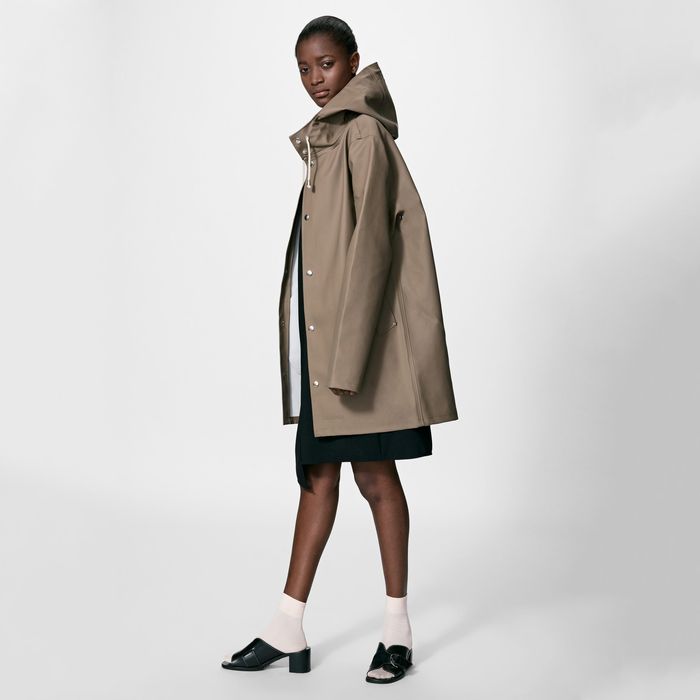 Photo: Courtesy of the retailer.
A great raincoat will help you brave the elements while actually looking stylish. There are heavier-duty options with added insulation ideal for staying dry in extreme weather, and equally functional, pared-down styles for when you're not braving a monsoon, but just another drizzly city day. For Rain Week, we asked outdoorsy people, and some stylish women who live in rainy cities, to share their favorite, packable raincoats that keep them dry during days in nature — or when they're dashing the half block from subway station to office. Here, their picks for the best women's raincoats for every occasion and budget.
Stylish raincoats
For a sleek, waterproof cover-up to toss on over any outfit, this jacket by Sweden's statusy brand Stutterheim was the clear favorite among the stylish women we spoke to. Travel blogger and photographer Renee Hahnel says she loves the Stockholm style for its deep pockets — which keep her iPhone dry — the range of colors it comes in, and its minimal aesthetic. "The Scandinavian design will make you feel stylish, even in an unglamorous downpour," Hahnel tells us. Photographer Rohini Manickam agrees: The coat's water-slicking rubber outer and hood, and its "streamlined silhouette," make it functional and fashionable, she says.
Blogger Juley Le — the founder of lifestyle website Très Américain, who lives in the famously rainy New Orleans — owns and loves a few Penfield jackets, including the Kaplan. "This raincoat is definitely more fashion-forward than most. I love that I can toss it over a pair of jeans on casual days," she says.
We've noticed so many of these lilac Rains jackets on Instagram lately that we felt our list wouldn't be complete without the style. The hooded raincoat hits below your waist, and its welded seams hide the jacket's snaps, giving it a clean, minimalist look. Fans of the pastel-purple shade might also like this trench that Rains makes in the same color.
We predict that this see-through smock from Hunter — the maker of some of our favorite women's rain boots — will stay in high demand, knowing many shoppers' penchant to stock up on translucent things. Shopbop's fashion director Caroline Maguire recommends the style for "a more modern take on your traditional raincoat." The transparent outer makes the jacket a great option for bold dressers because it offers passersby a glimpse of the outfit you're wearing underneath.
Best heavy-duty waterproof raincoats
Serious outdoors enthusiasts swear by Outdoor Research's line of ultralightweight and insulated soft-shell jackets. The heavy-duty waterproof raincoats are not terribly expensive, and protect you from the elements on casual outings such as hikes, and in extreme weather. Hahnel always travels with the 5.5-ounce Helium II style, "which packs down to the size of a tennis ball, and keeps you dry for hours."
The brand's Aspire raincoat is ideal for shoppers who want to stay extra warm while they keep dry, according to Seattle resident Jen Martin, who organizes adventure cruises to such far-flung locations as Antarctica and the Galápagos as the director of expedition development at Lindblad Expeditions. Martin says her Aspire jacket even keeps her toasty on trips to southeast Alaska, where in colder months temperatures frequently plunge below freezing.
This lightweight style by Marmot, however, is actually Martin's favorite raincoat. The Seattle resident and world traveler has owned several over the years, and says the jacket can't be beat when it comes to rain protection. "It has good waterproofing that lasts for a long time, and an adjustable hood." Bonus: The coat's "pit zips" provide added breathability.