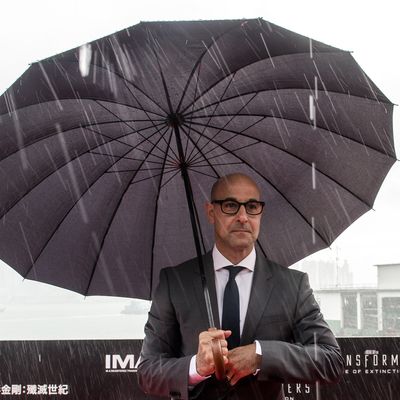 Photo: Getty/AFP via Getty Images
Having a good umbrella can make all the difference on a rainy commute or walk with your dog. But finding one that's sturdy, compact, and even stylish is a challenge. So while we've written quite a bit about umbrellas before — including the best umbrellas, according to Seattleites; expert-approved umbrellas for kids; and our editor-tested list of the best umbrellas — here, we've rounded up the best umbrellas as praised by the most enthusiastic reviewers on Amazon.
Related Articles: The Everything Guide to Rain | Editor-Tested Umbrellas | Best Umbrellas for Kids
Best-rated umbrella
With over 15,000 five-star reviewers — and a ranking in the top 10 of our list of the best umbrellas — the Teflon-coated Repel travel umbrella is quite well-regarded. "Marty Poppins (Mary's cousin) would be proud to own this heavy-duty, rain-repellent, truly automatic umbrella. It's sturdy design makes it virtually windproof as well, for those long trips above the skyline while traveling to the next nanny assignment." Purchasers say it's compact, sturdy and "virtually windproof." Many say the Teflon coating really helps make it waterproof, as well: "The droplets stay pooled on top of the fabric and I'm able to easily shake them off," explains one. But more than anything, reviewers praise its durability, with one reviewer saying, "Best umbrella I've ever had. I bought it after looking online for one that wouldn't fall apart at the first gust of wind in a rainstorm. After using several times in a huge rainstorm with heavy winds, it seems to be indestructible." Another reviewer explains, "The little umbrella held up in the gusty wind on the second floor at the Eiffel Tower. It was raining cats and dogs when we were up there, and the Teflon kept us dry while we were taking photos."
Best-rated (less expensive) umbrella
Don't be fooled by the low price of this 15-inch umbrella: Not only does it come in an impressive array of colors, it's plenty sturdy for heavy rain. "I bought this to keep the sun and rain off while walking. It is large enough for several people, easy to carry and open, easy to fold down, and has a nice wide closure strap to secure when not in use," one reviewer writes, adding that the yellow is "bright enough to be seen easily by drivers" for those walking at night. Another reviewer has purchased two of these umbrellas and "loves" them: "[They're] inexpensive and well-made," and perform well while traveling, backpacking, and even being used as a light filter in their photography studio. ("They're cheaper in cost and vastly sturdier than the ones specifically for photography," they explain.) And while they may not be the best umbrellas for bracing strong winds, they're "definitely good enough" for withstanding showers.
Best clear umbrella
"This umbrella is just awesome," writes one reviewer. "It can stand strong against the whipping wind and look cute while doing so. I was initially nervous about the price, thinking it would be poorly made, but it was quite the opposite." Purchasers praise this umbrella as stylish, affordable, and durable. Many love the fashionable look of the clear "bubble" design, but they also highlight its functionality: "You can see where you're going through the plastic and you don't have to tilt it in the direction of the rain because you're covered from all sides." The manufacturer makes a few different versions of this umbrella; we tested out the original model and it made our list of best umbrellas, but this "women's" version is about $6 less expensive.
Best inverted umbrella
"So, I'm 33 and the fact that someone thought to redesign the classic umbrella to be more functional blew my mind. I will say that the way this one looks when it's rolled up still seems odd to me, but my God, it's so functional," raves one reviewer, and this concept of an "inverted umbrella" was new to many other purchasers, but most ended up enthusiastically embracing the design. "It really does change your mind in what to expect from your umbrella," writes one reviewer, who adds, "It's wonderful how the wet side is hidden within and the umbrella stands up all on its own." Over 250 reviewers praise the unique design for keeping them dry when getting in and out of their cars. As one explains, "I was doubtful, but now I am SOLD on this umbrella. The way it closes up, you can get in the car, bring the umbrella in with you, and you do NOT get a lap full of water." As one satisfied purchaser sums it up, "My new inverted umbrella is 'the bomb.' It does exactly what they advertise and keeps me from dumping all kinds of rainwater on my head and in my car. Bravo, Sharpty!"
Best reverse folding umbrella
Reviewers say this reverse-folding umbrella has similar benefits to the Sharpty inverted umbrella featured above, but the Lejorain is much more compact. "I love inverted umbrellas but my other one is so long and cumbersome," writes one five-star reviewer. "This folds so small [that] I can take it anywhere." Another purchaser, who also owns an older Lejorain umbrella, likes this updated version too. "These umbrellas are well made and a great design. My favorite part is that they fold, so it's compact enough to carry around with me when I'm walking the two blocks from my parking garage to my office, and yet big enough to keep me completely dry." And a third reviewer was so impressed that they're planning to "buy more of these as gifts for family and friends." They write, "I was able to stay dry and so was the umbrella. It's very sturdy and held up nicely in the heavy Baltimore wind."
Best golf umbrella
This umbrella has made multiple appearances on the Strategist. It made a cameo in an article tracking down a character's umbrella on HBO's Succession, followed by a ranking in our list of the best umbrellas, where it got top marks for dryness. Online reviewers seem to agree with much of our writers' analysis. "I have owned quite a number of umbrellas over the years," one writes. "I tend to prefer the golf-size umbrellas because of their wide coverage. I was SO impressed with the size, quality, and durability of this particular umbrella that I went back and bought a second one." Another purchaser says, "Gigantic. And amazing. I walk the kids to school in this when it's raining pretty hard, and the three of us can fit under it no problem. As big as it is, it collapses quite tightly and the included sleeve is very helpful in keeping it nice and tight." One reviewer underscores the umbrella's durability, highlighting the "double canopy design, which makes it virtually indestructible in high winds." "I will NEVER buy another umbrella," they add. "This one, quite simply, is THE BEST."
Best city umbrella
Many reviewers recommend this umbrella for city use because it is super compact and durable, and the signature "rounded edges" are "liberating in a densely packed city — compared to conventional umbrellas there's very little chance you're going to accidentally poke someone's eye out," explains one reviwer. Another, noting the safety feature of the "blunt edges," says, "I wish everyone in NYC had one!" Another reviewer calls it a "great city umbrella; small enough to allow walking down a crowded sidewalk without bumping into everybody else's umbrella." And while there are certainly other small umbrellas out there that are less expensive, purchasers say they aren't built nearly as well: "This makes every other [compact] umbrella feel like its made out of toothpicks and paper. Blunt is the only acceptable compact umbrella I have ever used." We also covered the Blunt Metro in our list of the best umbrellas, where we praised its wind resistance and portability.
Best umbrella for wind
This compact folding umbrella has a "double-canopy" design which purchasers say provides a great deal of wind resistance. "I just purchased four of these for my family because I love mine so much. Sturdy enough to stand up to windy days, but not too heavy to carry around in my backpack. The double canopy really seems to prevent wind from breaking the umbrella or turning it inside out." Another says, "The double canopy does actually work. I have gotten some random strong winds and I feel the force in the umbrella but not like it is going to be pulled off my hand." Of the many reviews boasting this umbrella's "windproof" bonafides, perhaps the most trustworthy comes from famously windy Chicago: "After getting caught in today's Chicago deluge that included swirling winds, I must add my two cents. My yellow EEZ-Y umbrella performed like no other umbrella I've ever owned. No umbrella short of a complete bubble would have kept me totally dry today, but this one opened quickly, didn't turn inside out, felt sturdy, gave adequate coverage, and closed fairly easily. I'd purchase it again."
Best umbrella for multiple people
At 68 inches wide, hundreds of the nearly 6,000 five-star reviewers describe this umbrella as "big" or "large," including one reviewer who says that it comfortably fits up to "three heavy-set people. This umbrella is great for torrential downpours and heavy winds." Another reviewer says this big umbrella came in handy at a rainy-day church fundraiser when people had to park "almost 100 yards from the entrance. When my wife arrived she 'won' the biggest-umbrella prize and was able to get two additional people to the church mostly dry in a hard thunderstorm! However, and even more importantly, her umbrella didn't get reversed in the high wind as several others did." Hundreds of other customers agree that this umbrella is just as "sturdy" as it is large, including one who points out that though it's heavy-duty, it's not clunky: "I love how quick and smooth it opens. Tried it while it was windy and it didn't flip up like most cheap umbrellas!"
Best umbrella with wood handle
"If you are looking for function AND style this is the umbrella for you!" writes one five-star reviewer, who says its "smooth wood handle is not only beautiful" but also "but the handle feels nice, natural and is easy to grip," even if you have small hands. More than twenty other five-star reviewers also mention the Van Beeken's wooden handle, including one reviewer who says it "gives the umbrella a sophisticated look." Another reviewer appreciates that the umbrella itself is the perfect weight: "[It's] not too heavy, but heavy enough that you aren't afraid it will fly away with a gust of wind."
Best automatic open and close umbrella
The Totes Titan automatic umbrella ranked at 23 in our list of the best umbrellas, and reviewers give it high marks across the board for simplicity, wind resistance, large canopy size, portability and durability. Aside from praising it as an all-around performer, many highlight its automatic open and close feature: "The one touch to open and close the umbrella is great because I normally have my hands full." One purchaser says the auto-open feature is reliable and works well: "All it took was a single push on the button and it opened. Even more crucially, it also closes without my having to wage a battle royal, holding up six other people in a store or office entryway, or getting onto the subway, etc."
Best travel umbrella
Citing its portability, wind-resistance, and sturdy build, many reviewers say the LifeTek is the one to get for rain protection while traveling. "It's the best performing travel umbrella I've ever owned. Opens wide enough to stay dry, and the extra wind protection is greatly appreciated in our gusty South Florida storms," says one reviewer. An international traveler says, "This now well-tested umbrella is the bomb. I was in the Baltic region in late April and put this thing to the test. It held up extremely well against the battering winds in Estonia, Russia and Copenhagen." Another purchaser brought this along on a trip to the Netherlands in Belgium, explaining, "In the past, I have used small, compact umbrellas for travel and have not found them very sturdy, especially in windy conditions," they say, adding that while the Lifetek is "a little larger and heavier" than some travel umbrellas, it's worth the tradeoff thanks to its performance and durability. Many reviewers still think it's plenty portable, with one saying, "It fits perfectly in the side pocket of my backpack." Plus, it ranks at #17 in our list of the best umbrellas.
Best travel umbrella with case
This mini travel umbrella comes with a carrying case that makes it all the more portable — and easy to store even when it's wet. One five-star reviewer finds it "much sturdier than expected for the price of only $10," and was particularly impressed with the carrying case while running errands: "I can put the wet umbrella inside the case, then in my bag while at the doctor's office, shopping, etc., without getting anything else in my bag wet." It's also small enough to store just about anywhere, including glove compartments, purses, and even back pockets. "My husband carries one in his pants pockets on those iffy weather days. They have held up nicely and are really appreciated during pop-up showers," writes one reviewer.
Best kids umbrella
This umbrella from Totes — which is basically a smaller version of the signature bubble umbrella featured above — seems to be a hit with kids, according to reviewers. "My 6-year old daughter loves this umbrella. I mean 'LOVES.' She takes it everywhere 'just in case it rains.' Great quality, very sturdy, no problems with it flipping inside out at all, even on windy days," writes one reviewer, adding, "Her first grade teacher even asked where I got it because she's recommending it to other parents." Other reviewers note that the umbrella is designed with children's safety in mind: One explains, "This has a much more kid-finger-friendly plastic slide/lock mechanism than the old metal mechanisms of my childhood." The "see-through" clear material is great for kids, too, as one parent explains, "My daughter, 4, would always have the worst time seeing anything and I would constantly have to hold the top part of her umbrella and guide her so she wouldn't bump into anything. With this style though not only does it cover her body more since it's a bubble but she can actually see where she's walking! Something that seems so simple, but truly does make a difference."
Best UV blocking umbrella
While many rain umbrellas block UV rays just by providing shade, many reviewers prefer this dedicated UVA/UVB–blocking umbrella with a reflective coating for daytime, sunny use. One such reviewer brought the Umenice umbrella on a trip to Disney World. "I busted this out to try to take the heat off, and it worked," they write. "As soon as I popped it open and lifted above my head, I could literally feel the temperature drop a couple of degrees enough to make me feel cooler." It had the same effect for another reviewer during a trip to the desert. "[It] did such a great job at blocking the sun, I didn't use sunscreen for the last couple of days and didn't tan or burn," They also say the umbrella seems to be holding up well. "[I] used it every day for a week, opening and closing a hundred times with no issues." And another reviewer says it's perfect for the "intense" bright weather in Colorado. "It not only blocked the sun but kept out the heat. I am very sun sensitive and this allows me to do things in the summer that I normally would not do."
The Strategist is designed to surface the most useful, expert recommendations for things to buy across the vast e-commerce landscape. Some of our latest conquests include the best women's jeans, rolling luggage, pillows for side sleepers, ultra-flattering pants, and bath towels. We update links when possible, but note that deals can expire and all prices are subject to change.
Every editorial product is independently selected. If you buy something through our links, New York may earn an affiliate commission.