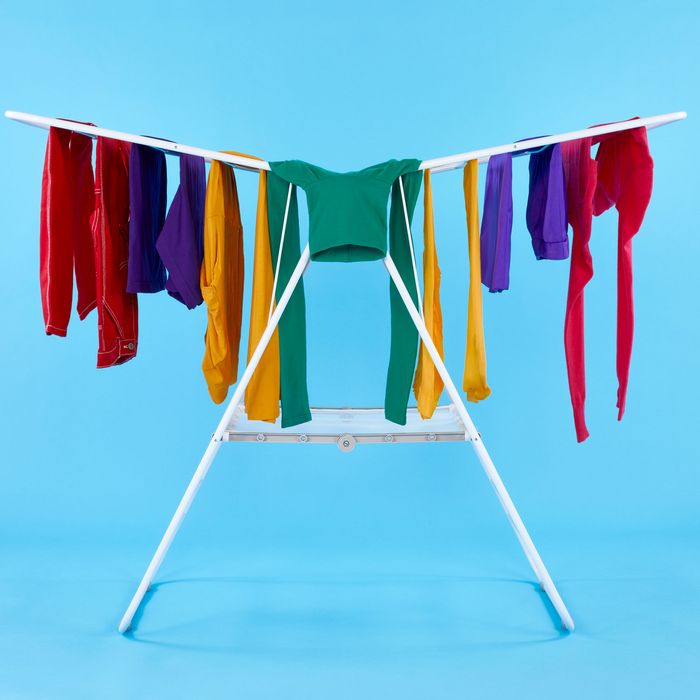 Whether you're a lingerie collector, Japanese denim nerd, or laundry procrastinator, you'll need a reliable rack for clothing and textiles that need to air dry instead of going in the dryer after a wash. The good news is that a rack that fills the fundamental requirements — high capacity, folds up small, lightweight, and wobble-free — is inexpensive and easy to find. Since drying laundry can be a balancing act between the available space in your home and the needs of the items you air-dry most often, we've included a range of styles that may not be universal but are time-savers for particular cases — from an Amish-made, wall-mounted wooden option that folds flat against your wall to a cute, plastic clip-covered octopus that's ideal for hang-drying delicates.
The standard way of measuring a drying rack's capacity is linear feet, which is the combined length of all its crossbars. It's useful to have crossbars with a range of heights: You can use lower rungs for underwear or other smaller items and higher bars for larger items such as jeans, towels, or sweaters. For drying racks that don't have crossbars — for example, a system with laundry clips or a mesh riser for drying sweaters — we're listing capacity in either square footage or the number of items the rack is designed to hold.
All the drying capacity in the world won't be much help if you have to flatten yourself against a wall to get around a rack that takes up half of your floor space. To help you choose the right size for your space, we're identifying drying racks as small, medium, large, or extra-large in their folded-out dimensions. (We're categorizing racks with a largest horizontal dimension of two feet or less as small, two to four feet as medium, four to six feet as large, and larger than six feet as extra-large.) For styles with an adjustable frame, like a gullwing or collapsible wall-mounted rack, we're listing a range — from the most compact configuration to the fullest expansion.
Ideal materials for a drying rack are sturdy, lightweight, and waterproof, and won't bow or warp under the weight of wet laundry. Strong and lightweight metals like steel and aluminum are popular; several of our experts recommended wooden racks, which typically have a waterproof coating to avoid the mold or warping that comes with moisture.
Since most drying racks are designed to be folded up and stowed away, another important factor in a stress-free laundry experience is a good balance of sturdiness to portability. You don't want a flimsy clothing rack, but one that's too heavy will make you dread pulling it out of the closet. We're keeping portable options on this list to less than ten pounds, and many are lighter than five pounds.
Best overall
Capacity: 46 linear feet | Size: Medium to large | Weight: 7.3 lbs | Material: Steel
Strategist editor and self-described laundry "maximalist" Maxine Builder bought this heavy-duty Honey-Can-Do drying rack after an old, duct-taped-together rack fell apart. This sturdy, collapsible rack "gives me more room to air-dry my clothes than I've ever had," Builder says. It comes with several useful features: There's a mesh shelf for drying sweaters, which Builder reports is great for sports bras, and special brackets for shoes.
Strategist writer Latifah Miles owns the Honey-Can-Do rack and uses it weekly for "my son's school uniforms and my partner's jeans that he insists on not putting in the dryer. I can drape my hang-to-dry blankets over it too." She says it's sturdy and wobble-free even with a full load of laundry on it: "I have a wild puppy who is a walking tornado and bumps into everything. He hasn't tipped it over or wobbled it." Although the rack is on the larger side, Miles reports that it "isn't overly cumbersome" and appreciates that the wingspan is adjustable, so it doesn't need to take up as much space when drying smaller loads.
Best accordion drying rack
Capacity: 41 linear feet | Size: Medium | Weight: 5.2 lbs | Material: Poplar coated with acrylic
"I've been photographed with this drying rack. I love this drying rack," says Patric Richardson, laundry expert and host of The Laundry Guy, of the Container Store's 15-dowel wooden rack. He's used it for over five years and has high praise for its strength and durability: "I'm a big guy, and I'm convinced I could stand on it," he says. It's large and sturdy enough to hold lots of laundry; Richardson says he and his husband "load it down" with wet jeans and sweaters and it hasn't bent or broken. The wooden dowels have an acrylic coating, which Richardson reports effectively prevents warping or mold, and he adds that the dowels are well positioned to fit a range of items.
Best compact accordion drying rack
Capacity: 16 linear feet | Size: Small | Weight: 3.8 lbs. | Material: Powder-coated steel
I bought this Polder drying rack soon after moving to a one-bedroom apartment, and it has proven to be a great, reliable little rack for one person's laundry. Its steel frame is sturdy, showing no wobbles, warping, or signs of wear and tear after two years of frequent use, and it folds down into a neat little rectangle I can stow in my closet. It's lightweight and simple enough to unfold that it has become second nature to pull it out and set it up before heading to the laundromat. (It fits perfectly in my shower, which is helpful for messy tie-dye projects.) Although it's on the smaller side of the options on this list, I've found it to be more than enough space for one load of laundry's worth of air-drying, and I air-dry a lot — anything with the faintest chance of pilling in the dryer.
Best less-expensive accordion drying rack
Capacity: About 25 linear feet | Size: Medium | Weight: 4.3 lbs. | Material: Steel
"I use it literally every time I do laundry," says Strategist senior editor Crystal Martin of this inexpensive, steel Amazon Basics accordion rack. It's high capacity — the brand doesn't list its linear feet, but we estimate that it's around 25 feet (about 50 percent larger than the similarly priced Polder rack above) — and doesn't wobble, Martin says, even when weighed down with a heavy, cotton-gauze blanket.
Best high-capacity drying rack
Capacity: 59 linear feet | Size: Large | Weight: 4.4 lbs. | Material: Aluminum
Marilee Nelson, a nontoxic consultant and co-founder of Branch Basics, recommends the Siena rack by German brand Leifheit, the highest-capacity option on our list. It's made from aluminum, which makes it surprisingly lightweight. Nelson suggests moving it outside on a sunny, non-windy day for the quickest drying job. "Or if drying indoors, place it in a room with an exhaust vent," like a bathroom, she says.
Best wooden drying rack
Photo: Retailer
Capacity: 45.5 linear feet | Size: Medium | Weight: 9 lbs. | Material: Wood
Gwen Whiting, co-founder of the Laundress, recommends this sturdy wooden drying rack from family-owned retailer Lehman's. She says it works especially well for sweaters, which need to dry flat to avoid deforming: "I look for ones that have parallel bars to drape the sweater nicely over to keep in shape," Whiting says. The wooden dowels have a coating to prevent mold, and the rack's stress points are reinforced with wire.
Best over-the-door drying rack
Capacity: 14.8 linear feet | Size: Small to medium | Weight: 0.9 lbs. | Material: Steel
Builder loves this over-the-door hanging rack by Dutch company Brabantia, which she reports is "quite sturdy" despite its smaller size: "We can hang about 12 to 15 damp pieces of clothing from it, and never once has it collapsed or fallen." The over-the-door design has its benefits as well: It's higher than a standard floor drying rack, which makes it better for hanging longer items, like dresses and jumpsuits, and its flat surface works well for drying sweaters. Best of all, it "lets me hang all the laundry I need without taking up an inch of precious floor space," Builder says.
Best metal wall-mounted drying rack
Capacity: 14 linear feet, 26 linear feet | Size: Small to medium | Weight: 2.4 lbs. | Material: Plastic frame, powder-coated steel rods
This wall-mounted drying rack by Leifheit, a brand mentioned by Nelson, has a clever design that allows its drying rods to retract when not in use. (It comes in both an eight-rod and a five-rod size, below.) It has more than 4,000 five-star ratings on Amazon with many reviewers mentioning its usefulness in small spaces. Plus it features an aluminum towel bar that hangs beneath the drying rods, which provides additional storage space.
Best wooden wall-mounted drying rack
Photo: Retailer
Capacity: 16 linear feet | Size: Small to medium | Weight: 4 lbs. | Material: Wood
"I do lots of hang drying, so I like my wall-mounted drying racks for short and long items," says Whiting. She especially recommends this Amish-made wall rack "for undergarments and workout clothes." The design has the useful quality of expanding to the right size for your job: At its fullest, the eight wooden spokes can hold a total of 16 linear feet of laundry, but one or two spokes can be used to dry smaller loads of hand-washing, and it can collapse flat against the wall when not in use.
Best hang dryer
Capacity: 16 clips, 26 clips | Size: Small | Material: Aluminum alloy, steel, polycarbonate
Strategist senior editor Winnie Yang uses this sturdy aluminum hanger for smaller items such as wool socks, underwear, swimsuits, and kids' clothing. The larger size has an impressive 26-clip capacity and a hook that can hang on a larger drying rack or a bar in the shower. "Hang it on the shower curtain rod and put the drippier stuff in the back," Yang advises.
Best (less expensive) hang dryer
Capacity: 16 clips | Size: Small | Material: Polypropylene, synthetic rubber
"I know I should hand-wash my bras, but I'm way too lazy for that, so I do a gentle cycle, then immediately hang them on my beloved octopus," says Strategist writer Ambar Pardilla. She has had this cute cephalopod-shaped Ikea dryer for about five years and says it remains "exactly the same shape as the day we got it." Plus a dryer with clips keeps bras in better condition: "Bras get worse for wear since you have no choice but to hang them from the center gore" of the bra on a traditional drying rack, Pardilla says, but the clips allow her to hang bras by one side of the hook-and-eye closure instead, which is less delicate. "I think laundry is probably one of the worst chores, and you need something to make it feel less so," she says. "An octopus-shaped drying rack is peak silliness."
Best sweater-drying rack
Capacity: 4.7 square feet | Size: Medium | Weight: 1 lbs | Material: Plastic, Mesh
Several experts we spoke to mentioned the importance of drying sweaters flat, including Whiting, Yang, and Strategist senior editor Jen Trolio. ("I never, ever, ever hang a sweater," Trolio says.) Both Trolio and Yang recommend this stacking Oxo collapsible mesh dryer, which is "better for airflow than laying it out on a towel or a bed," Trolio says. Yang says it's a helpful item for knitters to have around: "When you knit garments (like sweaters), the last step is blocking, which just means physically pulling the garment into the shape you want it to be. Often you do this on a blocking mat and use pins, but the sweater drying rack lets you do some light blocking," she says.
Best rotary clothes-drying rack
Capacity: 164 linear feet, 196 linear feet | Size: Extra-large | Material: Alloy steel
If you have some backyard space for drying clothes, Brabantia's rotary dryer is enthusiastically recommended, with over 9,000 five-star reviews on Amazon. Reviewers praise its lightweight profile and ease of use as well as its sturdiness: One reviewer reports that the rotary dryer has survived five moves and remains as useful as ever. It comes in two sizes, and the frame lowers for easy hanging, then lifts to drying height.
Some more laundry essentials we've written about
• Maxine Builder, Strategist editor
• Latifah Miles, Strategist writer
• Marilee Nelson, co-founder of Branch Basics
• Ambar Pardilla, Strategist writer
• Patric Richardson, host of The Laundry Guy
• Jen Trolio, Strategist senior editor
• Gwen Whiting, co-founder of the Laundress
• Winnie Yang, Strategist senior editor
The Strategist is designed to surface the most useful, expert recommendations for things to buy across the vast e-commerce landscape. Some of our latest conquests include the best women's jeans, rolling luggage, pillows for side sleepers, ultra-flattering pants, and bath towels. We update links when possible, but note that deals can expire and all prices are subject to change.
Every editorial product is independently selected. If you buy something through our links, New York may earn an affiliate commission.