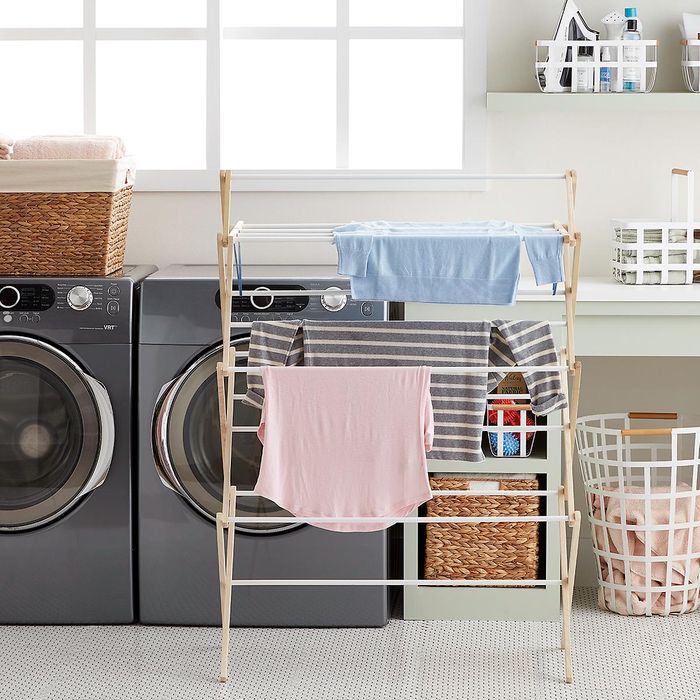 Whether you're a lingerie collector, a Japanese denim nerd, or a laundry procrastinator, you'll need a reliable drying rack for the items that can't go or can't fit in your drying machine. The good news is that an inexpensive standard rack fills the fundamental requirements: high capacity, folds up small, lightweight, and wobble-free. Since drying laundry can also be a balancing act with the available space in your home, we've included a range of styles designed to maximize your usable space — from an over-the-door, steel-framed rack to a wall-mounted, Amish-made wood option that folds flat against your wall.
Best overall | Best durable | Best compact | Best wooden | Best high-capacity | Best over-the-door | Best wall-mounted | Best retractable | Best rotary
What we're looking for
Capacity: The standard way of measuring a drying rack's capacity is linear feet — the combined length of all its crossbars. To maximize your garment rack's utility, it's also useful to have crossbars with a range of heights. You can use lower rungs for underwear or other smaller items, for example, and higher bars for larger items, like jeans, towels, or sweaters.
Footprint: All the drying capacity in the world won't be much help if you have to flatten yourself against a wall to get around a rack that takes up half the floor space in a small apartment. To avoid throwing dimensions without context at you, we're categorizing drying racks as small, medium, large, or extra-large in their folded-out dimensions. (We're categorizing racks with a largest horizontal dimension of two feet or less as small, two to four feet as medium, four to six feet as large, and larger than six feet as extra-large.) For styles with an adjustable frame, like a gullwing or wall-mounted rack, we're listing a range, from the most compact configuration to the fullest expansion.
Weight: Since most drying racks are designed to be folded up and stowed away, another important factor in a stress-free laundry experience is a good balance of sturdiness and portability. You don't want a flimsy clothing rack, but one that's too heavy will make you dread pulling it out of the closet. In general, we're keeping options on this list to less than ten pounds, and many are lighter than five pounds.
Material: Ideal materials for a drying rack are sturdy, lightweight, and waterproof. Strong and lightweight metals like steel and aluminum are popular; several of our experts also recommended wooden racks, which typically have a waterproof coating to avoid the mold or warping that comes with moisture. I once made the mistake of buying a plastic drying rack off Craigslist for $20, which was not worth the bargain price — it was too flimsy to support a full load of clothing, a problem I don't have with my current rack, which is made of steel.
Best overall
46 linear feet | Medium to large | 7.3 lbs | Steel
Strategist editor and self-described laundry "maximalist" Maxine Builder bought this "heavy-duty" Honey-Can-Do drying rack after a "years-old," duct-taped-together drying rack collapsed. This sturdy, collapsible rack "gives me more room to air-dry my clothes than I've ever had," Builder says. It also comes with several useful features: There's a mesh shelf for drying sweaters, which Builder reports is also great for sports bras, and special brackets for shoes. The adjustable wings can also be positioned in a range of larger or smaller configurations, making this rack the most versatile on our list and the best overall option for laundry minimalists and maximalists alike.
Best durable clothes-drying rack
41 linear feet | Medium | 5.2 lbs | Poplar coated with acrylic
"I've been photographed with this drying rack. I love this drying rack," says Patric Richardson, laundry expert and host of The Laundry Guy, of the Container Store's 15-dowel wooden rack. He's used it for over five years and has high praise for its strength and durability: "I'm a big guy, and I'm convinced I could stand on it," he says. It's large and sturdy enough to hold lots of laundry; Richardson says he and his husband "load it down" with "jeans and sweaters" and it hasn't bent or broken. He reports that the acrylic coating keeps the wooden dowels from warping and the dowels are well-positioned to fit a range of items.
Best compact clothes-drying rack
16 linear feet | Small | 3.8 lbs. | Powder-coated steel
I bought this Polder drying rack soon after moving to a one-bedroom apartment, and it's proven to be a great, reliable little rack for smaller jobs. Its steel frame is sturdy, holding up well after a year and a half of frequent use, and it folds down into a neat little rectangle I can stow in my closet; it's lightweight and simple enough to unfold that it's second nature to pull it out and set it up before heading to the laundromat. Although it's on the smaller side of the options on this list, I've found it to be more than enough space for one load of laundry's worth of air-drying.
Best wooden drying rack
Photo: Retailer
45.5 linear feet | Medium | 9 lbs. | Wood
Gwen Whiting, the co-founder of the Laundress, recommends this sturdy wooden drying rack from family-owned retailer Lehman's. She says it works especially well for sweaters, which need to dry flat to avoid deforming: "I look for ones that have parallel bars to drape the sweater nicely over to keep in shape," Whiting says, and the Lehman's rack fits the bill.
Best high-capacity drying rack
59 linear feet | Large | 4.4 lbs. | Aluminum
Marilee Nelson, a nontoxic consultant and co-founder of Branch Basics, mentioned the Siena rack by German brand Liefheit, the highest-capacity option on our list and surprisingly lightweight because of its aluminum construction. Nelson suggests moving it outside on a sunny, non-windy day for the quickest drying job. "Or if drying indoors, place in a room with an exhaust vent," she says, like a bathroom.
Best over-the-door drying rack
14.8 linear feet | Small to medium | 0.9 lbs. | Steel
Builder also loves this over-the-door hanging rack by Dutch company Brabantia, which she reports is "quite sturdy" despite its smaller size: "We can hang about 12 to 15 damp pieces of clothing from it, and never once has it collapsed or fallen." The over-the-door design has its benefits as well: It's higher than a standard floor drying rack, which makes it better for hanging longer items, like dresses and jumpsuits, and its flat surface works well for drying sweaters. Best of all, it "lets me hang all the laundry I need without taking up an inch of precious floor space," Builder writes.
Best wall-mounted clothes-drying rack