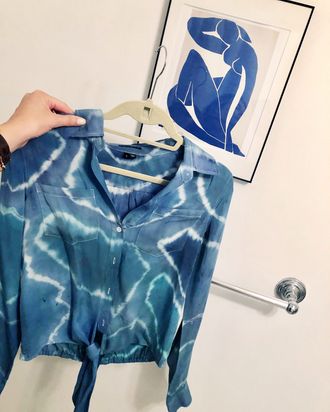 One of the author's tie-dye creations, in front of a very familiar print.
Photo: Ali Eisner
Four years ago, one of my favorite sweatshirts got a very bad oil stain on it. Instead of throwing it out, I decided to tie-dye it, drawing on techniques and muscle memory from my days tie-dyeing at day camp as a kid. The process from start to finish was simple enough, and I was honestly surprised by just how much I loved the end result. It looked so good, I was inspired to tie-dye other forgotten clothes in my closet, from silk blouses to socks to sweatpants, to give them a second life.
My friends started to ask me about where I got my new tie-dyed wardrobe, and soon enough were commissioning me to dye things for them, both old and new. Suddenly, a hobby became a side hustle. I began to share my custom pieces on Instagram, where even more clients crawled out of the woodwork, from influencers to yoga instructors to Ultrafragola-mirror owners to editors at Vogue (and the Strategist). But beyond being trendy and sustainable, tie-dying can also be a wonderfully meditative process as well as an effective stress reliever — especially these days, when productive, time-sucking hobbies are a holy grail for anyone looking to break up the monotony of sheltering in place. It's relatively simple once you get the hang of it (though to this day I'll still consult the occasional YouTube how-to), and relatively low-mess, too, providing you have the right setup. Below, I've listed everything I use to tie-dye, as well as my favorite "blanks" for those in need of garments to start with. And one piece of advice in choosing things to tie-dye: Whatever the item is make sure that its fabric is as natural as possible to ensure the color bonds to it well. I prefer to use items that are 100 percent cotton, linen, or silk, but have tie-dyed a cotton-jersey shirt for a client, too (it just ended up lighter than anticipated).
The
supplies
I
use
to
tie-dye
As a New York City resident without private outdoor space, I've learned to dye in my kitchen sink. But if you aren't comfortable with using your sink, or would prefer to dye outdoors, a large plastic bin like this would work. No matter the vessel you use, the most important thing is to have a contained space to tie-dye so clean-up is easy. If you don't like the red, Amazon has it in a few other colors, as does Home Depot.
Rubber gloves
I use longer dishwashing gloves like these to prevent the dye from getting onto my hands or forearms. And to prevent dye from staining my actual clothes, I usually wear an old short-sleeve T-shirt.
Rubber bands
Rubber bands are what I use to create patterns and hold the garment I'm dying in the shape I want. I like to mix thin and thick rubber bands, as it adds some depth to the resulting pattern — there's no rhyme or reason in choosing thick or thin, I just mix them up. One pattern I like to make is what I call my signature "blobs." For this, I will pull sections of fabric on a garment — a swath of a sleeve, a chunk of a back or front — through the rubber bands as if I'm fashioning a ponytail, so that by the end, the thing has all these little rubber-banded nodes sticking out. Or, to create a spiral pattern, I'll mold the garment into a shape that looks like a cinnamon roll and then put rubber bands around it to hold it together. No matter the shape or pattern, the fabric covered by rubber bands will be white or lighter-colored in the end.
Once you've rubber-banded a garment, you should always wet it before applying dye. If I'm using cold-water dye, I wet it with cold water; if I'm using hot-water dye, I'll use warm water.
Clear squeeze bottles
Squeeze bottles are essential for controlling the dye, especially when you're using different colors, because their narrow tips ensure that the dye goes where I want it. You'll need one for every color you want to use, so I usually have three or four at the ready per garment. The 12 ounce ones are big enough, and the bottles are reusable (and dishwasher safe) — just thoroughly rinse them out and leave to dry when finished using.
My go-to dyes
I really like using this line of powder dyes from Jacquard, as the brand offers a huge variety of colors. This starter pack comes with four colors — yellow, fuchsia, turquoise, and jet black — as well as a soda-ash powder that you're meant to mix with water and pre-soak your items in (I've dyed with and without it, and never really notice a difference in the final products). Other Jacquard colors I like to use a lot are medium blue, aquamarine, bright golden yellow, emerald green and violet. While you can use as many colors as you'd like, I typically do three or four per item. These are cold water dyes, which means you mix them with cold water in the dyeing process. And a little bit of the dye goes a long way: I typically add a quarter teaspoon of the powder to an empty squeeze bottle, then add the cold water. If I want the dye to be a bit more saturated, I just add a little bit more powder; if I want it to be lighter, I use a little less powder.
My back-up dyes
Sometimes I also use Rit's dyes in liquid form. These are hot-water dyes; most hardware and craft stores — and even the occasional drugstore — typically carry Rit's primary colors, and its dyes tend to be slightly more affordable by a dollar or two. I've found that Rit's scarlet red dye tends to be more of a true red, whereas Jacquard's carmine red almost always comes out magenta. (I also like Rit's coral and neon green, too.) The liquid dye is nice because it's pre-mixed, but I'll usually add it to one of my squeeze bottles and water it down a little bit to ensure it's actually mixed as it can sometimes be thick and goopy.
Whether I'm using Jacquard or Rit dyes, if I need to get a wayward splash out of my own clothes, I immediately run the spot under cold water. That typically gets it out without leaving a trace — but remember to act fast, the sooner you rinse, the better.
A color fixative
No matter what brand of dye I use, once I am done dyeing, I will put the garment inside a plastic bag — with the rubber bands still on it — for a few days so it really absorbs the dye. After that, I will wash the garment — still with the rubber bands on it — with this color fixative to ensure the colors stay put and don't eventually bleed. Importantly, garments dyed with cold-water dyes should be washed with cold water, while those dyed with hot-water dye should be washed with warm water. And water is all you need — no detergent necessary — so if you don't have a washing machine, you can hand wash things in your sink or tub.
After I wash a garment using the color fixative, then it's time to let it dry. Now's when I'll remove the rubber bands, and if you don't have a dryer, you can just throw it on a hanger hung from a drying rack or shower-curtain rod or any place that'll allow the air to do its thing.
The how-to guide
I had this book as a kid, and it contains some very simple but helpful tips on how to get started, including how to create patterns. I don't have it with me today, but remember it fondly, and suggest it to anyone looking for further reading on how to tie-dye. Abe Books has used and new copies; it's also available in a Kindle version on Amazon.
My
favorite
blank
clothes
to
tie-dye
While any brand of blank clothing will work, I typically use Gildan's affordable unisex hoodies and crewnecks for clients who want me to tie-dye them a sweatshirt. They're classic, comfortable, easy to source and take to dye well. I almost always use white, but I've also successfully dyed light gray and light pink sweats before.
The T-shirt
Again, any brand will do, but my go-tos are Hanes's men's (but really unisex) T-shirts. They're great because the more you wear them the softer they get. Like the sweatshirts, if you don't want to use white, stick to a lighter-colored base, like gray.
The socks
After a friend ordered some tie-dyed quarter-length Nike socks, the style became a huge hit among my hypebeast clientele. The really fun part is trying to make each of the six pairs included in a pack look unique with all different colors of dye.
The onesie
Tie-dyed onesies make excellent baby gifts! I've dyed these for friends with newborns, and suspect it's only a matter of time before I branch out into doing a matching top for mom.
The Strategist is designed to surface the most useful, expert recommendations for things to buy across the vast e-commerce landscape. Some of our latest conquests include the best acne treatments, rolling luggage, pillows for side sleepers, natural anxiety remedies, and bath towels. We update links when possible, but note that deals can expire and all prices are subject to change.