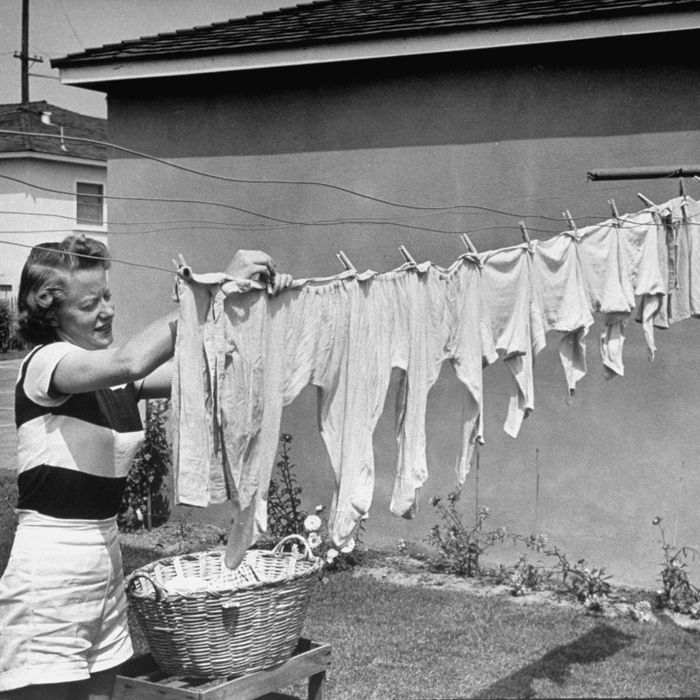 Photo: Courtesy of Getty Images
Whether your dry cleaner is closed or you just don't want to schlep to the laundromat, doing your laundry at home is always an option — even if you don't have a washer and dryer in your apartment or building. "When people think of handwashing, they often think it's not going to get their clothes as clean," explains laundry expert Patric Richardson, a.k.a. the Laundry Evangelist, who runs a laundry camp and offers how-to videos on his site. "But think about it: If you wash your hands for 20 seconds, they're sterile. The same goes for your laundry," he says. To find out exactly how to wash, dry, and iron your clothes at home, we asked Richardson and two other pros for their favorite products. Read on for the stain treatments, drying racks, and nice-smelling detergents they love.
Best products for washing clothes


According to Richardson, it's easiest to wash your clothes in the kitchen sink, which is generally much roomier than the bathroom (just make sure you thoroughly clean it beforehand). He also says the most straightforward cleaning agent is one you probably already have on hand: foaming hand soap. "Never dish soap," he cautions, because it's generally quite acidic, which, while being effective for cutting through grease, could damage fabric. Richardson says he does not have a favorite hand soap brand, though he prefers unscented options.
"Laundry powder works great for machines, but liquid detergent is better for handwashing," say Corinna and Theresa Williams, co-owner of Celsious, a modern laundry located in Williamsburg. They love Sonett's lavender liquid detergent, "which smells lovely and is 100 percent biodegradable."
Richardson is also a fan of the Laundress's detergent, particularly its collaboration with fragrance house Le Labo. The detergents come in Le Labo's cult favorite Santal 33 scent, as well as Rose 31. Richardson says that not only does it infuse your clothes with a "beautiful scent," it also makes the chore of handwashing a little more luxe. He stresses that it's important to thoroughly rinse out all soap and detergent, because any residue will make clothes sticky. Not only does that make it unpleasant to the touch, but it will also turn your clothes into dirt magnets. Richardson's tried-and-true method: Fill the sink with clean water, swish the clothes around, drain the sink, and repeat. "Don't wring or twist," he warns.
If you're worried about keeping your whites bright, all three of the experts we spoke to recommend staying away from harsh bleach. Richardson told us about this nontoxic, biodegradable, fragrance-free alternative to chlorine bleach that he says will give the same brightening and stain-removing results without the overpowering odor. You can add it to the sink water with your detergent before washing.
Best products for spot-treating stains


"Since you won't have the benefit of machine agitation, it's important to stain-treat before handwashing," stresses Williams. Richardson suggests using one part water mixed with one part white vinegar in a spray bottle to saturate and soak the stain before washing. Marilee Nelson, a nontoxic consultant and co-founder of Branch Basics, agrees, saying that distilled vinegar "will always be a staple in her laundry room," because it can also be used "for color-fasting new garments, extra deodorizing, and even fabric softening."
While Richardson relies most heavily on his vinegar solution, he also likes the wash and stain bar from the Laundress, which was designed specifically for hand laundering. You can lather the bar up, vigorously rub it into an old or new stain, then proceed to wash and rinse it in the sink.
"To effectively rub in stain treatment products, use an old toothbrush," advises Williams, who suggests this compostable bamboo option from Package Free Shop, a Brooklyn-based homestore devoted to zero waste.
Best product for cleaning sweaters


A sweater stone is great for "lifting superficial dirt from sweaters and wool jackets," says Williams. They can also be used to remove pilling from sweaters, blankets, or furniture, she adds. "Plus, they last up to ten years!" which, for ten bucks, works out to roughly a dollar per sweater-weather season.
Best products for drying clothes


When it comes time to dry your clothes, Richardson told us that knit sweaters should be laid flat on a towel to dry. Other garments can be hung in the shower to drip dry. If you want to take it one step further, Nelson likes this drying rack. If possible, she suggests moving it outside on a sunny, non-windy day for the fastest dry. "Or, if drying indoors, place in a room with an exhaust vent," like the bathroom or laundry room, to speed up the drying process.