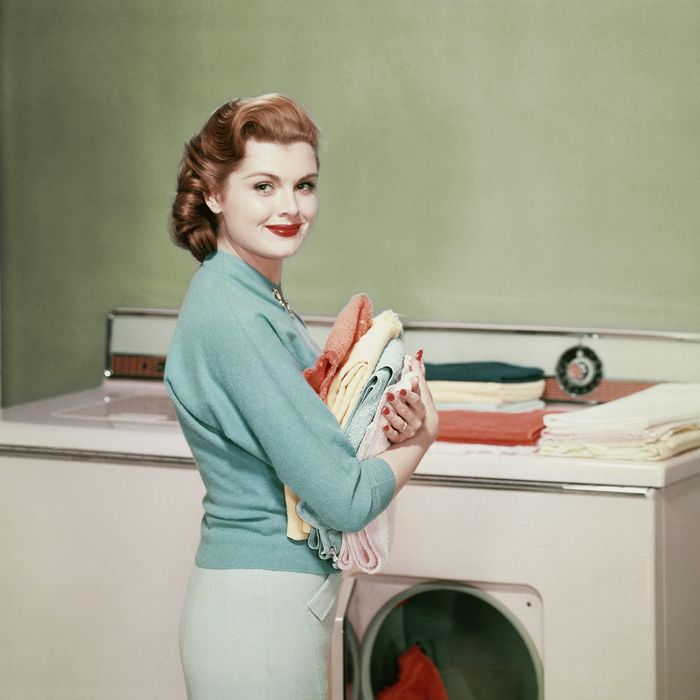 This chick never wants to go to the dry cleaner again. And she doesn't have to!
Photo: tom kelley/Getty Images
In our advice column, Ask the Strategist, we take your most burning shopping questions and quiz our friends, scour the internet, call up experts, and draw from personal experience to answer them. As always, please comment with one of your own — we're here to help.
Question: Are there any good dry-cleaning alternatives out there? I remember Dryel was a thing years ago; is there anything else out there that I could use to take care of my clothes at home and not spend a bunch of money on dry-cleaning?
Patric Richardson is obsessed with laundry. So much so that the former Neiman Marcus buyer and Nordstrom manager runs a laundry camp. He literally teaches people how to clean their clothes. He's been called a laundry enthusiast and the pope of soap, but his preferred nickname is the Laundry Evangelist. And this Laundry Evangelist hasn't dry-cleaned his clothes in years. So we got Richardson on the phone and convinced him to share his laundry-camp CliffsNotes on how to dry-clean your clothes at home.
"The trick to washing things that you think are dry-clean-only, like wool or silk or ties, is putting them in a mesh bag. That reduces the abrasion. The other part of that is to wash in warm water and on an express cycle. No one's clothes are really that dirty that they need to stay in for a full cycle, and you get a better result if you use express because they're not tumbling for as long. Think of your overcoat or a blazer, if you wash it for just a few minutes, you're not subjecting the shoulder pads and lapels to a beating. I always say to do this over hand-washing because if you wear traditional work clothes five days a week, you shouldn't spend all Saturday hand-washing. Also, when washing silk or rayon, turn it inside out so if it pills, it pills on the inside."
"I suggest premium laundry products because they don't leave residue. I like the Laundress, Farmhouse, and our own laundry flakes from the Laundry Evangelist that I developed. It's laundry soap that flakes, and it's the most gentle soap on the planet. All of these will rinse cleaner than typical detergents, and with fabrics like wool and silk that makes a difference because it gives you that premium finish."