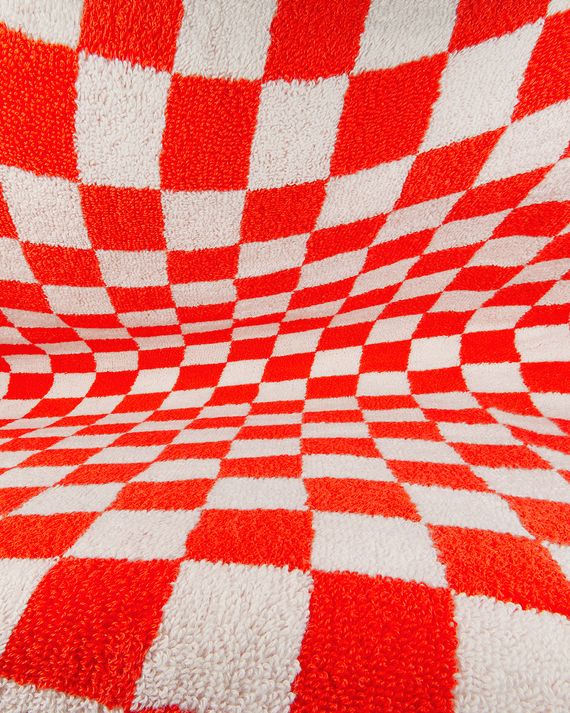 Towel choice is intensely subjective — for every full-throated waffle obsessive, there are plenty willing to argue the merits of a flat-weave Turkish set. Still, there are a few characteristics that are vital across the board: No matter the style, a towel needs to dry quickly and stay soft after a couple hundred runs in the wash. To find the ones that are as good-looking as they are durable, we spoke to 29 designers, hoteliers, and shop owners — and tested some ourselves — unearthing a checkered style by textile company Baina preferred by multidisciplinary design-studio founders and decorators, a mildewproof option that dries so fast it can be used morning and night, and one that has held up through years of "emergency potty-training accidents."
The most important quality of a towel is its ability to absorb water from your body while staying plush, not getting soggy. Absorbency is measured by GSM, or grams of fabric per square meter. The higher the GSM, the thicker, softer, and more absorbent the towel is going to be. A good, medium-to-plush towel will be in the 500 to 600 GSM range, and most of the traditional, terry-style towels on this list will be in the 600 GSM range or higher. Not all brands list GSM, but we've included it where available.
Egyptian cotton has longer fibers, making it soft, plush, and particularly thirsty. Turkish-cotton fibers are shorter, which means they're lighter and faster drying than Egyptian-cotton towels (if not quite as absorbent). Then there's American-grown Supima cotton, which has extra-long fibers but doesn't feel quite as plush.
Over the past few years, brands like Marimekko and Dusen Dusen Home have made swirly, striped, dotted, and otherwise over-the-top printed towels popular. But, of course, it's still easy to track down ultrasoft whites (and monogrammed towels with tempered trims) if your style skews more classic.
Best overall bath towel
Absorbency: Very high (820 GSM) | Material: 100 percent zero-twist Turkish cotton | Style: 10 colors
With the highest GSM (820) on this list, Brooklinen's Super-Plush towel is our overall favorite pick for its feel, absorbency, and value. Architectural designer Madelynn Ringo calls it "more robe than towel … incredible at soaking up water, and the threads are really durable, no snagging." It's made of long-staple Turkish cotton in a zero-twist loop, which contributes to the overall feel of the towel. Instead of the cotton fibers being twisted, which results in a rougher hand, they're looped (hence the term zero-twist) and therefore softer to the touch. It comes in nine colors, including mossy gray, cream, and goldenrod.
Best (less-expensive) overall bath towel
Absorbency: Very high (800 GSM) | Material: 100 percent Australian cotton | Style: 4 colors
If you're looking for something more affordable, consider Italic's "Ultraplush" towels, which Strategist writer Ambar Pardilla swears are "so ridiculously plush. Truly, like how I would imagine a cloud feels." She was sent a pair to test by the company, which manufactures its towels (and other goods) using factories that luxury brands like Chanel and Calvin Klein have employed in the past, but without charging designer prices. Not only do the towels "soak up bathwater like the best sponge you've ever had," they also "dry off incredibly quickly post-shower so you're not stuck with something soggy, dripping into the carpet." And after several months of weekly washing, Pardilla says "they've stayed in exactly the same shape." With a GSM of 800, just 20 shy of the Brooklinen above, the towel comes in a set of two for just $32.
Most durable bath towel
Absorbency: High (650 GSM)| Material: 100 percent Supima cotton | Style: 21 colors
Made from American-grown cotton, this Lands' End towel is a favorite of Haand's creative director Mark Warren's. He says the bath-sheet size is "super-plush and huge and stands up to hundreds of washings." And those aren't light-use washes: "I have a kid and am a pretty dirty person, and these have withstood a few years of what is probably excessive wear and tear, including cleaning emergency potty-training accidents."
Best bath sheet
Absorbency: Very high (800 GSM)| Material: 40 percent bamboo viscose, 60 percent cotton | Style: 6 colors
Speaking of bath sheets, if you want something you can truly swathe yourself in, consider sizing up from a regular-size towel to a sheet, which is typically about 50 percent larger than a standard towel. Strategist writer Latifah Miles swears by the bath sheets from Cozy Earth, which were sent to her as a sample. "Straight out of the box, they were noticeably weighty and felt like luxury spa towels," she says, adding that their plushness "felt like three ordinarily soft towels put together." But it was their size — they measure 40 by 65 inches (the brand's standard towel is 30 by 58 inches) — that appealed to Miles the most: "As someone who is taller and curvier than the average towel can accommodate, I love how the towel hits my shins and wraps completely around my body (and my hips specifically)." And while the towels are super-absorbent, with a GSM of 800, "I don't find that they take a really long time to dry." Made from a blend of cotton and bamboo viscose, they've stayed "soft and smooth, even after being washed and dried," according to Miles. She and her fiancé like them so much that he, "a longtime towel snob," insists on doing laundry just so they can put the two they have back in rotation. Plus, she says, "They make me feel wealthy. I would give these towels as a gift."
Best (less expensive) bath sheet
Absorbency: Medium (550 to 800 GSM) | Material: 100 organic cotton | Style: 8 colors
For a much more affordable option that's equally ensconcing, consider Casaluna's bath sheet from Target that Strategist writer Tembe Denton-Hurst loves. Made of organic cotton, it measures 65 by 33 inches and offers a medium-plush feel, according to Denton-Hurst (the product description provides a GSM range of 550 to 800). She loves that it's "very soft, sturdy, dries me pretty quickly," and washes well. But, she adds, "I'm most amazed by the fact that it wraps all the way around my body, which I know bath sheets do, but my standard towels give a hospital-gown vibe." This bath sheet, which Denton-Hurst owns in a rich bronze color, costs literally a fraction of the Cozy Earth at $20.
Best soft bath towel
Absorbency: Medium (550 GSM) | Material: Long-staple zero-twist Egyptian cotton | Style: 23 colors
Matouk's Milagro spa-style towel is woven from long-staple zero-twist Egyptian cotton, making it supersoft and durable. In the sweet spot between plush and lightweight, it's a favorite of both home stager Meridith Baer and interior designer Ariel Okin; the latter says it holds up "for years," washes well, and never sheds.
Best colorful bath towel
Absorbency: High (600 GSM) | Material: Long-staple Egyptian cotton | Style: 21 colors
When choosing towels, interior designer Rayman Boozer says he "always starts with a color in mind." And lately, "Garnet Hill seems to have all the perfect colors." This thick towel, made in Turkey, comes in shades like melon and cornflower blue and in multiple sizes for mixing and matching.
Best waffle bath towel
Absorbency: High (370 GSM)| Material: 100 percent cotton waffle weave | Style: 12 colors
Waffle towels, like these from Hawkins, are a good option if you prefer towels that are thinner and lightweight but still absorbent. They're a favorite of two designers, including furniture-and-lighting designer Lulu LaFortune, who says, "The more you wash this towel, the softer it gets, like a vintage T-shirt." (She also likes how fast-drying it is.) And Decorilla lead interior designer Devin Shaffer, says the towel is so comfortable he often finds himself "waking up from a nap wrapped in it in bed after a shower." (While these have a lower GSM of 370, the waffle weave makes it highly absorbent.)
Best (less-expenive) waffle towel
Absorbency: High | Material: 100 percent Supima cotton | Style: 9 colors
For a waffle towel that's slightly more affordable — and just as absorbent and good-looking — Strategist senior editor Winnie Yang recommends Onsen's bath towels. "Our household prefers something not plush and faster drying, and I've just always loved a waffle weave for its textural interest," she says, adding that a waffle is "not the type of towel to get if you want something plush." That being said, she loves Onsen's "slightly rougher texture because it feels more absorbent and also soothing to dry off with." And because they're not thick like terry towels, they're faster-drying and "less prone to getting mildewy and smelly." Yang has owned them for four years and "they're in great shape, with no snags or discernible wear."
Best mildewproof bath towel
Absorbency: Medium | Material: Deadstock Turkish cotton | Style: Rainbow hoop-weaved
This towel dries so quickly, says former Strategist writer Sanibel Chai, even in her small, steamy bathroom, that she is able to use it after a morning and evening shower. That's thanks to the weave, she adds, which "simulates thickness. If you look closely, you can see gaps between patches of towel because every other square is left blank," meaning that the "the terry loops that are usually densely packed on a normal towel are staggered. So water is only being absorbed into half as much fabric."
Best (less-expensive) mildewproof (terry) bath towel
Absorbency: Medium (500 GSM) | Material: Turkish cotton | Style: Ribbed, three colors
Fast-drying towels don't necessarily have to be woven (like the Bathing Culture option above) or waffled (see below) to be effective. Strategist senior editor Crystal Martin swears by this terry style as the middle ground between extremely cushy and overly sparse towels. "It's the perfect towel for people who don't like super-plush towels, for someone who is tempted to use a Turkish towel but knows deep down that that's just too thin," she says. What impresses Martin the most about the towel is how well-balanced it is. "It's so plush and has a really beautiful texture — and the absorbency is great," she says, but it doesn't "take so long to dry that it gets a mildew smell." But it's not thin, either. "Something about the ribbing allows it to feel lighter than a regular cotton towel but still plush. It's the best towel I've had. "
Best monogrammable bath towel
Absorbency: High| Material: 100 percent long-staple organic cotton | Style: 14 colors with border piping; Monogrammable
Interior designer Okin especially likes this long-staple cotton towel made in Portugal, which comes with a subtle piped border. "They can be monogrammed, which I love," she says. (Monogramming costs an additional $10 per item.) "I purchased a set in light blue. They are really soft and have a classic look to them."
Best Turkish hammam–style bath towel
Absorbency: Medium | Material: Turkish cotton-linen blend | Style: Striped
Flat-woven Turkish towels are known for being lightweight, highly absorbent, and super-fast-drying, which is why Sabah shoe designer Mickey Ashmore prefers them. "There are a lot of cheap Turkish towels out there — machine-made and digitally printed," he says. "Oddbird's are shuttle-loomed using a high-quality cotton-linen blend; they get softer with every wash."
Best reversible bath towel
Absorbency: Very high (700 GSM) | Material: 100 percent Turkish cotton | Style: Patterned, reversible
Dusen Dusen's striped towels are a favorite of architecture critic Alexandra Lange's. She says they are "very plush, the colors hold up well over many washes, and it is kind of freeing that they don't match anything in anyone's bathroom." They're available in a few colorways, all reversible: Decorator Carrie Carrollo likes the two-tone style with a narrow checkered trim at the ends.
Best patterned bath towel
Absorbency: High (600 GSM) | Material: 100 percent organic cotton | Style: Eight styles, including checkerboard, grid, and striped
Nick Spain, founder of multidisciplinary design studio Arthur's, loves Melbourne-based brand Baina's checkerboard-patterned towels, also stocked at Ssense and the Break. "Even though lots of brands are using checks in bright and bold colorways right now, executing them in this velvety brown gives them a decadent, old-world feel," he says. Carrollo also loves this dark colorway. "Brown and black might not seem like an obvious color combination — especially for your bathroom — but these add just the right amount of moodiness," she says. In addition to the checkered pattern that's available in a couple of a different colorways like olive and stone and paloma sun and ecru, Baina makes a reversible grid-patterned bath sheet with stitching detail, which the brand sent to me as a sample, as well as other graphic designs. I found the towel to be on the thinner-to-medium side, with a nice hand feel and quite thirsty. Despite the oversize dimensions, it wasn't heavy or bulky to use and dried rather quickly. It also looked quite handsome hanging from the towel rack.
Best status bath towel
Absorbency: High (600 GSM) | Material: 100 percent organic cotton | Style: 14 solid colors, 11 striped
Several of our experts, including designer Beverly Nguyen, named this as their favorite-looking towel. The Copenhagen-based design studio offers 25 different solid color options and stripe combinations. Laura Reilly of the shopping newsletter Magasin owns the bath sheets in Racing Green, a white towel with thin dark-green stripes, and likes to feature them prominently in her linen storage "in open shelving in public view." She says they have "a great bounciness, almost like a marshmallow." Tekla sent me the kodiak stripe style (brown stripes) to test, and I was immediately struck by how the stripes were almost like pinstripes and narrowly spaced, making them really satisfying to look at. The towel itself is very soft to the touch (more so than the Baina) and did a good job of absorbing water.
Some more bath towels we've written about
Our experts
• Leah Alexander, founder, Beauty Is Abundant
• Mickey Ashmore, owner, Sabah
• Meridith Baer, owner, Meridith Baer Home
• Siya Bahal, freelance creative producer
• Jess Blumberg, interior designer, Dale Blumberg Interiors
• Rayman Boozer, principal designer, Apartment 48
• Carrie Carrollo, freelance decorator
• Tembe Denton-Hurst, Strategist writer
• Leanne Ford, owner, Leanne Ford Interiors
• Nathalie Jordi, co-founder, Hotel Peter & Paul
• Kelsey Keith, editorial director, Herman Miller
• Lulu LaFortune, furniture-and-lighting designer
• Alexandra Lange, design critic
• Daniel Lantz, co-founder, Graf Lantz
• Conway Liao, founder, Hudson Wilder
• Crystal Martin, Strategist senior editor
• Latifah Miles, Strategist writer
• Beverly Nguyen, owner, Beverly's
• Ariel Okin, founder, Ariel Okin Interiors
• Ambar Pardilla, Strategist writer
• Laura Reilly, editor, Magasin newsletter
• Tina Rich, owner, Tina Rich Design
• Madelynn Ringo, creative director, Ringo Studio
• Sandeep Salter, owner, Salter House
• Devin Shaffer, lead sales designer, Decorilla
• Nick Spain, founder, Arthur's
• Mark Warren, creative director, Haand
• Alessandra Wood, VP of style, Modsy
• Winnie Yang, Strategist senior editor
The Strategist is designed to surface the most useful, expert recommendations for things to buy across the vast e-commerce landscape. Some of our latest conquests include the best acne treatments, rolling luggage, pillows for side sleepers, natural anxiety remedies, and bath towels. We update links when possible, but note that deals can expire and all prices are subject to change.