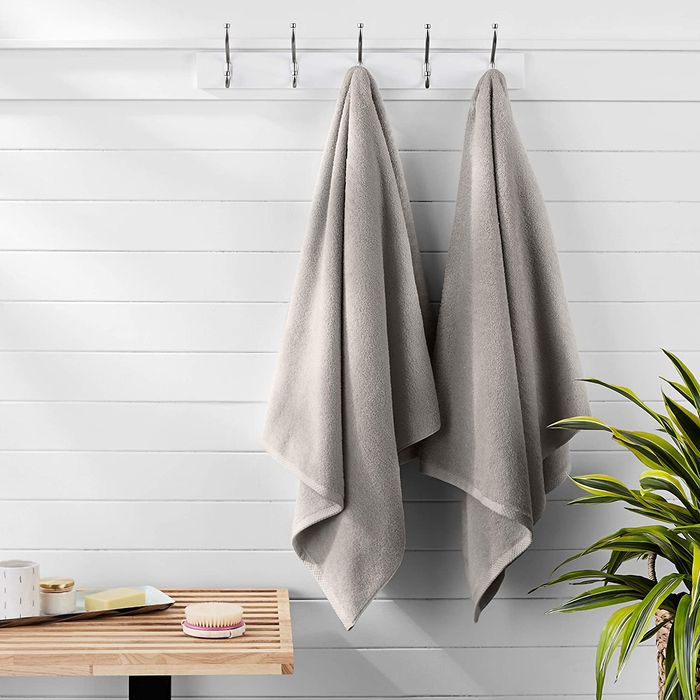 Not everyone has the budget for those fancy Frette towels that you can find in five-star hotels, but that doesn't mean you want them to be terrible either. You still deserve so-soft-you-could-sleep-on-them towels, just maybe at a cheap-beach-towel price. To help you find all the towels you could want — from plush to luxury-like to even quick-drying — for no more than $50 per set, we scoured Amazon to bring you the best bath towels, as praised by the most enthusiastic reviewers. And once your bathroom is set, we've got you covered for beach towels, hair towels, and bathrobes, too.
Related Article: Best Bath Towels
Best-rated bath towels
"This set of towels can easily compete with any retail set of towels except I didn't have to go face the masses," says one reviewer of this six-piece set from AmazonBasics. Another reviewer, who admits she "didn't have high hopes for these," changed her mind, calling them, "really, really nice. They're nice enough to have on display but cheap enough to use every day." One happy shopper even thinks these are the "best towels we've ever owned," adding that "they are thick and soft and high quality." Because of the price, many were concerned about how they'd last after washing, but this reviewer assures that they can survive: "These have held up great the last month. No fading or bleeding onto our white dish towels and our lint trap in the dryer has not been full of black lint from these."
Best-rated (less expensive) bath towels
"These towels mark the end of a long search for towels that are quick-drying and high quality. They don't get the mildew smell that our other heavier towels got and are extremely lightweight. However, they are the most absorbent towels that we have tried," writes one reviewer who has tried three different "quick-drying" towels prior. At least one reviewer says this cotton dries as quickly as microfiber, "but without all the scratchy, dry-skin feeling." And many more were pleasantly surprised by the quality, especially given the price. "They are noticeably more absorbent than the super lux 'resort hotel' type towels that cost $50 each," says one reviewer. Another calls them "Goldilocks towels" because they're "just right," not too thin or thick.
Best Egyptian cotton bath towel set
Over 1,000 reviewers describe this Egyptian cotton towel set as "soft." One loves that these towels are not only "soft to the touch," but they also "look great and are very absorbent." Though another notes that they "aren't so thick that they take forever to dry in the dryer." The quality of these towels comes up in many reviews. "I just received these, but I did wash them first and they held up better than my towels I got as a wedding gift from Bed Bath & Beyond," writes on reviewer, adding, "They are so much better in quality then the ones I had." A few complain that these towels give off a lot of fuzz, especially in the dryer, but one concludes, "It doesn't give off any more fuzz than other new towels I've bought. All towels lose a lot of fuzz the first few times you dry them. They are good sized, soft, and pretty."
Best Turkish cotton bath towels
"I needed Turkish versus Egyptian cotton to allow towels to dry between uses. These were a score," writes one reviewer from Florida. And according to another non-Florida-based reviewer, "These are real Turkish towels. The best I've ever seen." One even thinks these thinner, Turkish towels are hotel-room-worthy, commenting, "I absolutely love the plush feeling and professionalism by which this towel was made." And though many reviewers were skeptical that they'd produce a lot of fuzz, one reviewer reassures those reading, "They are fluffy and very durable. Did not shed at all." One more chimed in to say that after having them for five years, "these towels are still going strong." She even notes that she's "never had towels last this long, and these have been washed regularly in hot water and bleach."
Best organic cotton bath towels
"Soft," "fluffy," and "thick" are the most common words used to describe these towels from Amazon's Pinzon brand. "Oh my gawd," exclaims one reviewer who's impressed that she can get "organic for the price." To her, the price and quality simply "cannot be beat." She further describes these towels as "super soft and absorbent," and even after they're washed, they still "feel so yummy." Another customer, who tries "to get as much organic as I can because less chemicals are used in our environment," calls these "a beautiful set of towels," and though she hoped they'd shrink a little because they're oversized, others think the size is a major plus. And if you're still not convinced these are a great buy, another reviewer calls them the "holy grail of bathroom towels," because not only do they have a "generous size and cushy softness," but also the value is unbelievable. "One towel of this quality, at this price, would be excellent. Six? SIX?! It is phenomenal."
Best extra-large bath towels