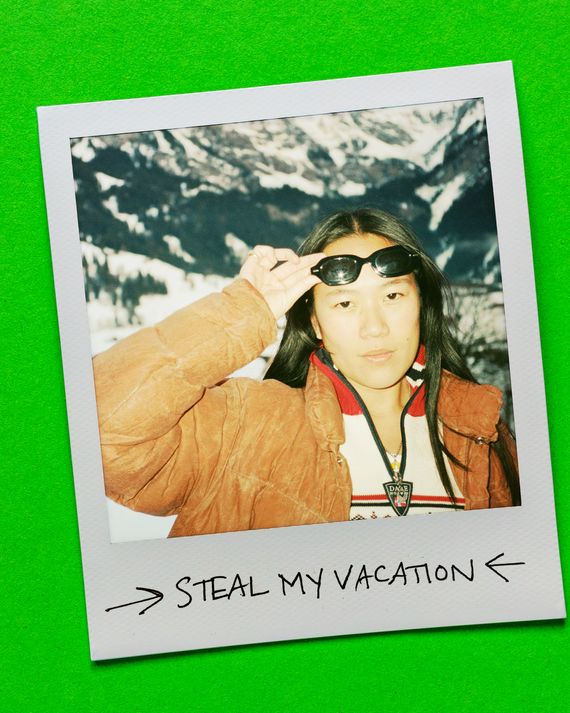 Photo-Illustration: The Strategist; Photo: Beverly Nguyen
Everyone knows that person who spends weeks sniffing around travel blogs, going deep into Tripadvisor rabbit holes, collecting Google docs from friends of friends, and creating A Beautiful Mind–style spreadsheets to come up with the best vacations/itineraries possible. In this recurring series, we find those people who've done all the work for you and have them walk us through a particularly wonderful, especially well-thought-out vacation they took that you can actually steal.
Beverly Nguyen — the fashion stylist behind Beverly's, the homewares shop currently popping up at Nordstrom's flagship store in Manhattan — spent the last days of 2021 in Gstaad, Switzerland. Her boyfriend's family has owned a house in the ski-resort town for decades, and this Christmas Nguyen joined them for a week of slow, snowy living. As a ski town, Gstaad has a busy winter season from December through February. Many hotels and stores in town close down after that and reopen for the summer season, when tourists come back for long days and warm-weather hiking, climbing, paragliding, and polo. ("August is actually a great time to go," Nguyen says, "and the Gstaad Menuhin Festival attracts international music stars.") To lean into the cold weather and short days, Nguyen and her hosts enjoyed a mix of low-key luxury in town and taking it easy around the fireplace. Here, she shares her favorite resort spa, craft shops, and sausage-and-beer restaurant from her trip.
2 p.m.: Drive through the mountains, head to your chalet
We drove to Gstaad from Bern after having flown into Zurich. (If we hadn't stopped in Bern, we would have flown into Geneva and driven from there.) The drive was magnificent. You're on this big highway, and after about 30 minutes it becomes a one-way road winding through the mountains, so make sure you arrive during the daylight and rent a car with four-wheel drive. The snow turns this crazy white-blue, and the sun starts to disappear except for what's peeking out from the tops of the mountains. There's no traffic, so I kept asking my boyfriend if he was sure we were doing the right thing. And you keep passing all these tiny towns, and I kept saying: Is this Gstaad? Is this Gstaad? But then you see a Hauser & Wirth gallery, and it gets very branded very fast. And then you know you're in Gstaad.
There's a train from both the Zurich and Geneva airports, and you can book a rail ticket in advance or just get it at the station, but it's definitely nice to have a car to get around. If you're staying at one of the central hotels in Gstaad like the Alpina (from $1,420) or the Park (from $700) — the two luxury hotels in the main part of Gstaad; they're definitely major gathering places — you can probably make it work without. I have friends who have visited Gstaad in the past, and they've rented chalets, which can create more of an immersive experience. Airbnb isn't big in the area, but you can find rentals that range from this website's modestly priced options, to FeWo-direkt for mid-priced places, to HomeToGo for luxury.
Note: This chalet requires a minimum stay of three nights, so the price shown here is for a three-night stay.
6 p.m.: Settle in with a traditional raclette dinner
The night we got in we spent some time heating up the house by lighting a fire in the kitchen stove, and then we made a beautiful, simple raclette dinner for five. Raclette, potatoes, mushrooms, and this delicious bread — bread in Switzerland is like nothing I've ever had before; it's just fluffy, soft, and stays fresh for like a week! It was at this meal that I discovered potato baskets, a simple creation to keep boiled potatoes warm until you're ready to smother melted cheese over them. The basket is constructed of a flat wool fabric to keep heat in, and the design printed on the wool was charming and accented with snowflakes. It's the sweetest contraption.
10 a.m.: Shop for Gstaad-specific Prada
The second day was major shopping. We went into town and browsed ski shops and ribbon shops and walked along the cobblestone streets. It's a really interesting experience because there are many stores you're familiar with, but they're meant for the mountains. No. 1 on my list was Prada (Promenade 17), where I indulged in a mini black chain dress for New Year's Eve. They had so many styles designed just for the Gstaad store, like ski-bunny looks, poker sets, puppy accessories bedazzled in diamonds. The big-name stores themselves (Rolex, Patek Philippe) are also very much built for Gstaad, in these beautiful cabins like little chalets. And the customer service is amazing. Everyone is very excited when someone comes in to shop, because most of the stores in Gstaad are not open year-round. After shopping we popped in for a quick lunch and cocktail at Cappuccino (Promenade 57), which has a divine burger.
3 p.m.: Hit the gourmet market
The intention of the shopping day was really to go to Pernet (Promenade 75), a really incredible upscale gourmet food market. It has a lot of locally made and produced products — caviar, fish, produce, crisps, cookies. That night at home, we had sausage with red cabbage and spätzli (a small noodle made with fresh eggs) made from scratch. I got such an insane local experience in Gstaad, since I was with my boyfriend's family, but it really is a place where people seem to spend a lot of time at home making or crafting and doing things that can feed and nourish your family. You start cooking at 4 p.m., even if you don't eat until 9 p.m.
9 a.m.: Indulge in a 9-to-5 spa day
The day of the winter solstice, I booked myself a spa day at the Alpina Gstaad hotel's Six Senses Spa. I brought gym clothes with me, a swimsuit, and a book, and I spent about eight hours there. The whole place looks like something out of a James Bond movie. I booked a 60-minute massage and got there two and a half hours early to walk the grounds and work out at the gym. I went up to the roof to the outdoor pool, read a little bit, and ordered some Champagne. Besides the gym inside there's a salt cave and an indoor pool with a circular dome roof so you look up and see the sky. And of course there's a sauna, steam room, multiple baths and hot tubs — it was incredible. After my massage I was ready to jump in the pool and just read a bit more.
6 p.m.: Drink a martini in the cigar lounge
When I was done at the spa my boyfriend met me at the Alpina Lounge & Bar in the hotel for martinis. I was a bit hungry and craving rice and was surprised to find a poke bowl on the menu, which was unexpected but so delicious and fresh. The hotel also has a cigar lounge — and Gstaad is a big smoking town — that looks like a gentleman's club. So we had a cigarette with our martini while we waited for our poke bowl.
8 p.m.: Feast on caviar, scallops, vodka, and schnapps
After our first dinner (and this sounds so glam) we went back to the chalet and had the caviar and blinis we'd picked up at the grocery store the day before. One of the most traditional drinks to have before dinner is kirsch, almost like schnapps. It's delicious. It's not like the super-sweet schnapps we're used to in the States — more like distilled sherry. And then we had a beautiful second dinner of scallops and saffron potatoes at home, with vodka.
10:30 a.m.: Take in the views (and the fabulous company) from a mountaintop restaurant
I don't ski, but there are still so many ways to experience the mountains. We took the Eggli gondola lift up to the top of a mountain, which basically drops you at the Eggli mountain restaurant. (Make a reservation.) It's a low-key restaurant with lodging tables and benches. But the people that go there are extremely fabulous — it's, like, where Valentino hangs out. Everyone knows each other, and they're all taking in the view while enjoying a large beer or kirsch and a sausage, which comes in a cast iron with caramelized onions and a really nice red-wine sauce. I could have stayed there for hours. At the base of the Eggli mountain, when you buy your ticket for the gondola up, you can rent a sled, and that was our down-the-mountain plan. I rode down with my boyfriend, and it took about 40 minutes and was so beautiful, but also scary and a total adrenaline rush.
Of course, for the people who ski, like my boyfriend's family, the Eggli mountain is a safe bet in December. By February, when there's more sun, the run from the Eggli over La Videmanette all the way to Rougemont is highly recommended. From there, gondolas will take you back up to Videmanette, and you can ski back to the Eggli and often even down to Gstaad. For the more daring there's the Tiger Run on Wasserngrat, and some of the longest runs in Europe are to be had on the Glacier 3000, about a 20-minute drive from Gstaad. It's recommended from February to April — any earlier and it's very cold.
3 p.m.: Buy potato baskets and traditional Swiss ribbon
After our sled ride we visited craft shops in Saanen, another town very close to Gstaad. Other towns and villages aren't as touristy-popular as Gstaad. But there's this one little plaza — the whole town almost looks like an outdoor mall in a really cozy and charming way — with like six different grocery stores. There were all these cheese shops and meat shops, and Schmid's Dorfladen (Dorfstrasse 76) was a great spot to get really interesting produce and lettuces that are unique to Switzerland. And there are a lot of maker shops, too. I bought tons of trimmings and ribbons at Trouvailles Gessenay GMBH (Dorfstrasse 80). I got the traditional Swiss plaid blue-checkered print, and some with fairy-tale mushrooms embroidered on ribbon. Hiematwerk (Dorfstrasse 62) has great linens and pottery, and that's where I found the perfect potato padded basket with a little wicker-and-gingham lid. Then we went home for a night in and pasta dinner.
11 a.m.: Eat fondue al fresco
We had fondue for lunch outside the chalet, spending time in the sun, sipping more kirsch, taking in the views of the mountains. Because there are really only about three hours of sun every day, people really make sure to soak it up by having lunch outside. The cheese and bread came from the markets, and you throw a little garlic on the bottom of the pot, then throw all the cheese in there and just enjoy it with bread. There's always like six kinds of mustard on the table.
2 p.m.: Pay a visit to the town butcher
Farmer Metzg (Saalistrasse 17) is a local butcher that has incredible meats. The owners have owned the farm nearby — and have been running this business — for decades. (We actually went on Christmas Day, but it'd make any day special.) We picked up steaks and sausages, and I just loved the cozy, charming attitude of this butcher shop.
3 p.m.: Bake traditional bretzeli cookies
There's this traditional cookie called bretzeli; they're like little waffles that get rolled into cigar shapes and filled. I bought a packet from the fancy grocery store, and when my boyfriend's dad saw me eating them, he was like, "You know, we can make those." So we spent a whole afternoon using this little bretzeli grill that makes the little waffles, and then we rolled them into cones using a thin wooden spoon and placed them on the windowsill to cool and set before filling them with melted chocolate the next morning. His mother adapted the original recipe from a Swiss baking book, but since then he has made minor adjustments. (There may or may not be some schnapps added to his recipe.) After that we cooked the steaks and sausages and ate until we couldn't move.
8 a.m.: Relish the quiet mornings with yoga and coffee
Each morning I'd wake up, light a little fire, and do yoga while the house woke up. The snow makes everything so silent, so it's a really peaceful way to wake up and start the day. As everyone else got up, we'd all have our rounds of coffee, and there's a piano in the chalet that my boyfriend's dad would play, and then we'd all have breakfast together. A very common breakfast is a piece of cheese, a piece of cured meat, and some toast with a little bit of a sweet spread, almost like a Nutella. It's very mellow.
11 a.m.: Trek out for a snowy hike
On our last day, we went out for a hike in the woods and made snow angels. It's a very hiking- and walking-friendly area; the mountains are not so dense with trees that you ever feel like you're lost in a forest. And the paths from town are all well signposted. Walking from Gstaad to Saanen along the river Saane takes about an hour, or you can walk from Gstaad toward Gsteig, which is about a seven-mile hike round trip, but you can always catch a bus on the way back if you get tired. You definitely need layers to stay warm for any hikes or walking around in general — a durable and waterproof pair of snow boots and any tech-performance pants and top will do.
6 p.m.: Go out for send-off martinis
The Park Gstaad is another amazing hotel that's close to the Alpina, and we went to one of their restaurants, Chubut (Wispilenstrasse 29) for dinner on our last night. The menu is Argentinian, and we had empanadas stuffed with roasted eggplant, tomato, cheese, and basil, crispy octopus, Peruvian ceviche that was my favorite, and then an incredible incredible rib eye with crushed fried potatoes. It's really all about the jams and chutneys and chimichurris and salsas that they served on the side. For dessert we had a crêpe filled with dulce de leche served with roasted banana ice cream. I paired the entire meal with about three martinis.
Beverly's
Gstaad
Packing
List
Pajamas
I love traveling with pajamas because it gives me a sense of familiarity and a feeling of home if I'm traveling somewhere foreign, providing comfort and ease. These Tekla pajamas are breathable and lightweight, and they make a perfect start to cozying up to a fire or a good book.
Hydrating face mask
It's hard to predict how your skin will react to all the changes in climate and atmosphere when traveling. I always sleep with the Laneige face mask and lip mask on when I land anywhere. I wake up feeling refreshed and hydrated. It sets my skin back to a restart mode.
Bathing suit
I typically travel with at least one bathing suit, and often more. You never want to miss an opportunity to swim just because you didn't bring one — I've learned that through many mistakes. This Matteau suit in particular makes me feel sleek, fast, and chic.
35-mm camera
I never leave home without my Contax film camera. I love shooting with my T3. It creates the memories of how the trip went on in my head, and it's beautiful to share the pictures with the people I traveled with later down the line.
[Editor's note: New Contax T3s are hard to come by, and right now you can only find them used on Amazon and eBay. For a lo-fi alternative, Fujifilm's Strategist-approved disposable 35mm cameras are widely available for $20 each. For a slightly higher-tech option, the photo-editor-approved Fujifilm Instax Wide 300 Instant Film Camera is available at Amazon from $75.]
The Strategist is designed to surface the most useful, expert recommendations for things to buy across the vast e-commerce landscape. Some of our latest conquests include the best acne treatments, rolling luggage, pillows for side sleepers, natural anxiety remedies, and bath towels. We update links when possible, but note that deals can expire and all prices are subject to change.