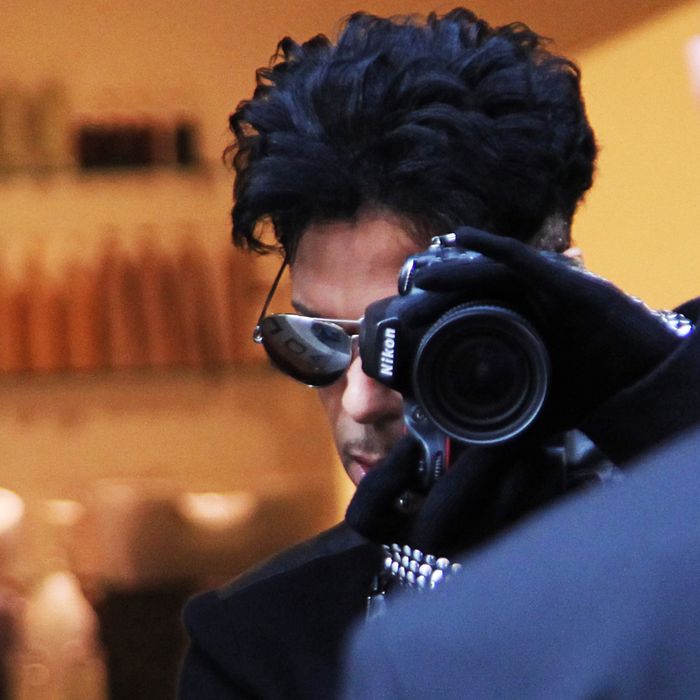 Photo: Gisele Tellier/Getty/Getty Images
It's safe to say most photographers have at some point been gifted a lens-shaped coffee mug. It's the go-to gift for photographers, but it's also divisive. Some love it; others truly hate it. Your best bet is to shake things up a little. You know, like a Polaroid. To find out what gifts photographers actually want, we reached out to a group of 22 photographers and photo editors to ask about the camera bags, cord organizers, disposable cameras, photo books, and other photography-related items they have received as presents and loved, as well as their own favorite gift ideas for fellow photographers. Below, 45 of their top photo gifts that will suit photographers of any skill level (and are guaranteed to be more useful than yet another mug).
Camera bags to give
"Cool camera bags that don't look like camera bags are always awesome," says Melissa Hom, a staff photographer here at New York. She recommends the brand Ona, which is based in New York and makes all-leather and waxed-cotton messenger-style bags. Although it's a little more expensive than other options, it comes in black and brown and is reminiscent of a vintage Coach bag, not the clunky nylon numbers you might typically associate with camera bags. There's a less expensive canvas version available, too.
For those who would prefer a fanny pack over a cross-body bag, gift this one from Baggu, which photographer Jacq Harriet says she's "obsessed with." Harriet used the bag for traveling this summer, and says it's roomy enough for chunky 35-mm point-and-shoot cameras, plenty of film, a small water bottle, and a heavy wallet. "It holds pretty much everything, like a Mary Poppins never-ending bag," she says.
Freelance photographer and filmmaker Luke Boelitz swears by his Hadley Pro, in part because it "doesn't scream 'camera bag' to a casual observer." That doesn't mean it's impractical, though. The Hadley Pro is "the best camera bag for carrying a DSLR and two lenses, but it's small enough that even when it's jammed full of camera gear, it's not too heavy to walk around with all day." Boelitz owns the khaki-and-tan messenger bag.
And Boelitz also likes the all-black Hadley Pro. He calls it "the chic choice."
Dan Rubin, a photographer and designer, describes Peak Design's bags as "exceptionally practical" and possessing a "unique modern-tech aesthetic without being garish." He says these bags are great for photographers who carry multiple camera bodies, because they have configurable dividers, a secure laptop sleeve, and an expandable side pocket for a tripod. Rubin also likes the Peak Design bags' strap lugs, which are adjustable, like almost everything else on them, allowing you to attach multiple camera bodies to your bag while shooting on the move.
"I was gifted a Langly bag a few years ago that I really love," says Amy Lombard, a photographer who has shot for the New York Times, Vice, and New York, among others. "I use my Langly bag for every shoot — so often that I actually need to order a new one. It's shockingly roomy, can fit two cameras, two lenses, two flashes, a huge bag of batteries, a laptop, an external hard drive. It's traveled everywhere from alien-themed brothels to square dances all across the United States." It's also supportive. "With heavier equipment comes shoulder and back pain, and the straps are cushy enough that it softens the blow. It's terrific if you're on the go quite a bit, which my lifestyle tends to be," Lombard says.
For the lensman or -woman who's always on the go, portrait photographer Joseph Balestra suggests this bag from Wandrd. "It's traveled to so many countries recently with me, and I love it," he says. "I use it for photography and non-photography trips alike." It's ideal for traveling partly because its weather-resistant zippers will keep your gear dry, and it has practical details like expandable pockets for a water bottle and tripod.
Another option for a globe-trotter comes to us from Harriet, who says this one is her go-to for carrying gear on flights. "It perfectly fits my digital kit as well as two or three film bodies and additional lenses," she says. "Super sturdy and dependable." She notes that the Air version is lighter to lift, making it easier to stow in an overhead bin than the brand's original, heavier models. "It also makes you look like a badass," she adds.
Camera gear and accessories to give


Faibyshev told us this camera strap was recommended to her by a salesperson at Adorama when she was first starting out. "I loved it so much I just bought myself a replacement for my first worn-out one purchased years ago," she says. "It's nothing fancy, but the thick, stretchy neoprene absorbs all the shock and keeps my neck and shoulders in good shape throughout the day." The strap comes in plenty of different colors, too, should you want to pick out a brighter one to gift.
If the photographer's style is a bit more utilitarian, Boelitz likes this simple yet practical camera strap from Peak Design. "The strap is a nice, almost seat-belt material that feels good on your neck and doesn't get sweaty like thick neoprene straps," he says. "The quick connect system makes it easy to take off the camera if you're using a tripod, and it comes with an extra pair of connector dongles, which are compatible with all the Peak Design straps. I have a bunch of these for all my cameras." Anthony Lee, a photographer and content creator, says he uses Peak Design for all of his cameras straps as well. "The leash is the smallest and most compact of the lot but will still hold my DSLR without any issues," he says. He also likes the minimal and high quality feel of the straps: "possibly the best part about them is that you can easily clip or unclip from one camera to another."
If you're looking for something small — and less expensive than a carbon-fiber tripod — Angela Pham, co-founder of Deitch + Pham, recommends gifting "fast memory cards. Those are the items you always lose, so it's great to have a good reserve."
There's also this option, which three of the six experts we consulted about the best SD cards recommended. George Muncey, a photographer and the creator of the popular YouTube photography channel, Negative Feedback, says that 64GB is, "the optimum [balance] between price and storage space."