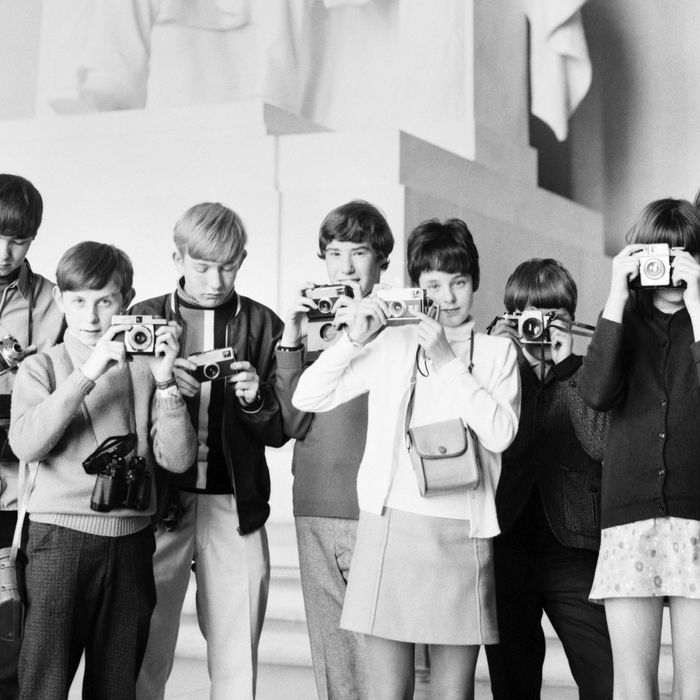 Photo: Mirrorpix/Mirrorpix via Getty Images
I've had plenty of photographers tell me that the best digital camera is the one you have on hand, and for most of us, that's our iPhone. And though you can take some high-quality photos in Portrait Mode, if you really want to get serious about photography (even if your own photos are just going on Instagram), it's probably worthwhile to invest in a digital camera. But finding the best digital camera for you that'll take the types of photos, or videos, you want can be tricky if you're just starting out, especially since there are so many different types of digital cameras on the market with a lot of confusing letters and numbers.
So to give you a solid starting point to find your next camera, I talked with nine professional bloggers, vloggers, Instagrammers, and photographers about the cameras they use regularly or would recommend, based on their experience — because you don't get hundreds of thousands of likes on Instagram without knowing how to take a good photo. Below, their most-loved cameras, organized by price, from just under $1,000 to total splurges.
Just Under $1,000
"My go-to camera is the Canon 70D with an EF-S 17-55mm f/2.8 IS USM lens. [Editor's note: There's an updated version of this camera that our tech writer Steven John loves, too.] This camera and lens combo are very versatile for video and different types of photography. I mainly shoot food for my social-media page, but I like to have the option of using the equipment for landscape and street photography. This setup allows me to capture close-up food shots and wide-angle landscape shots without having to carry extra equipment … I decided I wanted a DSLR camera, as opposed to a mirrorless camera, even though they tend to be heavier, because you have a wider range of lenses at your disposal. The viewfinder that pops out is extremely helpful to me because I am five feet tall, and it allows me to hoist and maneuver the camera above my head while still seeing what I am capturing." —Rayna Greenberg, food, travel, and lifestyle blogger, One Hungry Jew
Fashion blogger Kellie Brown also recommends the Canon 70D.
"I love the Canon 70D. I'm about to actually buy a new camera for my video, and that one is what I've been recommended. So that's the one that's kind of on my wish list right now, because when I'm shooting myself, I don't need something as powerful as the Mark IV, and I also don't know how to work it. The 70D is just a little bit more user-friendly, and I'll be able to do some of my beauty shots with that and product shots with that a little bit better." —Kellie Brown, fashion blogger, And I Get Dressed
"My vlog camera for my YouTube channel is the Sony a5100. I love that one because it's mirrorless, and it's really, really great quality for a tiny point-and-shoot. I can throw that one in my pockets and small purses, and people will often ask me, 'Wow, what camera are you using?' And when I show them, they're like, 'Really?' Because the quality is so great. And it takes pretty decent photos, too. I think the photos are good enough for Instagram, but they're a little less magazine-quality than I would like for my actual blog. [But it's good] when I need better than my iPhone camera quality. It also has great Wi-Fi capabilities." —Brown
"This little pocket camera has the ability to shoot 4K video, 240 frames in slow-motion, features a flip-out screen, and [has] image stabilization! That is completely unheard of in a platform this small!" —Sawyer Hartman, filmmaker, photographer, and travel vlogger
Between $1,000 and $2,500
"Our go-to cameras are the iPhone and Fuji X100T. We have been shooting with the X100 for about six months now and couldn't be happier with the images. We knew we wanted to go light and compact since we travel, without sacrificing image quality. We were deciding between the X100 and the XT1 because the XT1 has interchangeable lenses [and the X100 doesn't], but we loved the idea of challenging ourselves with only one focal length and creating with minimal gear. (The camera on the iPhone has the ability to be super discrete, and it always comes in handy when you're shooting food from an overhead angle.)" —R'el Dade + Marcus Lloyd, travel and lifestyle bloggers, the Place I Was Telling You About
"As a travel blogger who's always on the go, there are quite a few reasons I have and love my Fujifilm X-T10. It's extremely small and lightweight. I can easily throw it in my purse before exploring and don't have to worry about lugging an extra 'camera' bag around. The interval-timer setting was also an absolute must for me. Essentially, I can set up my camera on a tripod, and it shoots in intervals (per second) for any number of frames. I use this all the time when I'm traveling solo, and nobody's the wiser! I love the remote-control access, an app that connects to your phone, so you can see exactly what's in the frame while shooting on a tripod. It has saved me countless hours to just connect to my phone and see, 'Oh, I'm not even standing in the frame.' To download all the images, I simply switch on the camera's internal Wi-Fi, connect using the app on my phone, and download only the images I liked right to my camera roll. The dream!" —Jordyn Kraemer, travel and lifestyle blogger, the Blonde Vagabond
"For photos, the majority of stuff we're shooting is either on the iPhone or the 5D. The 5D is pretty much on me at all times. It's just in my bag with me, wherever I go. It's just my favorite camera, basically. Because it's a bit older, it doesn't have the Wi-Fi built-in, so I use it with a Wi-Fi card, and what I do is a little bit different. I actually use both card slots. I have a Wi-Fi card that records JPEGs in there. And then I have a CF [memory] card that I record raw files to, so it simultaneously does both. I find it to be really helpful, because if I just want to dump stuff to my phone immediately and do a quick edit when I'm out at an event, I can do that. Or if I take a more staged shot, I have the raw file to take back to my computer later and really mess with it if I need to." —Graham Burns, co-founder, the Brothers Buoy
Over $2,500
"Everything I shoot, I shoot with the 5D Mark IV. From the beginning, I knew I wanted something that took good photos, and video as well. I went to Canon because when I shot TV shows, we shot with a Canon, not with anything else. I basically asked everyone who knew about cameras, [and] I got the 5D almost a year ago. A lot of it had to do with resolution. Going to the full-frame sensor and jumping to 4K [video], I'm able to shoot in slow-mo and just take everything up to the next level. With the full-frame sensor, it's going to be a better photo anyway. I'll shoot everything with the 5D — I can't run round with two cameras, I already have too much on my back." —Jeremy Jacobowitz, food and lifestyle blogger, Brunch Boys
"I used to use a Fuji XT2, but I wanted a full-frame camera and something faster. So I got a Sony a9 in August 2017 and have been using it since. I love it! It's really sharp and super fast and helps me capture the moment. The Sony a9 is pretty much the fastest camera out there right now, shooting at 20 frames per second. I also got it because I wanted to start shooting more food events and weddings. I don't think there's a feature that I use more than what was expected because I knew what this camera was capable of. And that's pretty much why I bought it." —Ben Hon, StuffBenEats
"I mainly use this camera for video because it does really good 4K internally, and you can get some pretty good stuff with that. The nice thing about the a7S is that it's so portable and really small and compact, and the image quality is good. I don't think the Sony lenses are as good as Canon's, but they're getting better, and you just can't really beat the specs of the Sony camera [for video]." —Burns
"The 1DX Mark II is by far the best all-around camera for vlogging, filmmaking, and taking still images. It shoots 4K, high-res stills, 120 frames in slow-motion, and [has] the fastest autofocus I've ever seen." —Hartman