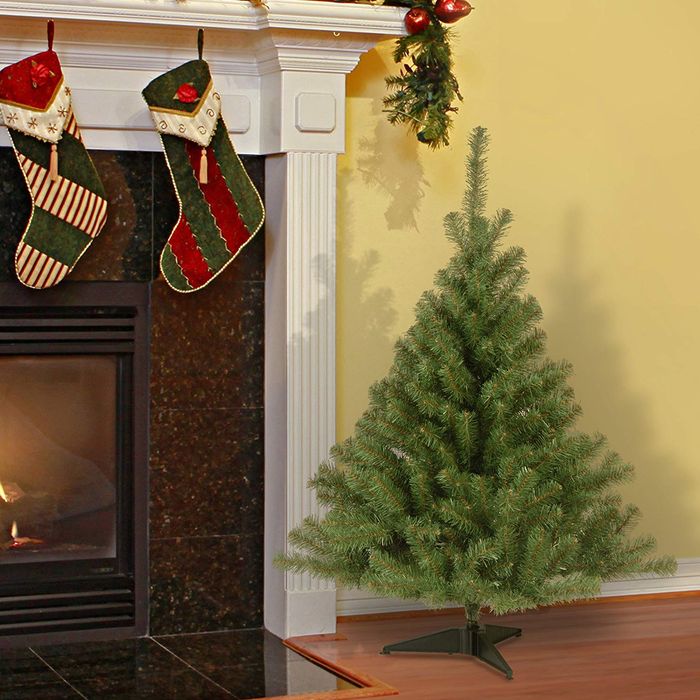 Here at the Strategist, we like to think of ourselves as crazy (in the good way) about the stuff we buy, but as much as we'd like to, we can't try everything. Which is why we have People's Choice, in which we find the best-reviewed products and single out the most convincing ones. (You can learn more about our rating system and how we pick each item here.)
And while we've written about lots of Christmas-related items — including the best Christmas pajamas, the best Christmas lights, and the best ugly Christmas sweaters — here, we've rounded up the best artificial Christmas trees, as praised by the most enthusiastic reviewers on Amazon.
Best-rated artificial Christmas tree
"This tree right here. Take a look at it. This is the last Christmas tree you'll ever need. This is the be-all, end-all pinnacle of unlit Christmas trees," one reviewer raves. "This majestic fir will stand tall in your home and become your new favorite decoration." This unlit artificial tree got especially high marks with reviewers who had been unsatisfied with pre-lit trees, like one who writes, "I wanted an unlit tree, as I've found with pre-lit, the lights stop working after a few years anyways. Somehow I stumbled upon this tree, and I am so glad I did. Sure, it took some 'fluffing' to get it nice and full, but this is a very realistic looking tree." Another says, "The best part is that it is unlit as I like to change between color and white every other year or so. Also, you do not have to deal with the lights going out which looks horrible when you have to put other lights in with the burnt out lights." As one reviewer concludes, "It's not a real one, but it truly is lovely."
Best-rated (less expensive) artificial Christmas tree
"I was looking for a small tree to decorate for a tiny area," one reviewer explains. "This tree came and is adorable! It looks just like a regular-size artificial Christmas tree — just mini. Very mini." It's so small, that nearly a quarter of reviewers planned to put it on their desks at the office. Another says that this tree "was a little smaller than I thought it would be but it does measure exactly as stated," and adds that the "base is sturdy and it looks great on my desk." To make this mini tree look its best, one customer notes, "They do come all folded up and the branches need to be manually pushed down and some of them need to be reworked and twisted into the right spot to give it a fuller look, but these are definitely worth it for the price!"
And now for some micro-picks for every type of artificial Christmas tree you might be looking for.
Best green-flocked artificial Christmas tree
More than 15 percent of reviewers describe how "real" this artificial tree looks, noting the pine cones and branches give it a natural look. "The pine cones and multicolored branches are beautiful details that make this tree stand [out] from most artificial trees found in stores," one writes. Another customer points out "There are three different types of needles and each type has a different shade of green." Another says, "Flocked pine cones add to the effect too," but instead of white snow flocking, one reviewer notes, "They are lightly dusted with a kinda 'moss' green flocking which actually turns out to be much better to me for making the tree a stunner!" The tree is also prelit, which one reviewer describes as "a perfect amount, and the tree by itself has so much interest and dimension."
Best artificial Christmas tree with clear lights
This artificial Christmas tree passed the sniff test of one tough critic: "When my wife was a child, her father raised Christmas trees, and no tree — real or artificial — will ever measure up to her childhood memories of those paragons of arboriculture that her father coddled for a dog's age until they were fit to grace the living room. But this National Tree 'Feel Real' Frasier Fir satisfied her." And while it takes reviewers about an hour or two to get this thing fully fluffed up, it's worth it according to one who says, "Once you groom the branches and spread the forked limbs it is absolutely magnificent." Reviewers also appreciate that this comes pre-lit making this even easier to set up. They are nice "warm lights," according to one reviewer. Another says, "I don't care for LED lights on trees. These are a softer light. Not fluorescent looking."
Best artificial Christmas tree with multicolored lights
Shoppers looking for something a little more colorful praised this tree, which comes pre-lit with multicolored lights. The tree even reminded a couple of shoppers of their childhood trees: "I was looking for a realistic tree with multicolored lights. This tree is gorgeous! It has more lights than most and no white lights on the tree, which is what I wanted. The color of the lights is like I remember growing up," says one. Another writes, "This tree looks very much like the real thing. The lights are well spaced and we especially liked them because the colors reminded us of Christmas lights from our youths in the 70s and 80s." Shoppers thought that the preassembled lights made setup particularly easy, too. "It's the most beautiful artificial tree I've ever had, and my first pre-lit," says one, adding, "Assembly was quick and easy. I had always laboriously put three strings of 100 lights on my previous 4.5 foot tree, so 450 richly colored lights were dazzling."
Best artificial Douglas fir tree
For those hunting for a very classic-looking faux tree, this artificial Douglas fir fit the bill. "Had real Doug fir for 30 years, fresh cut," says one, calling this artificial option "as close as you will get." Another shopper writes, "I've been holding off the past couple of Christmas seasons for a good Douglas fir, and this one is it. Great quality pines, and branches with a realistic feel and overall density of branches." Even a self-proclaimed "very picky" shopper loved this tree. "Oh my gosh, this is the most awesome tree ever," they write. "I am a cheap, picky, perfectionist … I LOVE, LOVE, LOVE this tree! It is so thick and full and the branches feel like a real tree. It is so BEAUTIFUL. I am SOOOO HAPPY."
Best small-space artificial Christmas tree
"This is a precious little tree," writes one reviewer, with emphasis on the little, as they — and nearly 20 percent of reviewers — say this is the right size for an apartment or small space. "Living in a one-bedroom apartment, it's perfect, as it sat on our side table and didn't take up excess room in our living space," one reviewer writes. Another says, "This was just the right size to show my holiday spirit without overdoing it or putting in too much effort," echoing nearly the third of reviewers who say setting this up is easy. What will take a little effort, however, is fluffing up the branches, which many reviewers recommend to create the illusion of a more natural-looking tree. If you really want to fool people, one customer recommends "getting a picture of a live tree that is similar in species and emulate the branch placement." All that's left to do is decorate, and according to one reviewer this little tree can fit about "50 ornaments of various sizes but could have probably used around 10 more for a nice full coverage." They add, "A 100 color bulbs on a 24ft wire seemed to be just the right amount for the tree."