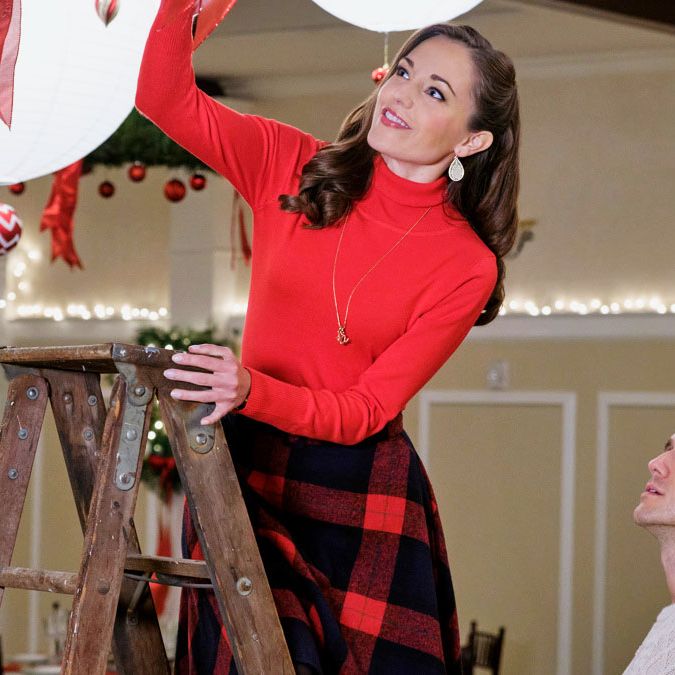 Hallmark is known for two things this time of year: holiday cards and Christmas movies. For this year's Countdown to Christmas, the network produced 23 new holiday films, all of which promise to be spectacles of cheer. "The overall look on set is tasteful, warm, and aspirational — people look at a Hallmark movie and they want to live there," explains production designer Tom Lisowski, who worked on the Hallmark's A Nashville Christmas Carol. To find out how to make your home look as festive as the ones in your favorite Hallmark movies, we asked Lisowski and two other Hallmark set designers about their go-to décor (much of which you can spy onscreen over the next month). Below, their favorite trees, lights, garlands, ornaments, and spray deodorants (which make windows look perfectly frosted), along with some DIY hacks for gussying up the décor you may already own.
Trees and tree décor
On his sets, Lisowski says he uses a mix of artificial and real trees. "For inside sets, we relied on real Fraser firs that we got from a Christmas-tree farm," he explains. But for sets outside, like "at a Christmas market," Lisowski went with faux trees that are "flocked," or made to look covered in snow. He notes that while they don't look particularly realistic, these trees still have an "amazing Christmas feel." (His specific flocked tree is sold out online, but the model shown here is the same height and basically gives the same effect.) If you want to flock a tree you already own, set decorator Samantha Twist, who worked on Hallmark's A Glenbrooke Christmas, has this tip: "Apply Elmer's liquid glue and then shake baking flour over it."
These "majestic" artificial Christmas trees from Balsam Hill are what set decorator Christi Whiteley used on the set of Hallmark's One Royal Holiday. "They are gorgeous and so easy to set up," she promises.