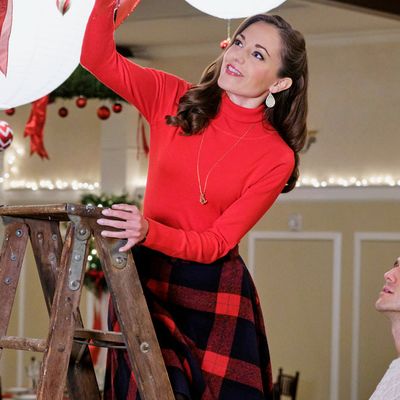 Hallmark is known for two things this time of year: holiday cards and Christmas movies. For this year's Countdown to Christmas, the network produced 23 new holiday films, all of which promise to be spectacles of cheer. "The overall look on set is tasteful, warm, and aspirational — people look at a Hallmark movie and they want to live there," explains production designer Tom Lisowski, who worked on the Hallmark's A Nashville Christmas Carol. To find out how to make your home look as festive as the ones in your favorite Hallmark movies, we asked Lisowski and two other Hallmark set designers about their go-to décor (much of which you can spy onscreen over the next month). Below, their favorite trees, lights, garlands, ornaments, and spray deodorants (which make windows look perfectly frosted), along with some DIY hacks for gussying up the décor you may already own.
On his sets, Lisowski says he uses a mix of artificial and real trees. "For inside sets, we relied on real Fraser firs that we got from a Christmas-tree farm," he explains. But for sets outside, like "at a Christmas market," Lisowski went with faux trees that are "flocked," or made to look covered in snow. He notes that while they don't look particularly realistic, these trees still have an "amazing Christmas feel." (His specific flocked tree is sold out online, but the model shown here is the same height and basically gives the same effect.) If you want to flock a tree you already own, set decorator Samantha Twist, who worked on Hallmark's A Glenbrooke Christmas, has this tip: "Apply Elmer's liquid glue and then shake baking flour over it."
These "majestic" artificial Christmas trees from Balsam Hill are what set decorator Christi Whiteley used on the set of Hallmark's One Royal Holiday. "They are gorgeous and so easy to set up," she promises.
A Nashville Christmas Carol follows television producer Vivian as she attempts to stage a country-music Christmas special while being visited by Christmas spirits. "When we see the character Vivian living in her house, she's got money, so we wanted to make her decorations more modern and metallic, more slick looking," explains Lisowski. "Since she's like a Scrooge figure, we wanted to show that she has lost touch with the things that really matter." To help create that modern look, Lisowski and his set decorator, Selina van den Brink, used At Home's Wintertide collection to decorate the trees at Vivian's house. Lisowski also used the shiny décor "on the set for a Christmas white party scene," he adds.
These trimmings, meanwhile, are what Lisowski used when he needed to decorate more minimalist sets for A Nashville Christmas Carol. "When we see Vivian in her childhood flashbacks when she didn't really have means, it's more of a nostalgic, homey Christmas vibe," he explains. Whether you're going over-the-top or simple, if you want your décor to really pop, Lisowski says to buy "tons of stuff" so you have materials on hand to quickly add some Christmas magic to spaces you might not have thought about at first. "That's something I've learned: You're always going to need more than you think you need," he says.
Since A Nashville Christmas Carol is music-themed, Lisowski says he specifically sought out musical ornaments for the trees in its sets. "Luckily, you can get anything you want that's music related in Nashville, and we found the cutest drum-set ornaments from the Nashville Limited Gift Shop that really reflected our theme."
In One Royal Holiday, protagonist Anna helps a stranded mother and son find shelter at her father's Kentsbury Inn during a blizzard, only to later learn that the two are in fact the queen and prince of fictional Galwick. Once she discovers their roots, Anna decides to show her guests the holiday traditions of her town and, in doing so, teaches the prince about the true meaning of Christmas. At one point in the film, Anna gives the prince a Kentsbury Inn ornament as a gift to remind him of their time together. If you want to adorn your tree with your very own Kentsbury Inn ornament, Whiteley says this is the exact one they used in the movie.
If, like Whiteley, you "love the look of lit candles on a Christmas tree," she says these color-changing LED candles can provide it without the risk of setting fire to your tree each time you light them. "Balsam Hill tree candles speak to the past and are a safe alternative to real candles," she promises. But take note: "Because each candle has a battery," Whiteley says these are "too heavy for most real trees but work perfectly on artificial trees."
For those in need of inexpensive ways to fill the empty spaces on a Christmas tree, Whiteley suggests these "super-lightweight" aluminum spiral strips. She used them on the Christmas trees at Galwick Castle in One Royal Holiday and tells us, "They catch the lights on the tree as they naturally twirl."
To create a "festive base for a nature-inspired Christmas mantle," Whiteley loves to use a couple of these magnolia-leaf garlands.
If you need new stockings this year, Lisowski recommends these from Pottery Barn, which you can have personalized. "We had a bunch of these on hand," he explains. "We had them made with script, without script — a lot of options. At one point in A Nashville Christmas Carol, you see Vivian's sister sewing one of them."
Whiteley has one word for how these battery-operated taper candles look when they're placed in windows: "Gorgeous." She adds that the candles, which can be seen throughout the Kentsbury Inn in One Royal Holiday, look just as nice on "dining tables, mantles, or anywhere you would use a real tapered candle." Even though they're electric, she promises they cast a "lovely, warm white flame."
Photo: retailer
If you don't want to wait for Jack Frost to give your windows a natural wintry sheen, Twist says you can spray Arrid aerosol deodorant on the panes to create the effect of frosted glass. Once it dries, the spray leaves a "supercool" look.
"The holidays and candy canes go hand in hand," Whiteley says of a well-known fact. She used this red-and-white-striped ribbon to give drapes in one of her living-room sets more of a candy-cane effect. "It only took double-stick tape and a couple of pins to transform the window treatments into something special," she says.
Lisowski loves these folding plastic lights because they're waterproof and can be used inside and out. "They're big, so they can really fill a space," he adds. Another plus: They're battery powered, so "you don't need to worry about hiding an electrical cord or finding an outlet."
If you're ever tried to craft snowflakes using spare paper and a pair of scissors only to end up with something that screams kindergarten classroom, Lisowski says these premade paper snowflakes are an affordable solution. "They're so lightweight that you can hang them anywhere, whether over windows or around your tree," he says.
"These long, vertical signs are easy to place wherever you have blank wall space" that could use some holiday cheer, according to Twist. If you don't want to drill a hole to hang seasonal décor, she adds, the signs look just as great when leaned against a wall, too.
Whiteley says these slightly distressed candlesticks, which she used to decorate Anna's Kentsbury Inn bedroom in One Royal Holiday, look "perfect with any color candle" you may have on hand. Their neutral color, she adds, makes the candlesticks "suitable for all seasons," so you don't necessarily have to pack them away with the tinsel come January.
Should you need candles for the above candlesticks, Whiteley suggests these balsam-and-cedar-scented pillars that she burned on set while filming. "They got the actors in the holiday spirit — even in July," she tells us.
Photo: retailer
"I associate dollhouses with Christmas, and this one — which is given as a gift to Vivian during a flashback scene in A Nashville Christmas Carol — has a vintage feel and looks amazing," says Lisowski. Because it takes time to put together, he cautions that the dollhouse may be best suited for advanced hobbyists and crafters. "The instructions literally say, 'Don't panic,' because there are so many pieces to put together," he explains.
Photo: retailer
Here's a piece of décor that would also make a very nice gift. Lisowski tells us he dressed a couple Hallmark movie sets with "real vintage record players before, and I'm always nervous they're not going to work." To avoid fussing with old technology, this year he opted for a more modern model from Victrola that he says has a "great vintage look." When it comes to the record player's giftable appeal, Lisowski puts it this way: "I'm sure someone on set was definitely happy to end up with it afterwards."
As Whiteley (correctly) asks, "What's Christmas without hot chocolate and a festive mug to drink it out of?" These customizable mugs make appearances in One Royal Holiday, she tells us, and we think they'd be a super-festive family stocking-stuffer idea.
The Strategist is designed to surface the most useful, expert recommendations for things to buy across the vast e-commerce landscape. Some of our latest conquests include the best acne treatments, rolling luggage, pillows for side sleepers, natural anxiety remedies, and bath towels. We update links when possible, but note that deals can expire and all prices are subject to change.