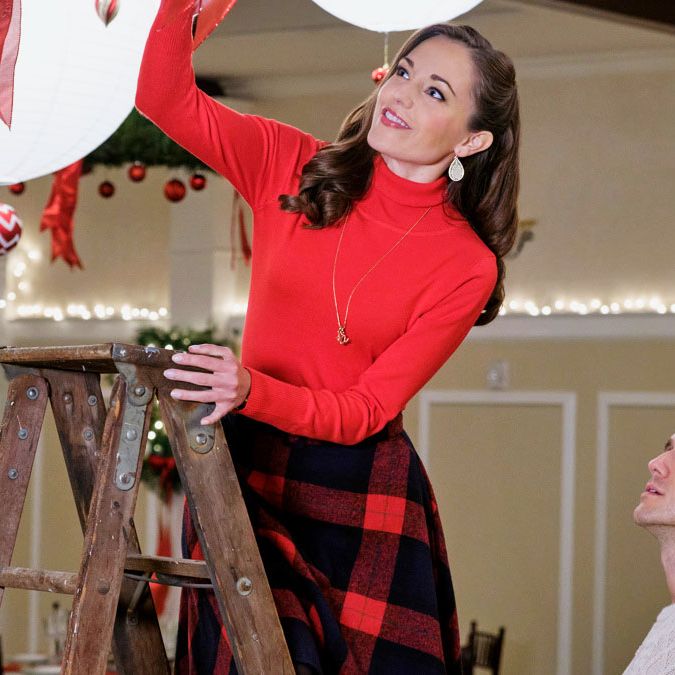 Hallmark is known for two things this time of year: holiday cards and Christmas movies. For this year's Countdown to Christmas, the network produced 23 new holiday films, all of which promise to be spectacles of cheer. "The overall look on set is tasteful, warm, and aspirational — people look at a Hallmark movie and they want to live there," explains production designer Tom Lisowski, who worked on the Hallmark's A Nashville Christmas Carol. To find out how to make your home look as festive as the ones in your favorite Hallmark movies, we asked Lisowski and two other Hallmark set designers about their go-to décor (much of which you can spy onscreen over the next month). Below, their favorite trees, lights, garlands, ornaments, and spray deodorants (which make windows look perfectly frosted), along with some DIY hacks for gussying up the décor you may already own.
Trees and tree décor
On his sets, Lisowski says he uses a mix of artificial and real trees. "For inside sets, we relied on real Fraser firs that we got from a Christmas-tree farm," he explains. But for sets outside, like "at a Christmas market," Lisowski went with faux trees that are "flocked," or made to look covered in snow. He notes that while they don't look particularly realistic, these trees still have an "amazing Christmas feel." (His specific flocked tree is sold out online, but the model shown here is the same height and basically gives the same effect.) If you want to flock a tree you already own, set decorator Samantha Twist, who worked on Hallmark's A Glenbrooke Christmas, has this tip: "Apply Elmer's liquid glue and then shake baking flour over it."
These "majestic" artificial Christmas trees from Balsam Hill are what set decorator Christi Whiteley used on the set of Hallmark's One Royal Holiday. "They are gorgeous and so easy to set up," she promises.
A Nashville Christmas Carol follows television producer Vivian as she attempts to stage a country-music Christmas special while being visited by Christmas spirits. "When we see the character Vivian living in her house, she's got money, so we wanted to make her decorations more modern and metallic, more slick looking," explains Lisowski. "Since she's like a Scrooge figure, we wanted to show that she has lost touch with the things that really matter." To help create that modern look, Lisowski and his set decorator, Selina van den Brink, used At Home's Wintertide collection to decorate the trees at Vivian's house. Lisowski also used the shiny décor "on the set for a Christmas white party scene," he adds.
These trimmings, meanwhile, are what Lisowski used when he needed to decorate more minimalist sets for A Nashville Christmas Carol. "When we see Vivian in her childhood flashbacks when she didn't really have means, it's more of a nostalgic, homey Christmas vibe," he explains. Whether you're going over-the-top or simple, if you want your décor to really pop, Lisowski says to buy "tons of stuff" so you have materials on hand to quickly add some Christmas magic to spaces you might not have thought about at first. "That's something I've learned: You're always going to need more than you think you need," he says.
Since A Nashville Christmas Carol is music-themed, Lisowski says he specifically sought out musical ornaments for the trees in its sets. "Luckily, you can get anything you want that's music related in Nashville, and we found the cutest drum-set ornaments from the Nashville Limited Gift Shop that really reflected our theme."
In One Royal Holiday, protagonist Anna helps a stranded mother and son find shelter at her father's Kentsbury Inn during a blizzard, only to later learn that the two are in fact the queen and prince of fictional Galwick. Once she discovers their roots, Anna decides to show her guests the holiday traditions of her town and, in doing so, teaches the prince about the true meaning of Christmas. At one point in the film, Anna gives the prince a Kentsbury Inn ornament as a gift to remind him of their time together. If you want to adorn your tree with your very own Kentsbury Inn ornament, Whiteley says this is the exact one they used in the movie.