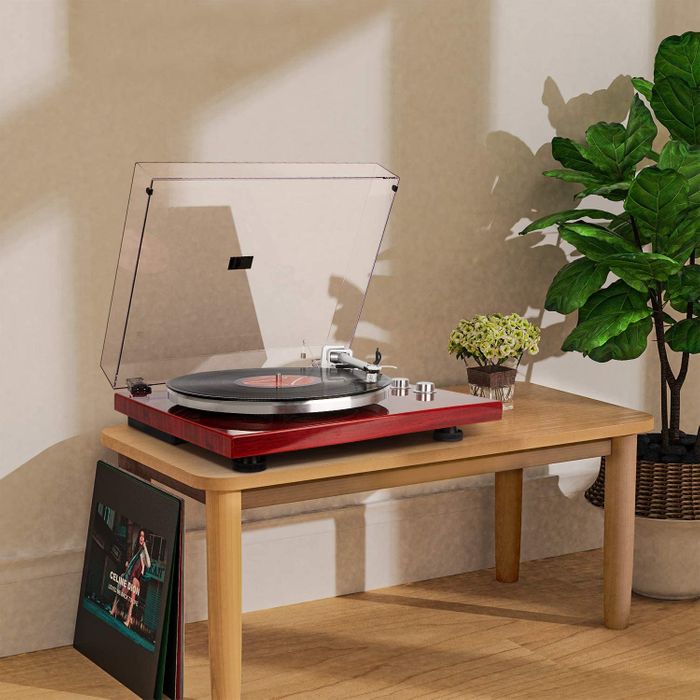 If you're in the market for a record player (or a turntable), you'll soon learn there's actually a lot of nuance to the category. First off, not all turntables are record players. A record player has built-in speakers, so you can play your vinyl with no other equipment, whereas a turntable requires some sort of external speaker. Some can connect to Bluetooth, while others require an aux cord. Whatever your particular preferences, we've found plenty of choices to help you decide on the perfect record player or turntable for you. If you don't happen to see something you like, we have even more expert-recommended turntable options for you. We have you covered for speakers and headphones, too.
Best-rated record player
"This record player really breaks all boundaries," writes one reviewer who thinks the "8-in-1 feature is an amazing touch." He explains, "I have a lot of mix CDs and collectible cassettes that I rarely get to use because I had to use so many different things to play them with." But with this Victrola model, "I can play my records, CDs, cassettes, and use Bluetooth​ on my phone if I want to listen to Spotify. The speakers are great and so clear, and when playing records, you get a nice old-timey sound between songs. I just love it." Another appreciates that he can "record records to the mp3 on the included USB drive. And the best part is I can connect an old 8-track player through the aux port and record my old 8-tracks." Plus, one more reviewer thinks, the sound is particularly good. "Obviously it won't take the place of a good surround system, but it is plenty loud and the sound is good. Not tinny at all, a full sound," she writes.
Best-rated (less expensive) record player
Even though it's called a turntable, because this has speakers it qualifies as a record player. Reviewers were impressed by this Victrola turntable, especially for the price. One customer bought it for her musician boyfriend and reports, "He is in love with it." Though audiophiles probably won't love it, nearly 100 customers say this was great for their first record player. It has three speeds, built-in Bluetooth, and decent speakers — everything you need to get started, according to one customer. Another shopper just needed a turntable that was aesthetically pleasing enough to leave out but also "small and portable" for her room, because she doesn't have "much space." For what it is, she enjoys it so far, though she wishes "the speakers sounded better, but they aren't terrible." And one reviewer actually sees the average speakers as a plus: "Its imperfections add to the vintage-sounding experience." He listens to the Beatles and Elvis on this machine and thinks it sounds very authentic.
Best turntable for beginners
We called this Audio Technica turntable the best for those new to vinyl, so we weren't shocked to find that nearly 10 percent of all five-star reviewers also say it's great for beginners. One customer calls it "the Rodney Dangerfield of turntables in the audiophile universe" because it "gets no respect (okay, very little)," but if you're just starting out, it works fine. In fact, he says, it's actually "excellent": "It sounds great with a clean LP. It has crystalline highs, full-bodied midrange, and great, taut (not soft as some audiophile journeys falsely claim) bass." While you won't get any "audiophile bragging rights here," he says, it's "a well-built workhorse that will last a long time." Another customer agrees that "sure, you could spend $3,000 on a top-of-the-line turntable, but this model has all you need to enjoy listening to your records: an adjustable-weight tone arm, direct drive (no belt to worry about), and pitch adjust." A lot of reviewers say you do need a basic knowledge of how record players work in order to properly use it, but with a few clips on YouTube, you'll get the hang of it. So take it from this reviewer: "If you're looking for a turntable, look no further. Trust me, your search is done."
Best turntable with USB output
Not all turntables come with a USB output, which can be used to convert vinyl to MP3s — but this one from Audio-Technica does, and it's the standout feature for many reviewers. One reviewer reports that this feature "works great. Instructions were very clear and easy to follow to install Audacity. I've converted over 30 albums so far, with great results." But this turntable is also a nice pick for those who want to listen to vinyl without recording it. One customer collected vinyl in his younger days, but "had not listed to them in about 30 years." His daughter motivated him to finally get a turntable. "The specs are reasonable, it's well made, easy to set up (plug it in), and sounds great. Still haven't gotten around to recording any of the albums, but we're enjoying listening to them," he says. Another vinyl collector is a "newcomer" and "wanted a turntable that was super-simple to operate BUT would give me HIGH QUALITY results. This turntable is it." He recommends this for any beginners because it's "very easy to use" and to hook up to a sound system.
Best multifunction record player
Like the other Victrola record player, this one can play CDs and connect to phones via Bluetooth. One reviewer calls this "very well made and high quality." He says that it "sounds like what you would expect from a record player," but it has all the extra features other turntables don't. "Comes with a CD player and radio along with software giving you the option of recording the record directly as an MP3 onto your computer. Unbelievable item." He also loves the look of it, owing to its "beautiful color red bringing back the memory of an old '50s Corvette." Another reviewer bought this for the radio, reporting that it "works exactly like the radios of the '60s," though it also plays CDs well, too. "The first CD I played was The Best of Louis Armstrong. The sound quality was fantastic. I then played my CD Beat Street, by Rick Braun. I thoroughly enjoyed it." But for those looking to just play vinyl, this Victrola works well on that front, too. "We've only used two of the speeds for playing vinyl records, and they're both great. The sound is clear and gets REALLY loud (loud enough to play at a NYE party of 60 people)," one reviewer writes, suggesting this model "for anyone getting into vinyl."
Best professional turntable
"This turntable deserves to be called 'professional' having met the tracking requirements along with an impeccable design and construction. It will please even the most demanding audiophile," writes one reviewer. And nearly 100 more customers call this Audio-Technica turntable "professional," including one who even thinks it's "an affordable professional model turntable with quality as good as just about any 'high-end' brand." He even thinks it "looks and feels like the quality turntable [his] father owned in the 1970s." He further explains that that's from "when they made quality vinyl turntables and not some cheap 'hipster' quality phonograph you'll find flooding the market to cash in on the vinyl revival fad," so basically, he thinks his review is well-informed. And lots of serious audiophiles enjoy this turntable, like one DJ who has been using this brand "professionally since 1993." He says this model is particularly nice: "Absolutely solid and top level here. It has rubber feet with good tack that combined with its weight makes for a stable and secure platform for the mechanics of what it is designed for. It is smooth to open and close and keeps dust out. Lastly the controls are laid out well and easy to use even in low light environments with it's built-in lights."
Best turntable with auto stop
Reviewers seem particularly impressed with the auto-stop feature on this Fluance turntable. "I need the auto-stop feature because, as a graphic designer, I'm working at my desk on my computer while listening and sometimes I get so into my work that I zone out and come to with the record already finished," one reviewer explains, adding that the feature worked just as advertised. Another reviewer calls it a "nice feature," but warns, "Just be ready for the platter to turn for a bit before it finally shuts off." He doesn't think this will work for professional DJs, but if you "just want a quality, attractive home turntable, this thing will not disappoint." And one more reviewer calls this "a be