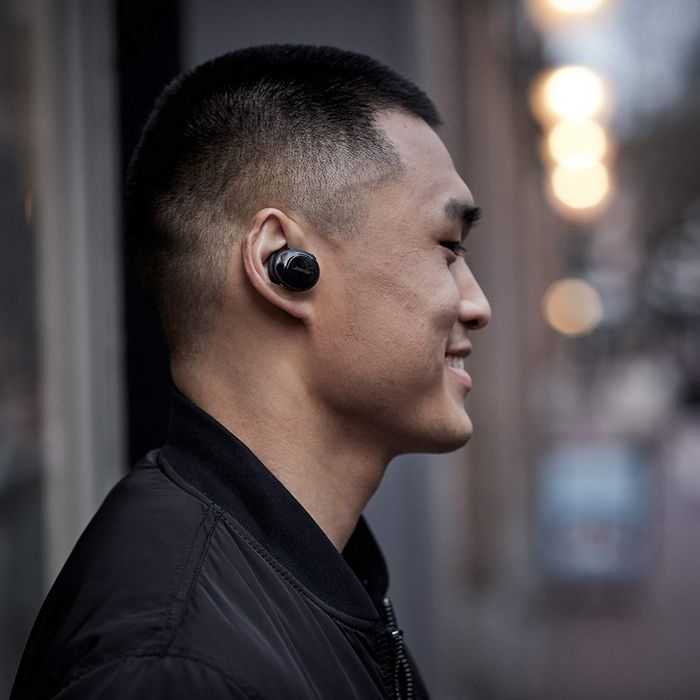 Here at the Strategist, we like to think of ourselves as crazy (in the good way) about the stuff we buy, but as much as we'd like to, we can't try everything. Which is why we have ​People's Choice​, in which we find the best-reviewed products and single out the most convincing ones. (You can learn more about our rating system and how we pick each item ​here​.) 
And while we've written lots about listening devices — including the best wireless earbuds to give as gifts, the best workout headphones, and the best headphones for an audiophile — here, we've rounded up the best wireless headphones, as praised by the most enthusiastic reviewers on Amazon.
Best-rated wireless headphones
A number of celebrities, including Keke Palmer and Danielle Brooks, have told us AirPods are one thing they can't live without. The nearly 13,000 people who wrote five-star Amazon reviews love them too, but one parent was skeptical of these status-y wireless earbuds. But after learning "that you can use them for phone conversations; that taking one out of your ear automatically pauses the music; that tapping the left or right bud can be programmed to do a variety of functions," they were converted. They add, "Sound quality is excellent, they stay in my ears perfectly, even when I tried intentionally to shake them out (just gave myself a headache … the buds stayed firmly in place), and they don't cause my ears to hurt like traditional earbuds do."
Others love that this generation of AirPods comes with a charging case, which helps extend battery life. According to one reviewer, "They deliver five hours of listening time on a single charge, and they're made to keep up with you, thanks to a charging case that holds multiple additional charges for more than 24 hours of listening time." They add, "Just 15 minutes in the case gives you three hours of listening to time or up to two hours of talk time." And while a majority of reviewers are pairing these with their other Apple devices, dozens of Android users are fans too. One says, "This pods can run seamlessly with iOS and also run very well on Android devices." Though a few note that not all functions — like Siri and automatic pausing — are compatible with non-Apple devices.
Best-rated (less expensive) wireless headphones
Nearly 4,000 reviewers give these five stars and many are pleasantly surprised by the sound quality, with one writing, "I can't believe you get something this nice for such a low price these headphones work great." Another writes, "OMG these headphones are the truth … I listen to music when I clean & the sound is CRISP, LOUD, and CLEAR." Others were surprised that the headphones have built-in FM radio thanks to a "mode button that switches from Bluetooth to FM," one reviewer, who's "happy to be able to listen to the Twins game on the radio," explains. Reviewers also comment on how strong the Bluetooth connection is. One even says, "I walked away and they didn't start to skip till I was about 30 feet away and had 3 walls between me and my phone." These headphones rank high on the comfort scale as well, as users say they are both comfortable to use and wear. "The buttons for playback and volume are all very simple to use and navigate while wearing them," one writes, while another notes, "The sound is great and the earmuffs cover your entire ear and the material is [very] soft and comfortable."
Best in-ear wireless headphones for Android devices
Android users say these Samsung wireless earbuds are the closest equivalent to AirPods for their phone. "If you have Android, it automatically connects to your phone the moment you close the case and pop them into your ears," writes one customer who also says, "The sound quality is 10/10." They "block out a lot of sound" and when he's jogging, they volume can go "loud enough that [he] can only hear the music." Plus, he says "these thingwis have never once popped out during any strenuous activities/exercise either." Some Apple users even prefer these buds as a wireless earbud option, like one customer who writes, "Excited to be able to get rid of these weird AirPods." If you do have an iPhone and want to use them, one customer explains, "I have an iPhone, these earbuds will work with iOS, but I am unable to use the app because that's only for Android users, but no matter, it's still badass." She thinks that "these are truly the best wireless earbuds ever" regardless what device you have.
Best over-ear wireless headphones
Nearly 3,500 five-star reviewers call these wireless headphones "comfortable." One "super picky" customer who says they have "sensitive ears with headphones" thinks they're so comfortable, she can even "sleep in them," adding, "I use them all day everyday and I have never been more impressed with headphones under $50." Many more reviewers were skeptical about how good they could possibly be for the price, but one customer compares them to the Beats he owned prior. "I fly very frequently and bought these originally because my beats quit on me and I needed something fast and not overly priced," he explains. "I got these, and holy shit, they are AMAZING. These are probably some of the best headphones I've owned," he says. He adds that they're "completely noise canceling" so he doesn't hear the engine noise and the battery lasts for days. One even plans to buy them for his family this Christmas. "MPOW all around now for my family," he exclaims. He was also originally skeptical, but is "impressed … I am pretty picky with headphones for sound reasons but these dudes deliver."
Best wireless headphones for long-range connectivity
"First off the connectivity of these is great," one reviewer says. " I was two floors above my phone and they performed like normal! I am an Apple user so that might be why it's so good." Many Apple users report great connectivity, because there's an Apple wireless chip in them. Another says, "The pairing to my MacBook Pro and iPhone was very easy and switching between devices is just a matter of going the menu on the device I want use and selecting the Beats." One reviewer, writing on behalf of their wife, says that in addition to working "flawlessly with her iPhone," "She is very pleased with the sound quality and it does a great job playing that hideous hip-hop crap she listens to." This could have something to do with the bass quality, which reviewers also call out. "These Solo3 have a very balanced and deep bass, as well as detailed midrange and treble," one writes, while another notes, "The bass is really clear and loud but not to the point where it's too hard hitting and annoying." David Lee, the chief creative officer of Squarespace, uses these for his morning runs and says, "I like these because the sound fidelity isn't professional, but they're bass-y, and when you're running you just need something that works."
Best noise-canceling wireless headphones
A third of reviewers give these wireless headphones top marks because of how well the noise-canceling works. One who wore them on a plane said, "I didn't realize just how good the noise-canceling function worked until I took the headphones off for a minute." They add, "The noise of the plane seemed almost deafening. I quickly put the headphones back on and enjoyed the rest of my ten-hour flight with everything around me silenced." Another breaks down the difference between noise-canceling with no music versus with music. "With just the noise cancellation and no music, I can't hear the dishwasher or even certain levels of music playing in the background," they say adding, "I can hear conversation but really low which doesn't bother all that much." As for with music they write, "I can't hear a thing!" Beyond noise-canceling, another standout feature is that it can connect to two devices at once.
Best less expensive noise-canceling wireless headphones
With more than 13,000 reviews, these headphones are often compared to other, more expensive brands. One reviewer, who has "dropped three times the amount of money the E7s cost me," writes, "In terms of functionality though, none of the more expensive cans had one single feature that the E7s don't, and many were missing an item or two." Many consider the sound quality to be top-notch, including one reviewer who writes, "The sound remained clear, crisp and easy to listen to from the highest to the lowest volume setting." Another says that these Cowins "have great bass, excellent high and lows." And nearly one-third of these headphones' 6,500 five-star reviewers also praise their noise-canceling feature. "Very good at masking ambient noise while preserving the integrity of the audio you're listening to," one reviewer writes. Another agrees, but adds that they're silent without risking safety. They write, "Now if people are talk-yelling loudly, of course I can still hear them, which is great because if someone yells FIRE! I'd like to know about it."
Most comfortable wireless headphones