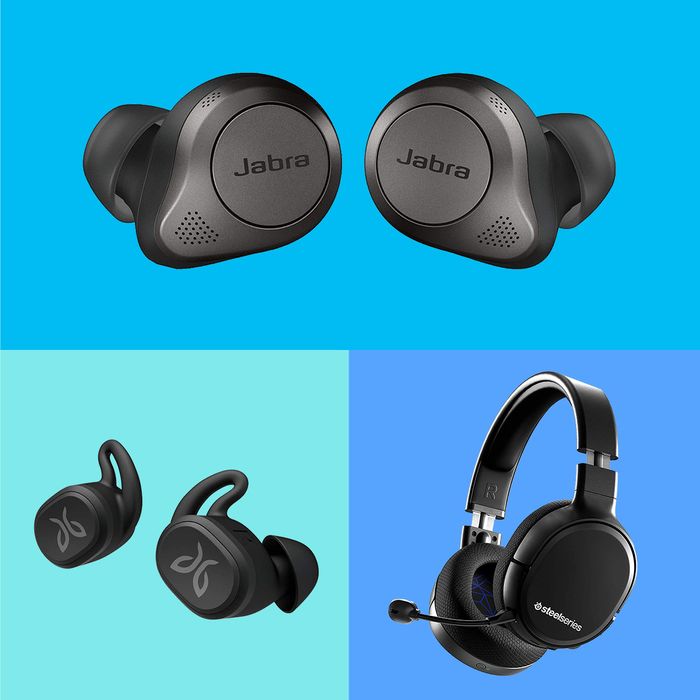 Photo-Illustration: Courtesy Retailer
Given the enormous number of headphone options, finding the best pair for your day-to-day needs can feel overwhelming. But don't let it. The odds of finding a good pair are high, considering that a number of companies are making great headphones right now. And that's if you're looking without any help. Over three months, I tested the latest and greatest in noise-canceling headphones, earbuds, and wireless headphones. I used my findings from those tests, along with input from a few other experts and our colleagues at the Verge, to put together this list covering all types of headphones and earbuds, including gaming headsets.
My testing process considered sound quality, comfort, battery life, usability, design, and price. With each option, I listened to different genres of music to see how the headphones dealt with bass, vocals, and percussion. I spent hours trying different podcasts and watching movies. (I'm no martyr; they were good podcasts and movies.) After I tested all of these earbuds and headphones, what struck me as the most important consideration, before you even worry about music quality, is ease of use. If you can't figure out how to pause or skip tracks or you have a hard time connecting the headphones to your phone, they're going to be an utter disaster no matter how great they sound. That knocked more than a couple of otherwise good options off the list. But it left us with the following twelve choices, categorized to help you find the best pair for you with as little effort as possible.
Best earbuds for iPhone users
AirPods are one of Apple's most recognizable products of the past few years and one of the most ubiquitous: You can't go far without seeing what looks like a thick white Q-tip sticking out of someone's ear. Teens, athletes, and tech experts love them, and for good reason: They're portable, they sound good, and they're comfortable in the ear even after long listening sessions. Plus, setup is seamless, even for people who aren't tech savvy: Just open up the Tic Tac box–size case and your iPhone should start connecting. The controls are simple and intuitive, with simple single or double taps on the sides of the AirPods controlling pause, play, or skip functions and activating Siri. I consistently found the battery lasted five hours in my testing, and you can always top them off by dropping them in their case for 15 or 20 minutes. The only real drawback I saw was the white case, which really attracts dirt and grime. So if you like a pristine look, you'll want a case cover, or else be prepared for regular cleanings. (For a little more money, the AirPods Pro offer noise-canceling technology.)
Best earbuds for Android users
The Jabra Elite is shockingly sleek. Most earbuds are either bulbous or alarmingly small, but the Jabra sits within a happy medium. They are also comfortable. Even after a particularly long meeting, they weren't pulling at my ears like cinderblocks. They're sweat and water resistant and have a 5.5-hour battery life with active noise canceling activated and a seven-hour battery life without. The 85T also had some of the best sound of all the earbuds I tested. The bass was clear, and vocals never got drowned out by overpowering drums or percussion sounds. If you don't like the way they're tuned out of the box, or if you're switching from a podcast to a bass-heavy playlist, adjusting the settings is easy in the app. Maybe most important, pairing is easy. The Jabras have a reliable Bluetooth connection that I set up once and never had to think about again.
Best noise-canceling earbuds
The Sony WF-1000XM4 earbuds are even better than their predecessors, the XM3s, thanks to Sony's latest V1 chip. They block out sounds so efficiently I had a hard time hearing my own breathing. When I wore them on a flight, even the low hum of the plane's engine was barely noticeable. The NC is so good that it feels like these tiny earbuds are comparable to the over-ear Sony WH-1000XM4 — my pick for the best noise-canceling headphones, below.
The biggest problem with the old XM3s was the size: Both the earbuds and the case were huge. (The case barely fit in the front pocket of my jeans.) The new case for the XM4s, however, is one-third smaller, and the buds themselves weigh only 41 grams — barely half of the XM3's 79 grams. The new earbuds also have an IPX4 rating, meaning they can withstand sweat from your most intense workouts and even light rain, something that the older model lacked. Just as important, they stay in, thanks to all-new form-fitting memory-foam ear tips that expand to contour to the inside of your ears. They also have some of the best battery life of any earbuds I tested. With NC enabled, the battery will last up to eight hours (compare that to the AirPods Max's five hours). And if you don't want noise-canceling on, the XM4s will last for a stunning 12 hours.
Best noise-canceling headphones
Photo: retailer
After testing close to 50 pairs of headphones, it's safe to say the XM4s are one of the best. Every time I try them, I'm amazed by how bright and vibrant they sound. It feels as though every song has been tuned perfectly to play from these headphones. The bass really comes alive while listening to Kid Cudi's Man on the Moon III: The Chosen, but it never drowned out Pop Smoke's evocative deep voice on "Show Out." The XM4 is comfortable and lightweight; I wore these for hours at a time, switching between Zoom meetings, phone interviews, and listening to music. With three-to-four hours a day of wear time, they lasted well over a week between charges. Setup and pairing were seamless, and the touch controls are some of the most responsive of any models I tested. They're sensitive enough to relay commands quickly but not so sensitive that you accidentally skip songs or pause your music when you need to scratch your head.
Choosing between the Bose 700 and the Sony WH-1000XM4 is like choosing between a Ferrari and a Lamborghini: You will be thrilled with either one. If you're in the mood to nitpick, the Bose is 0.2 ounces lighter than the Sony, and compared with the slightly plastic finish of the XM4s, the 700s feel more substantial and durable. The 700s are sleek and comfortable; the ear cups are made of a soft foam covered in leather, and the upper padding that sits on your head is made of a gel-like material covered in silicone that never felt like it was pressing down on the top of my skull. The touch controls are similar to Sony's, both in responsiveness and ease of use. Simple taps and swipes trigger play/pause and skipping or rewinding songs or podcast episodes. Where the 700 really shines, however, is in its noise-canceling capabilities. During testing, construction was happening outside my house, and I was able to completely block out sounds of concrete being ripped apart and cement trucks and bulldozers crunching gravel. It's not exaggerating to call the Bose 700 an experience. It makes listening to music or podcasts or watching movies feel novel.
Best (budget) noise-canceling headphones
The Urbanista's button layout is exactly what you want a $150 pair of noise-canceling headphones to be: efficient. Other headphones in this price range tend to have badly placed buttons or shoddy touch controls, but the Urbanista's buttons are reasonably responsive and intuitive. It shows an attention to design and functionality that can often be missed at this price range. The impressive 50-hour battery life was at least equal to, and often much better than, every other headset I tested, and the auto ear detection, which automatically pauses your music when you take the headphones off, was just as seamless as similar features on more expensive options. I was also impressed with the sound, which doesn't go the typical budget route of trading balance for loudness. The Urbanistas are more subtle and understated. They sound really good, and I often found myself returning to them during testing because I was so impressed.
Best (budget) wireless headphones
For only $80, you get unexpectedly comfortable noise-canceling headphones with a 40-hour battery life. Voices crackle a bit under its extreme bass, and it won't completely block out the conversations people are having around you, but again: $80. I used the Q30 for Zoom calls, interviews, watching YouTube videos, and listening to countless hours of music, and while I was never blown away, I was never disappointed.
Best on-ear headphones
The Jabra Elite 45h was a hit among my family, with its lightweight feel and comfortable ear cups. The 45h is meant for on-ear listening, which means it sits on your ears instead of completely enveloping them. Another standout feature of the Jabra 45h is its 50 hours of battery life, which could probably get you through a marathon session of every single Marvel movie ever made. (Note: I didn't fact-check this! But it's a worthy goal.) In my testing, I didn't have to grab the charger until the middle of the third week. I was always surprised by how well the 45h handled a variety of musical genres — nearly as well as pairs costing a hundred more.
Best gaming headset
This headset comes recommended by both Emily Heller, a gamer and recommendations editor at Vulture, and Kyle F, a tech TikToker and gamer. Although it's not completely wireless — "You need this little dongle that you plug into [your console] to make it work wirelessly," Heller says — the dongle actually allows it to work with the Switch, PS4, PC, and Android phones. The SteelSeries has a 20-hour battery life and adjustable EQ settings, and if you don't feel like dealing with the dongle, it also comes with a 3.5 mm aux cable.
Most comfortable gaming headset
After using Game Ones for years, Brandon McDuff, a former professional gamer and the co-founder of a multiplayer-game start-up called 1336 Studios, says they are still "the most comfortable headphones I've ever worn." "As a PC gamer who is also a game developer, there are some days where I've spent over 12 hours with them on without even feeling them," he explains. He recommends them for anyone who plays for long periods of time, and because they're wired, they can work with all consoles. "I would absolutely chalk up some of my success in gaming to the quality of sound produced by wearing these. They really do sound that good, which makes it hard to use anything else," he says.
Best wireless headphones for bikers
Strategist staff writer Louis Cheslaw says he fell in love with biking during the pandemic but found listening to music and podcasts while riding his bike to be hard to do safely. Aftershokz solved his problem. Instead of inserting them into your ears, you place them "on the bone just below your temples, and [they] use bone-conduction technology to transmit super-clear audio," he says. "The technology allows the headphones to transmit sound via comfortable vibrations against the skull as opposed to through speakers covering or in the ears, so wearers can still hear the noises of traffic and pedestrians as they listen to music, podcasts, or GPS instructions."
Best earbuds for runners
David Siik, a long-distance runner and the founder of the running class Precision Run by Equinox, told us the Jaybird Vista are his favorite. "I've tried every single pair of headphones — and there are some good ones out there — but the Jaybird Vista headphones are the only ones that have literally never fallen out of my ears once, no matter how hard I run," he says. They have a battery life of six hours (and an extra ten with the charging case), plus they're waterproof, so they can stand up to even the sweatiest of ears.
The Strategist is designed to surface the most useful, expert recommendations for things to buy across the vast e-commerce landscape. Some of our latest conquests include the best women's jeans, rolling luggage, pillows for side sleepers, ultra-flattering pants, and bath towels. We update links when possible, but note that deals can expire and all prices are subject to change.
Every editorial product is independently selected. If you buy something through our links, New York may earn an affiliate commission.