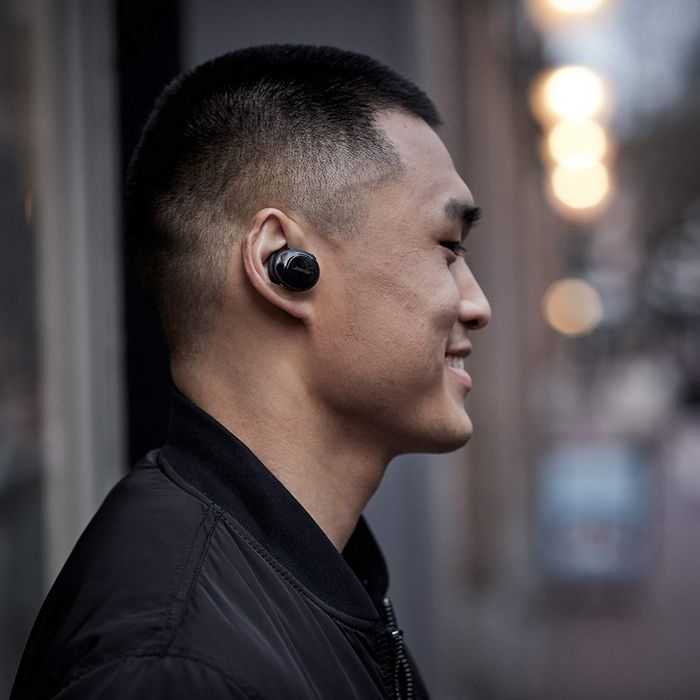 We've written about lots of different ways to listen to music on the go — from the best wireless earbuds to give as gifts, to the best workout headphones, to the best headphones for kids. Here, we've rounded up the best wireless headphones, as praised by the most enthusiastic reviewers on Amazon.
Related Articles: Best Headphones for Sweaty People | Best Noise Cancelling Headphones
Best-rated wireless headphones
A number of celebrities, including Keke Palmer and Danielle Brooks, have told us AirPods are one thing they can't live without. The nearly 13,000 people who wrote five-star Amazon reviews love them too, but one parent was skeptical of these status-y wireless earbuds. But after learning "that you can use them for phone conversations; that taking one out of your ear automatically pauses the music; that tapping the left or right bud can be programmed to do a variety of functions," they were converted. They add, "Sound quality is excellent, they stay in my ears perfectly, even when I tried intentionally to shake them out (just gave myself a headache … the buds stayed firmly in place), and they don't cause my ears to hurt like traditional earbuds do."
Others love that this generation of AirPods comes with a charging case, which helps extend battery life. According to one reviewer, "They deliver five hours of listening time on a single charge, and they're made to keep up with you, thanks to a charging case that holds multiple additional charges for more than 24 hours of listening time." They add, "Just 15 minutes in the case gives you three hours of listening to time or up to two hours of talk time." And while a majority of reviewers are pairing these with their other Apple devices, dozens of Android users are fans too. One says, "This pods can run seamlessly with iOS and also run very well on Android devices." Though a few note that not all functions — like Siri and automatic pausing — are compatible with non-Apple devices.
Best-rated (less expensive) wireless headphones
About one-fifth of reviewers give these headphones top marks because of the long-lasting battery. "I really believe that they do … last up to 15-20 hours because in the first day that I had them I charged them up and used them that whole day and they didn't even decrease in battery life," one writes. Another says, " So far I've used them in a long gaming session that lasted at least 16 hours and there were no battery issues." One even notes, "I've used them a whole week on one charge, which was last Friday when I received them — and I wear these all day long." And while many describe these as pretty basic Bluetooth headphones, one says they were pleasantly surprised by some of the added features, "like connecting more than one device at the same time, and an ai voice to help alert when i have an incoming call and let me know when the device is pairing, powering on-off, etc." Overall the consensus among reviewers is you "Can't beat this for the price."
Best in-ear wireless headphones for Android devices
Android users say these Samsung wireless earbuds are the closest equivalent to AirPods for their phone. "If you have Android, it automatically connects to your phone the moment you close the case and pop them into your ears," writes one customer who also says, "The sound quality is 10/10." They "block out a lot of sound" and when he's jogging, they volume can go "loud enough that [he] can only hear the music." Plus, he says "these thingwis have never once popped out during any strenuous activities/exercise either." Some Apple users even prefer these buds as a wireless earbud option, like one customer who writes, "Excited to be able to get rid of these weird AirPods." If you do have an iPhone and want to use them, one customer explains, "I have an iPhone, these earbuds will work with iOS, but I am unable to use the app because that's only for Android users, but no matter, it's still badass." She thinks that "these are truly the best wireless earbuds ever" regardless what device you have.
Best wireless headphones for long-range connectivity
"First off the connectivity of these is great," one reviewer says. " I was two floors above my phone and they performed like normal! I am an Apple user so that might be why it's so good." Many Apple users report great connectivity, because there's an Apple wireless chip in them. Another says, "The pairing to my MacBook Pro and iPhone was very easy and switching between devices is just a matter of going the menu on the device I want use and selecting the Beats." One reviewer, writing on behalf of their wife, says that in addition to working "flawlessly with her iPhone," "She is very pleased with the sound quality and it does a great job playing that hideous hip-hop crap she listens to." This could have something to do with the bass quality, which reviewers also call out. "These Solo3 have a very balanced and deep bass, as well as detailed midrange and treble," one writes, while another notes, "The bass is really clear and loud but not to the point where it's too hard hitting and annoying." David Lee, the chief creative officer of Squarespace, uses these for his morning runs and says, "I like these because the sound fidelity isn't professional, but they're bass-y, and when you're running you just need something that works."
Best noise-canceling wireless headphones
A third of reviewers give these wireless headphones top marks because of how well the noise-canceling works. One who wore them on a plane said, "I didn't realize just how good the noise-canceling function worked until I took the headphones off for a minute." They add, "The noise of the plane seemed almost deafening. I quickly put the headphones back on and enjoyed the rest of my ten-hour flight with everything around me silenced." Another breaks down the difference between noise-canceling with no music versus with music. "With just the noise cancellation and no music, I can't hear the dishwasher or even certain levels of music playing in the background," they say adding, "I can hear conversation but really low which doesn't bother all that much." As for with music they write, "I can't hear a thing!" Beyond noise-canceling, another standout feature is that it can connect to two devices at once.
Best less expensive noise-canceling wireless headphones