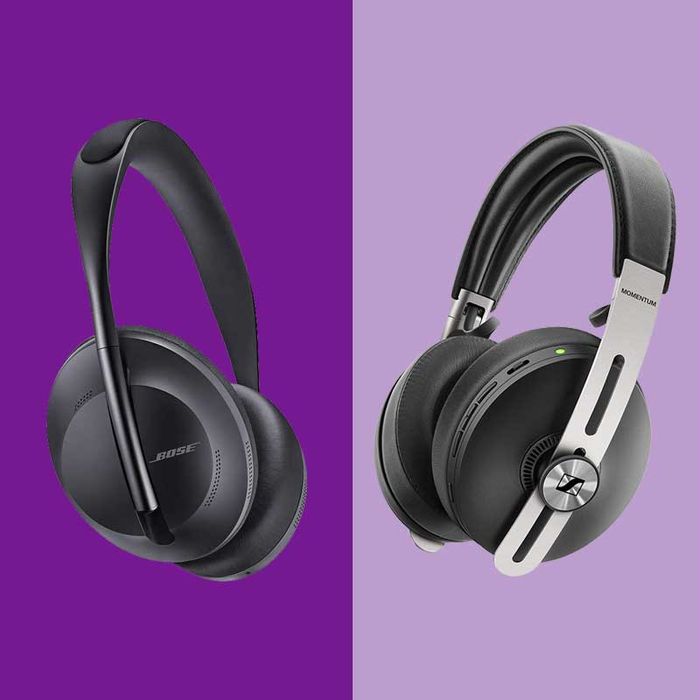 After writing about the best earbuds, I spent the last two months testing eight of the best new noise-canceling headphones from several different brands, including Bose, Sony, Urbanista, JBL, Sennheiser, Jabra, and Soundcore. Overall, I was really impressed. Over-ear headphones sound richer and clearer than earbuds, but they can feel cumbersome in comparison. For me, that trade-off is worth it; I can deal with the extra weight and occasional ear sweat. Noise-canceling manufacturers seemingly tore a page directly out of Bose's early NC playbook, and now many are making headphones that are sonically fulfilling and easy to use. They're all comfortable, too. (I wore each for at least two hours straight, often longer, and never had a problem.)
With each set of headphones, I started out by diving into Stevie Wonder's lesser-known album, Journey Through "The Secret Life of Plants." It's a chaotic, meditative study on how plants communicate with each other, full of grunge-like electric-guitar riffs, Stevie's classic piano ballad, funky synthesizers, and jazz elements — a mishmash of sounds that pushes the headphones to their limits. And then to see how they handled a range of voices, I also listened to true-crime podcasts, like In the Dark, and the menswear style podcast Blamo!
As I listened, I focused on five categories: sound, comfort, size, battery life, and price. I also tested Bluetooth connections, but all of the headphones on this list are so easy to set up (which was not the case with earbuds), even for those who are not tech savvy, that I didn't include the specific experiences in my reviews.
Choosing the best pair for you will most likely come down to finding which pair fits your head best, or which design you like, or how noise canceling you really need your noise canceling to be. To help you do that, below are four of the best options you can buy right now, all extensively tested and categorized to help you find the best pair for you with as little effort as possible.
Best noise-canceling headphones
Photo: retailer
The XM4 is even better than its predecessor, the XM3, which was already a Strat favorite. My colleague, Louis Cheslaw, is a longtime XM3 fan who tried out the XM4s and found that Sony kept all the great features of the XM3s (30-hour battery life, comfort, the ability to easily turn off noise-canceling features) while adding even more. "The XM4s can maintain a connection to two devices at once, with the headphones automatically noticing when you switch between the two," he says. "That's a game changer for someone like me, who switches between my phone and laptop all day as I go through phone calls, Zoom calls, Spotify playlists, and Twitter alerts." My expectations were high after his review, and I wasn't disappointed.
The XM4s are some of the best sounding noise-canceling headphones I've ever tried. They're comfortable, too. When I first took them out of the box, I couldn't believe how light they felt. It's something you could wear for hours without even realizing they were even on your head. In fact, I wore them through multiple hour-long episodes of Spotify's Dissect podcast.
The vocals were crystal clear during Paul Simon's Graceland, and the bass really came alive while listening to Kid Cudi's Man on the Moon III: The Chosen, where the drums and bass never drowned out Pop Smoke's evocative deep voice on "Show Out." These headphones are just so good with so much character in their sound.
I wore them for three to four hours a day on and off, and they lasted well over a week between charges. Setup and pairing was seamless, and the touch controls were some of the most responsive of anything I tested. They're sensitive enough to relay commands quickly, but not so sensitive that you accidentally skip songs or pause your music. One of my favorite features is the quick attention mode: When you place your hand over the right ear cup, the headphones lower the volume slightly so you can more easily pick up ambient sounds. It's perfect if you're trying to hear an announcement on a train or ordering a quick coffee.
Best (slightly less expensive) noise-canceling headphones
Choosing between the Bose 700 and the Sony WH-1000XM4 is like choosing between a Ferrari and a Lamborghini. You will be thrilled with either one. If you want nitpick, the Bose are 0.2 ounces lighter (8.8 ounces versus 9 ounces) than the Sonys, but I found that they actually felt a little heavier. Compared to the slightly plastic finish of the XM4s, the 700s feel more substantial and more durable, like they will be able to deal with scuffs and possible drops better. But again, both are incredible.
The 700s are sleek, and even after multiple hours of wearing them (back-to-back Zoom meetings followed by an hour-long interview), I never found them to be uncomfortable. The ear cups are made of a soft foam covered in leather, and the upper padding that sits on your head is made of a gel-like material covered in silicone that never felt like it was pressing down on the top of my head.
The touch controls were similar to Sony's, both in responsiveness and ease of control. Simple taps and swipes trigger either play/pause, skipping or rewinding songs or podcast episodes. You can also hold down on the right ear cup to get an update on your remaining battery life, which should last about 20 hours. (I found this feature much more convenient than grabbing my phone and opening the app to check how much battery was left.)
Although the Sony always felt like it was louder and had more emotive bass, the Bose made up for that in clarity. The heavy drums on Riz Ahmed's "Mogambo" didn't fall apart into a pool of loud banging sounds like they might have on lesser headphones, and I couldn't believe how well the headphones cleaned up the sample chops and hectic lo-fi sound in Madvillian's "Fancy Clown."
Where the 700 really shines is with its noise-canceling capabilities. During testing, construction was happening outside of my house, and I was able to completely block out sounds of concrete being ripped apart and cement trucks and bulldozers crunching gravel, rolling a low diesel thrum through streets. The 700s blocked out all of it thanks to an array of six microphones that analyze the noise so that the headphones can create a counter-sound to negate it. If you're listening for the phone or something, you can also adjust the level of noise canceling by hitting the button on the left ear cup or change it in the app.
Best noise-canceling headphones for audiophiles
While the metallic, retro design may not be for everyone, I really like the way these headphones stand out. Even more important, their sound is basically perfect. When I put on Bob Marley's Exodus or Amy Winehouse's Back to Black, these headphones let me hear new parts of the instrumentation that I had never noticed before — a drum hidden somewhere or a background vocalist adding harmonies to a chorus.
The ear cups are soft but not delicate, and the headphones themselves are substantial, tough enough to be thrown in a bag but not so heavy that you feel like you're trying to pick up Thor's hammer. I also liked the built-in Tile software; if you're a Tile app user and you happen to misplace your headphones, just track them down the same way you would your keys or the remote.
One thing that holds the Sennheiser back is its battery life. At 17 hours, it's barely half of Sony's 30 hours. Another (slightly) annoying feature is the way the headphones can only be turned off by folding the ear cups in. Sometimes I wanted to hang them around my neck when I wasn't listening to music, which left me in a weird situation where my phone was still connected to the headphones and draining battery when I wasn't even listening to anything.
Best budget noise-canceling headphones
The Urbanista's button layout is exactly what you want out of a $150 pair of noise-canceling headphones: efficient. Unlike other headphones in this price range, which tend to have badly placed buttons or shoddy touch controls, the Urbanista's buttons are reasonably responsive and intuitive. I didn't feel a sudden wave of panic as I fumbled with the controls to pause my music when someone tried to get my attention. I chose the all black version to test, but if you're interested in something punchier, you can select the green, white, or the red option, all of which come with a smooth matte finish.
The impressive 50-hour battery life tops every other headset I tested, and the auto ear detection, which automatically pauses the music when you take the headphones off, was just as seamless as similar features on more expensive options. I was also impressed with the sound, which doesn't go the typical budget route of trading balance for loudness. The Urbanistas are more subtle and understated. When I was listening to songs like Pusha-T's "Nosetalgia," the ringing woodblock and snare would rattle around, perfectly complementing Pusha-T's voice instead of turning into a grimy mess. I would recommend these for anyone who's not ready for a bigger financial commitment. You won't be disappointed.
The Strategist is designed to surface the most useful, expert recommendations for things to buy across the vast e-commerce landscape. Some of our latest conquests include the best acne treatments, rolling luggage, pillows for side sleepers, natural anxiety remedies, and bath towels. We update links when possible, but note that deals can expire and all prices are subject to change.