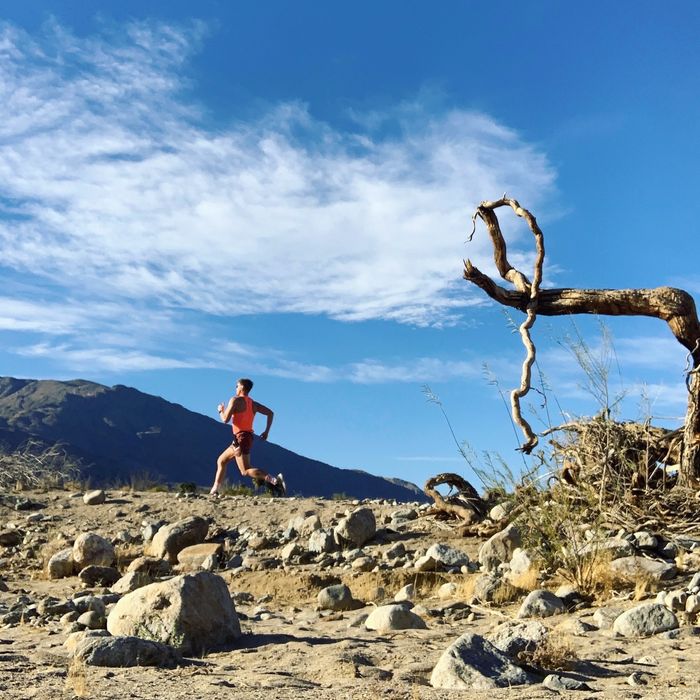 Welcome to "On the Run," a Strategist column where we ask discerning runners to tell us everything they wore and brought on their most recent run, from shoes and socks to headphones and energy gels. Running-gear preferences are very personal and change depending on the season, so instead of declaring one pair of shorts or one sports bra the categorical best, we hope this series captures what works best for one particular runner on one particular run — and that maybe you can find something in it that works for you, too.
For this installment, I spoke with David Siik, founder of the indoor-running class Precision Run by Equinox. Here, he shares everything he wore on an afternoon run through the desert in Palm Springs, where he lives part time, on a clear, 85-degree day with no humidity.
Running shoes from Swiss brand On are easily distinguishable by the signature "cloud" pods lining the sole. These hollow tubes of rubber compress upon landing and rebound when your foot leaves the ground for a springlike feel. They also keep the shoes lightweight, which is one reason why Siik loves them. He says they're highly responsive on any surface, whether he's on the sandy trails of Palm Springs or the pavement of cities like Los Angeles and New York. "They're really universal," he says. Siik admires the "Swiss engineering" and attention to detail evident in all of the line's shoes. "Every stitch is just flawless," he says. For a fun pop of color, he pairs them with custom socks from Fujii Custom Kitsch, hand-dyed by independent artist Carmela Fujii. Siik says, "I'm often a very serious runner, and her bright and fun socks speak to my softer side."
Siik tells us he feels "very fast" in these short tights from Wolaco that hearken back to his track-and-field days and keep him cool on hot days. "They're just really well-built," he says, adding that they have the perfect amount of compression, with enough modesty so that he doesn't "feel like I'm showing too much when I'm going out on the run." The shorts also have two ergonomically designed pockets on the sides of the legs, so he can carry his phone and ID without them uncomfortably bouncing around.
The Swift top from Rhone has a perfect "everyday fit" that's suitable for most runners, straddling the line between a supertight tank top and one that is too baggy, Siik says. "It's a perfectly cut tank top." Although "a lot of tank tops claim to breathe really well," this one is made from a moisture-wicking, lightweight fabric that he finds exceptionally breathable.