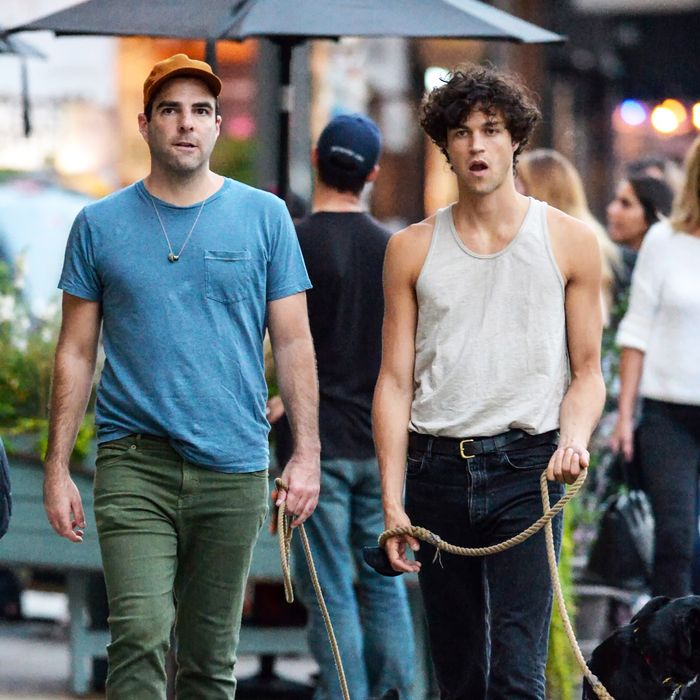 Model Miles McMillan, right, wears the tank in question.
Photo: Wylde / Splash News/Wylde / Splash News
In our advice column, Ask the Strategist, we take your most burning shopping questions and scour friends, call up experts, and draw from personal experience to answer them. As always, please comment with one of your own — we're here to help.
Question: Looking for a men's tank top. Something I could wear to yoga but also out in the NYC summer (i.e., not a "gym" tank). Loose, comfortable, fashionable, but not fashion-y. If Outdoor Voices made one, I'd probably buy it. I still own a few from Industry of All Nations, but now it seems like they only make a few with printed patterns, and I want something more basic. Looking at the American Apparel site, but not sure I'd trust it (though I guess the tri-blend tank gets closest to what I'm looking for). Like something Miles McMillan would be spotted wearing. Help!
To search for this rare specimen — a men's tank that actually looks good and doesn't shout "overeager bro at a music festival" — we heard from our in-house menswear expert. That's Jason Chen, our deputy editor and all-around well-dressed man. His first suggestion: "I thought, for more of a city vibe, there's this Saturdays tank, which is a bit more substantial." I enjoy the scoop-neck cut on this one and it's made out of pima cotton, a really soft material that sheets are often woven from.
I reached out to Miles McMillan's agent to learn what he's actually wearing in all of those pap shots, but we didn't hear back in time for this post. Instead, Jason says, "I actually suspect that the tanks Miles wears are more like H&M things! A few of them have that shlubby thing going on." Exhibit A.
Exhibit B, this time with a higher neckline, if you're not as excited about your chest hair.
That was all from Jason (thank you, Jason!), but I dug around a bit more and it's worth noting that there is literally one solid-color Industry of All Nations tank still available on Amazon. Don't miss out!
If Anthony Thomas Melillo's aptly named Model Tank is not what McMillan actually wears, it's at least what menswear designers imagine he's wearing.
Meanwhile, MPG's tank has a similar, just a bit slimmer look for nearly half the price.
Native Youth's Tidal Tank has a bit of a boxier cut, but I like the texture of the indigo pinstripe. Click on the link to get an up-close view.