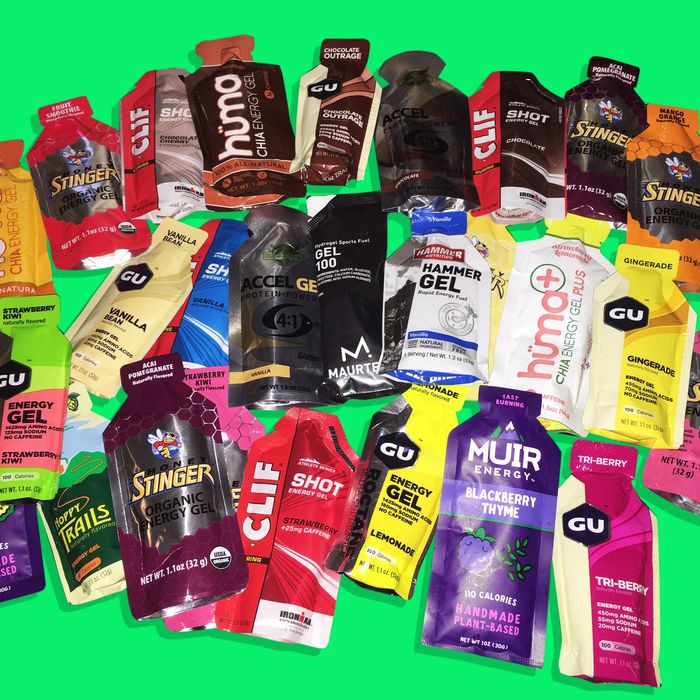 A handful of gels we tested.
Photo: Karen Iorio Adelson
If you're training for a half or full marathon this fall, your long runs are now likely getting even longer, and you might be looking for sustenance — like those gooey energy gels you've seen other long-distance runners slurp down — to get you to the finish line. But will they help keep you on your feet? And with flavors running the gamut from vanilla and strawberry to sweet potato and beer, which ones are actually good?
While your body typically has enough glycogen stored to fuel workouts between 60 and 90 minutes, beyond that you risk "hitting the wall" or "bonking" (two ways athletes describe the sudden fatigue that sets in when you're running on empty). And that's where energy gels come in. Nutritionally, most gels have around 100 calories of quick-digesting sugar, and some have added extras like caffeine (for even more energy) or amino acids (to promote muscle recovery during longer efforts). Lots of gels also contain electrolytes like sodium, because losing them through sweat can cause cramping.
Still, no one wants to try a new gel for the first time in the middle of a marathon and learn that it makes them sick. Fortunately, there are lots of options out there. While I don't know anyone who'd call gels delicious, there are certainly some that taste better than others — and others that are simply unpalatable. To find out which ones actually taste good, I tried 51 gels from ten brands over the course of a few weeks of training. Whether you prefer a dessert-flavored gel or a fruity one, the options below should include something for everyone.
Best chocolate energy gels
Perhaps because its name so aptly describes what it is, Gu has become a sort of generic term for energy gel (like Kleenex for tissues), and it's probably the best-known brand. That notoriety is likely because Gu happens to make some of the best-tasting gels, like this one that's reminiscent of chocolate frosting with a pinch of salt to keep it from being way sweet. Unlike other chocolate gels I tried (like the ones from V-Fuel and Accel), it doesn't have any weird aftertaste or acidic undertones, and it was my favorite chocolate gel overall. It's part of Gu's Roctane line which contains amino acids and is designed for events like full marathons or long-distance triathlons where you might experience more muscle fatigue. It also has 180 milligrams of sodium (gels in Gu's regular line have around 50 to 60 milligrams) for electrolyte replenishment, and 35 milligrams of caffeine. With a smooth consistency, it's easy to swallow while you're moving.
The general rule of gel consumption is to have one 15 minutes before exercising and then one after every 30 to 45 minutes of your workout or race. They're best consumed with water, which helps them go down a little easier. Of course, this is all subject to personal preference. Some people will only use gels on runs longer than ten miles, for example, and many replace the pre-workout gel with a snack like a banana. It's important to experiment with different gels and different timing strategies while you're training for a long-distance race.
While this chocolate Gu flavor also contains caffeine, sodium, and amino acids, it has less of all three than the Roctane version and would be fine for shorter or less intense workouts. It also tastes rich and chocolatey, and isn't overly sweet, even without the sea salt. It's one I've used regularly in training before and I know that lots of runners are also fans.
If caffeine makes you jittery, this chocolate gel from Clif (makers of Clif Bars) is a solid caffeine-free alternative that also has a bit of sodium. Tastewise, it's very comparable to the Chocolate Outrage Gu, but it has a thicker consistency and takes a little bit longer to eat. It's definitely not chewable (unlike some other gels I tasted), but not quite as smooth as the Gu. Where Clif really excels, though, is in packaging. Most gels are easy enough to open because they have a tab on top that can easily be torn or bitten off, but that tab often ends up on the ground. (If you've ever run through an aid station in a race and the ground felt a little sticky, it was probably due to gel residue from discarded tabs). But Clif gels have a "litter leash" that keeps the tab attached to the package, making it more convenient to discard the whole thing.
Best vanilla energy gels
For an all-natural, organic gel, Muir's Cashew Vanilla packs a big punch. With 90 milligrams of caffeine (about as much as an eight-ounce cup of coffee) and 145 calories, it'll get you through a long workout and would be perfect to pack for a marathon. Like chocolate, vanilla is a popular gel flavor, and although lots of brands have their own spin on it, this was the tastiest of the bunch. While gels like Gu and Clif rely on fast-digesting carbohydrate additives like maltodextrin for a quick boost in blood sugar, Muir is part of a new crop of brands that uses natural energy sources like cane sugar and palm nectar, and its caffeine comes from organic yerba mate. Because it only contains five ingredients, it tastes exactly like it sounds — like creamy cashew butter with a hint of vanilla and a pinch of Himalayan sea salt to cut the sweetness. The texture is a little gritty, like a natural peanut butter, but not in a way that'd make it hard to eat on the run. I could also imagine smearing this on a banana or piece of toast for an energizing pre-run breakfast.
Gu's vanilla flavor has actually been a longtime personal favorite of mine because these gels — which are very mild but still satisfyingly sweet — are never overbearing to eat while running. I'd say the closest flavor comparison would be a vanilla Jell-O pudding cup. The creamy gel has sodium, amino acids, and caffeine (but a moderate amount of each), so it's a good middle-of-the-road gel to test out.
Best berry energy gels
I've never eaten a real huckleberry, but based on this smooth, tasty gel, I think I'd like it. The internet says they're closely related to blueberries, which makes sense as this gel tastes a little like blueberry-pie filling. Other fruity gels veer toward the artificial side and taste like Jolly Rancher versions of actual fruits, but this one isn't fake tasting at all (one of the main ingredients is actual huckleberries). All of Hammer's gels get their sugar from a grape-juice blend, which can come across (to ill effect) in the taste of some flavors like banana. But the huckleberry flavor is either strong enough to cover it up, or just mixes nicely with it. It's free of caffeine and has less sodium than other options (only 20 milligrams), but it does feature fatigue-busting amino acids.
Although it doesn't contain any actual fruit, this gel manages to capture the sweetness and tanginess of both strawberries and kiwi. Interestingly, this isn't the only strawberry-kiwi gel flavor, but unlike the Gu version that's dominated by a strong strawberry taste, this one feels more nuanced and delivers subtle notes of kiwi. Like Hammer and Muir, Honey Stinger differentiates itself by using natural and organic ingredients for fuel, and several runners I know find those gels easier to digest. As its name suggests, lots of the gel's carbohydrate content comes from organic honey, and this flavor's 32 milligrams of caffeine are derived from green tea.
Made with organic strawberry concentrate, this gel has a bold, fruit-forward, and sweet flavor that'll definitely appeal to strawberry lovers. Paired with a sip of water, it actually tastes pretty refreshing when you're miles into a run. With 25 milligrams of caffeine from green tea and 95 milligrams of sodium from sea salt, it's a good pick if you want to avoid artificial flavors but still get an effective gel.
As much as runners love bananas (they're full of natural sugars and rich in potassium, which is one of the electrolytes lost through sweat), it isn't easy to find a decent-tasting banana gel. Hammer is the only brand I tested that makes a straight banana flavor, but it's not all that tasty. This strawberry-banana blend is the closest I could find to a palatable banana gel. It's one I've actually used a lot in the past, because it has a nice, soft sweetness from the banana flavor with a little bit of tartness from the strawberry. It's also caffeine-free.
Best citrus energy gels