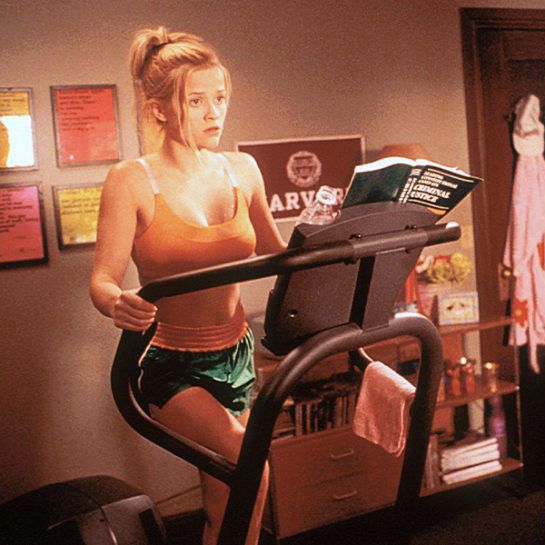 Remember that creaky stationary bike your grandma used to have in her basement? Today's big-ticket home-gym equipment is nothing like that. The treadmills, bikes, and rowing machines listed below are so advanced, you can join live classes or work out with a virtual personal trainer right from the comfort of your own living room. With most of the country currently limiting time outside their houses during the coronavirus pandemic, a home gym is more appealing to a lot of us than it ever has been before. And while this story covers only the best large gym equipment, including cardio and weight machines, if you'd like to add some smaller items to round out your gym, we've written about a variety of those, too. And we've also gone deep on foam rollers.
Best treadmills
If you're training for a hilly race but live nowhere near any hills, or if you're just looking for an intense running workout, Steve Uria, founder of Switch Playground, likes that this treadmill "goes up to a 40 percent incline where most treadmills stop at 15." Plus, it includes access to workouts from NordicTrack's iFit pro trainers, like runs featuring video from scenic locations around the world. "It also automatically increases speed and incline for you as the trainer leading your workout accelerates or climbs," says Uria. "All stats are saved so you can monitor your results and gauge progress."
Running on a traditional treadmill burns fewer calories than running outdoors, because the moving belt helps propel you forward. But this nonmotorized treadmill, recommended by David Juhn, personal training manager at Life Time Athletic Sky gym, forces you to do all of that work yourself. "You can also adjust the resistance for power-development workouts to add variety to your workout routine," he says. "You can achieve advanced cardiovascular and strength workouts in a short period of time while only needing minimal space for the machine itself."
A similar nonmotorized treadmill that's a few thousand dollars cheaper than the Skillmill.
Best exercise bikes
Bringing the energy of a group workout class to the comfort of one's home, it's not surprising that the Peloton bike is hugely popular. According to Recode, Peloton finished 2018 with more customers than SoulCycle. Personal trainer Harry Hanson, founder of Hanson Fitness, loves it for helping clients get in shape fast, on their own schedules. "Users can go in a live or taped stream and they'll be in a workout-class setting. This increases the motivation they need to get the workout done. It's a great way to burn fat, release endorphins, and feel fabulous overall," he says.
If you're willing to spend a little bit more, you may want to invest in Peloton's newest bike, the Bike+, which features a larger screen that rotates 360 degrees to easily follow along with workouts off the bike, automatic resistance adjustments that match your instructor's program, and full integration with the Apple Watch.
Olson also recommends equipping your home gym with a spin bike. "Cycles are so excellent for cardiovascular systems, have no impact, and are knee-, hip-, and spine-friendly." This bike's compact design also takes up less space than a treadmill or elliptical.
Old-school, wind-powered air bikes with handles, which were originally popular in the 1970s and '80s, are having a comeback, according to Nick Clayton, personal training program manager at the National Strength and Conditioning Association. "You're biking and pushing and pulling at the same time, so it's low-impact, but as far as working muscles and getting the most out of any kind of interval session, [it's] probably the best bang for your buck," he says. Simple to use, easy to set up, and with no motor to potentially break down, it's a valuable addition to any home gym.
Technically a "stand-up bike," the ElliptiGO 8C is a favorite of runners looking for a low-impact way of getting and staying fit when they're recovering from injuries or want to reduce stress on their joints while still getting a cardio workout. The stationary trainer turns the 8C into an at-home option for those days you'd rather work out inside. "It's perfect for getting in a quality workout that mimics the feel of running, without the added stress on your joints," says Isabel Seidel of the running clothing brand Tracksmith. She likes that "you can change the resistance like the gears on a bike," to simulate hills.
Best cardio machines
Instead of an elliptical machine, Will Ahmed, founder and CEO of WHOOP, prefers the VersaClimber, because "it's more of a full-body workout and you're also working against gravity." Athletes like LeBron James love it as well, and Ahmed says you can get a "full-blown, high-intensity workout" in as little as 10 to 15 minutes. Matt Withers, facility manager at Definitions Personal Fitness, agrees that the VersaClimber will give you "hands down the best butt-kicking you can get in under 30 minutes." He explains that the machine "forces the individual to use not only the full body, but primarily the largest muscle groups in the body — the lats and legs — resulting in a greater demand of oxygen and hence cardiovascular intensity."
For a low-impact cardio workout that still burns fat and engages both your upper and lower body, Equinox trainer Or Artzi recommends a rowing machine. Compared to electric models, she says, the water-powered ones have a more natural feel. Eric Salvador, head trainer at Fhitting Room and a certified indoor-rowing instructor, agrees: "A rower is hands-down the best bang for your buck when it comes to investing in a big-ticket home-workout machine. Rowing is truly a full-body workout that uses almost every major muscle group in your body. Engaging so many muscles simultaneously elevates your heart rate and burns a lot of calories."
Best weight machine
A double-arm cable machine, like this one from NordicTrack, offers a variety of ways to work your muscles with a single piece of equipment. Withers says cable machines "provide a large amount of constant resistance. If the machine has adjustable arms, they can also be pulled from a variety of angles in order to hit multiple muscle groups in different vectors." The NordicTrack Fusion CST comes with six adjustable cables and a tablet for streaming on-demand workouts.
Best free weights and strength equipment
Unlike the typical barbell you'd find at the gym, the Bandbell comes with bands on each end for hanging either weight plates or kettlebells, engaging more muscles in each exercise. "The Bandbell is a unique bar that's unlike any other for injury-prevention, strength training and rehab, or pre-hab," says Kirk Myers, founder of Dogpound. "It also challenges your core since it forces you to stabilize." You'll need a set of kettlebells, too, which lots of trainers recommend having on hand anyway since you can use them for resistance and cardio training. Personal trainer Colleen Conlon likes the competition bells from Kettlebell Kings. "These types of bells have metal handles which are desirable when kettlebell training because they are easier to hang on to and less likely to rip your hands," she says.
If you're used to heavy lifting at the gym, a squat rack that holds a barbell is your best option for getting your workouts in at home. "Squat racks are great for those who are interested in lifting heavier weight or those working on Olympic style lifting or powerlifting," says personal trainer Louise Green. She recently bought her own and loves how it lets her do almost anything she would do in a gym. "The rack allows for easily sliding plates on the barbell while it's resting on the rack's adjustable arms," says Withers. He recommends a half-rack like this one (with two upright posts instead of a full rack's four) to save money and space. Keegan Draper, a certified personal trainer and fitness specialist at Mindbody, agrees that a rack is the "ultimate tool" in any home gym. "These are great for squats, benching, pull-ups, dead lifts — basically all your larger lifts," he says. "It also creates a nice place to store items such as weights and bars."
Body Space Fitness founder Kelvin Gary is a fan of using sandbags for weight training because they're "extremely versatile and very easy to store." He likes that the Ultimate Sandbag brand sells a variety of bags that fit as little as five pounds of sand and up to 150. (Just know that you'll need to buy and provide your own sand.) The bags have seven handles so you can use them for different exercises, including squats, lunges, and deadlifts. "You can change the position of the handles and make an exercise feel different just by the hand position," he says.
After months of missing the bodyweight-meets-cardio classes at NYC-based studio SLT during the pandemic, Ali Finney, beauty and fitness director at Well+Good, decided to invest in a microformer to replicate the workout at home. Like the larger megaformers found in SLT and other studios, the microformer is a sliding platform with attached handles and straps that challenges all your major muscle groups. "The compact, spring-loaded carriage allows me to do all of my favorite moves without needing to leave my house," she says. "The carriage and platforms are smaller, but I've found that makes me fire up my muscles to stabilize myself even more." The microformer is customizable, and prices vary depending on how many add-ons you want, but Finney says to at least opt for a model with a back platform and one set of handlebars for the versatility to do most exercises. She follows along with the SLT On Demand videos to get as close to the in-person-class experience as possible.
Editor's note: A previous version of this story included the Peloton Tread+ and Tread. Both have since been recalled by the CPSC and Peloton. If you already own either, the CPSC recommends that you immediately stop using it and contact Peloton for a full refund.
The Strategist is designed to surface the most useful, expert recommendations for things to buy across the vast e-commerce landscape. Some of our latest conquests include the best women's jeans, rolling luggage, pillows for side sleepers, ultra-flattering pants, and bath towels. We update links when possible, but note that deals can expire and all prices are subject to change.
Every editorial product is independently selected. If you buy something through our links, New York may earn an affiliate commission.