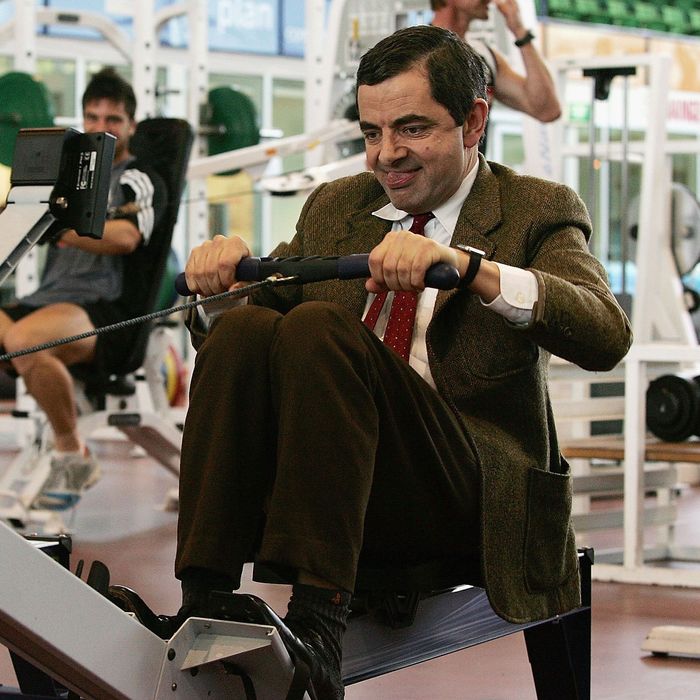 Photo: Quinn Rooney/Getty Images
If you're looking to refresh your home gym with a workout that combines cardio and strength training, you may want to consider a rowing machine. We've written about all sorts of home-exercise equipment — including the best stationary bikes, adjustable dumbbells, and treadmills — and here, we've rounded up the best rowing machines on Amazon according to the most enthusiastic reviewers.
Related Articles: Best Home-Workout Equipment | An Affordable Peloton Alternative | Best Big-Ticket Home-Gym Equipment
Best-rated rowing machine
"This rowing machine is the bee's knees of home exercise equipment," writes one reviewer. "I've been looking for a way to exercise that takes minimal effort (read: I don't need to put on a sports bra for this) while getting maximum output (read: sweating like a sinner in church)." According to people who own this rower, one of the main reasons to opt for a magnetic rowing machine is noise reduction. One purchaser praises this machine's low volume: "My cats hang out with me while I use it, and we all know how easily cats can be startled." Another home exerciser is similarly struck: "One thing I noticed while in the middle of my short but effective workout was that I didn't have to adjust the volume on the TV. This thing is very quiet! I also have an exercise bike and when I use it, I have to crank up the volume on the TV."
Best-rated (less expensive) rowing machine
Reviewers say this rowing machine is a great value, and many actually prefer it to more expensive options because it's lightweight and compact. "Absolutely blown away by the construction and durability," writes one home rower. "It was easy to put together and does everything the more expensive rowing machines do. I love the fact that it takes so little space to house and the results are great!" A couple chose this machine for working out in their bedroom for similar reasons: "We were looking for both a rowing device and an elliptical for our bedroom. We saw some in a department store that has plenty of them — they were all good and had a number of additional features such as fans, entertainment screens, etc., but they were all VERY bulky. This device, on the other hand, has just about half the dimensions of the rowers we saw, costs just a fraction, and works great." As one reviewer puts it: "This is a great machine. Obviously not as robust as the Concept2, but it's great if you want a lightweight rowing machine. Great to use while watching TV!"
Best quiet rowing machine
If you have roommates, a sensitive baby, or a partner who needs complete silence to work, this is probably the rower for you, because nearly one-fifth of reviewers describe it as quiet. The reason for this lack of noise is the machine's magnetic resistance, which, according to one shopper, is "much quieter than the fan-driven rowers." According to others, those magnets also make the strokes smooth. "Magnetic resistance works great for smooth operation, seat glides nicely back and forth," one writes. It's very easy to adjust, and, according to one reviewer, "the resistance settings range from very easy to quite challenging. It folds easily and quickly and is easy to roll if you are on a tile or wood floor … not so easy on carpet." Some are skeptical of the accuracy of the LCD screen, but one reviewer writes, "Whenever I count the reps, the digital counter is accurate, except that it seems to miss the first one. We are pleasantly surprised."
Best rowing machine with extended weight capacity
This rowing machine has a weight capacity of 350 pounds, which is nearly 100 pounds more than most of the other machines on this list. One reviewer was delighted to find that it's "the perfect row machine for a man of my size," noting that it has "held up incredibly well and gives a good full body workout." Another reviewer who is six-foot-three and weighs 315 pounds writes, "It was the only one I could find for my weight; which I'm often confused by. Shouldn't most exercise machines be designed for people on the heavier side?" They say that, though it doesn't come with lots of bells and whistles, it has a "decent level of max resistance, it flows smoothly," and it's "sturdy." Others praise its extended capacity, which means "everyone in the family can use it!" As one satisfied reviewer puts it: "I am five-foot-two and 140 pounds, my husband is six-three and 315 pounds, and we both can use it with no problems. I find myself turning on the TV and rowing for half and hour to an hour and by the time I'm done I haven't realized that I've actually been working up a sweat and find myself with jelly legs haha!"
Best rowing machine for beginners
Many reviewers of this rowing machine are either first-time rowers or new to working out in general, and they enjoy their experience with this model. "For a first time user, this machine works great," one writes. "Very quiet machine. Very sturdy. Definitely getting the workout I was looking for." Another says, "It may not be for someone who has been working out for years, but for us beginners it is fantastic." What makes it friendly for beginners is the lack of heavy resistance, which frustrates a more experienced reviewer; another writes, "The strength adjuster doesn't provide enough resistance for me, but it's still adequate to provide a good aerobic workout." Like the magnetic rower above, this one is very quiet, and more than one reviewer says it's very easy to assemble. One user says theirs was "delivered at 1 today, assembled by a totally nonmechanical history teacher by 2:00, fantastic workout completed by 3!"
Best rowing machine with Bluetooth
This rowing machine is very similar to the Sunny Health & Fitness model above. They're both roughly the same size and magnetic with built-in LCD screens. One key difference is this rowing machine from Fitness Reality has Bluetooth functionality and an integrated smartphone app for tracking workouts. "The bluetooth connection and app is wonderful if you're a gadget type of person who likes to track data and results," writes one purchaser, and many others chime in to praise the app functionality as well. "Easy Bluetooth setup for tracking workouts," says another, who calls the machine "quiet and reasonably priced." Many also mention how "quiet" it is during operation — "quiet enough that I can watch videos while I'm on it," according to one rower. And it gets high marks for being easy to fold and store away, which, as one five-star reviewer puts it, is "crucial for apartment living."
Best water rowing machine
Reviewers love this particular machine because of its enclosed water tank, which "has the sound and feel of being on the water." One self-proclaimed gym rat who's "used to solid commercial quality equipment" was pleased to find that this rowing machine "exceeds my expectations for a home quality water rowing machine." And though it's the most expensive product on the list, for a water-rowing machine, this one comes at a "great price" according to dozens of reviewers. The low cost "reflects the absence of nonsense bloatware and lack of bells and whistles (which is all crap that people who don't actually exercise think matters IMHO)," one reviewer notes. "It's not a reflection of cheap construction (a common blight of ostensibly good looking treadmills)." They go on to say this machine gives users a natural-feeling rowing experience: "You want to run? Go outside. You want to row? Buy this thing."
Best upright rowing machine
"My horizontal rowing machine was wreaking havoc on my back," writes one reviewer. "I love that I'm now able to do squats and tone the arms at the same time!" Plenty of others agree this nontraditional upright rowing machine is excellent for targeting glutes. One reviewer who was looking for an alternative to the DB Method squat machine was surprised to find this at one-third of the price: "After only ten minutes of reps and stop, reps and stop, I was sweaty and my heart was racing! It packs a punch for sure. It is a hard workout, but it is so worth it." Even a personal trainer with an extensive home gym was impressed by the price and effectiveness of this machine: "It's been difficult for me to find a piece of equipment that specialized in working the hamstrings and the lats at the same time. This is not only effective, it is also well-built, and it was extremely easy to put together myself in a matter of minutes."
Best rowing machine with multi-workout capabilities
"I was skeptical about the size and functionality of this thing, especially given the price," begins one reviewer, but "from the moment I unboxed it I was pleased." Plenty of others love this ProGear machine, too, because it's able to do a range of workouts including curls, shoulder presses, pull downs, ab workouts, and more. "I needed something to make up for not going to the gym (COVID), and this is a nice little setup. It doesn't take up much space at all and it's pretty easy to use," another reviewer writes — though they add, "I mainly got it for rowing and for that it's excellent." Others agree the rowing feature is the best part of the machine. One satisfied reviewer says the quality of the machine is "unbelievable" because "the rowing action is very smooth and when I pull the arms to the side as I row instead of straight back and forth, it honest to God feels like I am actually rowing in a lake. … This is one of the best purchases I have made."
Best compact rowing machine
This Stamina machine folds up compactly for easy storage and portability. One reviewer calls this model the "ideal choice because of its small storage footprint" — it's about the size of a small coffee table — and says they were "able to assemble the machine in less than 45 minutes with the tools provided." Several reviewers say the machine is so compact it's actually portable. In fact, one reviewer brought it with them on a monthlong stakeout to use "in the back of a minivan" and called it "an awesome way to stay in shape." Even though this model folds up, it does not skimp on comfort. "The frame is very solid and stable," says a reviewer. "Best of all, it has a comfortable seat (nicely padded and large enough to be comfy), not like those dinky bicycle seats that hurt my butt!"
The Strategist is designed to surface the most useful, expert recommendations for things to buy across the vast e-commerce landscape. Some of our latest conquests include the best acne treatments, rolling luggage, pillows for side sleepers, natural anxiety remedies, and bath towels. We update links when possible, but note that deals can expire and all prices are subject to change.
Every editorial product is independently selected. If you buy something through our links, New York may earn an affiliate commission.