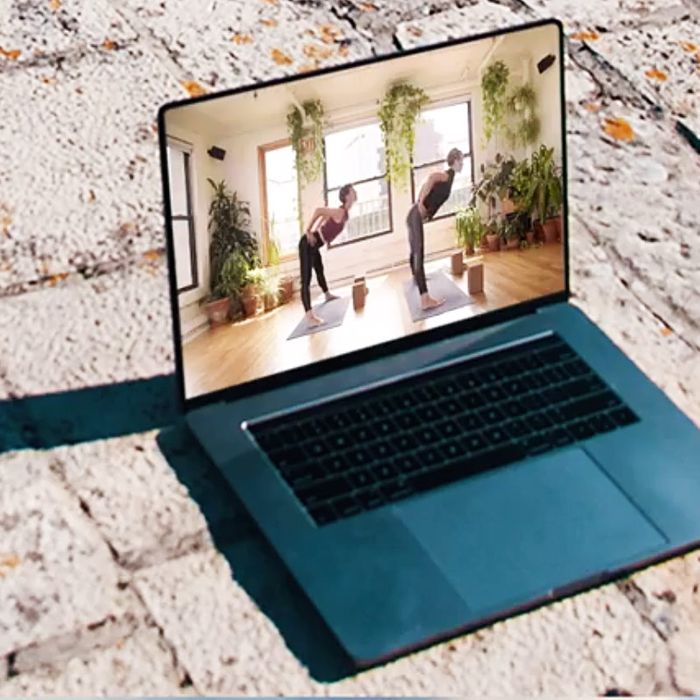 SKY TING yoga is offering classes online and live-streaming.
Photo: SKY TING
If you're used to taking classes at a yoga or pilates studio or even just leaving your house to go to the gym, adjusting to working out at home might feel like a challenge. Luckily, fitness instructors of everything from SLT to ballet are offering online and livestreamed classes, often for free (though many accept donations through Venmo). Some, like Martha Graham principal dancer Charlotte Landreau's Instagram Live classes, don't require much at all — "you just need your workout clothes, not even socks," she told us — and for others you can find much of what you need at home, be it soup cans as weights or a chair as a barre. "If you have a book, that can be your block," says Rodrick Covington, founder of Core Rhythm Fitness. But as celebrity fitness instructor Kira Stokes puts it: "You can only use wine bottles, water bottles, and soup cans for so long — there's something about being in a gym environment that motivates you, so having the proper workout equipment at home is a good way to get into that state of mind." To find out what items you can use to make your living room feel a bit more like your favorite studio, we reached out to some of the fitness instructors currently offering their classes online, and asked them the materials that can make your living room feel a little bit more like their studio.
A yoga mat will come in handy for (of course) yoga, but also for any floor-based workouts you do at home, whether it's barre or pilates. It's one of the easiest items to set up in your home: all you need to do is put the mat down on a hardwood floor. Sky Ting yoga co-founders Krissy Jones and Chloe Kernaghan, who lead both the studio's Sky Ting TV yoga virtual workouts and have been offering yoga classes on Instagram Live, told us that they've used mats from Jade Yoga "since day one." The mats are eco-friendly, and the Sky Ting founders particularly like the texture of the mats: "They have the best traction for your hands and feet, so no slipping." They suggest getting the brand's basic "Level One" mat, which is half the price of the better-known (and often recommended) Jade Harmony mat. When we asked yogis about their favorite mats, Liz Wexler, who teaches yoga at Equinox, praised Jade's mats, as well. "Jade mats are the best — they're sticky, so your hands and feet don't slide, and they're durable, so you can put them in washing machines," Wexler told us. "They'll also last for a really long time, several years."
If you prefer a slightly thicker yoga mat with a little less stick, yoga instructor Kyle Miller, who offers online videos of her practice and livestreaming her classes on Instagram, told us that Manduka's Pro-Lite mat is her favorite: "The manduka mat is indulgent," says Miller. "It's grippy, soft and they break in very well — you definitely get what you pay for with their mats." The mats are 100 percent latex free, so if you have a latex allergy it's a good pick — and at the slightly thicker width (this one is 4.7 mm, whereas the Jade Level One mat is 4 mm) it might come in handy for pilates or other workouts that involve more time spent directly on the floor. The Manduka Prolite has come up as a favorite in the past, as well: Y7 instructor Kristen Nichols notes that "it can get slippery, but it's designed to make you engage more, so that's the point," and yoga instructor Alexandria Brzenk says she appreciates the slightly more slippery texture. "I prefer the texture of this mat over rubber mats because I find it's smoother for flowing through transitions, while also offering enough traction so that my hands don't slip in down dog," she told us.
Both the Sky Ting founders and Miller named Manduka's cork block as one of the most useful props for doing at home yoga. Whether you're just trying yoga for the first time or are a seasoned yogi, a block can help you reach positions without straining your muscles further than they're ready to go (especially as you'll be getting into poses without an instructor to check your form), and can be used for restorative poses that help decrease stress. "I use blocks under my hands as a way to bring the floor up to me," says Kernaghan. "They're great for standing forward folds, for support in triangle and side angle poses, and, if my shoulders are tight, I love using them under my hands in down dog." Kernaghan adds that the sturdiness of a block makes it a great prop for any pose that requires weight-bearing (in other words, a pose like down dog where you would potentially be pushing your weight toward the ground) and is also helpful for achieving a taller seated pose if you're seating on your knees and shins."
Resistance bands of all kinds were one of the items that came up again and again when we talked to fitness instructors leading virtual classes (more on those further down the list), and while Miller points out that one of the great things about working out at home is that "everyone has a strap — be it a belt, tie, dog leash," if you want to invest in one that's specifically suited to yoga, the Sky Ting founders suggest this ten-foot number from Kakaos, which they use in their studios and has a buckle style, "so that it's easy to adjust the length during your practice." Kernaghan says that "straps can act like arm extenders when you're doing poses where you're trying to connect hands to feet" — that might even be something as simple as sitting with your legs extended and reaching for your feet — "or even in bigger shoulder openers like gomukhasana arms, where you try to connect hands behind the back from above and below."
And finally, if you want to create all of the comforts of your typical restorative yoga class, a bolster, which can be positioned under various parts of your body to add support and help muscles relax, is a useful prop to have on hand. "Bolsters are the ultimate royalty in yoga props — they offer a lot of lift and support for reclined poses" says Kernaghan. "Try lying your spine back on a bolster and butterfly your knees open to help open your chest, or drape your legs right at the knee over a bolster and lie on the ground to give your low back some relief … heaven." The Sky Ting founders recommended this bolster from Hugger Mugger is "full and stable, perfect for your restorative poses."
Pilates instructor Merav Cidor, who teaches a BodyTonic Pilates and has been offering virtual classes on Instagram, told us that when it comes to pilates, "You can get a full workout just using the weight of your body." Cidor says she has been using a chair ("whatever chair you have at home is fine") for her classes — " I have people sit on them for warmups, and then use them for step-ups." If you want to add some additional props to your pilates practice, Cidor suggests using a pair of two-pound weights during exercises like bicep curls (a full set of pilates exercises using dumbbells can be found on Body Tonic's Vimeo).
Another classic pilates prop that Cidor says can come in handy for working out at home is a Magic Circle, which is a steel ring covered in soft rubber. "It's a ring that has pads on it — you put it between your inner thighs and squeeze. It's kind of like a Thigh Master, but it's more tailored for pilates" she told us. To use it, Cidor says you can "lie on your back anywhere in your house, with the Circle between your upper thighs, and then squeeze the circle ten times. Then lift your hips to a shoulder bridge with the Circle between your thighs and squeeze ten times." Another exercise you can do while on your back is to squeeze the circle between your ankle bones, and then lift your legs toward the ceiling, lifting and lowering the legs eight times, with your hands behind your head. Cidor notes that you can add the Magic Circle to almost any pilates exercise to "create more resistance" and even just to stretch: "For a hamstring stretch, lie on your back, place the Circle around one foot, and stretching the leg up to the ceiling," says Cidor.