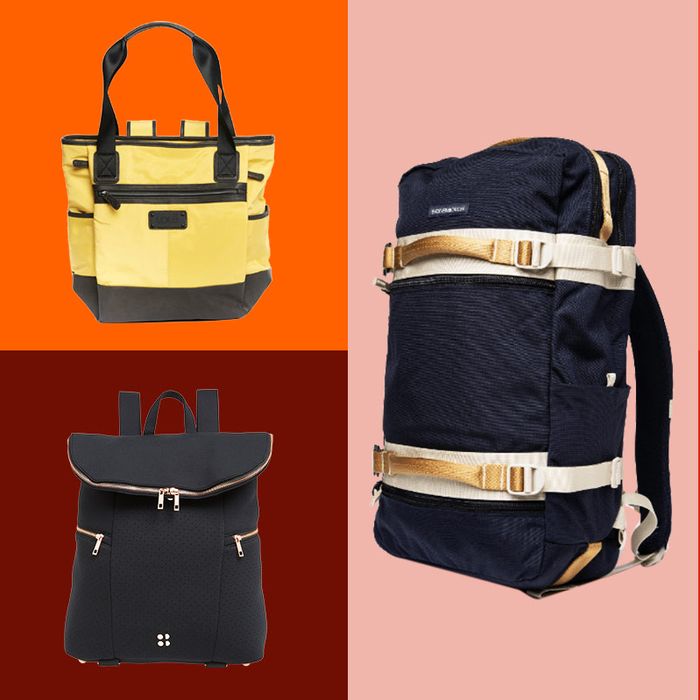 Photo-Illustration: Retailers
An ideal gym bag needs to check a lot of boxes: Can it hold everything you need for your workout and what you need to look presentable afterward? Does it have space for a water bottle, sweaty gym clothes, and a change of shoes? And, we don't think this is too much to ask, does it actually look nice?
We asked 14 fitness instructors and gym professionals to recommend their favorite backpacks and totes for carrying everything from your sneakers, spinning shoes, and sports bras to your toiletries and laptop. Their handsome and functional picks are a far cry from your beat-up college-era duffel.
Best backpack gym bags
While it looks sleek and streamlined from the outside, this backpack offers serious interior organization with two water-bottle pockets and zipper compartments in a variety of sizes for all your essentials. It comes highly recommended by Kelvin Gary, head fitness coach and owner of Body Space Fitness, who says, "I'm not necessarily one of those over-the-shoulder, old-school, big, bulky Nike gym-bag guys." A typical day can take him from the gym, to checking in on a personal-training client, to picking up his kids at school, and he likes that the RYU backpack helps him look put together wherever he goes. Andrew Mariani, a trainer at Hudson River Athletics and Fhitting Room, also uses the RYU backpack. He likes that it's "waterproof and has internal pockets made for laptop storage and water bottles, and valuables can be stowed [away] and secured."
When Megan Norregaard, a trainer at Solace New York, is hunting for a gym bag, she says, "I look for something that is both functional and stylish. It needs to be big enough to carry clothes, shoes, toiletries, and food. I also look for a material that's durable and water resistant." This Lululemon backpack, with a water-bottle holder, laptop sleeve, expandable pocket for dirty clothes, and an exterior phone pocket (for quick access), meets all of her requirements and more. Norregaard likes that it looks small and compact but holds a ton of stuff. "It's like a Mary Poppins bag," she says, "but cute."
"As a busy fitness instructor, I'm always on the go and find that a backpack works better for me than a traditional gym bag," says Hollis Tuttle, a trainer at CITYROW. Specifically, she relies on this backpack from the Lululemon men's section for keeping all of her things organized. With a laptop compartment, a pocket for a water bottle, and multiple interior and exterior zip pockets for quickly accessing necessities, it has everything Tuttle looks for in a gym bag. It's also water resistant, which she says is key because "you never know when you are going to get caught in a rainstorm."
Best backpack for outdoor workouts
Another one of Norregaard's favorites, this roomy backpack — "I can leave my apartment for two days, and it holds everything I need, with space for more," she says — also doubles as a workout tool. Its two reservoirs can be filled up with water or sand, adding up to 40 pounds in total, so you can take your boot camp or lifting workout wherever you'd like, and the reservoirs barely take up any space when empty.
Best backpack for yogis
For yoga fanatics committed to their very specific mat — or just a bit too germophobic to use those questionably clean rentals at the studio — toting along a yoga mat adds another dimension to the search for the perfect gym bag. Fortunately, this backpack from Sweaty Betty has straps for carrying a mat, which can be tucked away when not in use. Leigh Barton, master instructor and director of programming at the Monster Cycle, says it "looks office ready and works well for workouts that don't require extra equipment, like barre or yoga." If you need to tote around boxing gloves or extra shoes for spinning, though, opt for something a little bigger.
Best gym-bag totes
"I'm not even sure this tote is meant to be a gym bag, but lots of people who come into the studio are using it that way," says Taryn Toomey, founder of the Class. "It's chic without being overstated, and it's oh so durable." Thanks to its crossover appeal for everywhere from the gym to the streets, Toomey and her students aren't the only ones using the MZ Wallace Metro as an all-day tote. Danielle Nowak, membership manager at Nike NYC, says she owns a lot of gym bags but that this one is her absolute favorite. "It truly fits everything," she says. "But it doesn't really look like a gym bag, so I'm able to use it throughout my day and if I'm going out after work."
Dagne Dover's easy-to-clean neoprene bags are similarly both functional and attractive. "This duffel is chic enough to bring anywhere, but it's perfect for the gym," says Norregaard. "[It] comes with a laptop sleeve, a mesh pouch to carry essentials, and a water-bottle pocket." Also, like the MZ Wallace totes, they come in tons of colors if you need a break from your basic black gym bag.