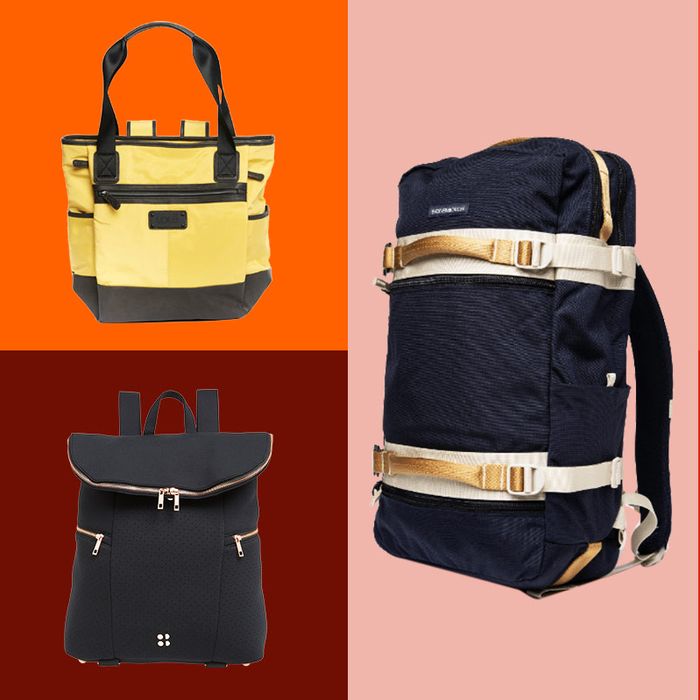 Photo-Illustration: Retailers
An ideal gym bag needs to check a lot of boxes: Can it hold everything you need for your workout and what you need to look presentable afterward? Does it have space for a water bottle, sweaty gym clothes, and a change of shoes? And, we don't think this is too much to ask, does it actually look nice?
We asked 14 fitness instructors and gym professionals to recommend their favorite backpacks and totes for carrying everything from your sneakers, spinning shoes, and sports bras to your toiletries and laptop. Their handsome and functional picks are a far cry from your beat-up college-era duffel.
Best backpack gym bags
While it looks sleek and streamlined from the outside, this backpack offers serious interior organization with two water-bottle pockets and zipper compartments in a variety of sizes for all your essentials. It comes highly recommended by Kelvin Gary, head fitness coach and owner of Body Space Fitness, who says, "I'm not necessarily one of those over-the-shoulder, old-school, big, bulky Nike gym-bag guys." A typical day can take him from the gym, to checking in on a personal-training client, to picking up his kids at school, and he likes that the RYU backpack helps him look put together wherever he goes. Andrew Mariani, a trainer at Hudson River Athletics and Fhitting Room, also uses the RYU backpack. He likes that it's "waterproof and has internal pockets made for laptop storage and water bottles, and valuables can be stowed [away] and secured."
When Megan Norregaard, a trainer at Solace New York, is hunting for a gym bag, she says, "I look for something that is both functional and stylish. It needs to be big enough to carry clothes, shoes, toiletries, and food. I also look for a material that's durable and water resistant." This Lululemon backpack, with a water-bottle holder, laptop sleeve, expandable pocket for dirty clothes, and an exterior phone pocket (for quick access), meets all of her requirements and more. Norregaard likes that it looks small and compact but holds a ton of stuff. "It's like a Mary Poppins bag," she says, "but cute."
"As a busy fitness instructor, I'm always on the go and find that a backpack works better for me than a traditional gym bag," says Hollis Tuttle, a trainer at CITYROW. Specifically, she relies on this backpack from the Lululemon men's section for keeping all of her things organized. With a laptop compartment, a pocket for a water bottle, and multiple interior and exterior zip pockets for quickly accessing necessities, it has everything Tuttle looks for in a gym bag. It's also water resistant, which she says is key because "you never know when you are going to get caught in a rainstorm."
Best backpack for outdoor workouts
Another one of Norregaard's favorites, this roomy backpack — "I can leave my apartment for two days, and it holds everything I need, with space for more," she says — also doubles as a workout tool. Its two reservoirs can be filled up with water or sand, adding up to 40 pounds in total, so you can take your boot camp or lifting workout wherever you'd like, and the reservoirs barely take up any space when empty.
Best backpack for yogis
For yoga fanatics committed to their very specific mat — or just a bit too germophobic to use those questionably clean rentals at the studio — toting along a yoga mat adds another dimension to the search for the perfect gym bag. Fortunately, this backpack from Sweaty Betty has straps for carrying a mat, which can be tucked away when not in use. Leigh Barton, master instructor and director of programming at the Monster Cycle, says it "looks office ready and works well for workouts that don't require extra equipment, like barre or yoga." If you need to tote around boxing gloves or extra shoes for spinning, though, opt for something a little bigger.
Best gym-bag totes
"I'm not even sure this tote is meant to be a gym bag, but lots of people who come into the studio are using it that way," says Taryn Toomey, founder of the Class. "It's chic without being overstated, and it's oh so durable." Thanks to its crossover appeal for everywhere from the gym to the streets, Toomey and her students aren't the only ones using the MZ Wallace Metro as an all-day tote. Danielle Nowak, membership manager at Nike NYC, says she owns a lot of gym bags but that this one is her absolute favorite. "It truly fits everything," she says. "But it doesn't really look like a gym bag, so I'm able to use it throughout my day and if I'm going out after work."
Dagne Dover's easy-to-clean neoprene bags are similarly both functional and attractive. "This duffel is chic enough to bring anywhere, but it's perfect for the gym," says Norregaard. "[It] comes with a laptop sleeve, a mesh pouch to carry essentials, and a water-bottle pocket." Also, like the MZ Wallace totes, they come in tons of colors if you need a break from your basic black gym bag.
Even though it's technically a small travel bag, Zoe Weiner, beauty and fitness editor at Well+Good, says this roomy gym bag is ideal for her as a self-described "'bring your own straightening iron and three outfit options because I can't make a decision sub-7 a.m. and never remember to pack the night before' kind of gal." She likes that the bottom compartment, where she stashes her laptop and other daily essentials, zips off so she doesn't have to "schlep everything to post-work drinks."
It may look like a simple tote, but Katelyn DiGiorgio, vice-president of training and technique at Pure Barre, says this bag's functionality makes it her top pick for the gym — and beyond. "The tote is made with a lightweight and water-repellent fabric, which makes it easy to carry around and simple to wipe clean in case your shake or water bottle spills," she says. You can also adjust the strap length for more comfortable carrying, like if you have to accommodate a puffy winter coat, for example.
Best duffel gym bags
"It's hard to beat a classic canvas bag for the gym," says Keegan Draper, a fitness specialist at Mindbody, and he especially likes this duffel from Topo Designs. It has a durable exterior to withstand years of wear and tear and still looks nice enough for an overnight trip. Plus, according to Draper, "It's easy to wash so you can get that gym smell out."
For a sportier-style duffel, Draper recommends this take on Patagonia's classic Black Hole bag (a longtime Strategist favorite) that can also be carried as a backpack. Since it's made of the same rugged, water-resistant material as the brand's bigger bags, Draper says it's "likely the last gym bag you'll ever buy." He likes that it has lots of pockets and compartments (including a padded laptop sleeve) and places to attach other items like a water bottle or keys.
Best duffel with a shoe compartment
Domenic Marzilli-Green, an instructor at Cyc, says "gym to work is the story of my life," so he's tried out his fair share of gym bags. "I'm always looking for something from a reputable brand that is lightweight to start, has plenty of space, clean style, can protect my laptop, and [can be carried] as a duffel or over my shoulder." His current go-to is this Herschel bag because of its separate shoe compartment (a feature he says "can be surprisingly hard to find"), reasonable price point, and durability.
Best duffel for yogis
This Lululemon duffel, one of Barton's recommendations, also has a yoga-mat strap that folds into the bag when not in use. "It's the perfect size for a workout outfit, change of regular clothes, and laptop (everything I need for class), with enough room for anything extra like makeup, a book, and a water bottle or juice," she says. In all black and free of flashy logos or tons of straps, Barton thinks it's "a bit more work appropriate" than some other, sportier options out there.
Best duffel for boxing
If your routine includes sparring in the ring (or just against a bag), like Rick Richey's, this duffel has a compartment for your boxing gloves and anything else you might need to tote around. "I like wearing it as a backpack, but it can be a shoulder-throw or handle-carry," says Richey, co-founder of Recover. "This bag works perfectly for my gym lifestyle."
Best convertible backpack-tote bags
It's more expensive than the rest of our choices, but the Caraa Studio bag, a favorite of Cyc instructor Christine Abramo's, does triple duty, converting from a backpack to a shoulder tote to a cross-body duffel. Abramo likes that it has "shoe space, laptop space, a section for dirty clothes, and a makeup pouch." If you're wearing it as a backpack, the breathable mesh back will keep you dry even after a sweaty workout.
Fitness trainer Kat Ellis calls the Lily tote "the most versatile bag I've ever owned." The waterproof tote-backpack hybrid comes with a separate bag for shoes or dirty clothes, as well as a cosmetics case, and features a protective interior laptop pocket. Beyond working out, Ellis says, "I travel quite a bit for work, and it allows me to carry my laptop, a change of clothes, toiletries, and my favorite book without bothering my shoulders."
The Strategist is a new site designed to surface the most useful, expert recommendations for things to buy across the vast e-commerce landscape. Some of our latest conquests include the best notebook, black T-shirts, fashion-editor-approved jeans, toothbrush, and apartment décor. Note that all prices are subject to change.

If you buy something through our links, New York may earn an affiliate commission.