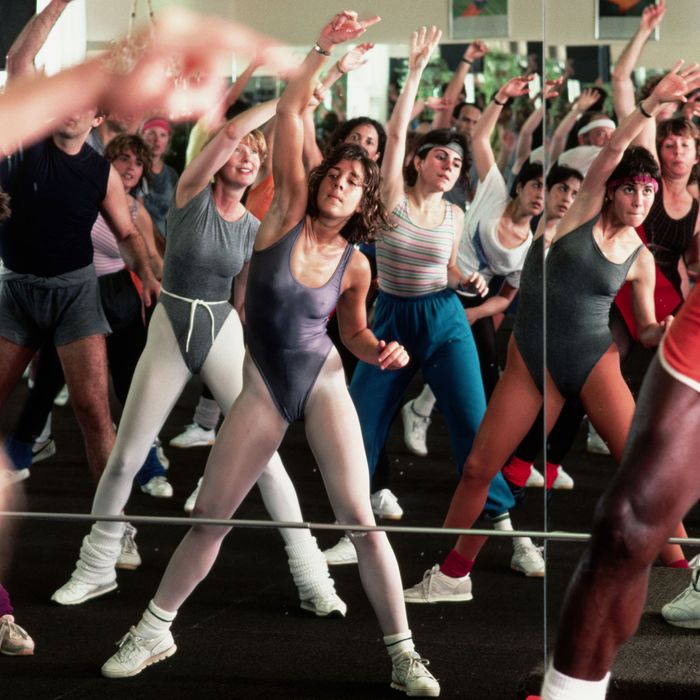 Photo: Nathan Benn/Corbis via Getty Images
Six years ago, I made two significant and parallel career changes: I took a first full-time job as a fitness editor at Rodale Books, and I became a certified personal trainer. In between creating stories on plyometrics, or how to approach a 5K run, my job involved trying every trendy new workout out there. And that is why I can confidently tell you that no two sweat sessions are ever the same, meaning the shoes you need for certain sweat sessions are likely not the same.
That logic is how I justify owning 72 pairs of sneakers. Sneakers for quick runs. Sneakers for long runs. Sneakers for box jumps. Sneakers for dance cardio. Before this job I wore a single pair of too-small New Balance sneakers for absolutely everything — and had black toenails. But as more and more brands would send me their latest styles for editorial consideration, I started realizing how to take care of my feet and the rest of my body. I've tested over 200 different pairs of sneakers over the course of the last six years (I'm lucky, and have only purchased 12 pairs, give or take, myself), and now more than 70 pairs fill over-the-door shoe-shelving systems in two closets. "What sneaker should I wear for [fill in the blank workout]?" is the most popular question I get from friends. Chosen from the masses, here are the 15 favorite shoes I recommend.
Best for running a marathon
I've run six full marathons to date (I even did two in one week once, because I'm a masochist). This is the only sneaker I've ever worn for a full 26.2-mile race. At 10.7 ounces, it's on the heavy end as far as sneaker weight goes. That's because of the forefoot gel-cushioning system that keeps my foot comfortable mile after mile. With these, I never have to worry about uncomfortable foot cramps or pain in my arches, which is a common problem with lighter shoe options.
Best for training for a marathon
This Brooks classic uses a segmented crash pad, which is essentially an integrated system of shock absorbers, to give the runner cushioning with each step. This iteration of the Ghost, in particular, feels much bouncier than previous versions. I'll rotate between wearing this style and the Nimbus when I get to the training stage where I'm running double-digit miles.
Best for running a half-marathon
For years, it's been a mission of mine to find the ideal half-marathon shoe. That means one that's both fast (translation: light) but still comfortable. In my experience, the foot doesn't demand the same level of cushioning (which inevitably adds weight) for this distance and amount of time, which is under two hours instead of closer to the four you need for a full marathon. Nike's latest Zoom Pegasus Turbo is the shoe I was looking for: I love the feeling of the signature FlyMesh as it hugs through the midfoot, and the grippiness of the waffle pattern on the sole gives me the control I want on pavement. They also look great, so as someone who always stresses functionality in a sneaker over pure aesthetics, it's nice to have a shoe that actually does both.
I've been a diehard Dynaflyte fan since it first launched in 2016. It's like the Nimbus, but on a diet. It has what the brand calls "Flytefoam Lite technology," which is 55 percent lighter than industry-standard EVA foam. My feet feel supported and comfortable enough in these to go long without any unnecessary load (the shoe weighs 7.58 ounces for a women's 7). I have a handful of runner-friends who wear this for full marathons, too.
Best for running a 5K
This sneaker has two things going for it that make it a no-brainer for quick races: a super-thin, breathable mesh upper that helps you stay cool, and a high-energy-return midsole. In layman's terms, when a runner's foot makes contact with the ground, the cushioning on the shoe compresses. A shoe that boasts "excellent energy return" compresses less than others. That means Reebok's latest run-category offering, a field they've been really working on over the last year, delivers a pep-in-your-step feeling that helps a runner keep a quick pace.
Best for sprints
Whether you run recreationally or seriously, speedwork is something that everyone can benefit from. That's because it helps teach muscles to tolerate the build-up of lactic acid (a byproduct of exercise that causes fatigue). This New Balance favorite feels like second skin, perfect for tackling treadmill intervals. Its bootie construction makes it feel like a custom fit and also staves off annoying blistering. And when I'm feeling especially spent, the RevLite midsole provides an extra boost right when I need it.
Best for trail running
A recreational runner may not know of Altra, but religious runners love this Utah brand. Every single one of its designs are made with a foot-shaped toe box, which lets toes relax and spread out naturally as if you aren't wearing sneakers at all. What makes the Superior 3.5 perfect for the trail is their Duratread rubber outsole, which is gripp