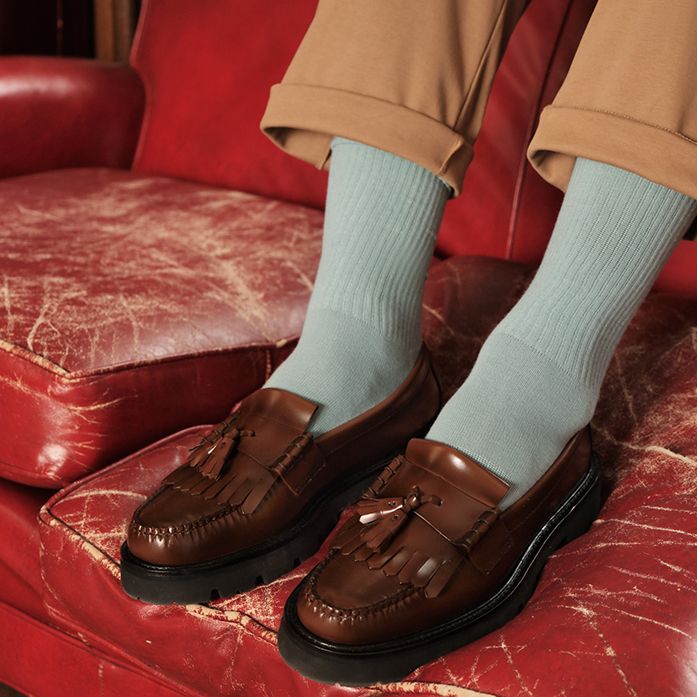 Bass Weejuns in all their glory.
Photo: Retailer
After spending a decade or so collecting dust, loafers have risen to popularity over the past few years thanks to cool-kid brands like Gucci and Ganni. (For what it's worth, I, the writer of this story, have always thought they were "cool" and I have seven pairs to prove it). Not only are loafers a quintessential fall staple, but they're also extremely versatile, pairing well with everything from '70s flare jeans to of-the-moment nap dresses. In search of the best loafers out there, I consulted 12 fellow loafer lovers, including stylists, designers, and our very own writers (who actually all own the same pair). Below you'll find some price-conscious classics, splurge-worthy heeled pairs, and even a few funky mules.
Best overall loafers
Lauren Valenti, senior beauty editor at Vogue, prefers the "easy" version of the Whitney Weejuns, which comes in one more color than the basic pair do and offer a flexible, rubber sole instead of leather. "This fall, I wanted a pair of shoes that could serve as a stylish pick-me-up, but were also comfortable and easy to slip on for my daily sanity walks," she explains. To her, these Weejuns are "perennially classic," yet still allow her to "mix and match with different colored high socks" to zhuzh up any outfit. "They add a sleek and sophisticated touch to whatever I'm wearing — even on my most lazy of days."
And while the specific ones that Clare Vivier, designer and founder of Clare V., owns are vintage, she's a big fan of these "classic of all classics" Weejuns livened up with an oversize bow. They have a rubber sole like the "easy Whitney" and come in both burgundy and black. But act fast, because they're selling out rather quickly. (If they do sell out, might we suggest checking out their equally as spunky loafers with tassels, buckles, or patterns instead?)
Best under $150 loafers
Photo: Retailer
"I feel like a modern Spice Girl when I wear these," says Lee Litumbe, travel and lifestyle blogger at Spirited Pursuit, of these faux leather Zara loafers. She describes them as "tomboy, chic, and very '90s," because of their chunky lug sole.
Photo: Retailer
These sleek black loafers that have a touch of Gucci flare work well for "classic and understated" outfits, as Litumbe puts it. Unlike many of the loafers on this list, these have a handy collapsible back to convert into mules.