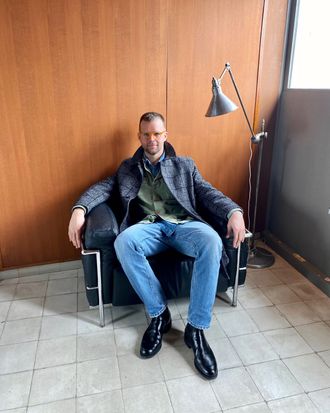 If you're looking for the most powerful hair dryer or the handiest chef's knife, those things can be easy enough to find. Other objects of desire are a little more taste-based. What's the next status water bottle or hand wash, for instance? If you have a burning question about the next fanny pack or Noah rugby shirt, Chris Black is here to answer it in a regular column.
Having recently purchased a car, I was hoping you could recommend some accessories to zhuzh it up inside? Thinking something a little more dignified than a royal pine air freshener.
I have not owned a car in a VERY long time. But luckily for you, I ride in them a lot.
Air fresheners are the worst, every Uber smells like feet and Little Trees Black Ice. You can't suffer the same fate. Luckily, Japanese brand retaW makes a chic "fragrance car tag" to keep your whip smelling good. Natural Mystic, a spicy mix of patchouli and vanilla, is my favorite and will impress any passenger.
You will also need a reusable cup to shuttle your piping-hot bean (of loose-leaf) brew to and from the office. Kinto's travel tumbler is the perfect option. The cap expertly mimics drinking from a glass or mug, and it will keep whatever you are sipping at the ideal temperature. Its simple and beautiful design is just a bonus.
Even if you got the Tesla with the big-boy screen, it's nice to have your phone mounted where you can see it. This mount adjusts a full 360 degrees and attaches with a clean adhesive. Suction doesn't do it for me. But remember: Eyes on the road!
Last but not least, you are going to need a sexy key chain. This Eye/LOEWE/Nature Logo-Debossed leather fob will look great on the counter at home or sitting on the console while cruising. Happy trails!
Looking for some regular fit (I have an athletic build) black pants for a wedding that are also art-student cool. Ideas?
I love when my faithful readers get specific. You guys challenge me, and I want to thank you for that. It only makes me better. Below, I found a selection of black pants that could be worn to a wedding or to be an extra in The Dreamers.
Your most affordable option is going to be the 1040 athletic-fit pants from J.Crew. No frills, year-round weight, and relaxed through the thighs with a slightly tapered leg. It's on you to style them right!