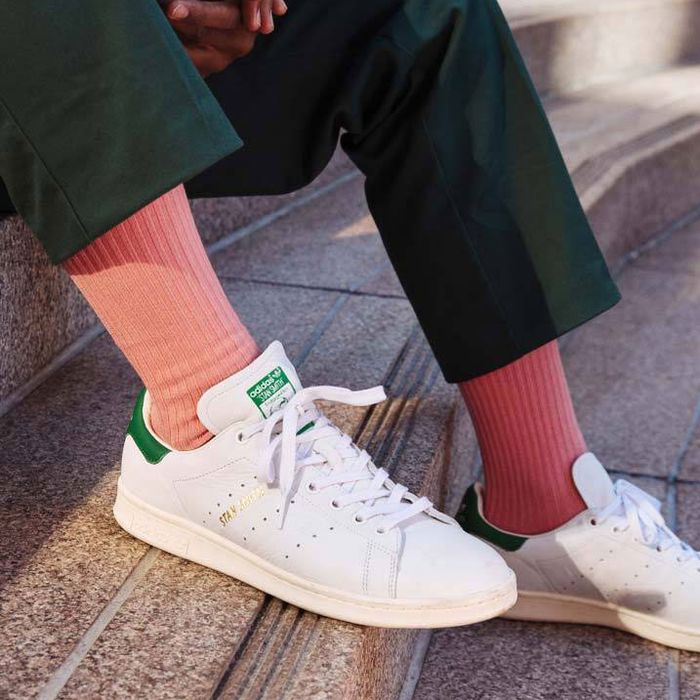 You put them on every day and forget about them — if they're good. If they're bad, you can't help thinking about them. There are so many ways socks can go wrong: When they don't hug your ankle tightly enough, when the no-shows slip off in your shoes, when you hate the pattern that's peeking out from under your pants, or when one wash cycle turns them into an entirely different pair than the one you bought.
To find the best socks for men, we talked to 20 guys — many of them men's-fashion insiders — to get the intel on the pairs that have served them the best over time. They told us about their favorite no-shows, athletic socks, crew socks, dress socks, and more. Below, their top picks (to which we've added a few Strategist-approved pairs we love), from the simple and affordable Uniqlo crew socks that a bunch of stylish guys swear by, to novelty socks depicting Edvard Munch's The Scream. 
In spring and summer, men may be looking to give their sunlight-starved ankles some fresh air. To prevent the blisters and odor that can come with not wearing socks at all, publicist Jon Salas told us he "lives and dies by Uniqlo's no-show socks," explaining that "they're supercomfortable, durable, light, and breathable." He tries to wear them as close to year-round as possible, which can be hard in New York City, but he especially likes them in the summer with sneakers because they "show a little ankle" and the sock stays hidden. "And you just can't beat the price," he adds.
Photo: Retailer
Menswear consultant Nick Wooster is another no-show diehard. He told us, "Unless it's snowing outside," he likes to wear no-shows, and his favorites are made by Mr. Gray. "Thanks to the exact fit and the quality of the yarn, they don't slide and really grip my foot unlike any other."
For those looking for a proven pair of socks suitable to wear the entire year, six of the men we spoke with praised Uniqlo's affordable and colorful cotton-blend crew socks. "They're medium height and thickness, so they're versatile for many different outfits and activities," says Phillip Wong, the co-founder and creative director of Hawthorne. "They also come in a wide range of amazing colors, so depending on your outfit, you can have a nice tonal moment." Photographer David Cortes told us these are his favorite because they're "warm, soft, and don't sag." Another fan is photographer Patrick O'Rourke, who likes to "wear them with black loafers so you can catch a glimpse of color on top" and says he grabs a few pairs every time he shops at Uniqlo. And, according to photographer Christopher Fenimore, who is known for his weekly street snaps of New York City's best-dressed and told us he wears these "for the gym, and pretty much any other occasion," the socks "last hundreds and hundreds of washes before fading or tearing."
For a truly versatile sock, writer Kevin Smith says these Calvin Kleins are his go-tos. "These are my favorite socks because they're long-lasting (I've had mine for several years), durable, and very comfortable," he says. "They never fall down, but at the same time, they don't cinch your leg so hard that they leave an indent once you change into gym shorts after work."
Jarod Taber, the co-founder of creative agency Wash and Fold, told us he loves the "classic, ribbed silhouette" on Lady White Co.'s socks, which he says look "really good with a low top sneaker." At $25 per pair, they may cost a little more than others in this list, but Taber cities their craftsmanship (the socks are made in a 50-year-old hosiery factory in Japan) as proof of their quality, alongside the fact that they've proved to be incredibly durable for him. "I typically blow through socks skateboarding, running, and just down to the fact that I walk a ton," he told us. "But not these."
Photo: Retailer
For a slightly more affordable, made-in-Japan crew sock, men's-fashion writer Jordan Mixson — who also runs the sock-focused site the Sockateur — loves Tabio's. "I love their take on crew socks," he says. "They feel so smooth and silky, like a fancy dress sock. And they come in a nice, wide range of colors if you want elevated basics."
For a crew sock that's both exotic (made in Korea) and local (designed in Brooklyn), consider these from Plus Ultra that Strategist senior editor Anthony Rotunno says he's been wearing multiple days a week since getting a couple pairs to try out from the brand back in October. After a disappointing run with Bombas ("they developed holes within a couple months of regular wear and wash"), he says the Plus Ultras — which also come in black and navy and in shorter quarter and ankle styles — have proved to be truly durable and to keep their shape and stretch in his months of wearing and washing them. "I'm not a gym person, so I haven't really put them to that test, but for regular life, these have made the daily task of choosing a pair of socks to put on a no-brainer," Rotunno says.
For guys with bigger feet, Strategist contributor Jason Stewart — who is also a DJ and co-hosts the How Long Gone podcast with columnist Chris Black — suggests these crew socks from Oddball, saying they're the best he's found for his size-17 foot. "Standard socks don't really work out so well for me," Stewart told us. "These socks fit amazingly (or how I might imagine normal socks fit on normal people)." Beyond being functional, Stewart likes Oddball socks for thoughtful design details such as the "navy detail on the heel and toe box."
For daily wear, Jeremy Kirkland, the host of the podcast Blamo! swears by these bamboo socks from CDLP. "They're thin enough to wear with dress shoes and thick enough to wear with sneakers," he says. "I like the bamboo material because they don't shrink, are anti-odor and antibacterial and made from a natural, more sustainable fiber. Last but not least they're just comfy AF."
B

e

s

t

m

e

n

'

s

q

u

a

r

t

e

r

-

l

e

n

g

t

h

s

o

c

k

s
O'Rourke tells us that while this sock height — which is taller than an ankle sock, but shorter and less formal than a crew — "can be a no-no for many." But he finds that, as someone with big calves who wears shorts almost daily, it's the length that "just looks the most normal" on him. Of all the quarter-length socks he owns, these from Ralph Lauren are the ones he wears the most regularly. "They come in a pack of six," he adds, "and last forever."
For another quarter-length pair, Dan Small, who directs partnerships and special projects for Baggu, also loves this collaboration between L. L. Bean and Strategist-approved outdoors brand Darn Tough. "Darn Tough is a hilarious name for a brand but an apt description of their socks," he says, and "as a staunch L. L. Bean apologist, these collaboration socks are my holy grail."
B

e

s

t

m

e

n

'

s

a

t

h

l

e

t

i

c

s

o

c

k

s
For a "daily running sock," menswear designer and founder of Corridor, Dan Snyder likes Bombas ankle socks. Kirkland, is another fan of Bombas for running and working out (though he prefers the crew-length version), telling us the socks are "reinforced" in key areas.
"I wear Puma socks every single day," says designer Samuel Krost of Krost, who adds that he "can't go to the gym without wearing" these cushioned athletic crew socks.
For an athletic sock that can double as something more stylish, copywriter Jon Roth likes American Trench's Kennedy socks. "Like white briefs, there's old-school perfection in a pair of red, white, and blue tube socks, and American Trench makes some of the best. I wear these pulled up high with shorts and sneakers, but they're also a good choice for dancing around the house Risky Business-style."
B

e

s

t

m

e

n

'

s

s

o

c

k

s

w

i

t

h

p

e

r

s

o

n

a

l

i

t

y
For socks with a little more flair, writer Scott Rising likes these from Hot Sox. "Nothing captures my current state of mind quite like my socks depicting Edvard Munch's The Scream," he says. These are part of the company's Museum Collection, which features sock interpretations of a variety of iconic works of art, such as the Mona Lisa, Starry Night, and more. Rising adds that "these socks do invite conversation, so make sure you've at least perused the painting's Wikipedia page in preparation for any questions you might get."
When it comes to socks with "creative designs," Snyder and two more of our panelists are big fans of Japanese company Anonymous Ism, which makes unique socks like this multicolored patchwork style. "When I'm showing some ankle with sneakers or more casual footwear, I go with Anonymous Ism," Fenimore told us, adding that "the variety of beautiful colors are timeless, and they're substantial enough to wear even in the colder New York months."
"Hansel from Basel has a small team in L.A. that designs really amazing, intricately detailed socks," according to Small. "They are total sock nerds through and through," he adds, calling the brand's "premium Made in Japan line" (which includes this fun mushroom design) "luxury for your feet."