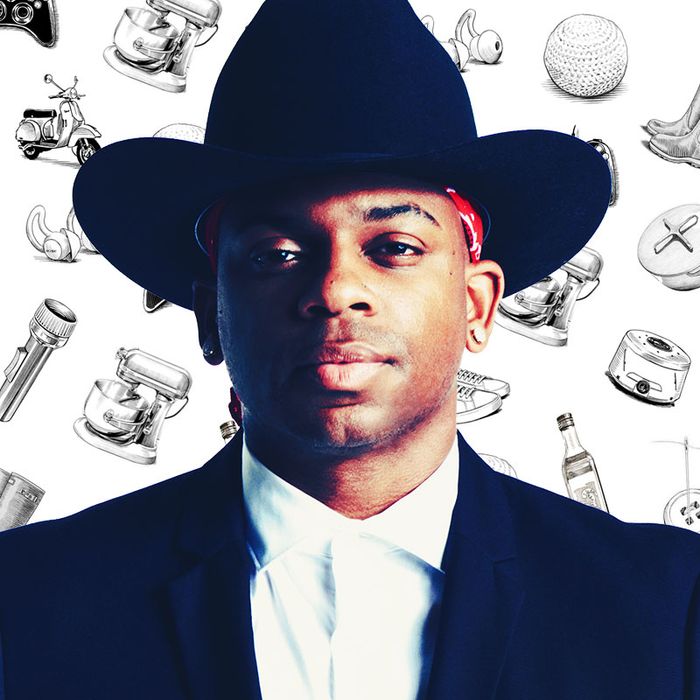 Photo: Courtesy of Jimmie Allen
If you're like us, you've probably wondered what famous people add to their carts. Not the JAR brooch and Louis XV chair but the hairspray and the electric toothbrush. We asked musician Jimmie Allen — whose new album Bettie James is out now — about the fishing rods, socks, and streaming service he can't live without.
These are the only socks I'll buy. They're not too thick, but not thin either. I wear them around the house sometimes as slippers and with my boots and sneakers. I also wear them for everything from playing basketball to fishing to running errands to performing. The only thing I don't do is wear them with sandals. I don't get why people do that. I'm not that type of person.
I've been a Disney fan forever, but I only started going to Disney World in 2012. Before the pandemic, I would go with my family at least five or six times a year — we're usually season-ticket holders. To get my Disney fix now, though, I use Disney+. Since Hamilton dropped, we've been watching that a bunch. We got to see it in New York City last year, so it has been nice to watch it again. I'm also a huge Christmas movie fan. It doesn't matter the season.
I drink Maker's Mark before my shows and sip it during them, too. It keeps my vocals nice and warm. My dad put me onto it: Maker's Mark was the first drink he bought me when I turned 21, and we'd drink it together. I don't know if it's a sentimental thing or a taste thing — I do love the taste, but every time I drink it I remember my dad, who passed away last year. When my son turns 21, this will definitely be the first drink I buy him.
Photo: retailer
I go fishing about four times a week. I like to fish for bass from the banks, before they move in too deep. So in the summer I start early, around 4:45, 5 o'clock in the morning, and finish around 9 o'clock because it starts getting really hot, and around 9:30 the bass move into deeper water. I love these rods because they're light, so you can use them in freshwater or saltwater — I've caught everything from one- to three-pound bass to a 65-pound drum fish on it. The biggest fish I've ever caught was a 192-pound tuna in Delaware a couple weeks ago. That was a great day.