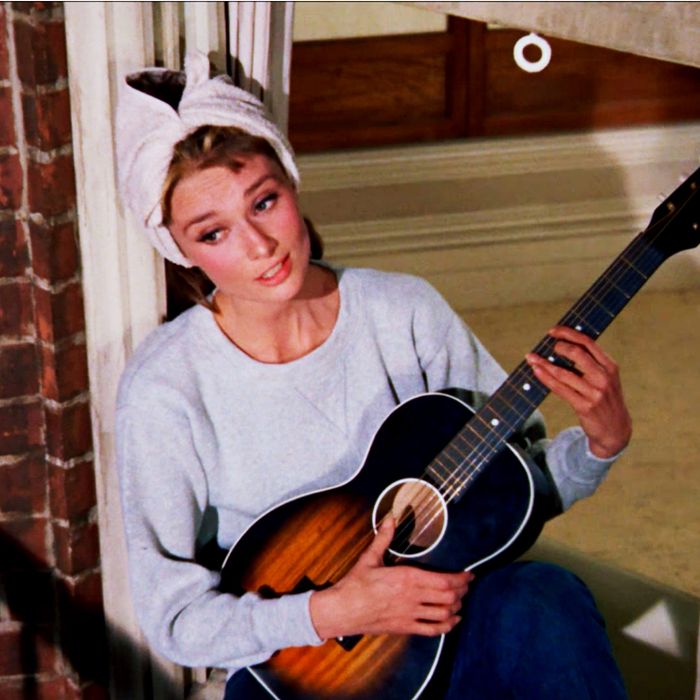 Photo: Paramount Pictures
Whether you're hooked on all the Instagram Live concerts musicians are doing, or inspired by the careers of recently lost legends like John Prine, Bill Withers, and Adam Schlesinger, you might be thinking about learning to play an instrument as a productive way to pass the time you're forced to spend at home at home right now. Enter the acoustic guitar, an instrument that those in the business say can be more familiar, and more satisfying, to a novice than other easy-to-learn ones like flutes and electric guitars. "An acoustic guitar seems to be a bit less frustrating during the learning phase," says Ronnie Brooks, the online commerce manager at Nashville's Corner Music. "With just a few chords, you can play songs, even without lessons." Plus, as musician Taylor Hollingsworth told us, inspiration is never far away: "Almost everyone has a favorite song that was played on guitar." Not to mention: It's a hobby that doesn't require a sunny day, green fingers, or heavy equipment to enjoy.
While acoustic guitars can cost upwards of a grand, you certainly don't need to spend anywhere near that much to find one to start out with — you just need to know what you're looking for. "You can get an incredibly nice guitar that's perfect for beginners for less than $500," according to Sunir Patel, the owner and main buyer at L.A.'s Truetone Music. But with more than 1,000 under-$500 acoustic guitars available at Guitar Center alone, you still might need some guidance sifting through the options. To help you find the best affordable acoustic guitars for beginners, we asked Patel, Brooks, Hollingsworth (who calls himself the "king of cheap guitars"), and five more experts about the axes they'd recommend to any budding Bob Dylan.
Best overall acoustic guitar for beginners
Five of our experts swear by Martin's made-in-the-USA guitars, with three specifically calling this Martin LX-1 (affectionately known as the "Little Martin") the best acoustic guitar for beginners. "It's one of the best sellers we carry, due to its smaller size, sound, and value," says Patel, who adds that "there aren't many smaller guitars that sound this big, so it's a perfect fit for beginners." Brooks agrees that smaller-bodied guitars like this one are "great for the learner or first-time buyer, since they're easier to hold and navigate."
Other fans of this small-bodied guitar from Martin include Hollingsworth and musician Christian Lee Hutson (both of whom have collaborated with Phoebe Bridgers and Bright Eyes). Hutson says that, while the Little Martin is "fantastic" for beginners, "you could also record with it" because the guitar "has such great intonation that it holds a tune no matter what." Hollingsworth agrees about the sound quality, telling us that the Little Martin "sounds good in a million situations, especially when you're just playing around in your living room." And even though it's on the more affordable end of the acoustic guitar spectrum, Hollingsworth says that he knows people who have "held on to their Martins for more than 70 years."
Best less-expensive small-body acoustic guitar for beginners
If the idea of a smaller-bodied guitar appeals to you, but you want to spend a little less, two of our experts recommend this option from Gretsch, which is similar in size to the Little Martin. "The small body makes it easy to hold," says Patel, who adds that it's his store's go-to recommendation to players on a budget because "the quality is outstanding, especially considering the price." Hollingsworth is also a fan of this guitar, telling us he's played on it along with other Gretsch models and "likes them all." He adds that country music icon Chet Atkins, the founder of the Nashville Sound, also played a Gretsch.
Best less-expensive full-size acoustic guitar for beginners
If you want to start out on a full-size guitar but don't want to break the bank, two of our experts recommend this acoustic guitar from Yamaha. "It's one of the first guitars I ever played, and I still play it from time-to-time," Hutson says, adding that it's the guitar he used to record his first album. According to him, the Yamaha is a "really basic, simple-sounding acoustic guitar" that's still "sturdy and nice." Musician James Elkington agrees, telling us that "if you want to buy something new, Yamaha is always pretty trustworthy." Elkington, who worked in guitar stores for more than a decade, adds that "people always prized the Yamaha guitars they started on just as much as the fancier Gibson and Martin models they progressed to."
Best classical acoustic guitar for beginners


Classical guitars typically have nylon or gut strings, as opposed to the steel strings you'll find on the other models in this list, and are made for playing more traditional baroque or flamenco music. According to Patel, for classical players, this Alvarez guitar (a brand The Districts' Rob Grote told us he's a fan of also) is the entry-level model to beat: "It would be hard to find a classical model at this price that compares in quality," he says, noting its "slimmer neck makes it easier to play." Hollingsworth and Brooks also praised Alvarez as a brand, with Brooks explaining that company, which is based in Asia, has "gotten increasingly better over the years, to the point that they compete very ably with many U.S. brands."