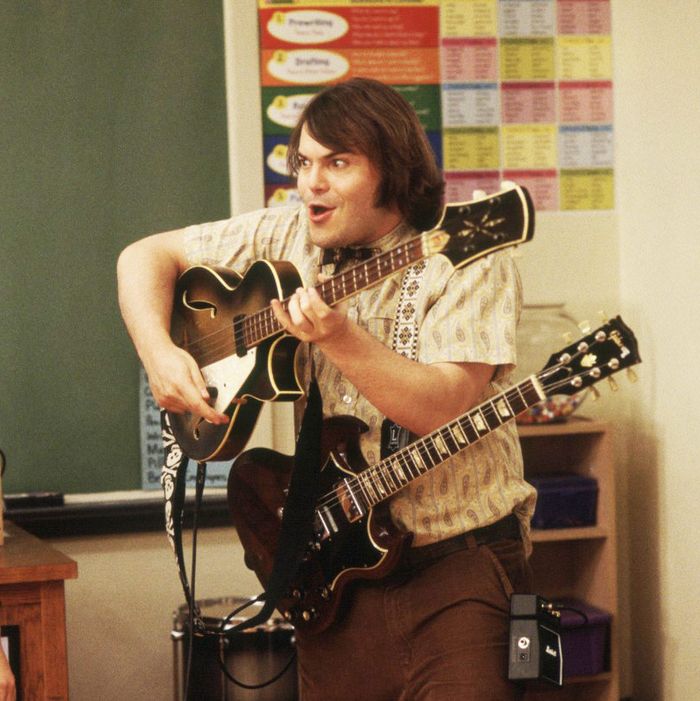 Photo: Courtesy of Paramount Pictures
If you dream of starting a band (or just rocking out in your garage), you're likely going to want an electric guitar. And if you've never strummed one before, you're definitely going to want one geared toward beginners. Guitar instructor Dan Smith (of flyer fame) advises budding guitarists to stick to simple electric guitars without any bells and whistles, both for ease of use and cost — because most entry-level guitars are budget-friendly (in case your new hobby doesn't stick). "Keep the focus on the actual music you're going to be making and not the guitar itself," he says. "You don't want to learn to drive on a Rolls-Royce, because then you're thinking about the Rolls-Royce and not how to drive."
Still, there's a dizzying array of options out there (Michael Doyle, vice president of guitar merchandising at Guitar Center, says his company's website offers between 3,500 and 4,000 different electric guitars at any given time). To narrow the selection, we asked seven experts, including guitar teachers and retailers, to recommend the best ones for burgeoning rock stars.
Best under-$200 electric guitar for beginners
Best electric guitar and amplifier set for beginners
No matter the type of beginner guitar you buy, you'll likely need an amp in order to experience the full range of your instrument's sound. This set of a Squier Stratocaster and a Fender amplifier is everything you need to get started, making it "the best, all-inclusive deal," according to Smith. "It's not a huge amount of money to spend," he adds, and "takes the pressure off when buying your first instrument."
Best electric guitars for beginners
A step up in price from the Squier, the Epiphone Les Paul is another favorite among our experts. Howe calls it "an all-around good entry-level electric guitar that's going to do pretty much anything you want it to do." Doyle adds that it's a "legend," and says that although the original Les Paul is made by Gibson (famous fans include Peter Frampton, Jimmy Page, and Slash), you can get an imported model from Epiphone (Gibson's less-expensive line) at a much cheaper price point.
Suke Cerulo, a musician and teacher at New York City Guitar School, says that, like Squier Stratocasters, Les Paul guitars "are great for beginners — they're cost effective and very usable instruments. Plus, he adds, "They are entry-level models of the most iconic guitars in history." The main difference between the Stratocaster and the Les Paul are the pickups: the magnetic transducers that convert the vibration of the strings to an electric signal. Doyle explains that the Stratocaster's single-coil pickups have "a more delicate sound," while the "humbucking" pickups on the Les Paul tend to sound thicker.
The Player Stratocaster has a similar feel to the Squier Stratocaster, but features higher-quality material and construction if you're ready to upgrade from the entry-level model, or spend more up front. "If you're really serious about it, you know you want to do this, and you're ready to make a little bit more of an investment, it's a great guitar and it won't wear out," says Smith.
Another classic Fender style, the Telecaster also got several mentions among our experts. Howie Statland, owner of Rivington Guitars, says that, along with Les Paul guitars, Telecasters "are the most basic guitars and stay in tune well." Smith says that while both the Telecaster and Stratocaster are "very versatile and will definitely give you options to play any kind of style you want," the Telecaster is "a little simpler." Doyle calls it "perfect for those guitarists who want the classic twang of the single-coil pickups." Similarly, Jason Sagebiel, founder of Sage Music, says it lends itself more to country music, while the Stratocaster leans more bluesy.