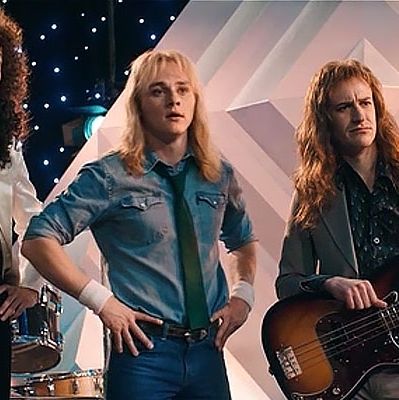 Photo: 20th Century Studios
Although audiophiles are easy to shop for in theory, music obsessives tend to be a particularly discerning bunch — and one can only own so many pairs of headphones and Beatles vinyls. To help you find some things that the music fan in your life might actually want (and don't already have), we spoke to eight musicians, music journalists, and audio enthusiasts for the custom records, coffee-table books, and ice cream (yes, really) they think would make an excellent gift.
If they're a musician …
Musician Gus Dapperton and singer Giveon — as well as Giveon's sound engineer — recommend this microphone as an inexpensive, yet high-quality option for recording your own vocals, especially for someone just starting to record on their own. "This is just a super-versatile mic that can be used for practically anything," Dapperton says.
Or you could splurge for the exact microphone that rapper G-Eazy used to record his last album. It's expensive, to be sure, but G-Eazy says it's "the industry standard" and something he couldn't live without. If it's good enough for G-Eazy, it's sure to suit your musician well.
"I would die for a Christmas tree of cables! Yuletide cables," says Sasha Spielberg, who makes music under the moniker Buzzy Lee. "It's so simple and so obvious, yet why am I always buying cables? And why doesn't any product ever come with cables?" According to sound engineers, the cables are more important than most people think because a bad cable can distort the sound. You'll have to do some digging on what kind of cable your musician might need (or take a guess and make sure you can exchange), but Mogami came recommended to us by one sound engineer because they're gold-wrapped, meaning "they insulate the cable and repel noise."
"In my opinion, music is meant to be heard at a high volume," says musician Joesef. "Obviously don't get evicted or piss off the neighbors or anything, but KRKs are perfect for when you just need that extra few decibels to fully get into it," he adds. He mixes and produces music on this studio monitor, and thinks it'd be "a good investment for anyone wanting to make their own stuff, too." These particular monitors are on the low end as far as price goes, but if you're looking to spend more, we've rounded up some others (along with more microphones and other recording-studio equipment) that would make similarly great gifts.
For a small gift or perhaps a stocking stuffer, the Haim sisters say they can't live without this clip-on tuner. "The Snark is so great; you clip it on your guitar and tune anywhere you need to," said Danielle Haim. "It's battery-operated, so you don't have to plug it in anywhere," Alana Haim adds. And if your giftee happens to be a Haim fan, you can note that the recommendation came straight from the band, making it that much cooler.
If your audiophile is also a budding DJ, musician Annie recommends gifting this controller that she thinks is great for someone who "wants to try out DJ-ing for the first time." She says it's "easy, small, and you can do a mix anywhere you want," which, as Annie puts it, is "so much fun." And compared to some of the other DJ equipment out there, this is particularly reasonably priced.
If they just want to listen to it …
"After consulting with my friend Sasami Ainsworth, who happens to be a classically trained musician, she told me that Audeze's LCD-4 over-ear headphones are 'comically expensive' but the dream for an 'extreme audiophile,'" says writer Sydney Gore (who is herself an audiophile). However, not everyone has a couple thousand to spend on new headphones, so "if you're on a budget," Gore suggests looking into this option from Koss "because of its old-school exterior meets high-quality interior design." She does warn that they do bleed sound, but as she puts it, "I consider that as my public service of putting others on to good music."
If they're not into over-the-ear headphones, Dapperton suggests these Shure earbuds. He explains that while there are better (read: more expensive) headphones out there, "These are my favorite." Dapperton adds, "They portray a really true sound and are pretty affordable." These also came recommended to us by chef and self-described audiophile Jonathan Waxman.
If appearance matters just as much as sound does, these are the headphones I — a music enthusiast — use every day. I got them as a birthday present nearly five years ago, and they've held up marvelously. They look nice and fit my ears well. I can wear them all day with glasses on without issue. And though mine aren't Bluetooth (which I'd actually prefer), they don't sell exclusively wired headphones anymore. However, these do come with a cable to connect directly, in case you don't want to deal with Bluetooth all the time and prefer wired use.
And, of course, there are AirPods. They connect quickly, have a convenient charging case, look sleek, and sound great. Musician Jake Luppen, who records under the name Lupin, calls them "red hot" and recommends giving them as a gift for any music lover who is just looking to casually listen to music. "Bump that new Bon Jovi record in all of its noise-canceling glory," he adds.
I had the opportunity to try this seven-in-one record player for free, and I was instantly impressed. This record player is ideal for anyone who collects both CDs and vinyl, but also wants the luxury of Bluetooth all-in-one. It's not cheap, but it replaces the need for having multiple speakers and devices for all mediums — which is especially great if you live in a small apartment, because it'll cut down on excess cords and clutter. The sound quality is unmatched, and you can adjust the bass and treble to your preference. Best of all, it has a remote, so you don't have to get up to turn the volume up or down. Plus, it's looks really beautiful.
For something a bit more portable, Lupin suggests this JBL Bluetooth speaker. He uses it "to proof all my mixes," he says, but notes it's "great for the casual music listener, too." JBL speakers can withstand a lot of wear and tear, according to lots of reviewers who describe it as "tough," "indestructible," and "durable," and it comes in 12 different colors. "It's portable but still loud enough to make the neighbors jealous of your sick-ass barbecue," Lupin adds.
If they just want a turntable, Steve Sladkowski of PUP has used this Audio-Technica model "for years with absolutely no complaints." As he explains, "It's fully automatic, belt-drive, and comes with a built-in preamp. It's a very accessible price with an awesome tonearm and quality cartridge, which is the biggest difference between any of the turntables in this or a lower price range." Because it's only a turntable, not a record player, you'll need to plug it into a speaker — which might make for a nice additional gift if they don't already own one.
If they collect music …