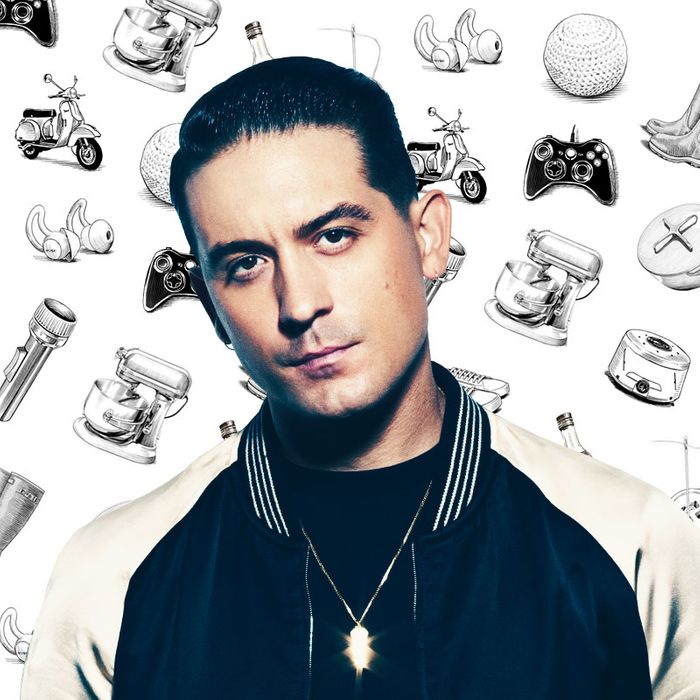 If you're like us, you've probably wondered what famous people add to their carts. Not the JAR brooch and Louis XV chair but the hairspray and the electric toothbrush. We asked rapper G-Eazy — whose fifth studio album, These Things Happen Too, will drop later this year — about the candy, microphone, and hair product he can't live without.
I can't get enough Sour Skittles. They've been my favorite candy since childhood. Every time I went to the movies as a kid, I'd get Sour Skittles. I still love going to the movies, it's one thing I miss in quarantine, and I hope movie theaters don't fold as a whole.
My hair is a big part of my identity as G-Eazy. It's something that set me apart and is recognizable right away. I'd describe it as greaser–meets–Elvis Presley–meets–gentlemen from the '50s and '60s. I use a comb with this pomade to slick it back. I just kind of zhuzh it — I don't have a crazy technique. I've been doing it for so long that my hair is kind of trained to naturally go the way I comb it. I found the Cool Grease pomade at a barber shop in Oakland I used to go to, and it just worked for my hair. I've used it ever since. But I'm actually developing my own pomade called Gerald Essentials. I'm really excited about it — it's going to be really good.
I usually have a toothpick in my mouth. I guess I like chewing them? Mostly it's for the look. It's been my thing for probably a decade — kind of like my hair — so I always like to have toothpicks on me. I like the flavor of these mint ones. If it's going to be in my mouth, it might as well taste good.
This microphone is a classic — it has basically been the industry standard for decades and decades. I got mine at Guitar Center when I was living in New Orleans. I think I had just graduated college. I could barely afford it; at the time, the mic was probably the most expensive thing I had ever bought. But I wanted to make that investment in myself and my career. It was a really proud day for me. Now, I keep it in the studio in my house, where I use it almost every night. It's the only way I'm getting through quarantine. I've made close to 200 songs in the past 12 months. Most of them will never see the light of day, but some are on my upcoming album. It's a sequel to my first album on a major label, These Things Happen, because it's a full-circle story about coming back home.
I've been very blessed to have a career in music that takes me all around the world, but when I put my Oakland A's hat on, it reminds me of home wherever I am. I'm wearing it right now. Where I'm from is a huge part of me, and wearing this is kind of like me carrying a flag everywhere I go. It's also something I wear when I'm just Gerald. When I'm onstage being G-Eazy, I'll do my hair and have the whole look because that's a big part of my image. But when I'm just Gerald, I'll throw the hat on — it separates my two identities.
Coffee is a big part of my daily ritual. I can't even have a conversation before I have a cup of coffee. And I definitely can't make a decision. Peet's originally started in the Bay Area; I grew up with it, because my mom and grandma drank it. They have stores all over, so if I pass a Peet's I'll go, but I like to make it at home. I make it in a French press in the morning, with a kettle from this brand Cello, and then throughout the day I'll do pour-over. I have a pretty eclectic collection of mugs: Some are really old, like from my grandparents, and I have a habit of stealing a mug from every late-night TV show I get to perform on, like Fallon and Jimmy Kimmel. But my Batman mug is my favorite.
Photo: retailer
I always enjoyed reading as a kid, but I think school made me start to hate it at some point. In the past few years, though, I've gotten back into reading. I picked up Flea's memoir right before quarantine. There's something relatable about a memoir by someone who chases their dreams, which then become reality. I really connect to that. I have a chair in my living room that I sit and read in almost every night — it's become a very peaceful part of my days. I kind of feel like a grandpa when I do that, but it's really comfy.
Photo: retailer
I feel most comfortable in black. The days I try to switch it up and wear color, I almost always end up changing. I wore green pants the other day just because, and I changed halfway through the day. There's just something about the neutral tone of plain-old black that makes me feel like myself. The tees from Billy ones are my favorite. The designer is a good friend of mine and she's really talented. They're stylish and the fit is really good — not super-fitted, but not too baggy. They're cotton but they're high-quality, and I feel really good wearing them.
Around the second grade, I started to really notice and appreciate sneakers. It was initially all about their looks, but then I became deeply interested in the culture around them. I became a big collector. I have about 250 pairs of sneakers right now, but my collection started not that long ago. After graduating from college, I sold all of my belongings and lived out of a suitcase for a year and a half or so while making my first album. It was something I had to do to make my career happen. But after that, I signed my first record deal and came into money for the first time. I was able to start rebuilding my collection. Lately, I've been wearing my Puma x Rhude Ralph Sampson sneakers on a daily basis. It's a timeless sneaker with a classic silhouette that goes with most of my outfits.
The Strategist is designed to surface the most useful, expert recommendations for things to buy across the vast e-commerce landscape. Some of our latest conquests include the best acne treatments, rolling luggage, pillows for side sleepers, natural anxiety remedies, and bath towels. We update links when possible, but note that deals can expire and all prices are subject to change.