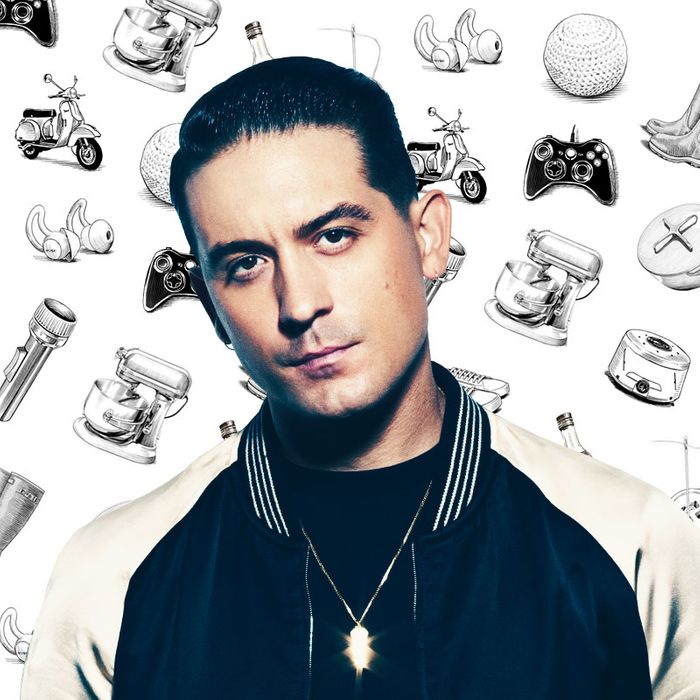 If you're like us, you've probably wondered what famous people add to their carts. Not the JAR brooch and Louis XV chair but the hairspray and the electric toothbrush. We asked rapper G-Eazy — whose fifth studio album, These Things Happen Too, will drop later this year — about the candy, microphone, and hair product he can't live without.
I can't get enough Sour Skittles. They've been my favorite candy since childhood. Every time I went to the movies as a kid, I'd get Sour Skittles. I still love going to the movies, it's one thing I miss in quarantine, and I hope movie theaters don't fold as a whole.
My hair is a big part of my identity as G-Eazy. It's something that set me apart and is recognizable right away. I'd describe it as greaser–meets–Elvis Presley–meets–gentlemen from the '50s and '60s. I use a comb with this pomade to slick it back. I just kind of zhuzh it — I don't have a crazy technique. I've been doing it for so long that my hair is kind of trained to naturally go the way I comb it. I found the Cool Grease pomade at a barber shop in Oakland I used to go to, and it just worked for my hair. I've used it ever since. But I'm actually developing my own pomade called Gerald Essentials. I'm really excited about it — it's going to be really good.
I usually have a toothpick in my mouth. I guess I like chewing them? Mostly it's for the look. It's been my thing for probably a decade — kind of like my hair — so I always like to have toothpicks on me. I like the flavor of these mint ones. If it's going to be in my mouth, it might as well taste good.