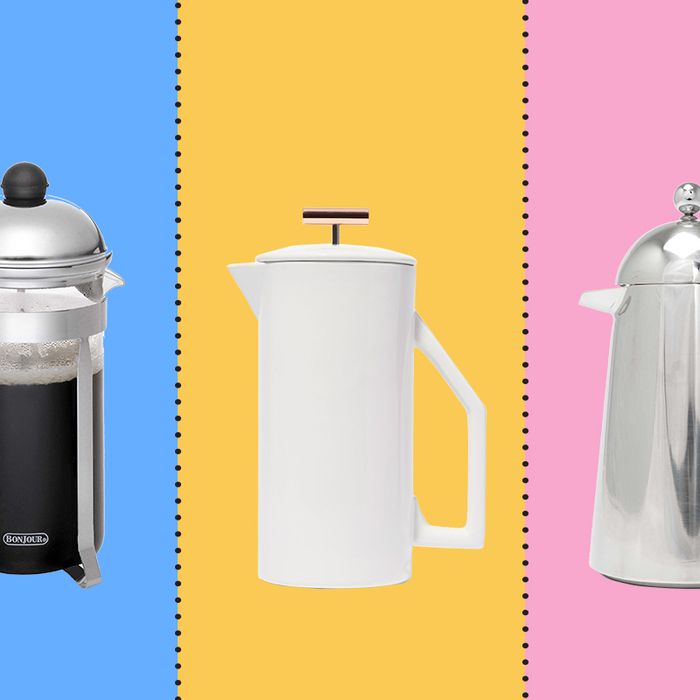 Here's a little secret about French-press coffee makers: They all basically work the same. You add the coffee grounds, you pour in hot water from your kettle, you stir, you cover and wait about four minutes, you plunge, and then you pour into a mug and enjoy. And unlike drip coffee makers, which will only make coffee as good as the machine, the quality of coffee you get from a French press relies pretty heavily on your skill and process, as well as the quality of beans that you're using. That's why it can be hard to tell if coffee was made in a French press that costs $10 or $100, just by sipping it.
However, this is a case where material matters, and French presses made of certain materials are better for different types of coffee drinkers, even if all of these coffee machines function in basically the same way. So to help you figure out which French press is best for you and your caffeine habit, we took a deep dive into the most common types of French presses available and broke down the pros and cons of each material, along with some archetypal examples that you can buy.
Glass French-Press Coffee Makers
When you picture a French press, you're probably picturing something with metal scaffolding and a glass carafe. That's the standard style of French press, and as such, is often the least expensive and most readily available. This is why a glass French press is a solid choice for beginners, or anyone who doesn't want to spend too much money on a coffee maker.
The most obvious downside is that the glass can break easily, but bigger brands like Bodum also sell replacement carafes for their French presses in case of such an accident. But glass is easy to clean, and some of these carafes are even dishwasher-safe. Plus, the actual French presses come in a variety of colorful, or not-so-colorful, designs, depending on your preference.
However, if you like to drink your coffee over the course of a couple of hours, glass might not be the best choice, even if it's the easiest. This material isn't the best insulator, so coffee made in these is best enjoyed as soon after making as possible, especially if you like your brew hot.
For only $10, this simple, no-frills four-cup French press is a good option for beginners or those who aren't entirely sure they're into this style of coffee.
This classically-styled French press, with silver accents and glass carafe, comes in three sizes. The smallest, a three-cup, is ideal for people who mainly make coffee for one.
A stainless-steel-and-glass French press from the Italian espresso company Bialetti.
This classic style of eight-cup French press has a modern copper finish.
You could try this minimalist, metal French press from Canadian coffee company Grosche.
Or this maximalist metal one, from Bodum.
French presses can be colorful, too — like this bright-orange one.
Grosche also makes a French press with a glass body and wooden detailing, for those with a more organic sensibility.
Plastic French-Press Coffee Makers
The main advantage of having a plastic French press is that it's harder to break than a glass one, yet much cheaper than a stoneware or metal one (but more on those in a bit). It's also a great French press for camping or anywhere you can't bring glass. The flavor of the coffee really shouldn't be affected if you're using BPA-plastic versus glass, just be sure that the plunger itself is made of stainless steel.
The interior pitcher of this OXO French press is glass, but it's double-walled and insulated with clear plastic (which also means the inside glass is harder to shatter, even if it drops).
If you're still worried about accidents, this French press has both plastic casing and an unbreakable plastic carafe.
Stoneware and Ceramic French-Press Coffee Makers
French presses made of stoneware or ceramic are often the most expensive, but they're also, in many ways, the most showstopping, ideal centerpieces for weekend brunches when you're trying to impress friends or family. That doesn't mean the material's not practical. Much like a cast-iron skillet or a Dutch oven, these stone and ceramic French presses retain heat very well, making them ideal for leisurely mornings, when you're not in the mood to slurp up an entire French press's worth of coffee in one go. Stoneware and ceramic, however, must be cleaned by hand.
A single-serving stoneware French press that's the perfect morning companion for someone who takes their time.
This white ceramic French press has a copper plunger and is big enough to hold over 28 ounces of coffee and keep it warm until the last drop.
Metal French-Press Coffee Makers
Metal French-press coffee makers are, in many ways, the most versatile. Like ceramic or stoneware coffee makers, metal French presses are also ideal for entertaining, handsome enough to put out as part of a fancy brunch spread. Though metal isn't known for retaining heat, these are often well-insulated with double walls, meaning your fresh coffee will stay hot for a while. A lot of metal French presses are also dishwasher-safe, and the chances of breaking one are slim to none. The trade-off is that metal French presses are often quite expensive, so you'll be paying if you want this kind of versatility.
Everything on this French press is made from matching stainless steel, including the outer handle and the plunger you use to make the coffee.
This more oblong-shaped stainless-steel French press almost looks like a space-age teapot.
This French-press coffee maker from KitchenAid is a little more high-tech than a traditional French press, since it has a built-in scale and timer to help you keep track of your brew. But from the outside, it looks like just another metal coffee maker.
Travel French-Press Coffee Makers
A more nontraditional category of French presses is the travel French press. The idea is that you can brew your coffee and drink it with the same vessel. This is great if you're just making coffee for yourself, or you want to be able to make coffee at work, or you're often on the road. But if you're looking for something more versatile that can make more than one serving of coffee at a time or will look handsome on your counter, go with any of the other options.
This travel mug has a plunger built-in, so you can make coffee (or tea, using loose tea leaves) on the go or at your desk without creating a huge mess.
This French press is designed for travel, and it collapses down into a small, plastic disc. To use, simply pull apart, then add grounds and water.
The Strategist is designed to surface the most useful, expert recommendations for things to buy across the vast e-commerce landscape. Some of our latest conquests include the best dining room decor items, coffee makers, knife sets, Japanese coffee brewer, charcoal water filter, and drinking glasses for water and more. We update links when possible, but note that deals can expire and all prices are subject to change.
Every editorial product is independently selected. If you buy something through our links, New York may earn an affiliate commission.