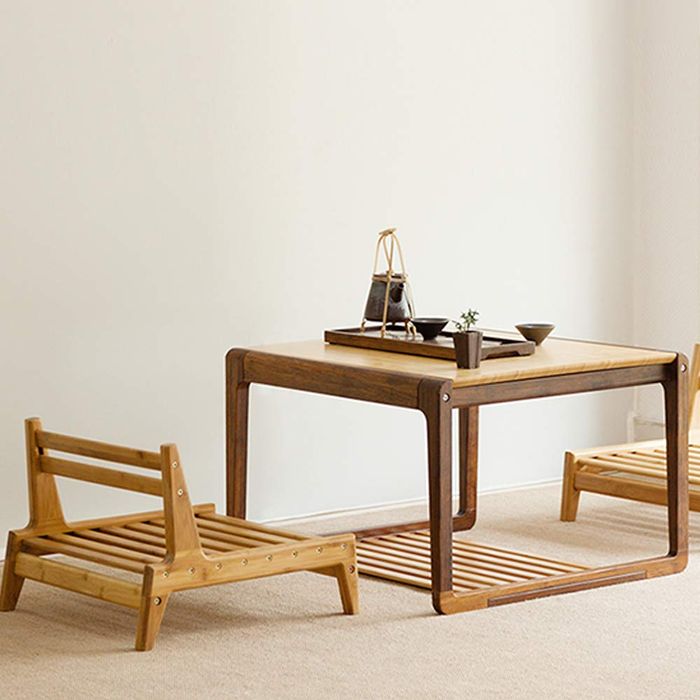 Photo: Courtesy of the retailer.
Whether you like to spend hours lazing on the sofa binge-watching Russian Doll, cozying up for the occasional crossword puzzle, or just need someplace to display your very sophisticated taste in Assouline titles and fashion candles, the coffee table is the — very crucial — centerpiece of any living room. Often, they can be expensive or ugly or impractical (or all three), so we found some of the best affordable — under-$200 — options that are also functional and stylish. Below, 18 of the best expensive-looking coffee tables for every kind of taste.
Minimal coffee tables
This glass table has a similar appeal to recently on-trend lucite ones: it's a nice blank canvas for propping up some colorful coffee-table books on.
A short, legless version for huddling around when you're playing Scrabble or eating Japanese-style. It would go nicely with some low-lying woven floor pillows, too, which we've conveniently sourced for you below.
A nice little mixed-media number without the sky-high cost — the surface is faux marble.
A muted, Japanese-style bamboo table that lies low to the ground. We like the chairs it comes with, too.
A two-tier mid-century modern table with angled legs and a darker cherry wood.
Another high-gloss option with some angular chrome legs — put it in contrast with a colorful fruit bowl or some bright glass accents.
This mid-century-inspired triangular table is on the taller end of the spectrum (nearly three feet).
Metal coffee tables
If you really want to make your table the focal point of the room, might we suggest powder-pink metal?
For something completely different, try this no-assembly-required wire coffee table, which makes everything you put on it (from Rizzoli books to a bouquet of ranunculus) pop.
It's almost a cheerful piece of Pop Art — set down a tray, display some accents, and host a Game of Thrones party.
Best coffee tables with built-in storage
We like the pew-style book rack underneath for organizing magazines and things.
The problem with most coffee tables that provide storage is that there's no room to stretch your legs underneath. This solves that.
Here's another tiered option to display a small library of books or keep your remotes squirreled away — the color blocking is a nice detour from your typical, Scandinavian-style beechwood, too.
Made in Denmark, this sustainable-wood table is appropriately hygge. It's available in black-and-white, too, if you're going for a more stark look.
Nesting tables
Some Memphis-y stackers to offset a succulent or two.