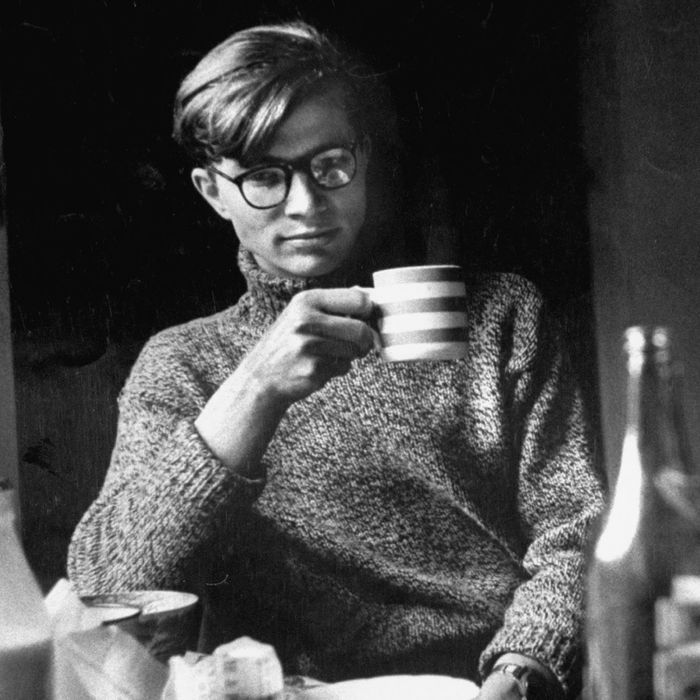 British writer Colin Wilson, taking a caffeine break.
Photo: Mark Kauffman/The LIFE Picture Collection/Getty Images
There's no shortage of coffee-obsessed writers. Tom Wolfe, for instance, would drink "awesome quantities" of coffee at midnight before launching into long stretches of late-night writing, while L. Frank Baum, author of The Wizard of Oz and dozens of other fantasy books, would drink four or five coffees with breakfast (all of this according to Mason Currey's Daily Rituals). So when we started looking for the best coffee beans, we figured writers and authors would be some of the most qualified people to make recommendations — and we were not disappointed by their picks. Here, nine writers and authors on their must-have, all-time-favorite coffee beans, ranging from readily-available, grocery store beans to seasonal roasts that are hoarded for later.
"My favorite brand is Café Bustelo. I'm 100 percent Colombian, so of course I'm a coffee drinker. When I was younger, I had it the Colombian way my mom made it: hot milk poured into Nescafé instant, with lots of sugar. Now, I make espresso, add a little milk, a touch of sugar, and I'm good to go." — R.J. Palacio, author of Wonder
"I have tried everything: small-batch, breeze-cooled brews from Bolinas; I brought home beans from Beirut. But after years of searching, I realized it's been in front of me all along: Lavazza Dark Roast. You can get it at Eataly. It's bold, and it scoops me out of my caffeine deficit and places me in the chair like the Jolly Bean Giant. I brew it in a Cuisinart machine that turned up at my house one day and hasn't broken yet. Does the trick." — John Freeman, writer, literary critic and editor of Freeman's
"As a writer of dark fantasy novels, I naturally drink the Green Mountain Coffee roasters' Dark Magic coffee, an espresso-like brew that comes from my home state of Vermont and has a flavor reminiscent of dark chocolate. Its tasting notes are described as, 'Spellbinding complexity. Deep, dark, and intense' — qualities I love in both my cup of coffee and in my books." — Laurie Forest, author of The Black Witch Chronicles
Editor's Note: Forest uses a Keurig to make her coffee, but if you don't have a single-serve coffee machine, or just prefer another brewing method, this roast of Green Mountain Coffee also comes as a bag of beans.
"Coffee is one of my favorite topics. Actually, coffee is one of my favorite things. For a while I was addicted to Handsome Coffee's Dandy Espresso, but then they got acquired by Blue Bottle, who got acquired by Nestlé. So I went on a tasting expedition. I've tried beans from most of the independent west coast coffee roasters, and while many of them are tasty, there is one that is my absolute favorite. It's the Myanmar Lay Ywar single-origin beans from Portola Coffee Lab. (In a pinch, I use their Nkonge Lot 41 beans from Burundi or their Terra Incognita Espresso roast.) It's a fairly light roast with a nice berry, lemongrass note on top of a dark cacao funk. It's got layers of flavor and it is delicious. I've never tasted a coffee like it." — Mark Haskell Smith, author and novelist, most recently of Blown