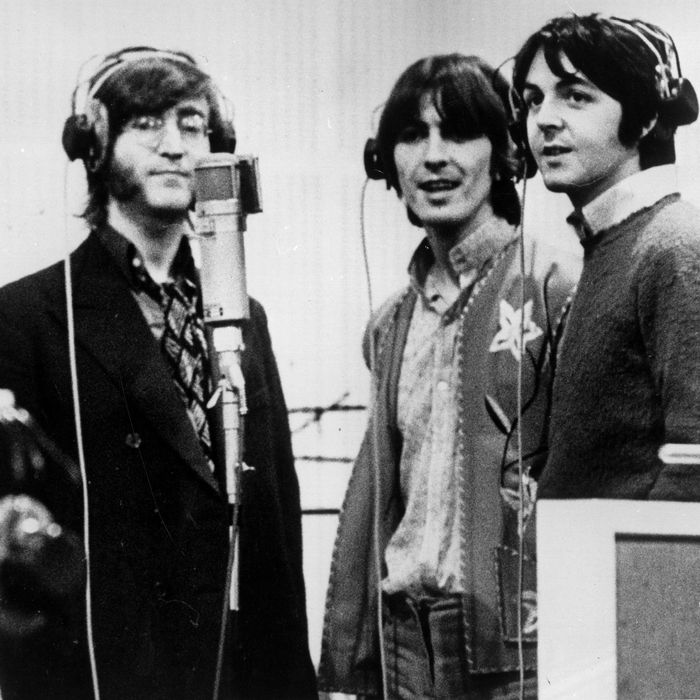 Photo: Keystone Features/Getty/Getty Images
While we're all stuck at home for the foreseeable future, now seems like a pretty good time to start that hobby you've always wanted to do. Perhaps you finally have the time to start a podcast with your roommates, or maybe you want to turn your showertime tunes into something a bit more professional. But until you can get into a studio (if that's even what you want), there are a few things you can buy to help you put your project out yourself, and according to the seven musicians we spoke to, recording at home actually has some major perks.
Rapper Isaiah Faber, who produces under the name Powfu, recorded his entire upcoming EP, poems of the past, in his bedroom, because as he puts it, "I feel safe and comfortable alone — I wouldn't know what to do if a bunch of people were staring at me." R&B singer Giveon, who also recorded parts of his latest album, Take Time, in his home studio, chooses to record at home because it allows you to customize the space and equipment. With his producer and sound engineer Rodrigo Barahona, they handpicked everything from the best microphone to capture his soulful baritone voice to the cables that produce the highest-quality sound. Plus, as a "vibe-oriented person," Giveon can light candles (he recommends Byredo) and create the proper mood to spark inspiration and creativity. "The vibes are almost just as important as the equipment," he says. And rapper Kodie Shane, whose latest mixtape, Quarantine, was produced at home in quarantine with her producer, Matty P, points out another major benefit: Because the studio is right there in her apartment, she can roll out of bed and produce anytime she wants. "Producing in my pajamas is a blessing," she says.
One thing that all seven artists and both engineers we spoke to agree on is that music is about the content, not the equipment, so buy what you can afford. You can get by for a bit using just your iPhone and GarageBand (and a podcaster could probably spend under $200), but a serious musician could easily spend $1,000 or more. While that may seem like a lot of money, some artists mention that studio time can actually cost $100 per hour, so in the long run, you might be saving money with your own equipment. Below are their picks for everything you need to start recording, whether you're new to the music scene or a podcast star in the making.
A decent microphone is key. You could buy the $3,600 studio microphone that's used by musicians like rapper G-Eazy and to record full orchestras, but musician and composer Dan Deacon says you can also just use your iPhone. (Kanye West says he recorded 20 percent of Jesus Is King on voice memos.) At a certain point, however, you will need to upgrade. Below are three choices for multiple budgets.
Barahona and Giveon recommend this as a budget option for artists. It's a dynamic microphone, which means it "strictly picks up your voice and doesn't pick up any room noise, so it's perfect when you're at home and maybe can't predict the background noise," Barahona says. But it doesn't come with a pop filter — a noise buffer to reduce popping sounds, which is a common issue in recordings because of extra air breathing into the mic — so you might have to buy one (see our choice below).
Hip-hop producer and rapper BEAM, whose debut album, 95, was recorded in his home studio, started off his career with this microphone because it's inexpensive but creates a decent sound, which he describes as "crazy warm and crispy." David Longstreth, songwriter and band leader of the Dirty Projectors, explains that with a condenser microphone like this one, "you might get more detail in a voice or in the high end of a guitar." That increased sensitivity actually makes condensers a bit "harder to work with." It also means you have to pay more attention to the room you're in, Longstreth says, since a condenser will pick up any ambient sound." But if you want a crisp, clear sound — perhaps when recording a podcast — and you can find a quiet-enough room or soundproof your space (see below), this could be a good choice for you.
If you're willing to make the investment, this is the microphone that six out of seven of our musicians recommend. Longstreth notes that it actually has a built-in pop filter, meaning you have one less thing to buy. Deacon and Longstreth add that, compared to other microphones, this one also works well for recording instruments, too, because it can record the full-range of notes coming from a guitar and the nuances of a drum. And it's sturdy: "You can drop it, hold it, transport it, and not even worry about breaking it," says synth-pop musician Aaron Maine, who records under the name Porches.
For podcasts and rap, you probably need a pop filter if your microphone doesn't have one built in because it helps buffer the harder sounds that come from consonants like "p" and "t." It will also subdue the excess noise, which is useful if you're recording at home and were unable to properly soundproof your room.
Deacon says you can make your own pop filter with a hanger and any kind of sheer material you have laying around (Fat Mascara podcast host Jennifer Goldstein made one with "mesh anklets, a mason jar, and utility light clamps"). Or you can buy this inexpensive option.
Although our experts have different preferences for headphones, they all agree that those headphones need to be wired. "Wireless adds an extra challenge," says Shane. "The connection can take a while, and it could disconnect right on the spot when you're in the middle of a session or when you come up with an idea." While you can get by with headphones you already own, popular options like Beats by Dre don't contain the sound inside the headphone. "It bleeds into the microphone because they're so loud," Matty says.
Faber calls these headphones "really good for mixing," because they don't blow out any features in the sound, like the bass or high notes. The sound is "perfect," he says. With open-back headphones like these, Deacon says, "you don't get those resonant frequencies, which boost highs and lows or add sizzle. They're just presenting you the exact sound you have."
Shane recommends these headphones because they have "a nice cushion on them, so they don't bother your ears." From a production standpoint, Barahona says, "they're really flat, frequency-based headphones, so they're pretty transparent when you're recording." What you hear is exactly what you get.
BEAM has worn these headphones for hours straight without experiencing any discomfort. Although they're not completely soundproof, the sound is crisp and clear, without any blown-out features, he says.
Maine calls the sound from these Audio-Technica headphones "really punchy" and "extra crispy," while still being true to the actual sound of the recording.
These are actually speakers, but not just any speakers. As Deacon explains, recordings can sound different depending on what you're listening on. A lot of speakers don't accurately reflect the sound, so studio monitors play back a very flat, unenhanced sound. "If you mix on something that colors the sound and has a thick bass or something like that, then your mix might not actually have thick bass — it's just your speakers," he says.
Half of the musicians we consulted recommend these. Maine calls them "big and loud," which allows you to experience the track differently than when you're listening through your headphones. "You can hear some of the bass frequencies better than in headphones," he adds. And they're reasonably priced.
These speakers are a bit more expensive than the Yamahas (because they're much bigger), but Shane says they're worth the investment. They are accurate and get louder than any speaker she's had before. "I'm really scared my neighbors are going to hate me," she says.
This is what converts the physical sound from your microphone into digital sound on your computer. While some microphones have USB outlets that can plug directly into your computer — like the Audio-Technica microphone we mentioned — avoiding this step, most of our experts didn't recommend them. "An interface gives you more options for recording and better quality sound from the get-go," says Maine.
Faber suggests this model for beginners. It's as basic as it gets, he says, but it still made an impact on his recording. Although it comes with only one input and output, it does have a preamp — a feature BEAM calls necessary because it amplifies the sound waves and improves recording quality.
Although it's a lot more expensive, Universal Audio's Apollo interface was the most recommended among our experts. This Twin model has four microphone outputs and inputs and a built-in preamp. And it converts the sound extremely quickly, Barahona says: "There's zero delay, so Giveon can hear himself talking into the microphone instantly through his headphones." It's also small enough that Matty and Shane pack it up and bring it along on tour.
In order to properly mix and export your music, you'll need specific music-mixing software. Garageband is free and a great place to start, our experts say. According to Longstreth, if you don't actually have a guitar or drums or whatever you want yet, you can fake it with GarageBand. But it's limited in the types of beats and songs you can produce, Barahona says. Eventually you "will want to upgrade and invest in yourself."
More than one of our experts describe Logic as the "older brother" to GarageBand. Faber and Maine use Logic exclusively. And if you're teaching yourself how to use it, Faber says, there are plenty of tutorials on YouTube, so it's easy to get the hang of.
"In my opinion, this is the best program in the world," says BEAM. He's tried Logic and Ableton, another popular software, but thinks the grid layout system in ProTools makes the program intuitive and easy to understand. Especially when you're first learning it. Barahona calls it "great for audio editing," because of all of the available plugins to play around with when creating a song. And if you collaborate with other artists, Deacon points out that ProTools is pretty universally used and understood. It also also allows you to easily send sessions within the program immediately after it's done, which BEAM says is a major perk.
You have all this great equipment. Now you need something to connect it.
Both sound engineers we spoke with suggest investing in good cables. "Why would you buy all the good quality equipment and then have crappy cables?" Barahona says. "It doesn't make sense." When there's a bad connection, you can get an additional noise and static on top of the recording, and you might not be able to remove it. He recommends you look for gold-wrapped cables, like these from Mogami, because they insulate the cable and repel noise. For an entry-level setup, he recommends buying XLR and TRS cables, which are used for the microphone. And if you're recording something like a guitar, you'll need to invest in a specific cable for that, too.
Music files mixed in the software mentioned above are extremely large and your computer won't be able to hold them, so you'll need a hard drive. And always remember to back up your work in more than one spot.
Along with storing his work in the cloud, Deacon uses two of these Seagate drives. They have ample amounts of storage space, are extra rugged, and connect easily every time.
In case you don't want to collaborate with your neighbor's barking dog.
Only three of the musicians we spoke with think soundproofing is necessary. And those three don't agree on how much is necessary. The strongest supporter, Deacon says recording is "all about the room and figuring out how to make your room sound good." Unless your home naturally has good acoustics, he recommends adding absorption panels and acoustic panels to the walls. BEAM orders his from Acoustimac, but Deacon says you can easily build your own — "just look it up on YouTube." And Longstreth suggests a simpler solution: adding a thick carpet and hanging up blankets on the walls.
The Strategist is designed to surface the most useful, expert recommendations for things to buy across the vast e-commerce landscape. Some of our latest conquests include the best acne treatments, rolling luggage, pillows for side sleepers, natural anxiety remedies, and bath towels. We update links when possible, but note that deals can expire and all prices are subject to change.