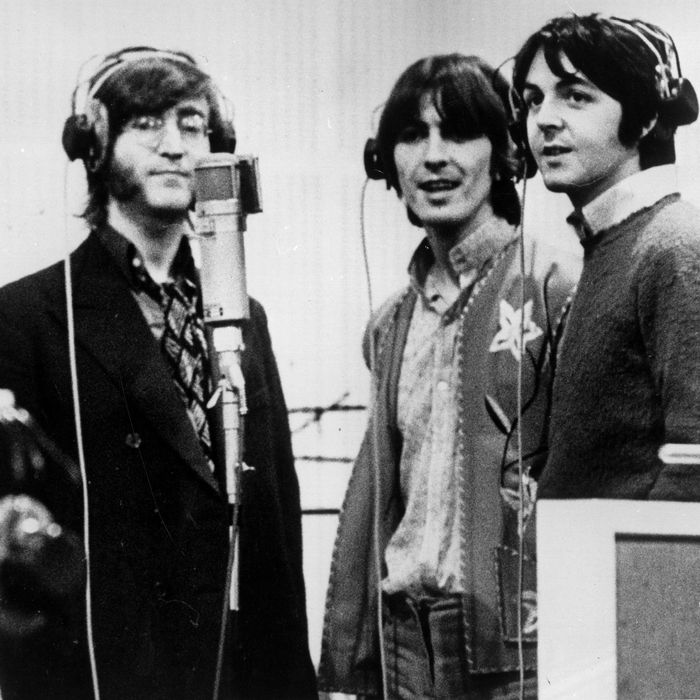 Photo: Keystone Features/Getty/Getty Images
While we're all stuck at home for the foreseeable future, now seems like a pretty good time to start that hobby you've always wanted to do. Perhaps you finally have the time to start a podcast with your roommates, or maybe you want to turn your showertime tunes into something a bit more professional. But until you can get into a studio (if that's even what you want), there are a few things you can buy to help you put your project out yourself, and according to the seven musicians we spoke to, recording at home actually has some major perks.
Rapper Isaiah Faber, who produces under the name Powfu, recorded his entire upcoming EP, poems of the past, in his bedroom, because as he puts it, "I feel safe and comfortable alone — I wouldn't know what to do if a bunch of people were staring at me." R&B singer Giveon, who also recorded parts of his latest album, Take Time, in his home studio, chooses to record at home because it allows you to customize the space and equipment. With his producer and sound engineer Rodrigo Barahona, they handpicked everything from the best microphone to capture his soulful baritone voice to the cables that produce the highest-quality sound. Plus, as a "vibe-oriented person," Giveon can light candles (he recommends Byredo) and create the proper mood to spark inspiration and creativity. "The vibes are almost just as important as the equipment," he says. And rapper Kodie Shane, whose latest mixtape, Quarantine, was produced at home in quarantine with her producer, Matty P, points out another major benefit: Because the studio is right there in her apartment, she can roll out of bed and produce anytime she wants. "Producing in my pajamas is a blessing," she says.
One thing that all seven artists and both engineers we spoke to agree on is that music is about the content, not the equipment, so buy what you can afford. You can get by for a bit using just your iPhone and GarageBand (and a podcaster could probably spend under $200), but a serious musician could easily spend $1,000 or more. While that may seem like a lot of money, some artists mention that studio time can actually cost $100 per hour, so in the long run, you might be saving money with your own equipment. Below are their picks for everything you need to start recording, whether you're new to the music scene or a podcast star in the making.
A decent microphone is key. You could buy the $3,600 studio microphone that's used by musicians like rapper G-Eazy and to record full orchestras, but musician and composer Dan Deacon says you can also just use your iPhone. (Kanye West says he recorded 20 percent of Jesus Is King on voice memos.) At a certain point, however, you will need to upgrade. Below are three choices for multiple budgets.
Barahona and Giveon recommend this as a budget option for artists. It's a dynamic microphone, which means it "strictly picks up your voice and doesn't pick up any room noise, so it's perfect when you're at home and maybe can't predict the background noise," Barahona says. But it doesn't come with a pop filter — a noise buffer to reduce popping sounds, which is a common issue in recordings because of extra air breathing into the mic — so you might have to buy one (see our choice below).
Hip-hop producer and rapper BEAM, whose debut album, 95, was recorded in his home studio, started off his career with this microphone because it's inexpensive but creates a decent sound, which he describes as "crazy warm and crispy." David Longstreth, songwriter and band leader of the Dirty Projectors, explains that with a condenser microphone like this one, "you might get more detail in a voice or in the high end of a guitar." That increased sensitivity actually makes condensers a bit "harder to work with." It also means you have to pay more attention to the room you're in, Longstreth says, since a condenser will pick up any ambient sound." But if you want a crisp, clear sound — perhaps when recording a podcast — and you can find a quiet-enough room or soundproof your space (see below), this could be a good choice for you.
If you're willing to make the investment, this is the microphone that six out of seven of our musicians recommend. Longstreth notes that it actually has a built-in pop filter, meaning you have one less thing to buy. Deacon and Longstreth add that, compared to other microphones, this one also works well for recording instruments, too, becaus