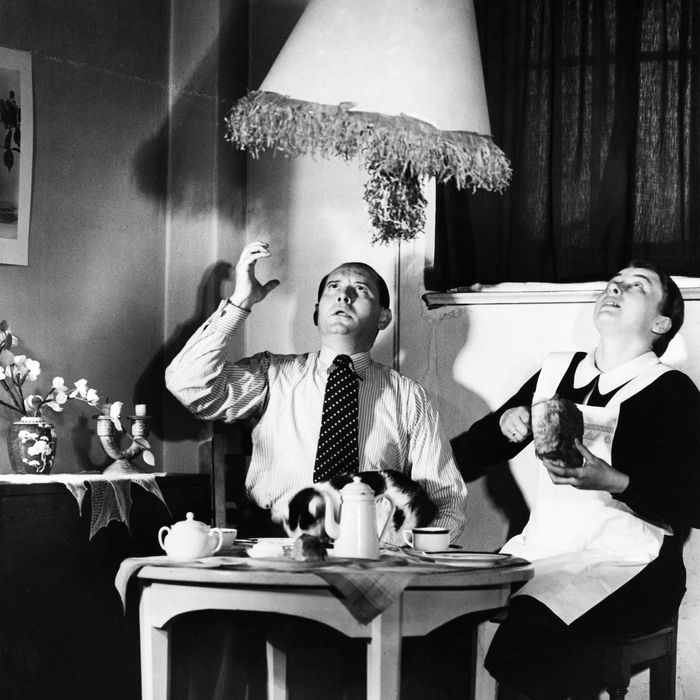 Not just for you, but for your downstairs neighbor.
Photo: ullstein bild Dtl./ullstein bild via Getty Images
In New York City, it's all too common to be living in close quarters surrounded by noise: If you live on a busy street, you've probably experienced noise pollution from honking cars and chatting people below. Or, your walls may be so thin, you can practically hear your roommate breathe, not to mention upstairs neighbors stomping back and forth. You may have thrown your hands up and accepted the noise as your city-living fate (or just bought some earplugs), but in fact, soundproofing — in some form or another — is always possible, even if you live off Times Square.
Mason Wyatt, owner of New York's City Soundproofing, says that forms of soundproofing can limit the transfer of noise from one space to another or absorb sound within a room (so, you might install more bulky, overstuffed couches to prevent echo in a large loft apartment). The quick and easy way to think about it, he says, is "where air goes, noise goes." If you really want the best quality solutions, find a professional for home solutions and premium materials that aren't widely available — but if you're on a budget and are just looking for some easy fixes, here are some of Wyatt's recommendations for simple changes that will quiet down your space.
"One of the most frequent requests we get is from when noise is coming from a hallway or through a door. Most of the noise coming through a doorway is from the perimeter and the duct, the space between the door and the jamb," Wyatt says. The two options he recommends for home owners are gasketing along the door frame (these are materials that can be used to create an airtight seal) and seals along the bottom of the door and the perimeter.
"Soft seals on the jamb where the door closes and a steady sweep at the bottom of the door, that comes in contact with the threshold or the floor, will help reduce the air that's passing through, and thereby the noise, if properly installed." For a similar door-sealing solution, this silicon soundproofing kit (complete with weather stripping and a door sweep) has great reviews. Door stoppers can also be an easy way to reduce light, cold drafts, and sound from seeping underneath the door.
Another common reason people hear noise from the street is airflow from cracks in windows. "A lot of times, the windows are slightly open and people don't even realize. So checking for drafts and listening at the perimeters of windows and doors for noise coming through can be very helpful in leading you to a place that can be sealed. If you're going to seal up cracks on windows, or if they're not operating, you can just buy sealant or a caulk," says Wyatt.
If you want even more coverage, you can even go for heavy, blackout curtains. Wyatt recommends thick, heavy velour and velvet to soften the atmosphere of a room and improve your sleep quality. "If you have any trouble sleeping, putting up heavy curtains, using a down comforter, and putting an overstuffed chair and carpeting on the floor are going to make your bedroom a lot quieter than if you have just drywall, hardwood floors, and plaster seal. Those are noise-reflective things," he adds.
The same is true for wall hangings that might help you stem the noise transfer from room to room: Wyatt says any kind of thick velour or velvet curtains, or a woven fabric hanging can help. "You can do that with an entire wall, if you want to cover an entire wall," he says. "The more weight you have, the more absorption you have, and the quieter the room will seem and feel. Even a liner behind the curtains will help. You can do that in an entry doorway as well to help reduce the noise that's coming in." You could even hang up a woven rug as a sound barrier that covers more surface area.
Even if you're sold on buying a cushy leather couch in your living room, Wyatt recommends opting for overstuffed furniture with fabric coverings if you want to diminish noise transfer. "The reason I say fabric is because they're more acoustically transparent, and noise won't reflect as much as maybe a leather chair. Overstuffed is the key: Those things can help to reduce noise in a room, thereby absorbing incoming noise. The less volume in a room, the less that will transfer beyond the room." A cushy fabric-covered sofa like the one below would work, or even a roomy, polyester beanbag chair.
And to lessen the sound of footsteps and the odd dropped object in a room, you can install a thick rug on a wooden floor that will minimize echo. "Carpeting with a felt underling will help to reduce noise in a room and will also help to reduce footfall that will be transferring to your neighbors below. Anything that's open cell that will absorb noise like that: open weave fabric, felt, soft fluffy stuff," says Wyatt. "Wood doesn't absorb any noise. You're going to get reflected echo off of wood floors, whereas carpeting will absorb some of that reflected energy. And the thicker the carpet, and the thicker the underling that can provide absorption, the more the frequencies that can be absorbed by that." This thick, woven jute rug comes highly recommended by interior decorator Fiona Byrne, while this felt density rug (that you can layer underneath) has very good reviews on Amazon.
The Strategist is designed to surface the most useful, expert recommendations for things to buy across the vast e-commerce landscape. Some of our latest conquests include the best women's jeans, rolling luggage, pillows for side sleepers, ultra-flattering pants, and bath towels. We update links when possible, but note that deals can expire and all prices are subject to change.
Every editorial product is independently selected. If you buy something through our links, New York may earn an affiliate commission.