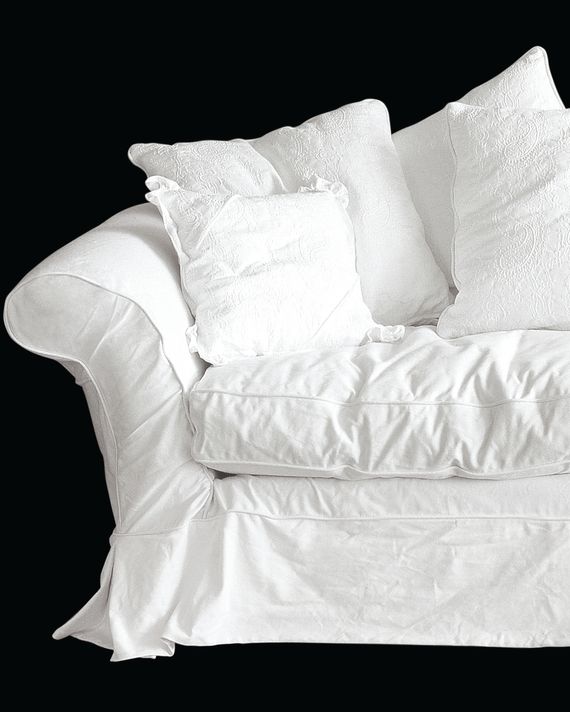 Photo: Courtesy of The World of Shabby Chic/Rizzoli
If you happened to find yourself shopping for a new couch at any point over the past decade and a half, you wouldn't be faulted for thinking there was only one style — the angular mid-century. Now back in style: the enormous white couch. In 1989, Rachel Ashwell released the Shabby Chic sofa — a response, at the time, to the precious ruffled couches of the '80s. By the early aughts, those rumpled, fat, slipcovered sofas were everywhere from Elle Décor to Warren Beatty's living room. The sofa spawned dozens of look-alikes, from Pottery Barn's Slipcovered Sofa to the Ikea Ektorp. Lately, such similar couches can be found in the living rooms of both designers and celebrities. Designer Kai Avent-deLeon's Bed-Stuy brownstone is centered on a full white couch, and the sleeker but still Shabby Chic–informed Restoration Hardware Cloud Sofa sits front and center in Kendall Jenner's Calabasas mansion. According to Ashwell, sales of her signature slipcovered sofa are up significantly, and the style has apparently been selling well at ABC Carpet & Home too (it's called Watermill). Now that people are spending more time on their couches, who wouldn't prefer deep seats, soft machine-washable cotton, and feather stuffing? Says Phyllis Harbinger, adjunct assistant professor of interior design at F.I.T., "These couches are like comfort food for the external body."
The Big White Couch That (Arguably) Started It All
Photo: Retailer
Everyone from Jennifer Lopez to Oprah had one of Rachel Ashwell's extra-large white sofas in the '90s. Now, a new crop of owners have emerged, like Annie Auchincloss, a home buyer for MoMA Design Store. "When my [ex-boyfriend] and I broke up, he asked if he could keep our Shabby Chic couch," she says. "I was like, 'No, I'm taking it.' So he ended up getting his own."
A Start-up Slipcover
Photo: Retailer
For those who prefer a sleeker silhouette, new DTC slipcovered-furniture start-up Sixpenny sells sofas covered in cotton, linen, and velvet, with fabric names like Pacific Pearl and Ancient Indigo.
The One That (Might) Have Been in an Episode of Friends
Photo: Warner Bros. Television Studios
We strongly suspect this is the couch Ross tries to bring up the stairs in Friends' famous "pivot" scene (Pottery Barn is brought up so often on the show you'd think it was an advertorial). This is a very straightforward '90s option.
Kerry Washington's (Slimmer) Version
The preferred sofa of Kerry Washington, Kylie Jenner, and Kendall Jenner,
who said during her Architectural Digest home tour, "I feel like everyone
has a Cloud couch, but they really are the best." The sofa is low with wide arms and slipcovered pillows.
And Maryam Nassir Zadeh's Custom Rendition
Photo: Maryam Nassir Zadeh
Whenever she Instagrams pictures of her couch, designer Maryam Nassir Zadeh receives dozens of questions asking where she found her "perfect" sofa. Her answer: a custom job by Billy Cotton. "It's my favorite shape," she says.