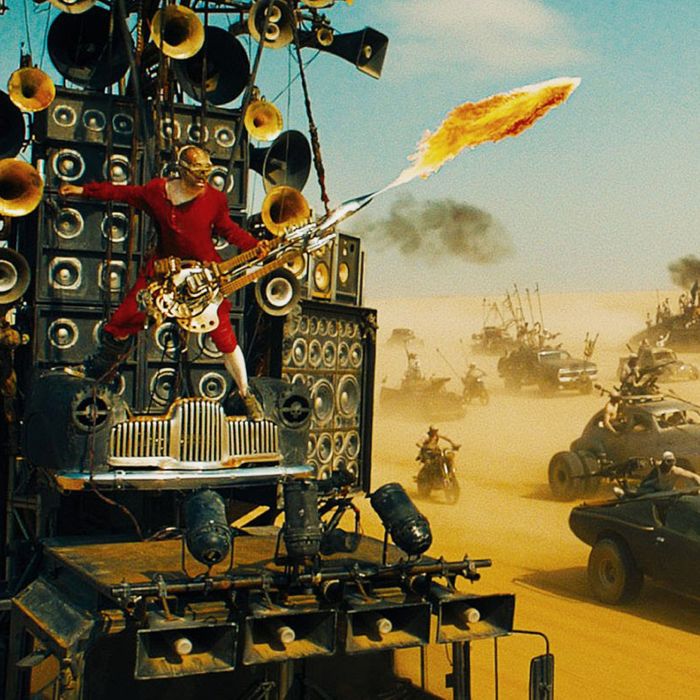 First, a subwoofer. Next, a
Mad Max–
style speaker truck.
Photo: Courtesy Warner Bros.
Here at the Strategist, we like to think of ourselves as crazy (in the good way) about the stuff we buy, but as much as we'd like to, we can't try everything. Which is why we have People's Choice, in which we find the best-reviewed products and single out the most convincing ones. (You can learn more about our rating system and how we pick each item here.)
And while we've written before about all sorts of speakers — including the best computer speakers, the best sound bars, and the best portable speakers — here we've rounded up the best subwoofers as praised by the most enthusiastic reviewers on Amazon.
Best-rated subwoofer
"I honestly do not think you can find a better subwoofer for the money," writes one reviewer of this Polk Audio subwoofer. And close to 3,500 verified purchasers seem to agree, giving this powered subwoofer a five-star review. "First things first, this is a BEAST," says one purchaser. "It is HUGE when it comes to sound. It challenges my three times more expensive Polk for clarity, depth, and sheer power. If you just need a sub for music or home theater and don't want to pay audiophile prices for huge sound, do yourself a favor and get this one." Purchasers praise this subwoofer as a great "all-around" performer: "It sounds fantastic with games, music and movies. I watched the Dark Knight and it is crazy how much more oomph guns, cars and punches have with the better bass, and music sounds just incredible." Hundreds of reviewers also rave about the bass on this subwoofer, and it's not just good for movies. One reviewer explains, "I'm a guy who likes a tight, punchy bass for rock music and am not interested in the sort of home theater bass that's good for creating explosions in superhero videos. I dislike that Bose-style murky bass that most consumers seem to go for - I want a bass where you feel the kick drum in your chest even at modest volumes, and this one does this."
Best-rated (less expensive) subwoofer
Purchasers love this Rockville 8-inch subwoofer for its easy set-up, small profile, and great price. "I bought the 8-inch version and had my doubts, but I can't believe the bass that comes out of this little slim package," writes one. Another reviewer who drives a convertible says, "I have little space to install a subwoofer under the seat, so I needed a low profile subwoofer as slim as possible. This is the lowest profile powered subwoofer you can get and I'm happy they make it." And the sound quality gets high marks, with many reviewers describing it as subtle but quick effective: "Tight bass. Nothing booming but it gives my music just the punch it needed," one customer explains. As one purchaser concludes, "I'm 35 with kids and I don't need my plate rattling. Just wanted a little extra and for the price this was perfect."
And now, some micro-picks for every type of subwoofer you might be looking for.
Best subwoofer with built-in amp
Reviewers say this Klipsch 12-inch subwoofer, with its built-in 400-Watt amplifier, is loud, powerful, and puts out a lot of bass. As one purchaser explains, "Let me tell you, this thing goes loud and deep — it shakes the walls. You know that scene in Game of Thrones where they blow up all the ships? I thought it was going to wake the neighborhood." Another boasts about the sub's high-volume output: "I cannot turn it up more than 1/4 of the way or my house begins to shake violently. My wife hates this speaker with so much passion and it makes me love it that much more." And while it's there are certainly less expensive options out there, many think it still offers great value, with one reviewer saying, "Really a steal compared to others in the 400-Watt power range." There's no shortage of praise for the "room-shaking bass," as one reviewer puts it, but purchasers are also quick to point out that this sub also offers great definition: "It's not just loud, it's loud and accurate," one writes.
Best subwoofer for home-theater system
Reviewers praise the way this subwoofer puts them right in the action of whatever movie they're watching. "Movie soundtracks and special effects can be heard AND felt," writes one purchaser. Another, in describing the physical sensation of the powerful bass says, "You can FEEL the different types of guns being shot in an action movie; a low note on a violin will shake the walls." One purchaser with experience "installing high-end custom audio" suggests, "If you are looking for a woofer to kick up your home theater system, this sub will fit the bill and then some."
Best compact subwoofer
"Don't let the size fool you," warns one reviewer about this compact subwoofer. "This still has plenty of punch depending on how you set it up and configure the volume and settings." Many purchasers appreciate the smaller size of this 8-inch model, especially when compared with "some of the behemoths typical of this class of speaker," as one calls it. One customer tried the 12-inch model out before settling on this one. As they explain, "The little extra bit of lows and volume did not make up for the size of the unit. If you want a classy, powerful sub for music and movies and want to keep it low profile, you can't go wrong with this one." As another purchaser puts it, "If you are looking for large blasts of earth shaking sub bass, this is perhaps not the one to buy. But if you want to round out your music and provide good balanced theater sound without shaking all the nails loose in your house, then this will work great."
Best subwoofer for cars
"I have installed car audio professionally for over 10 years, and out of all the subs and amps I have installed I can honestly say the sound these subs produce is just amazing for the price,"writes one experienced reviewer. Another purchaser appreciates the rugged enclosure, "It's durable and has survived things banging around in my trunk. I look forward to driving because I can't wait to try out songs and feel the incredible bass." Many mention trusting the MTX brand, and they say this simple kit puts out a lot of sound at a great price. As one writes, "Installed these behind my backseat in the Jeep and when tuned properly you can feel the air move in the front seats."
Best subwoofer with soundbar
This Vizio wireless sub also comes with a soundbar, making it a great choice for boosting the sound output of a TV's internal speakers. "This speaker bar and woofer were a major upgrade to my TV's speakers in the small setup I have in my studio," writes one purchaser. Another adds, "At this price, it more than delivers a massive upgrade for a 42-inch bedroom TV." Reviewers praise the simple setup, compact build of the subwoofer and soundbar, and the ease of pairing the system with their phones for when they want to play music. As one purchasers puts it, "I didn't realize what a difference a good sound system can make. The sound quality of this bar is fantastic, and the subwoofer that comes with it is enough to make you feel the bass in your chest without being overwhelming. For the price, it's hard to imagine getting any closer to movie theater-level good."