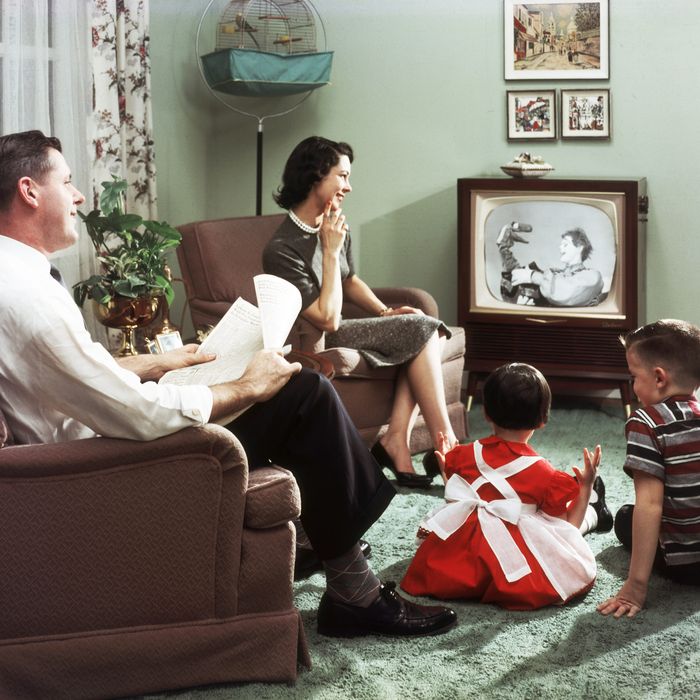 Photo: Lambert/Getty Images
Here at the Strategist, we like to think of ourselves as crazy (in the good way) about the stuff we buy (like notebooks), but as much as we'd like to, we can't try everything. Which is why we have People's Choice, in which we find the best-reviewed (that's four-to-five-star reviews and lots of 'em) products and single out the most convincing. Here, the best cheap TVs on Amazon (both the best TVs under $500 and the best TVs under $1,000) — we've also picked out our favorite portable speakers and printers — according to the people (note that reviews have been edited for length and clarity).
Get the Strategist in your inbox.
4.5 stars, 324 reviews
"Incredibly fast, easy to set up, amazing picture, unbeatable value. This TV is simply amazing for the price. If you would have just set this thing down in my house and let me use it for a week, I would have offered to pay upwards of $800 to $1,000. The fact that you can get a TV this large (55 inches) with 4K and all of these features for under $500 is mind-boggling. Get this TV, you won't regret it."
4.3 stars, 1,455 reviews
"A great TV with a great picture, and best of all, super EASY to set up … even for us tech-lacking baby boomers. One, two, three, and it was up and running without a hitch. We purchased two HDMI cables for use with devices. Our first Samsung and no complaints. We chose a TV that was not a smart TV because our nephew gave us a Roku device as a gift and we wanted to use it. Our cable technician told us later that it was a wise decision, and said that the more complicated the TV, the more problems it can have. We are very happy with this purchase."
4.3 stars, 148 reviews
"Had this TV for a few months, and I love it. Have three devices connected to it, and they all work great. The display is clean and crisp. It really does the job I need it to do. I'm just damn happy with it."
4.2 stars, 198 reviews
"It goes without saying that the picture quality is excellent. This is my first experience with HDR, and it's stunning the difference it makes with a better contrast ratio and color accuracy. Pair that with increasing the resolution to 4K (and having media that is native 4K, of course) and it's gorgeous."
4.3 stars, 438 reviews
"This is an excellent little TV. Bought it as an extra for my little den. It states in the description that is supports up to 720p, but my devices connected through HDMI are actually showing 1080p resolution! The speakers are also super loud for a TV of this size. I find myself using volume anywhere from two to four, and it is plenty loud."
4.4 stars, 2,105 reviews
"I have had mine for over a year now, and it is perfect. Really great picture, good sound (I have sound bars on every other TV in the house, but did not need it here). It sits in my office, and I run it about eight hours a day while I am working on the computer, so I can keep up with news, sports, watch DVDs, etc., while I work. I don't know what more anyone could want for $185. I am really stunned by the picture quality, and when I am alone, I tend to watch it rather than my 55-inch TVs (Samsung and Sony) because the picture is so great."
4.1 stars, 915 reviews
"So far, this has been the largest TV I've bought, the sharpest resolution TV I've bought, the most feature-rich TV I've bought … and now the cheapest-priced TV I've bought. I've had bad luck with my other TVs. My Sony, Samsung, and Vizio models I've owned have all died on me in under three years. So I decided to buy this Hisense model. I am extremely satisfied with every aspect of the TV. The sound quality from the built-in speakers are more than enough for me when I don't have my home-theater speakers on. The user interface for the software is quite simple and straightforward. It's a no-brainer entry-level TV into the world of 4K. For the price, I couldn't resist."
4 stars, 433 reviews
"Look, this TV is super sharp and gets the job done. This TV has 95 percent of what all the expensive TVs have, and that extra 5 percent of bells and whistles (like super-amazing contrast ratio and other crap) will drive the price up another thousand. I have friends that have those more expensive TVs, and I can't even tell the difference. Don't fall for the gimmicks."
This is no longer available, but a similar 60-inch tv from Vizio is available here.
4.3 stars, 144 reviews
"Exceeds expectations for the price … Color accuracy out of the box on Warm/Movie mode is very impressive. So good, in fact, that I will not be paying for calibration on this set. No disconnects from Wi-Fi, smooth video, Roku OS is very good … Pretty much everything I was expecting and more out of my next TV purchase."
4.2 stars, 132 reviews
"Beautiful picture, good sound, even without the sound bar. I like this TV so much, I bought two. I will definitely be purchasing another one for my guest bedroom. I love the android feature and being able to use some of my apps on it. The picture is what I love the most about this television, though. The visuals are crisp and clear, regardless of if I am streaming the content or getting it from my cable provider."
43-Inch 4K Curved-Screen TV
4.4 stars, 165 reviews
"I've had this TV for a week, and it's stunning. I've found myself staring at the screen when streaming 4K content from YouTube. The remote is fantas