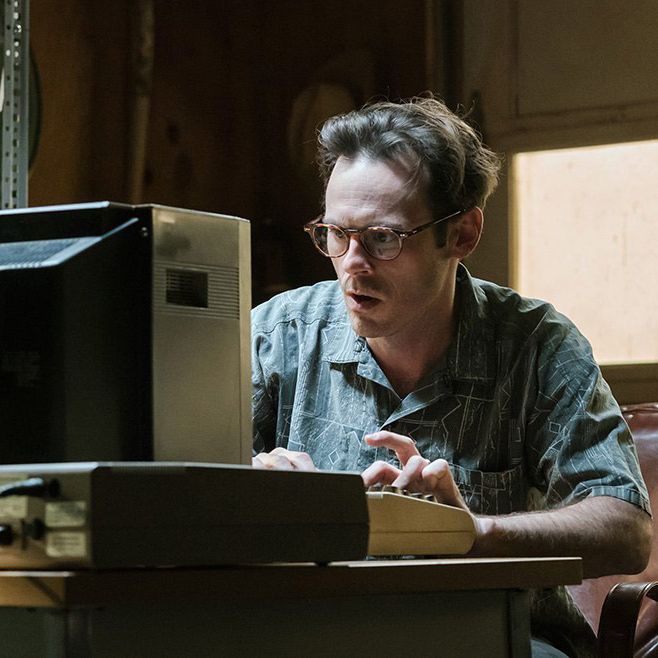 Photo: © AMC Film Holdings LLC.
Here at the Strategist, we like to think of ourselves as crazy (in the good way) about the stuff we buy, but as much as we'd like to, we can't try everything. Which is why we have People's Choice, in which we find the best-reviewed products and single out the most convincing ones. (You can learn more about our rating system and how we pick each item here.)
And while we've written about lots of computer accessories before — including the best computer monitors, the best computer speakers, and the best wireless keyboards — here, we've rounded up the best computer graphics cards, as praised by the most enthusiastic reviewers on Amazon.
Best-rated computer graphics card
Beginner gamers and tech experts alike enjoy the performance of this computer graphics card. One reviewer describes this as "a quiet, capable, entry-level 10 series Nvidia," adding, "After six months of heavy use, I have to say it works very well. The fans rarely kick in (and are not audible over system fans if they do)." Another says this was his "first graphics card ever, and honestly the number of games I can play in such gorgeous quality completely astounds me." He acknowledges that it's not the most high-end card out there, but he does "recommend it to anyone and everyone looking for a lower budget graphics card that can still run games at beautiful graphics." One more reviewer adds, "This card is also sexy, it looks fantastic as well as having a back plate."
Best-rated (less expensive) computer graphics card
Non-gamers rave about the performance of this computer graphics card, saying it works perfectly for setting up multiple monitors and other design programs. One reviewer who has two monitors connected writes, "This card works great! It certainly is not as good as more expensive cards, but for the non-gaming multi-monitor purposes, it works just fine." Another mentions that this graphics card can "support all three monitors with just the single card with no problems," allowing him to easily "run word processing, spreadsheets, email, and low end graphics programs" all at once. Lots of reviewers appreciate how easy it is to install, with one calling installation "so simple even a small child or older adult can do it. The thing practically installs itself. No fan is needed, no extra power connector is needed."
And now for some micro-picks of every type of computer graphics card you might be looking for.
Best quiet computer graphics card
People like this computer graphics card because it's, as dozens put it, "so quiet." One calls it "quiet and powerful," adding, "This little guy will run the games I like to play with no trouble." Another writes that they were "tired of messing with video card fans that start getting noisy," but "This card is performing great and is so quiet." One experienced techie also hates when a graphics card has too much noise, but on this card, he says, "It's totally silent, and screens and documents fly. For gaming, you can play and have fun." Another just wanted a "cost-effective replacement" for an old card that "crashed with memory failure," and this one was much better than what he had. "This card runs cool, around 110 Fahrenheit under load, it uses very little power (powered by the card slot), it is so quiet I can't hear it running over the other fans in the case," he writes. "Performance is spot on, equal to the 560 at the very least but I think it's noticeably better performing for the games it's used for (World of Tanks, TF2, etc.)."
Best computer graphics card without external power cable
The fact that you can install this computer graphics card without a power cord was a huge selling point for gamers. "Easy to install with clear instructions. I love that I didn't have to attach to the power supply directly," explains one reviewer. And one total pro gave a lesson on how this graphics card works compared to others: "The graphics card helps to increase the number of frames per second and the processing speed of a game. Frames per second, also known as FPS, is a measure of how many images, or frames, appear on a display every second. This frame rate is especially important if you want a clear and responsive gaming experience without screen tearing." With all that being said, on this particular card, he notes, "The 1050 Ti is a good graphics card for those who do not play games every day yet want a good experience when they do decide to game. For that task, this graphics card is one of the best. This performance to price point is one of the best at this time making it a bargain for starting computer gamers."
Best computer graphics card for ultra gameplay settings
"I was testing some games and I haven't had one that couldn't play a game at max settings yet at 60 FPS. I even played Arma 3 (yes, Arma 3) at 60 FPS," writes one reviewer. And lots of gamers were shocked at how well this computer graphics card worked at max gameplay settings. Another reviewer does warn that this card "runs a little warm, but no complaints otherwise. It runs Witcher3 on Ultra settings." Another writes that he too has "been able to run every game that I have on ultra setting with playable FPS," adding, " All-in-all, it's a great card for the price. I have not tried Witcher 3, but based on reviews from YouTube, this card would not be able to play at max setting. I currently play CS-GO, Project Cars, and Battlefield Hardline, all maxed out with no problems."
Best computer graphics card for casual gaming
"Great graphics card for casual to medium gaming," says computer expert reviewer, adding, "It is very easy to install, just pop it into your PCI-e x16 slot on your motherboard, as it only requires 30W of power. It can fit into most medium to large sized cases. It is also very quiet, even when it is running games." Another just "needed to upgrade the video card a tad to be able to play a game" and after installing, reports back that his "game experience is much different. Easy install. No lag, good FPS." A third reviewer was "very excited to share" his experience, noting, "I bought mine brand new, for its price you'll be ready to play most of the classic goodies with no problem or worry about FPS drops or messing with graphics settings or tweaks." A "top-tier geek who's on a budget for computing," even was "really impressed with this card," adding, "It does far better than you'd expect and I have all my games on maximum."
Best computer graphics card for multiple monitors
"If you are looking for a cheap low profile graphics card, THIS is the best graphics card to get," writes one reviewer of this 2-gigabyte low profile graphics card. "I didn't need anything over the top, just a nice card for streaming video and dual monitor support," notes another customer, adding, "This card was exactly what I was looking for. Installation was very simple as it just plugged right in with no fuss." Many more appreciate how low-profile it is with one explaining, "It occupies only one PCI slot. This is important since my PC has a SFF (small form factor) case with limited space." And because it is low-profile, lots of customers say installation was simple. As one reviewer puts it, "It fit right into the case and snapped in without issue. No need to connect anything beyond that and the whole process took five minutes."
Best computer graphics card for small-form factor PCs