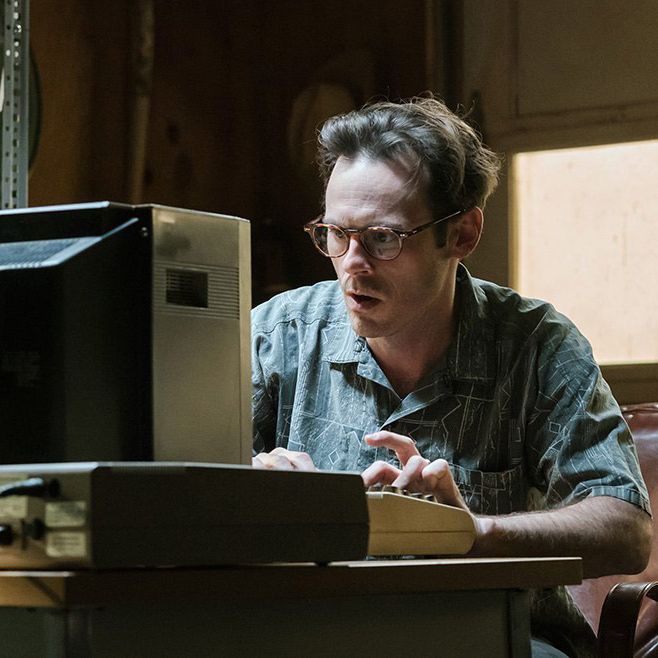 Photo: © AMC Film Holdings LLC.
Here at the Strategist, we like to think of ourselves as crazy (in the good way) about the stuff we buy, but as much as we'd like to, we can't try everything. Which is why we have People's Choice, in which we find the best-reviewed products and single out the most convincing ones. (You can learn more about our rating system and how we pick each item here.)
And while we've written about lots of computer accessories before — including the best computer monitors, the best computer speakers, and the best wireless keyboards — here, we've rounded up the best computer graphics cards, as praised by the most enthusiastic reviewers on Amazon.
Best-rated computer graphics card
Beginner gamers and tech experts alike enjoy the performance of this computer graphics card. One reviewer describes this as "a quiet, capable, entry-level 10 series Nvidia," adding, "After six months of heavy use, I have to say it works very well. The fans rarely kick in (and are not audible over system fans if they do)." Another says this was his "first graphics card ever, and honestly the number of games I can play in such gorgeous quality completely astounds me." He acknowledges that it's not the most high-end card out there, but he does "recommend it to anyone and everyone looking for a lower budget graphics card that can still run games at beautiful graphics." One more reviewer adds, "This card is also sexy, it looks fantastic as well as having a back plate."
Best-rated (less expensive) computer graphics card
Non-gamers rave about the performance of this computer graphics card, saying it works perfectly for setting up multiple monitors and other design programs. One reviewer who has two monitors connected writes, "This card works great! It certainly is not as good as more expensive cards, but for the non-gaming multi-monitor purposes, it works just fine." Another mentions that this graphics card can "support all three monitors with just the single card with no problems," allowing him to easily "run word processing, spreadsheets, email, and low end graphics programs" all at once. Lots of reviewers appreciate how easy it is to install, with one calling installation "so simple even a small child or older adult can do it. The thing practically installs itself. No fan is needed, no extra power connector is needed."
And now for some micro-picks of every type of computer graphics card you might be looking for.
Best quiet computer graphics card
People like this computer graphics card because it's, as dozens put it, "so quiet." One calls it "quiet and powerful," adding, "This little guy will run the games I like to play with no trouble." Another writes that they were "tired of messing with video card fans that start getting noisy," but "This card is performing great and is so quiet." One experienced techie also hates when a graphics card has too much noise, but on this card, he says, "It's totally silent, and screens and documents fly. For gaming, you can play and have fun." Another just wanted a "cost-effective replacement" for an old card that "crashed with memory failure," and this one was much better than what he had. "This card runs cool, around 110 Fahrenheit under load, it uses very little power (powered by the card slot), it is so quiet I can't hear it running over the other fans in the case," he writes. "Performance is spot on, equal to the 560 at the very least but I think it's noticeably better performing for the games it's used for (World of Tanks, TF2, etc.)."
Best computer graphics card without external power cable
The fact that you can install this computer graphics card without a power cord was a huge selling point for gamers. "Easy to install with clear instructions. I love that I didn't have to attach to the power supply directly," explains one reviewer. And one total pro gave a lesson on how this graphics card works compared to others: "The graphics card helps to increase the number of frames per second and the processing speed of a game. Frames per second, also known as FPS, is a measure of how many images, or frames, appear on a display every second. This frame rate is especially important if you want a clear and responsive gaming experience without screen tearing." With all that being said, on this particular card, he notes, "The 1050 Ti is a good graphics card for those who do not play games every day yet want a good experience when they do decide to game. For that task, this graphics card is one of the best. This performance to price point is one of the best at this time making it a bargain for starting computer gamers."
Best computer graphics card for ultra gameplay settings
"I was testing some games and I haven't had one that couldn't play a game at max settings yet at 60 FPS. I even played Arma 3 (yes, Arma 3) at 60 FPS," writes one reviewer. And lots of gamers were shocked at how well this computer graphics card worked at max gameplay settings. Another reviewer does warn that this card "runs a little warm, but no complaints otherwise. It runs Witcher3 on Ultra settings." Another writes that he too has "been able to run every game that I have on ultra setting with playable FPS," adding, " All-in-all, it's a great card for the price. I have not tried Witcher 3, but based on reviews from YouTube, this card would not be able to play at max setting. I currently play CS-GO, Project Cars, and Battlefield Hardline, all maxed out with no problems."
Best computer graphics card for casual gaming
"Great graphics card for casual to medium gaming," says computer expert reviewer, adding, "It is very easy to install, just pop it into your PCI-e x16 slot on your motherboard, as it only requires 30W of power. It can fit into most medium to large sized cases. It is also very quiet, even when it is running games." Another just "needed to upgrade the video card a tad to be able to play a game" and after installing, reports back that his "game experience is much different. Easy install. No lag, good FPS." A third reviewer was "very excited to share" his experience, noting, "I bought mine brand new, for its price you'll be ready to play most of the classic goodies with no problem or worry about FPS drops or messing with graphics settings or tweaks." A "top-tier geek who's on a budget for computing," even was "really impressed with this card," adding, "It does far better than you'd expect and I have all my games on maximum."
Best computer graphics card for multiple monitors
"If you are looking for a cheap low profile graphics card, THIS is the best graphics card to get," writes one reviewer of this 2-gigabyte low profile graphics card. "I didn't need anything over the top, just a nice card for streaming video and dual monitor support," notes another customer, adding, "This card was exactly what I was looking for. Installation was very simple as it just plugged right in with no fuss." Many more appreciate how low-profile it is with one explaining, "It occupies only one PCI slot. This is important since my PC has a SFF (small form factor) case with limited space." And because it is low-profile, lots of customers say installation was simple. As one reviewer puts it, "It fit right into the case and snapped in without issue. No need to connect anything beyond that and the whole process took five minutes."
Best computer graphics card for small-form factor PCs
"This is a must buy if you have a small-form factor PC because this card comes with a low profile bracket and is power efficient (and quiet) enough to have respectable performance," explains one reviewer, adding, "This graphics card does more than you might think for a low profile focused card. The performance is almost identical to a full size 1050 ti card while remaining cool, quiet and most obviously in a small form factor." Many more reviewers picked up this computer graphics card because most don't fit in small-form factor PCs. Another appreciates that you can use it immediately after installation, writing, "I put on the low profile bracket, stuffed it in my small form factor Dell, and started bench-marking and playing games. It small, powerful and a great deal." One gave a "big thanks to Nvidia and MSI" for cramming everything they needed into one card: "This was the only thing I could find that would fit, not require new power supply, push 3 monitors with high resolution, modern, and affordable."
Best easy-install computer graphics card
Dozens of reviewers think this computer graphics card was particularly easy to install, though one does warn, "Make sure you have at least 300 watts of juice to power this. I've read less, but I would not trust that, go with manufacturer's suggestions." On the performance, they add, "This one is so quiet, if only all of them could be this way!" Another says, "Installation was simple, as it only draws power directly from the PCI slot/motherboard," adding, "Speaking of power — This thing barely draws any. Can't recall exactly, but I know that it's a minuscule amount. As long as you have a 300-350W power supply, you'll be fine." For the price, many were impressed with how well this works. "Everything is as smooth as can be. For the price, and for the casual gamer, this is a fantastic card," writes one customer.
Best plug and play computer graphics card
This computer graphics card from Sapphire Technology requires zero software to use. "It works like a charm. Totally plug and play. No software updates needed," writes one reviewer. That phrase "plug and play" is repeated by reviewers, including one who writes, "I can't believe it was this simple to setup an eGPU. I went from overheating my laptop while playing simple games to playing through the Witcher 3." They do admit that "this card is far from the best on the market, but it was a huge upgrade from my laptop's built-in card, and the price is really great." Many more note it's so simple to use with one explaining, "Make the connections and you're good to go." He reports back that after a few uses he "Noticed a nice bump in Photoshop and Lightroom performance. Would definitely purchase again."
Best computer graphics card with ray tracing
While ray tracing is not a necessity for playing high level games, many gamers thought it was a nice touch and enhanced their experience. As one reviewer explains, "With Ray Tracing on, there is a slight better visual effect (showing accurate reflections in a puddle of water as a character moves by it. Whereas with Ray Tracing off, the reflection would be a slight black shadow with no real shape)." With that said, other reviewers enjoy the added graphics. " Ray tracing is a nice touch and I did download the Atomic Heart demo just to check it out and it is impressive and a very unique touch to gaming," notes one reviewer. More than one call this feature "future-proof," like one reviewer who writes, "Performance beats GTX 1080 and is future proof since ray trace content is just getting started." And one more thinks that because of the ray tracing feature, "it won't hurt investing now."
Best computer graphics card with fans
Many graphics cards have fans to prevent the card and computer from overheating, but reviewers note this one is particularly good. "The card is practically silent, I hardly ever see the fans come on during the day to day tasks," notes one reviewer, adding, "But during gaming the card stays cool and silent, while offering great performance. The only other notable thing would be the fact that the card is 'thicc' and takes up three slots." Another shares more details on the fans, adding, "Fans can be ran pretty high before they become audible. With a fan curve tuned for noise, the GPU gets up to 65 degrees celsius during heavy gaming." And one more has had multiple graphics cards before, adding, "This card is a significant upgrade to my three GTX-980s in several ways. It's one card meaning much lower heat generation. I see no more than 50 DEG C in my setup, whereas before I was seeing at least one of the three cards topping 80's often. I do not hear this card at all. The others I could hear especially when one would heat up. This one is built solid and the fan set up is a work of art (to a mechanical engineer). Bottom line: Very happy with my long awaited upgrade."
The Strategist is designed to surface the most useful, expert recommendations for things to buy across the vast e-commerce landscape. Some of our latest conquests include the best acne treatments, rolling luggage, pillows for side sleepers, natural anxiety remedies, and bath towels. We update links when possible, but note that deals can expire and all prices are subject to change.
Every editorial product is independently selected. If you buy something through our links, New York may earn an affiliate commission.